Matt Ryan and the Atlanta Falcons looked to be building an offensive juggernaut just a few weeks ago under the tutelage of first-time head coach Arthur Smith. With Julio Jones, Calvin Ridley and Kyle Pitts at his disposal, Ryan was on the precipice of fantasy QB1 status. 
But the Jones trade to the Tennessee Titans lowers the ceiling for the entire passing game. Last season, Ridley, Ryan, Russell Gage and Hayden Hurst all averaged more fantasy points per game with Jones playing. Ryan's fantasy points per game with Jones (21.1) compared to without (14.5) was particularly alarming.
Jones' departure undoubtedly hurts the Falcons offense, but it's not a death knell for the unit. Atlanta's new offensive playcaller — along with a certain generational rookie tight end — should result in plenty of fantasy-friendly performances.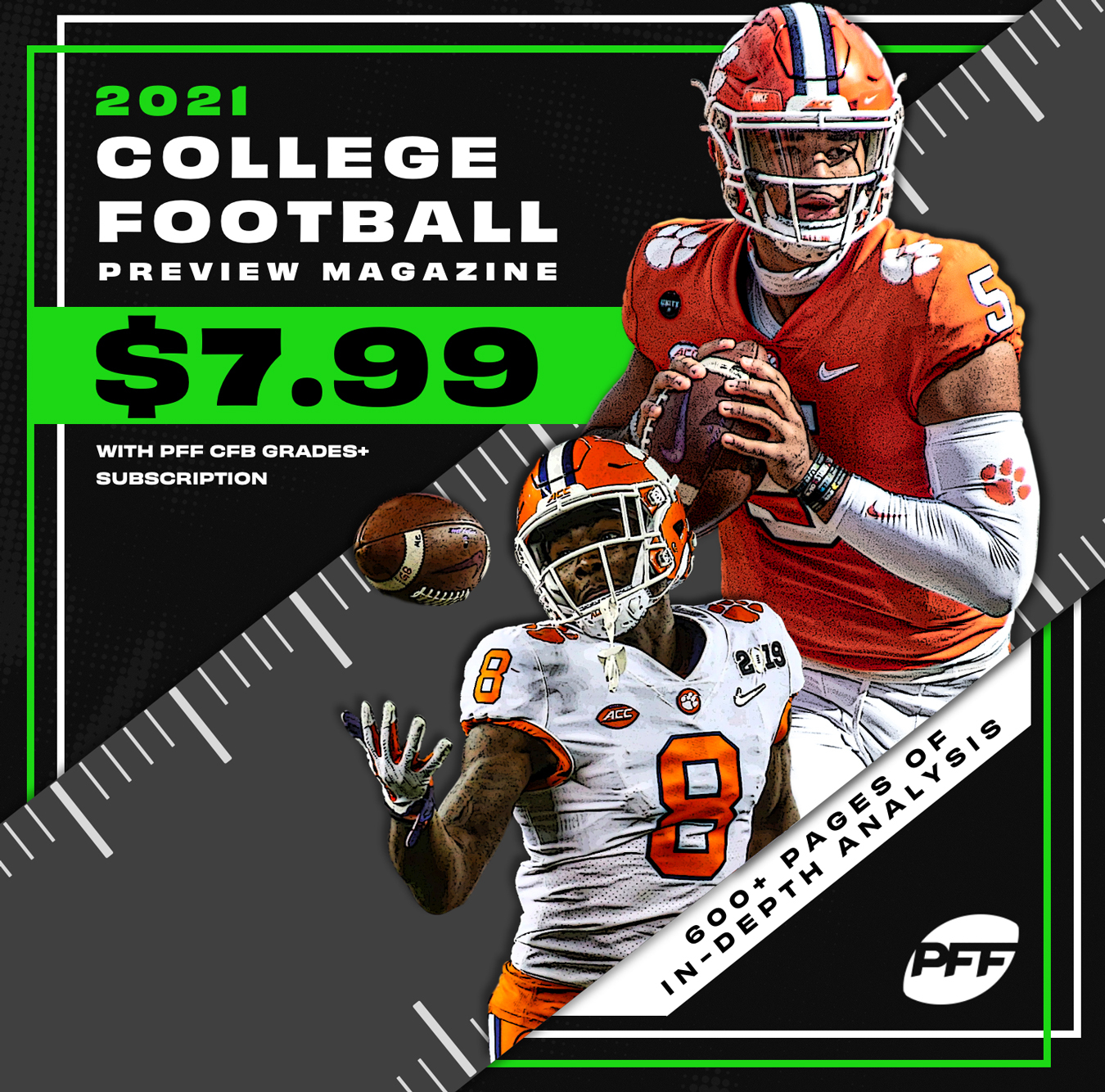 2021 Team Preview
Smith firmly placed himself among the league's top offensive minds after back-to-back seasons in Tennessee, where Ryan Tannehill thrived under his tutelage. The Titans quarterback ranks first in yards per attempt (8.3), and passer rating (108.9) and fifth in PFF passing grade (90.4) since 2019. 
Part of the Tannehill/Smith success stemmed from high use of play-action. They leveraged play-action at the highest rate in 2020 (36.4%), an offensive wrinkle that will do wonders for Ryan.
The Falcons quarterback led the league in play-action throw percentage (28%) in his 2016 MVP campaign. Ryan hasn't finished higher than 22nd overall in play-action throw rate (26%) over the past two seasons. 
Another issue has been Ryan's high of just 26 passing touchdowns, which can be traced back to his below-average touchdown percentages in the red zone — 21.9% in 2019 and 19.6% in 2020. 
It's easy to envision Atlanta being vastly improved in this area of the field next season after seeing Tennessee's success. No team had a higher touchdown-per-drive rate inside the opponent's 20-yard line (75%) than Smith's Titans last year. Atlanta's rate (53%) ranked 28th. 
A revamped and more efficient passing attack bodes well for Falcons No. 1 wide receiver Calvin Ridley, who has a legitimate case to finish as the WR1 overall in fantasy. Ridley finished last season first in air yards and second in end-zone targets — Ryan simply can't get him enough high-value targets. 
Ryan also targeted Ridley like crazy when Jones missed time (30% target share, 11 targets per game), so fantasy gamers should expect no less in 2021. The PFF fantasy projections show Ridley earning 151 targets, the third-most in the NFL. 
Overvalued
If anyone is going to eat into Ridleys' share of targets — especially his precious end-zone looks — it would be the 6-foot-6 red-zone monster Kyle Pitts. The rookie from Florida led all of college football in end-zone target rate (59%) at the tight end position and was PFF's highest-graded receiver (94.6) on those targets. 
Last year, we saw Smith orchestrate an offense that heavily featured tight ends — third-most fantasy points scored at the position — especially in the end zone. Jonnu Smith tied for the team lead in end-zone targets (10) while also ranking first in end-zone target rate (46%).
Pitts will need to make the most of every opportunity to hit paydirt in 2021 to pay off his bloated ADP as the TE4 (44th overall) on Underdog Fantasy. 
His upside is tantalizing, but the price of acquisition has become so inflated that he's not worth targeting with a Round 4 selection when there are two other established tight ends available two rounds later — Mark Andrews and T.J. Hockenson — that have nearly identical projections.  
Both already have top-five fantasy finishes on their resumes and are favorites to lead their teams in target share. Of the 26 tight ends to lead their teams in targets since 2015, 58% finished as top-three fantasy producers at the position. Eighty-five percent finished as top-five tight ends.
Even those highest on Pitts can agree that he's still firmly behind Ridley in the target pecking order, and that limits his fantasy ceiling. 
Another potential concern is his usage in the offense. As easy as it sounds to assume Pitts will run the majority of his routes from the outside like a wide receiver, there's not much evidence to support that claim when he's listed as a tight end. He's going to have to take on all of the responsibilities of the position.
That's not to say Pitts will suddenly become an inline blocker. The pass-catching role should fall on the shoulders of both Hayden Hurst and Pitts; they will be running routes at the same time in 12 personnel on true pass sets. Smith ran an offense in Tennessee that ranked second in the NFL in overall 12 personnel usage (34.3%) in 2020, so we shouldn't be concerned about the veteran Hurst cannibalizing targets from Pitts. If anything, it just means Hurst is likely to finish third on the team in targets, making him an intriguing option in deeper or two tight end formats (or #SFB11).
Hurst should see plenty of use from the slot — 48% career slot snap rate — and Pitts will line up all over the formation (including inline), similar to his college usage.
Kyle Pitts' receiving splits by alignment | 2020
| | | | | | | | |
| --- | --- | --- | --- | --- | --- | --- | --- |
| Alignment | PFF receiving grade | Routes run | Targets | TDs | Yards per route run | Target rate on routes run | Snap share |
| Inline | 94.2 | 118 | 31 | 5 | 3.84 | 26.3% | 54.7% |
| Slot | 74.3 | 63 | 14 | 2 | 2.22 | 22.2% | 24.1% |
| Wide | 91.0 | 55 | 20 | 5 | 3.22 | 36.4% | 21.2% |
Still, running routes from three different alignments in addition to learning the nuances of run-blocking at the NFL level is a lot to put on the shoulders of a 20-year-old rookie. 
Pitts has a chance to post an historic rookie season for a tight end, but his puffed-up ADP leaves almost no margin for error. He needs to perform at a level we have yet see from a rookie at the position, and that's not a bet worth making when there are equal, if not better, alternatives (including at other positions) at a discount later in drafts.
Buyer Beware
There might also be better alternatives later in drafts than investing a Round 5 pick on Falcons running back Mike Davis.
CMC-lite appears to be locked and loaded as the Dirty Birds' starting running back after showing out last season in relief of an injured Christian McCaffrey. In 12 games as the Panthers' full-blown starter in 2020, Davis averaged 15.4 fantasy points (15th) and 17.4 touches per game (14th). 
The ex-Panther didn't blow anyone away with explosiveness — third-lowest breakaway run percentage (15%) in 2020 — but he proved the capacity to shoulder a healthy workload, catch passes out of the backfield and be a contributor at the goal line. He also displayed great elusiveness, shaking and baking his way to the league's second-highest missed tackle rate per touch (27%).
But some red flags need to be addressed before fantasy gamers go all-in on Davis and his massive quads. 
For starters, his production dramatically declined from Week 10 onward. After averaging 19.4 fantasy points per game to start the season, his production fell to just 13.1 fantasy points to close out the year. 
The Falcons head coach has also made it clear that this offense will operate with a running back by committee approach. There is no Derrick Henry role in this offense based on the personnel, so the team will use multiple backs.
That's an important denotation because part of Davis' allure last season was his role in the Carolina offense, which made him a successful fantasy asset. That doesn't appear to be the case in Atlanta.
The offseason drum beats from Falcons camp have all centered around the running back room being "wide open." Veteran running backs Qadree Ollison and Cordarelle Patterson have either received praise or gotten hype about a potential role in the offense.
No one on the current depth chart offers a three-down skill set like Davis, but each has a niche to fill that could hinder Davis' upside.
At 6-foot-1 and 231 pounds, Ollison looks like a goal-line back. He was used almost exclusively in that role as a rookie, leading the team in carries inside the 5-yard line. There's a non-zero chance he reprises the role in 2021.
It's crucial for Davis' fantasy value that he commands those goal-line touches. Recall that Todd Gurley II was the RB6 through the first nine weeks of the 2020 season, averaging a full rushing touchdown per game.
As a former wide receiver, Patterson is a candidate to eat into Davis' reception totals, which might already be in short supply. No team had fewer targets to the running back position than Smith's Titans.
PFF's fantasy projections have Patterson slated for 45 targets — 24th at the position and just six fewer than Davis. New Falcons offensive coordinator Dave Ragone spent last season as the passing-game coordinator with the Chicago Bears, and that familiarity could help Patterson earn a role quicker than expected. 
The other hurdle Davis has to overcome is the Falcons' opening schedule. Three of his first five matchups are against defenses that ranked top-10 versus RBs in 2020. Four of these teams also rank top-seven in PFF's 2021 defensive line rankings. 
These concerns have pushed Davis lower in the rankings, behind rookies with more long-term upside like Travis Etienne and Javonte Williams. 
When it comes to high-end touchdown potential, the likes of Ronald Jones II, James Conner and Zack Moss are comparable replacements outside the top-100 picks.  
Busts
Russell Gage is garnering hype in the aftermath of the Julio Jones trade. The popular narrative is that he's going to see ridiculous volume, but it's a false narrative.
Gage's 19% target share in 2020 didn't even change with Jones in the lineup. He averaged more fantasy points per game with a healthy Jones in the lineup (11.7) than without (10.4).
What is so exciting about an inefficient player who finished third-to-last in yards per route run (1.52) and with more receiving yards than only A.J. Green among players with at least 100 targets? Gage was actually outproduced by the Falcons' No. 4 wide receiver, Olamide Zaccheaus. 
Olamide Zaccheaus and Russell Gage splits | 2020 (minimum 74% snap share)
| | | | | | | | |
| --- | --- | --- | --- | --- | --- | --- | --- |
| Player | PFF receiving grade | Routes run | Passer rating generated | Rec. | Targets | Yards | Yards per route run |
| Olamide Zaccheaus | 74.1 | 135 | 104.1 | 17 | 23 | 243 | 1.80 |
| Russell Gage | 56.2 | 94 | 35.2 | 8 | 17 | 75 | 0.80 |
Sleepers
Zaccheaus performed admiringly when called upon last season. He averaged 11.8 fantasy points per game in his four games with at least a 74% snap share. For those looking for late-round gems, Zaccheaus is the value. The former 2019 UDFA could soon find himself with a starting role on the outside.
Rookie running back Javian Hawkins signed with the Falcons after surprisingly going undrafted after an extremely productive college career. He posted a solid 25% dominator rating over his career and a 30% rating in his second season as a starter. He's always been a home-run hitter, but NFL teams were apparently concerned about his smaller stature (5-foot-8 and 183 pounds). 
The landing spot is ideal, as the ambiguity of the Falcons backfield could offer Hawkins more reps on offense, and his explosive skill set helps separate him from a more sluggish back like Davis.
Many other rookie running backs are buried on depth charts, but Hawkins looks like he has a solid chance of ascending to No. 2 status. Look for him to impress in the preseason while veterans sit. He has talent and reportedly fell in the draft because of off-field issues.