Fantasy football draft szn is a special time. Friendships will be strained over the next few months all for the sole purpose of capturing championship glory. "Why do we do this to ourselves?" is a question for another day: For now, it's time to boogie and get the minds right ahead of the draft.

---
Click here for more PFF tools:
PFF Fantasy Draft Kit | PFF Betting Dashboard | PFF Fantasy Rankings
PFF Fantasy Projections | NFL Premium Stats | Win Totals Tracker
---
What follows is my condensed breakdown on optimal strategy at quarterback, running back, wide receiver and tight end. This includes my general strategy, best value, biggest fade and favorite sleeper. Please reference the previous my 100 questions in 100 days series for more drawn out explanations; the goal today is to catch up those that don't spend 365 days a year obsessing over the glorious American pastime known as fantasy football.
Quarterback
General strategy: Use two late-round picks to secure a season-long QB1
I'm not vehemently opposed to taking one of the consensus tier one quarterbacks in the fifth round or later if they fall, but generally going after the late-round options has been my preference. There are simply more good quarterbacks today than there were in past years: 20 seperate quarterbacks averaged at least 17 fantasy points per game in 2020;  just six managed to do so in 2010.
Many are content to wait until the double-digit rounds to secure their first signal-caller in typical one-quarterback leagues; don't be afraid to do the same and lock up one of Trey Lance or Justin Fields in an effort to capture their borderline erotic dual-threat upside. I prefer Lance due to his advantages in coaching, teammates, overall rushing upside and cozy schedule to finish the season.
Of course, buying into Lance or Fields means accepting the reality that they might not start for the first bit of the season. Enter: Kirk Cousins, who is a far better quarterback than most give him credit for being and possesses the coziest of schedules to start the season.
In an ideal world a fantasy investor of both Cousins and Lance would experience the following schedule experience:
(Cousins)

Cincinnati Bengals

(Cousins)

Arizona Cardinals

(Cousins)

Seattle Seahawks

(Cousins)

Cleveland Browns

(Cousins)

Detroit Lions

(Cousins)

Carolina Panthers

(Lance)

Indianapolis Colts

(Cousins)

Dallas Cowboys

(Lance) Cardinals

(Lance)

Los Angeles Rams

(Lance)

Jacksonville Jaguars

(Lance)

Minnesota Vikings

(Lance) Seahawks

(Lance) Bengals

(Lance)

Atlanta Falcons

(Lance)

Tennessee Titans

(Lance

Houston Texans
Only Week 7 and Week 10 present anything other than a salivating matchup. Season-long fantasy requires more of a long-term approach than daily, but optimizing each and every week remains preferred if you can swing it. This latter approach seems more than possible by pairing Lance with Cousins; don't be afraid to do so with a pair of late-round picks.
Fitzpatrick is my favorite late-round quarterback available. The man has been nothing other than a fantasy QB1 over the past three seasons:
2018: Fantasy QB1 in Weeks 1-3 while

Jameis Winston

was suspended

2019: QB2 in Weeks 7-17 upon taking over full time from

Josh Rosen

2020: QB8 in Weeks 1-6 before "losing" his job to

Tua Tagovailoa
Perhaps I'm being overly kind here considering you could also point out that Fitz has been involved in constant QB competitions over the past three years; just realize they usually haven't come down to performance. Rather, both the Bucs and Dolphins (rightfully) wanted to see what their young QBs had. This was more clear than ever in 2020, as Fitzpatrick outplayed Tua in terms of PFF passing grade (72.7 vs. 70.7), big-time throw rate (4.5% vs. 2.4%), yards per attempt (7.8 vs. 6.3) and adjusted completion rate (78.2% vs. 74.2%) alike. Basically the only thing the rookie did better than the longtime journeyman was posting a lower turnover-worthy play rate (3.1% vs. 4.7%).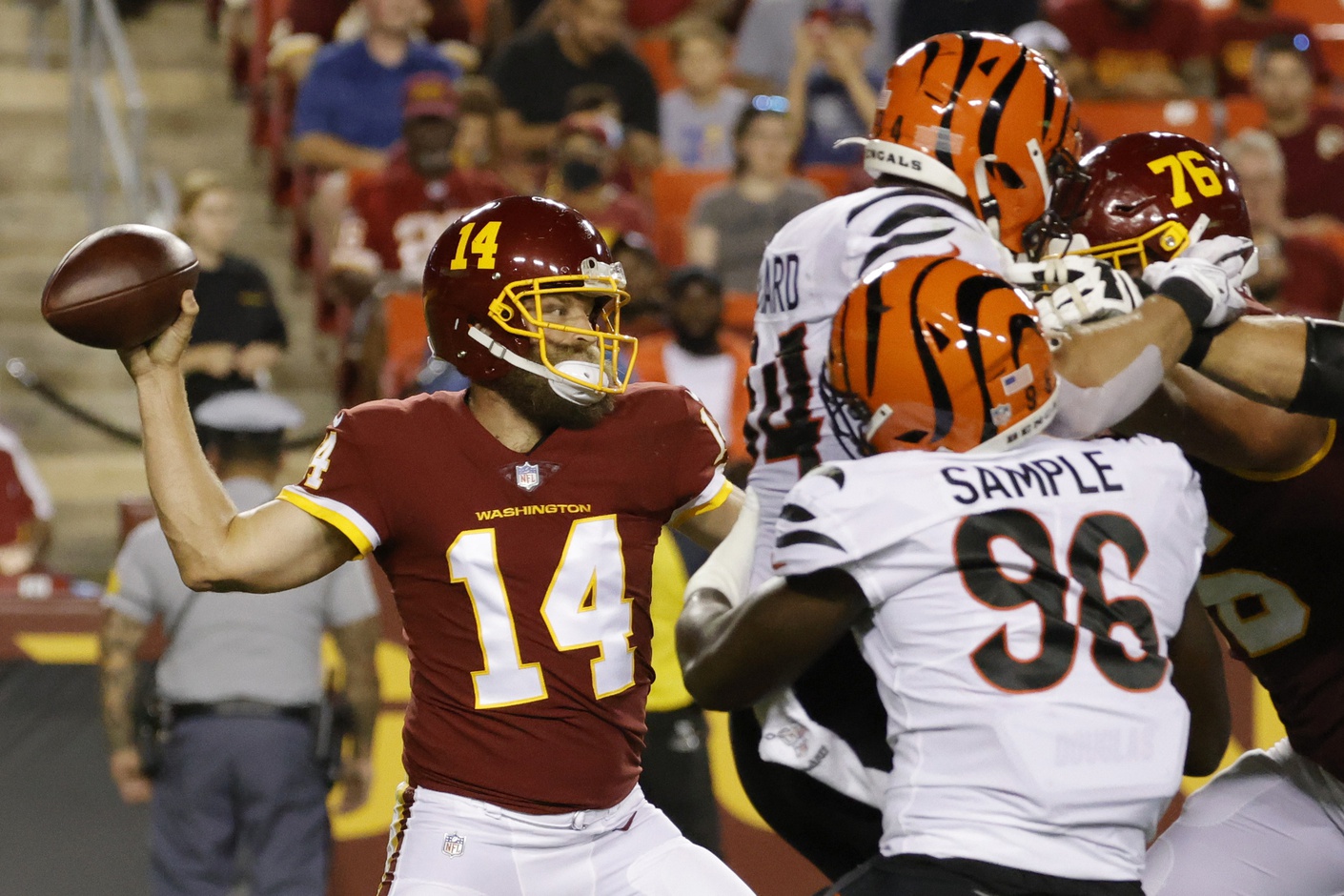 Now the artist known as FitzMagic can throw the ball to Terry McLaurin, Curtis Samuel, Logan Thomas, Dyami Brown, Antonio Gibson, J.D. McKissic and more. The risk that Heinicke parlays his solid playoff performance into an eventual starting job is a rather moot point; Fitz has already been named the starter as expected. Fitz isn't even being drafted as a QB2 despite the likelihood that he'd be inside the consensus top-15 quarterbacks if we decided to make a Week 1 rankings list today.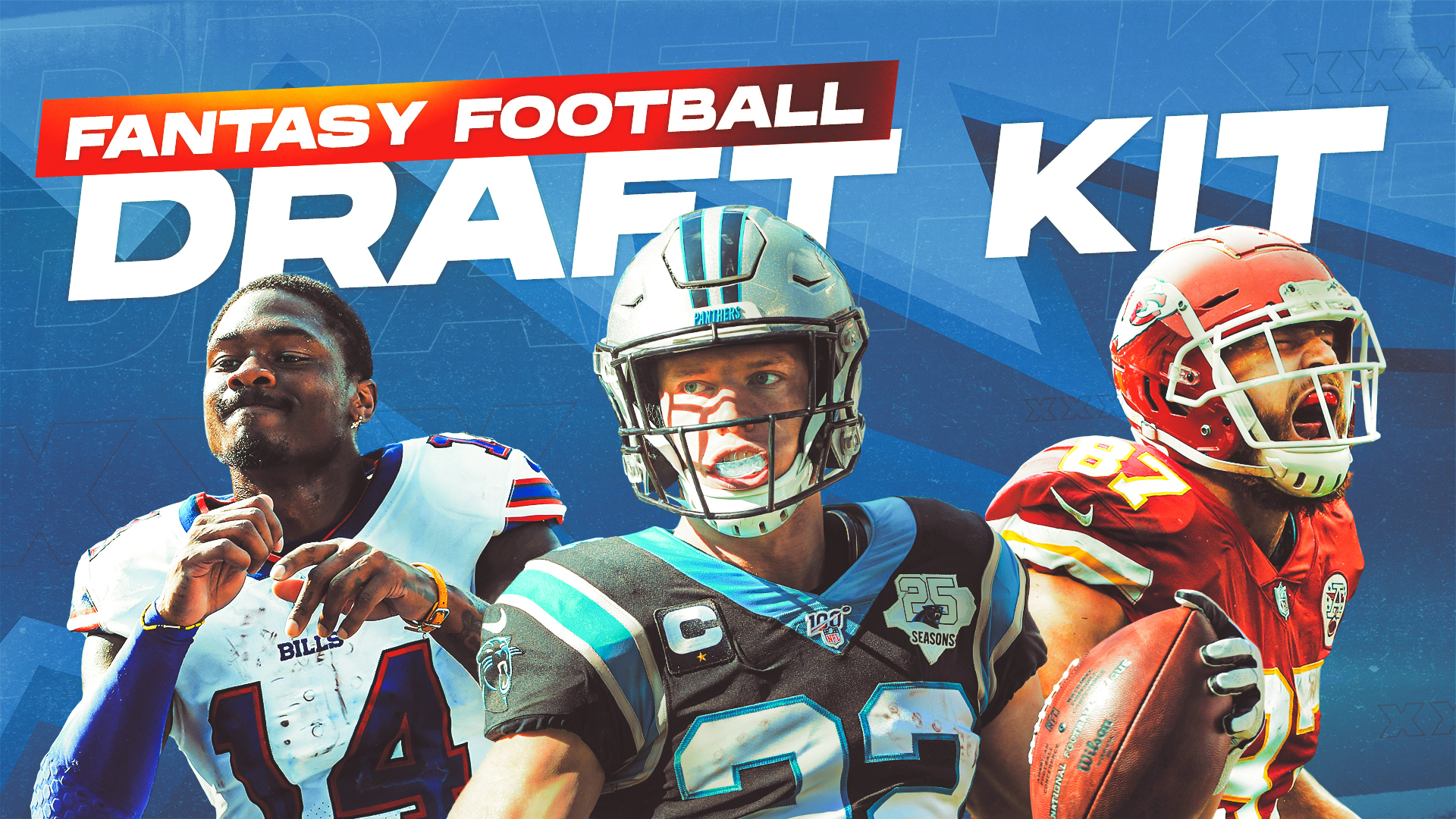 I did a study on quarterbacks without their WR1 in an effort to disprove the idea that the Cleveland Browns are better off without Odell Beckham. While this goal was achieved, another startling truth was uncovered: Ryan has been rather atrocious without the services of Julio Jones over the years.
PFF passing grade: 94.5 with Jones; 74.6 without

Yards per attempt: 7.8 with Jones; 7.0 without

Big-time throw rate: 4.8% with Jones; 3.3% without

Turnover-worthy play rate: 2.7% with Jones; 3.3% without
Overall, Ryan played in nine games with Jones either sidelined or limited to fewer than 50% of the offense's snaps in 2020. He largely struggled in those performances, limping to 238 pass yards-1 TD-1 INT, 285-0-0, 226-0-1, 232-0-2, 185-2-1, 224-1-3, 356-3-0, 300-2-0 and 265-2-0 lines. Ryan finished 2020 as the fantasy QB12, although his status as the QB15 in fantasy points per game better reflects his up-and-down campaign.
Perhaps head coach Arthur Smith can sprinkle in some of the same magic that enabled Ryan Tannehill to loads of success over the past two seasons; just realize Ryan is an aging statue of a quarterback poised to operate in one of the worst offenses he's seen in quite some time (with all due respect to Calvin Ridley and Kyle Pitts).
There have essentially been five stretches to Mayfield's career, two of which produced a fantasy-friendly quarterback:
Weeks 3-8, 2018 pre-Hue Jackson getting fired: fantasy QB22

Weeks 9-17, 2018 post-Jackson getting fired: QB10

Weeks 1-17, 2019 with Freddie Kitchens: QB20

Weeks 1-6, 2020 with OBJ: QB26

Weeks 7-17, 2020 without OBJ: QB15
The latter threshold can further be broken down by removing three consecutive weeks of horrific weather during the middle of the season. Overall, Mayfield finished the final six weeks of 2020 as fantasy's QB7, trailing only Josh Allen, Aaron Rodgers, Deshaun Watson, Ryan Tannehill, Kirk Cousins and Lamar Jackson.
Operating behind PFF's reigning No. 1 ranked offensive line certainly helped matters, but Mayfield put more than a few throws on tape last season that would take a lonely film grinder from six to midnight in a hurry.
Baker Mayfield 2020 mixtape pic.twitter.com/FTUj0sRSTG

— Ian Hartitz (@Ihartitz) July 19, 2021
We've seen plenty of ups and downs alike from Mayfield. A closer look at his stable metrics since 2018 indicates he's generally thrived in situations where we should expect less volatility on a year-to-year basis.
Passing grade from a clean pocket: 92 (No. 14 among 59 qualified quarterbacks)

Passing grade on straight dropbacks: 85.5 (No. 16 among 65)

Passing grade on first/second down: 90.5 (No. 10 among 60)

Passing grade with no play action: 77.9 (tied for No. 15 among 63)

Passing grade on throws at/beyond the first-down marker: 94 (No. 12 among 61)
At the moment, Mayfield has a QB17 ADP. Last season, he had a preseason ADP as the QB18. In 2019, he was the QB4! It seems as though the public might still be penalizing Mayfield for his horrific sophomore campaign. I'm not here to suggest ranking Mayfield as a top-five quarterback again; he's my QB14 at the moment behind guys like Tom Brady, Joe Burrow, Ryan Tannehill and Matthew Stafford. However, the man has twice flashed the ability to put together QB1 production for extended stretches, and meow he's available as a low-end QB2 in fantasy drafts of all shapes and sizes.

Running back
General strategy: Get at least one of the top-14 backs in the top-three rounds, then wait