Top-end fantasy football options abound in the middle of the first round of fantasy drafts, offering any number of paths to a 2021 best ball title. 
Let's dive into the routes available from the 1.06 draft slot — we've already gone over the best plans for the first five selections as part of PFF's inaugural Best Ball DraftKit. Drafting at the 1.06 creates an easy path to stack the Jacksonville Jaguars, New Orleans Saints and Washington Football Team.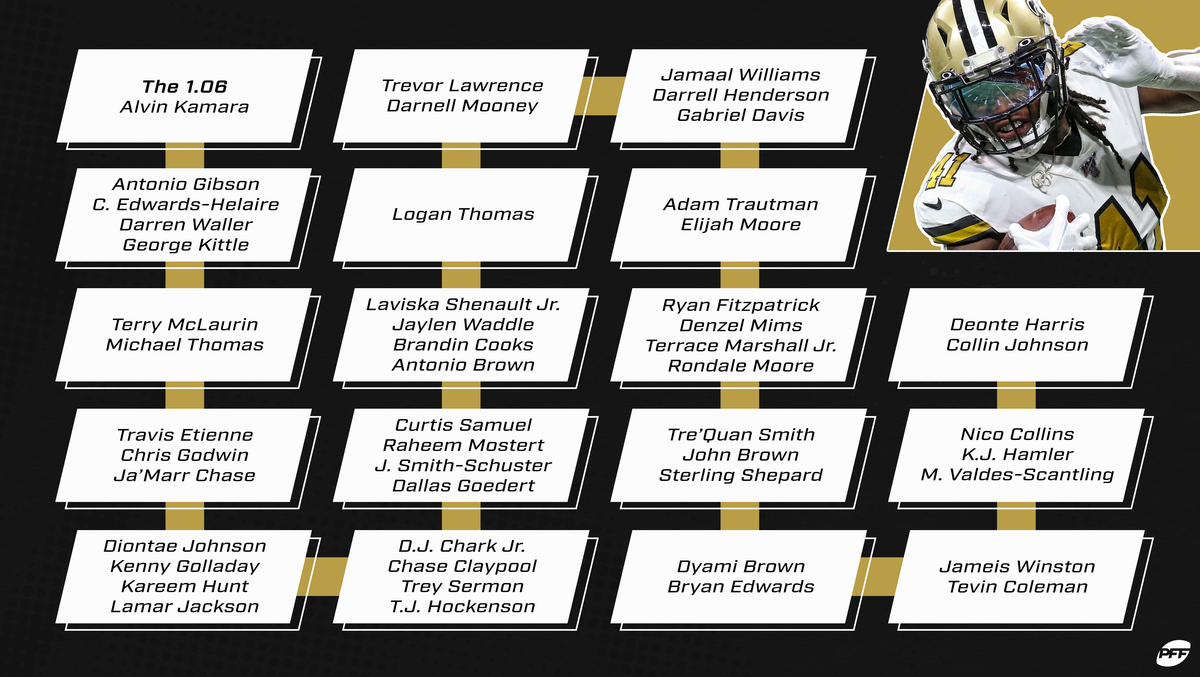 Editor's Note: Dive into PFF's 2021 Best Ball DraftKit for everything you need to win it all at the end of the year!
1.06: RB TIER 2 
Alvin Kamara should not be ranked as a top-five fantasy running back — he's actually at the front-end of the second tier of running backs because there are major concerns about his pass-game usage without Drew Brees. 
Kamara averaged 15.9 fantasy points per game in nine games over the past two seasons without Brees. In 20 games with the Hall of Famer, he averaged 24.3 fantasy points per game. 
That being said, projecting Kamara to average 15.9 fantasy points (low-end fantasy RB1 numbers) per game is safe considering how efficient he has been in his career. Kamara finished last season third in expected fantasy points per game (20.5) and first in fantasy points per touch (0.56) despite averaging fewer than 20 touches per game (18). 
Kamara is guaranteed valuable touches as a receiver and as the team's primary goal-line back, making him worthy of the No. 6 overall selection — even with a reduced ceiling.  
2.07: RB TIER 3, TE TIER 1
Pairing Antonio Gibson with Kamara will make this roster deadly in PPR formats. All reports out of WFT camp indicate that the second-year running back is going to take a massive leap, in part due to an expanded role in the passing game. 
Gibson played wide receiver at Memphis, so he can certainly handle additional pass-catching duties. Head coach Ron Rivera is also no stranger to loading up a second-year running back with targets and touches —Christian McCaffrey saw his touches jump from 197 as a rookie to 326 in his second season under Rivera and offensive coordinator Norv Turner.
Turner's son, Scott, is Washington's offensive coordinator — he follows a similar offensive philosophy as his father, so prepare for Gibson to function as a three-down workhorse in the offense, assuming everything checks out with his toe injury.
Gibson is already beyond impressive as a rusher, having earned PFF's fifth-highest rushing grade in 2020. And he's almost impossible to bring down after the catch — his 31% broken tackle rate after the catch ranked seventh-best at the running back position (min. 30 receptions). 
Broken tackle rate after the catch | 2020 running backs
| | | | |
| --- | --- | --- | --- |
| Player | Receptions | Broken Tackles | Broke Tackle Rate |
| Kareem Hunt | 38 | 18 | 47% |
| Mike Davis | 59 | 22 | 37% |
| David Johnson | 33 | 12 | 36% |
| Clyde Edwards-Helaire | 36 | 13 | 36% |
| James Robinson | 49 | 17 | 35% |
| David Montgomery | 54 | 18 | 33% |
| Antonio Gibson | 36 | 11 | 31% |