The 1.04 might not be one of the coveted top-three selections, but the draft slot is still an excellent place to begin building a dynamic best ball roster.
This article is part of PFF's inaugural Best Ball DraftKit, wherein I've made it my mission to offer readers as close to an exact go-to draft guide based on pick number in upcoming best-ball drafts. This way, we have a plan of attack as soon as we learn our draft slot. Along the way, we'll identify player targets and team stacks based on real-life ADP, while letting our opponents frantically search draft boards once the action commences. 
Subscribe to
Of course, drafts can be wild — I just wrapped up an Underdog best ball draft where Sam Darnold went in the sixth round — so we need to remain fluid. But that's why this crash course (and handy flow chart) offers a collection of different options to help guide you to a championship-caliber roster. As you'll soon discover, drafting at the 1.04 creates an easy path to stack the Los Angeles Rams, Miami Dolphins and Jacksonville Jaguars.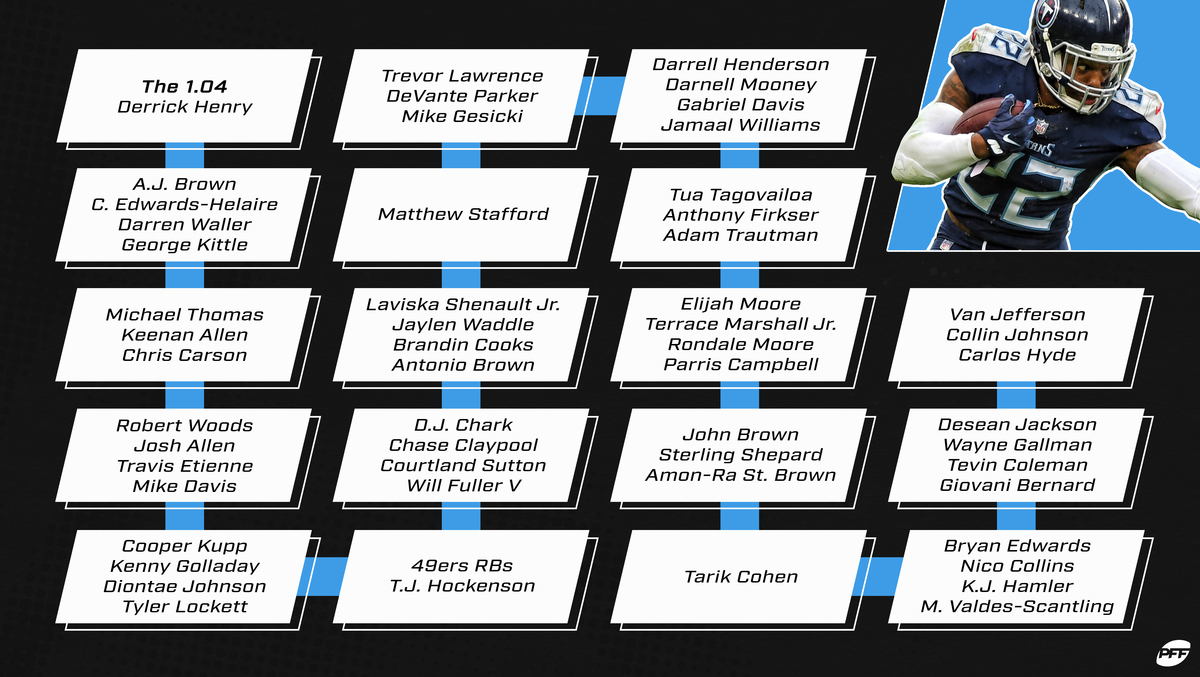 Editor's Note: Dive into PFF's 2021 Best Ball DraftKit for everything you need to win it all at the end of the year!
1.04: RB TIER 1 
To build a juggernaut best ball squad, it's essential to nail the first pick. After battering his way through the history books on the back of a 2,000-yard rushing season, Derrick Henry is back to shoulder the load for the Titans  offense.
His guaranteed workload is practically unparalleled — Henry saw nearly 25 touches per game in 2020. Volume is the biggest predictor for fantasy success at the running back position, even if the vast majority of those touches come in the form of carries instead of receptions. 
Henry is a rare throwback RB in today's landscape and more than worthy of the fourth-overall pick.
2.09: WR TIER 1, TE TIER 1 OR RB TIER 3
In an ideal, ADP-free world, A.J. Brown would be available at the 2.09, setting the stage for a Tennessee Titans stack. But I have to apply realism with this pick — despite being a "fantasy" analyst — and admit that the 1.04 just doesn't lend itself to pairing Brown and Henry. The ADPs don't align. 
Instead, you'll be faced with a decision between Clyde Edwards-Helaire, Calvin Ridley, Darren Waller or George Kittle.  
Pairing CEH with Henry would create a deadly fantasy RB tandem. Through the first six weeks of the last season, Henry (588) and Edwards-Helaire (505) ranked first and second in rushing yards. 
Still, the advantage of having a premium tight end like Waller or Kittle might be too enticing to pass up. Waller is my second-highest-ranked tight end because he operates as the Las Vegas Raiders' pseudo-No. 1 wide receiver. He needs to be a top priority among best-ball drafters.