Often it pays to zig while others zag, and nothing is less popular this offseason than drafting running backs in the middle of fantasy drafts. Running backs taken in this range are now derisively labeled as being in the running back dead zone. 
More of PFF's 2021 Fantasy Football tools here: 
Fantasy Football Draft Kit | Rankings & Tiers | Draft Guide | Cheat Sheets
Projections | Strength of Schedule | Expected Points | Weekly Finishes
It's not just harsh labels being applied to running backs drafted with positional ADPs in the 20-50 range. The concrete data from people putting their hard-earned money on the line in best-ball drafts shows a substantial decline in mid-round running back ADP over the last few months.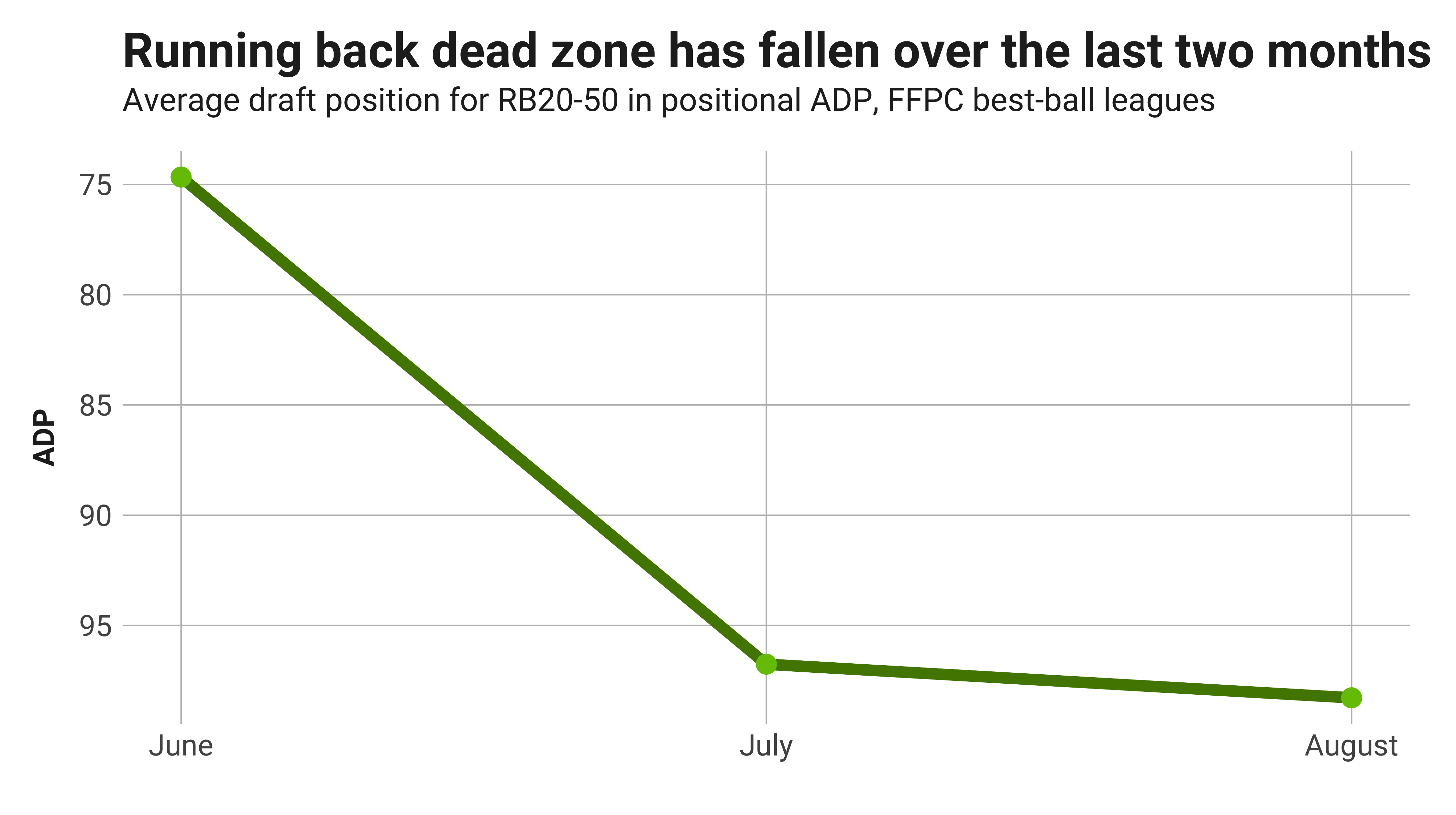 I looked at the running backs available in the so-called "dead zone" and identified four who are too good to pass up. This year the right strategy could be to be greedy when others are fearful, and load up on these running backs with falling ADPs.
Williams is the most expensive back by ADP I'm going to highlight in this piece. Ideally, you'd find a mid-round league-winner a little later, when the opportunity cost for mid-round receivers is lower. But Williams is so good that you can't worry about third-tier wideouts going in the same range, like Laviska Shenault and Antonio Brown.
A great philosophy I heard from Establish the Run's Adam Levitan last offseason was to target running backs who you think have a great chance of being a first-round pick next offseason. In short, it's better to be a little early on a player who can dominate down the stretch than waiting until all the upside is already priced in. Javonte Williams is that player this season.
Williams has everything you look for in a stud running back. He runs with strength and finesse, plus he's been an outstanding receiver out of the backfield. In his final college season, Williams was in the 90-plus percentile for rush grade and receiving grade his final two college seasons, and he led all NCAA running backs in tackle avoidance. 

Williams showed his all-around skills in limited action during his first preseason appearance, playing in 10 of the Broncos first 13 offensive snaps and looking the part of a dynamic lead back.
Javonte Williams averaged 4.2 yards after contact per attempt. His size and balance to the outside will allow him to keep churning out runs like this with little difficulty. His burst allowed him to come through with 2 explosive runs (over 10 yards). He is just a solid back. pic.twitter.com/4WZfmP3cak

— ThomasTipple (@ThomasTippleFF) August 16, 2021
Williams wasn't a first-round pick like Najee Harris, the current RB11 in ADP, but he was only selected 11 picks later. Yet he's currently the RB26 on Underdog Fantasy and RB29 in FFPC best-ball leagues. 
Melvin Gordon is an impediment to Williams starting the season as the dominant back, but there's no reason for the Denver Broncos to hold off on anointing Williams if he can perform well to start the season. While it's described as minor, the groin injury that kept Gordon out of the first preseason contest could give Williams just the window he needs to prove his readiness and never look back.
A much less sexy pick, at a much more attractive price, is David Johnson. Johnson's positional ADP has risen from RB49 to RB43 over the past couple months, but his overall ADP has continued its long decline. The ADP gap between Johnson and teammate Phillip Lindsay will likely continue to narrow, or even cross over, after the latter got the preseason start and was on the field for more snaps.
Subscribe to PFF Edge to continue reading
Already have a subscription? Sign In