Those predicting that Sam Darnold will provide a massive upgrade over Teddy Bridgewater in Carolina are in for a rude awakening. Bridgewater was hands down the better quarterback in 2020, outperforming Darnold in completion percentage (69.1% vs. 59.6%) and clean pocket passer rating (105.3 vs. 81.7).
Darnold's continued woes from a clean pocket — worst PFF passing grade since 2018 (55.7) —  do not bode well for the Carolina offense to take a massive step forward, as a quarterback's numbers from a clean pocket are a reliable predictor of future success. Even with talented wide receivers and perhaps the game's best pass-catching running back, this entire offense is a work in progress and its fantasy assets remain volatile.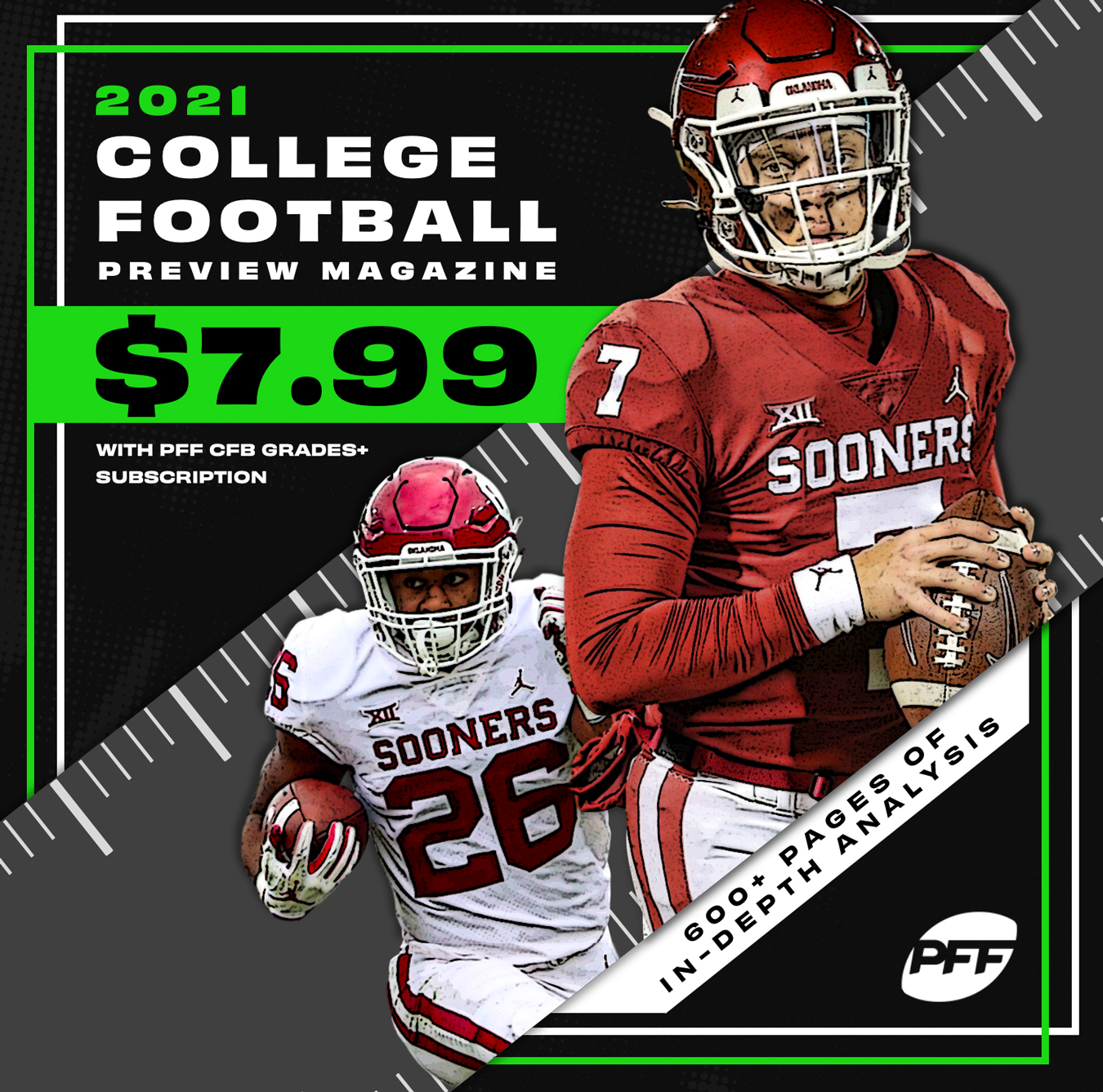 2021 Team Preview
Much has been made about the potential for Carolina offensive coordinator Joe Brady to "fix" Darnold, but the Panthers' offensive scheme didn't do much to increase Bridgewater's efficiency last year. His PFF passing grade from a clean pocket (73.0) ranked 32nd out of 39 qualifiers (Darnold was last) and marked the lowest grade in his career as a starter. His 3% touchdown rate also represented a career-low, as Carolina struggled to convert inside the red zone. 
Bridgewater said after he was traded that the offense didn't emphasize red zone in practice. The egregious on-field numbers agree. His PFF passing grade in the red zone (29.0) ranked last among 47 qualifying passers. And, unfortunately, Darnold's career numbers don't offer confidence that he's necessarily the answer.
Darnold's passer rating in the red zone ranks dead last since 2018 (77.6). On throws into the end zone, his rating ranks third-worst (52.3). 
A lack of passing touchdowns is going to make Darnold extremely tough to rely on in fantasy, as will another glaring issue that is seemingly being ignored by the masses — the Panthers' porous offensive line.
Part of why Darnold has been so unproductive is that he's been constantly under pressure. He has faced the highest pressure rate (42%) in the league over the past two seasons. Carolina has PFF's 31st-ranked offensive line unit heading into 2021. That's a recipe for disaster. 
Darnold is not going to be lighting up the scoreboard with gaudy fantasy numbers anytime soon, but there should be enough volume in the offense for him to feed his playmakers. They'll need volume to make up for a lack of efficiency.
The offense's identity will remain pass-heavy after posting the second-highest pass-play rate (68%) in neutral game scripts last season. Even consensus No. 1 fantasy running back Christian McCaffrey won't change that, as he'll be heavily utilized in the passing game yet again.
In the three games CMC played last season, Carolina averaged over 300 passing yards and 42 passing attempts. McCaffrey also averaged 30.1 fantasy points per game and 25.3 touches in those three contests, which means he will remain the focal point of the offense. Backup running back Mike Davis saw an RB1 workload in McCaffrey's absence (17.5 touches per game), which further solidifies McCaffrey as the No. 1 overall pick in fantasy drafts. 
There is much more uncertainty surrounding the team's top two wide receivers, D.J. Moore and Robby Anderson.
Values
D.J. Moore is readily available in the fourth round (ADP WR19), and his newfound role as a vertical threat provides week-winning upside.
He finished fourth in the NFL in yards per reception (18.1) and fifth in deep yards. The third-year receiver also finished with career-highs in receiving yards (1,193, ninth), aDOT (13.8, 17th) and yards per route run (2.23, 11th).
Moore was one of only five players to eclipse 90 receiving yards in at least eight games last season. 
A lack of touchdowns has kept Moore from establishing himself as a true fantasy WR1, and there's not much evidence to suggest Darnold will change that. Still, it wouldn't be surprising for him to beat his career high of four TDs based on regression alone. 
Moore was the only player last year to command double-digit end-zone targets and catch zero of them for touchdowns. PFF's fantasy projections have him at six.
The bigger concern for fantasy gamers regarding Moore is his opportunity share after Anderson led the team in target share (27%, fifth in the NFL) last season. But Moore's target share (24%) remained stable despite all the changes the offense underwent after 2019, so there's reason to believe the moving pieces won't affect him negatively.
Moore's drop off in overall targets was related to the offense going from sixth in total passing attempts to 22nd — the third-largest difference in passing attempts year over year. A regression to the mean in total team passing attempts is the expectation, which can only help Moore receive more looks.
During Moore's last six games, he led the team in targets and ranked sixth in the league in yards per route run (2.65). Even at a slightly higher ADP, he's still the primary Carolina receiver to target. 
Carolina has a cakewalk of matchups to open the season against the Jets, Texans, Cowboys, Eagles, Vikings and Falcons. It won't take long for Moore to pay off for fantasy drafters who select him this summer.
Busts
Robby Anderson has an understandable ADP (WR30), but there should be concerns based on the Panthers' quarterback change. That might sound counterintuitive, considering Darnold and Anderson played together with the New York Jets, but his connection with Bridgewater last season should not be undersold.
In 2020, Anderson posted career numbers across the board operating closer to the line of scrimmage after functioning largely as a deep threat with Darnold in New York. Anderson's target rate per route increased by a massive 45%, which was the highest increase of any receiver.
Bridgewater's third-ranked adjusted completion percentage helped the duo connect early and often on short and intermediate passes. Darnold has finished in the bottom 10 in that category in two of the past three seasons. He has also shown almost zero ability to support any consistent fantasy wide receiver, let alone multiple assets, so there's a chance somebody on this offense is left out. 
McCaffrey's command of short-area targets overlapping with Anderson should also be a concern. Over half of Anderson's targets last season came from 0-9 yards downfield. In 2019, McCaffrey ranked second among all players in short targets (75).
And although Anderson's counting stats were impressive in 2020, he was the only member of the Panthers' trio of wideouts to score fewer fantasy points versus expectation. He finished eighth in the NFL among WRs in targets (134) but outside the top 25 in fantasy points per game.
The volume probably maxed out last season; there's just not enough upside to draft Anderson over other wide receivers in his ADP range like Chase Claypool, Jerry Jeudy, Courtland Sutton and Tyler Boyd. 
Sleepers
Rookie Terrace Marshall Jr. is easily the best value among Carolina wide receivers considering his price (basically free) and the opportunity for targets and touchdown upside. The Panthers have the sixth-most vacated targets in the league, and Marshall offers the perfect fix for the teams' red-zone woes.
He was PFF's third-highest-graded draft-eligible receiver (83.6) in the red zone based on career grades. Marshall also ranks 12th in end-zone targets over the past two seasons, and his PFF receiving grade on those targets ranks fourth-best (93.5).
The incoming rookie has a large catch radius that will help him vacuum up targets over defenders, especially in the red zone. Considering Marshall also has ties back to LSU with Brady, it's hard to imagine his coordinator not drawing up plays for the 6-foot-3 wideout in the end zone.
Marshall is a dark horse candidate to lead the 2021 wide receiver class in touchdowns this season.  
As difficult as it is to get excited about Darnold in Carolina, there is one area where he has actually excelled: targeting the tight end.
Since 2018, he ranks fourth in adjusted completion percentage (80%), seventh in passer rating (114.5) and 13th in PFF passing grade (83.5) when throwing to tight ends. Inside the opponent's 20-yard line, Darnold owns PFF's No. 1 passing grade (92.3) on attempts to the tight end. 
The team signed wide receiver convert Dan Arnold from Arizona to a two-year deal worth $6 million, and he figures to be in the driver's seat to earn the starting gig after Ian Thomas' epic 2020 flameout. 
Despite running the ninth-most routes at the tight end position (468), Thomas finished with 0.31 yards per route run (108th). Head coach Matt Rhule claims Thomas has looked great during the offseason, but that is coach speak at its finest. Until we get any concrete evidence of the tight end pecking order, Arnold gets the nod because the team elected to sign him as a free agent. 
There's also buzz from camp that Carolina wants to feature more tight ends in the passing game, and that's where Arnold's receiver background comes in handy. He finished last year No. 1 at the tight end position in yards per reception (14.1), first in aDOT (12.6), third in passer rating generated (128.9) and sixth in YAC/reception (5.7).
At 6-foot-6, Arnold is a versatile receiving weapon running down the seam and in the red zone. Be confident that Brady can find creative ways to get him involved after the two spent time together during the coordinator's brief stint with the New Orleans Saints from 2017-2018. 
dan arnold 47% slot snap share last year

he's bout to become Darnold's new best friend

— Andrew Erickson™ (@AndrewErickson_) April 5, 2021