The fantasy football season is only a few days away. Most fantasy drafts are done, but it's not too late for some bold predictions.
These statements aren't the most likely outcome, but each is more likely than you might suspect.

---
Click here for more PFF tools:
Fantasy Draft Kit | PFF Betting Dashboard | PFF Fantasy Rankings
PFF Fantasy Projections | NFL Premium Stats | Win Totals Tracker
---
1. Both Trey Lance and Justin Fields will be top-eight fantasy quarterbacks over the second half of 2021.
The two first-round rookies didn't end up winning their starting jobs for Week 1, but that hasn't stopped the buzz surrounding both players. Everyone expects them to be the starters for their respective teams sooner rather than later and, at the very least, should be their team's leaders by mid-season. Once they do, they should be fantasy gold.
Quarterbacks with their attributes typically have fantasy success. Four of the top five quarterbacks in rushing yards also ranked top eight in fantasy points — Cam Newton is the only exception. Every top-10 quarterback in fantasy points had at least 230 rushing yards in 2020 except Tom Brady and Aaron Rodgers. Being a strong rusher will be a requirement for fantasy starting quarterbacks in a few years.
Lance is exactly the type of quarterback who can find fantasy success as a rookie. He has a monster arm and wants to attack downfield. He's a strong, physical player who can rack up yards on the ground. Lance also benefits from three excellent weapons in George Kittle, Brandon Aiyuk and Deebo Samuel, along with a top-10 offensive line.
The Bears have plenty of receiving options for Fields to throw to, led by fantasy winner Allen Robinson. The veteran receiver raved about the rookie during training camp. Robinson's 61 contested catches are the most for any receiver over the last three seasons. Fields has a sleeper wide receiver to target in Darnell Mooney, as well as a sleeper tight end in Cole Kmet.
2. Austin Ekeler will lead the league in PPR points in 2021.
Alvin Kamara led the league in fantasy points last season. Ekeler is a very similar back to Kamara, playing in the same offense in Los Angeles but with less competition for touches.
Ekeler was RB4 and led all running backs in fantasy points per snap at 0.52 last season. The fourth-year back started the season strong as the RB7 over the first three weeks but suffered a serious hamstring injury and a hyperextended knee early in the fourth game. He returned in Week 12 but needed time to get back to form, but he still finished as the RB6 over the last six weeks.
Ekeler's 94.3 career PFF receiving grade is the highest for any running back from 2017-2020 while his 2.29 yards per route run and 16 receiving touchdowns also led all running backs in that time. He has a top-20 rushing grade over the past four seasons and the sixth-best overall grade.
Ekeler has averaged 4.4 yards per carry over the last two seasons, and the number should increase this season with improvements to the offensive line.
The biggest move was the Corey Linsley addition at center. He came from the Packers after leading all centers in run-block grade last season and posting the fourth-best grade over the last three seasons. The team added guard Matt Feiler, who is a much better pass blocker than run blocker, but his 65.2 career run-blocking grade is still an upgrade over the guards who played last season.
The Chargers also used the 13th overall pick in the NFL Draft on left tackle Rashawn Slater, whose run-blocking and pass-blocking grades were above 87.0 in 2019 (Slater opted out of the 2020 season).
The big question mark is who gets the goal-line carries for Los Angeles. He saw a significant amount of attempts inside the five-yard line earlier in his career, but only took two attempts there last season. If the new coaching staff uses Ekeler there like they did Kamara, that will be the difference between a finishing top five or first in fantasy points.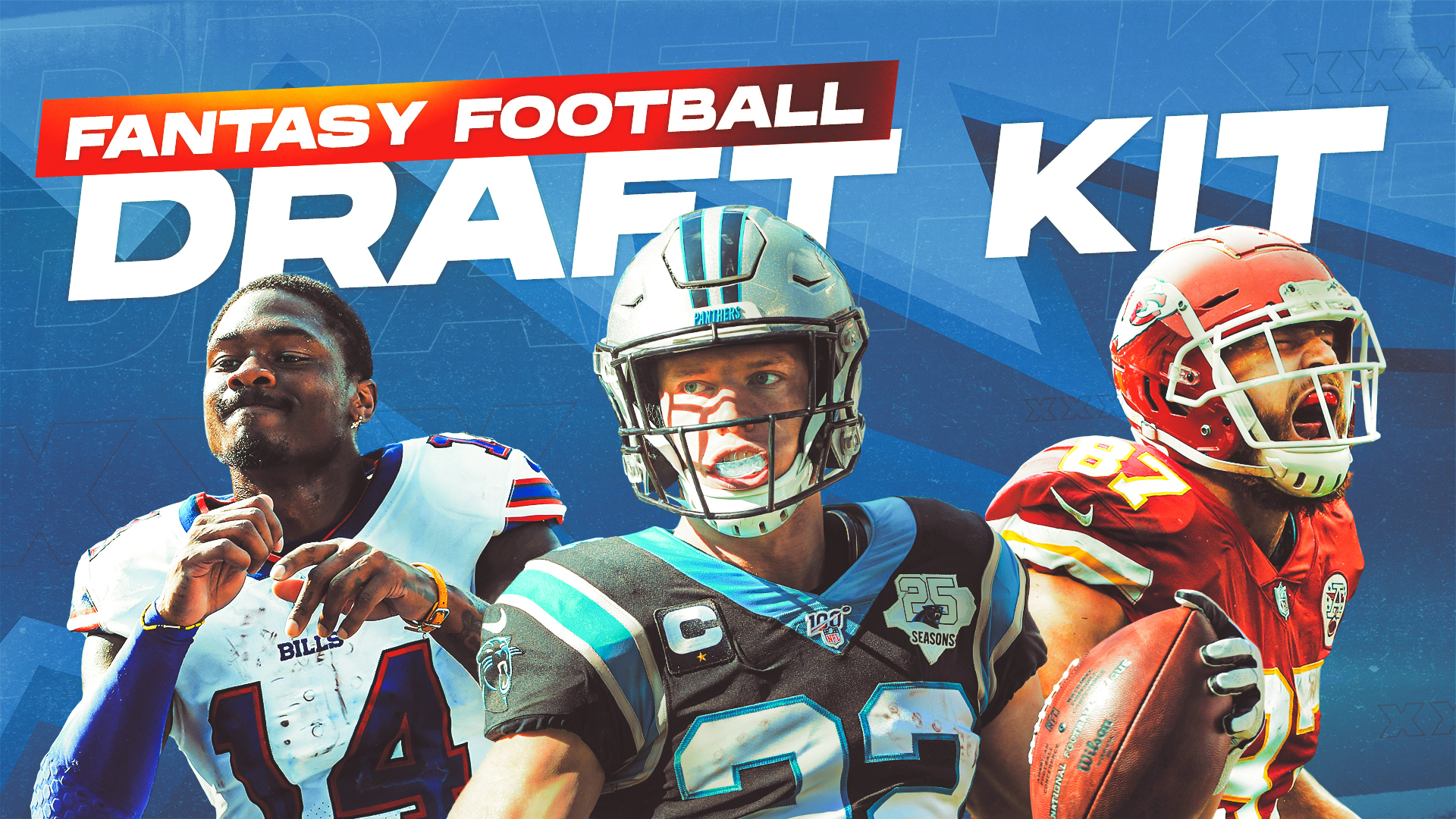 3. Gus "The Bus" Edwards finishes as a top-eight fantasy running back.
Edwards rides into the spotlight after J.K. Dobbins' season-ending injury. There is plenty of reason to believe whoever is at running back for the Ravens can find fantasy success even in PPR leagues — even though Lamar Jackson doesn't pass to his running backs often. The Ravens led the league in run play percentage at 50.5%. They have scored a touchdown on 32.4% of their drives over the last two seasons, which also leads the league. Edwards is guaranteed opportunities to run and chances to score touchdowns.
Mark Ingram II finished as RB11 in this offense in 2019 despite having Edwards as a backup. Both Dobbins and Edwards ended up as top-40 fantasy running backs last season despite Ingram still being in the mix. We know either Ty'Son Williams or a free-agent back will also be in the mix in 2021, but Edwards will be the new lead player regardless.
Even if Edwards gets his usual workload as well as half the production of Dobbins and Ingram last year, that would be good enough to be a top-eight fantasy back.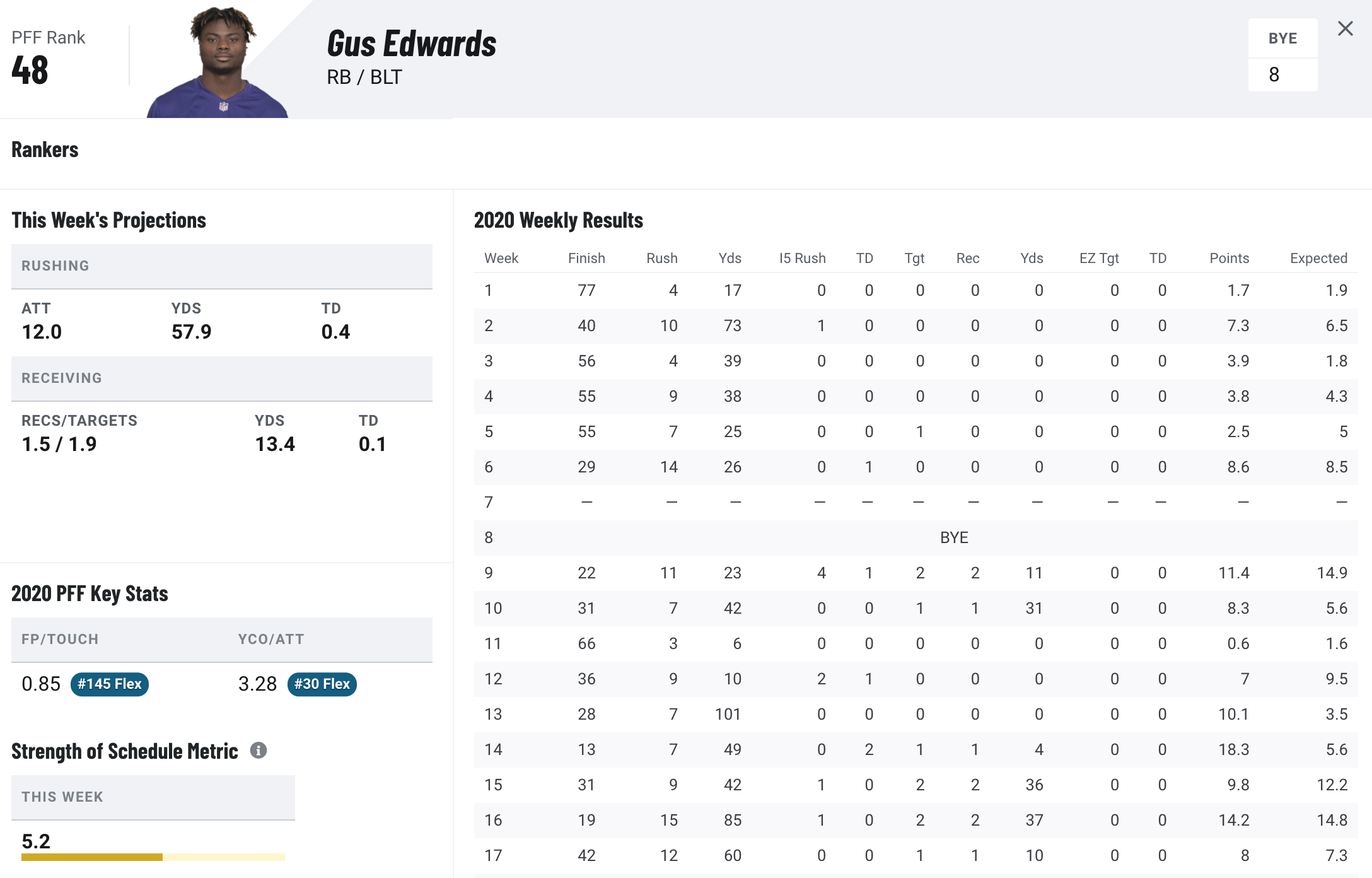 Edwards might not even need that significant of an increase in carries to reach RB8 because he has played better than other recent backs in Baltimore. His 86.5 PFF rush grade was fourth in 2020 — only behind Derrick Henry, Dalvin Cook and Damien Harris —  and he gained a first down or touchdown on 31.3% of his carries, which led the league for all running backs. Part of his success was refusing to lose yards on a play, as he finished third in positive gain rate on his carries.
Edwards has plenty of talent and opportunity. The only question is how many carries will the Ravens be willing to give him. He averaged 17 carries per game over the last seven games of 2018 when he was the starter, which would be more than enough to reach the top-eight fantasy backs.
4. Corey Davis will finish as a top-10 fantasy wide receiver.
To be a top-10 fantasy wide receiver, a player needs lots of targets, talent and touchdowns.
The talent part is already there for Davis. His 87.2 receiving grade ranked eighth among all wide receivers last season. One of the most consistent stats from one season to another is yards per route run, and Davis' 2.58 ranked fourth among all wide receivers. Davis' big-play ability is very underrated. He turned 28% of his targets into an explosive play, trailing only Calvin Ridley and Justin Jefferson. The former fifth-overall pick of the NFL draft has the ability to be an elite fantasy receiver.
His target total held him back from being a top fantasy option last season. He had the fewest targets among the top-30 wide receivers in fantasy points last season. His teammate A.J. Brown had the third-fewest. This is understandable with Derrick Henry at running back, but the New York Jets don't have anywhere close to that kind of talent at running back. Instead, New York focused on the pass game by adding Davis and used their first three picks on a quarterback, receiver, and strong pass-blocking offensive lineman. The Jets should be behind in games more than Tennessee was, leading to more passing in the fourth quarter.
Not only will his team have more passing volume, but Davis should have a bigger piece of the pie. He maintained a respectable 23.6% target share in his last season in Tennessee, which should increase a few percentage points. He was the target on 10 of his 13 pass routes in the preseason. That's obviously unsustainable, but it's still clear rookie Zach Wilson knows to look Davis' way.
The biggest unknown is how many touchdowns Davis will score. He caught a respectable four of eight end-zone targets last season. Both he and Brown didn't get as many opportunities as receivers of their caliber typically receive thanks to Henry. New York will likely be scoring fewer touchdowns than Tennessee did, but they will be getting there by passing more.
This is where the first-round rookie's play will matter most. If he can live up to his preseason success, then Davis should be able to reach double-digit touchdowns. If not, then the Jets will have a harder time sustaining drives, which means Davis will need to rely more on big plays. This bold prediction is expecting Wilson to have an above-average season for a rookie quarterback.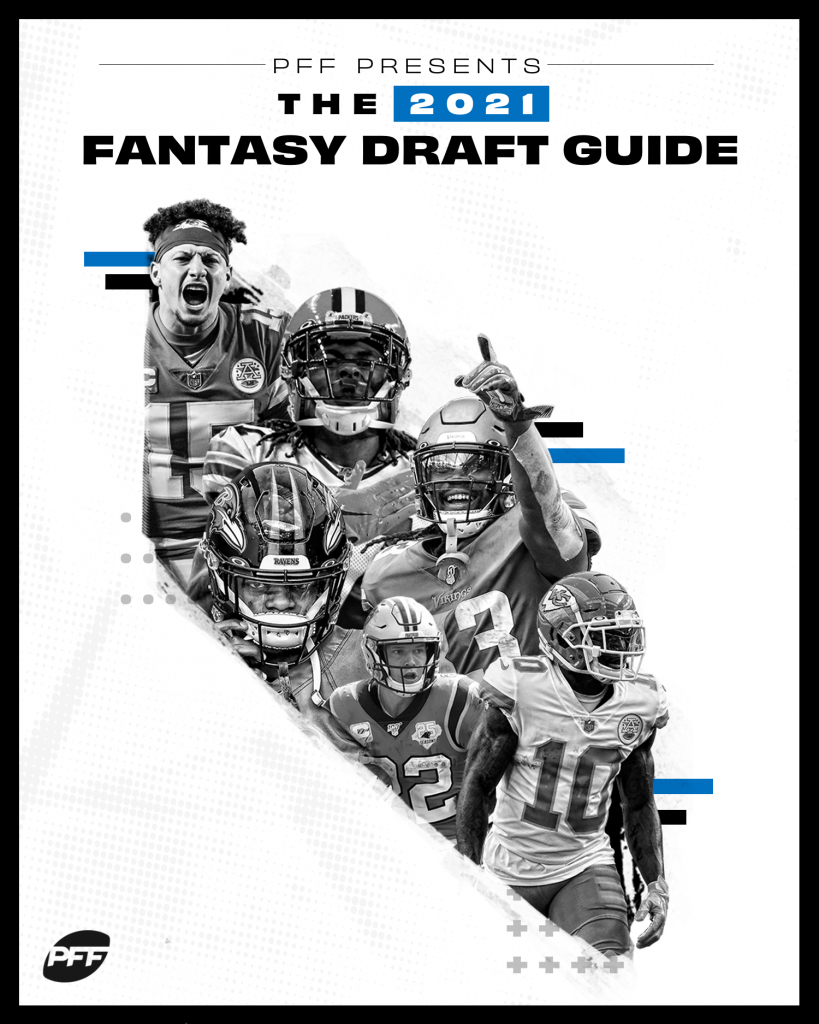 5. If you cut Travis Kelce, George Kittle and Darren Waller's 2021 fantasy production in half, they would each still finish as top-10 fantasy tight ends.
This was already true for Kelce last season. The gap between the Kansas City Chiefs tight end and the second-best option was over 100 PPR points, but 50% of Waller wasn't quite a top-10 fantasy tight end.
This bold prediction largely relies on Kittle staying healthy and having the best season of his career while only seven other tight ends average 8.8 PPR points per game.
Injuries derailed Kittle's 2020 season, but he's back to full health. The veteran 49er receiver should benefit when Lance is on the field with more explosive plays and touchdowns. He has been able to make big plays after the catch but hasn't broken off a ton of huge plays, hauling in eight of 12 deep passes for 268 yards and two touchdowns over the past two seasons. The other great tight ends have between 26 and 31 deep targets over the same time span.
Kittle's lack of opportunities is a direct result of quarterback play. Both Jimmy Garoppolo and Nick Mullens rank bottom five in average depth of target over the last five years. Lance's average depth of target in college was five yards further down the field. He has a monster arm and wants to attack downfield. Lance will help Kittle unlock his true potential.
The former Iowa Hawkeye has had horrible luck when it comes to passes in the end zone during his NFL career. Typically, 55% of passes to tight ends in the end zone are catchable and 80% of those are caught. Kittle has been targeted in the end zone nine times and only two of those passes were catchable (he caught both of them).
His luck has been especially bad when the 49ers are within four yards of scoring. Kittle has seen six targets in that situation in his NFL career, and none of those targets were catchable. If even average passes came his way on those plays and his catch rate regressed to the mean, he would have seven more touchdown catches in his career.
Kittle's already consistently ranked among the top five in fantasy points per game, but better quarterback play should put him among the big three.
The other half of the equation is other tight ends not playing as well. A number of tight ends will face much more competition for snaps and targets this season compared to last. Robert Tonyan, Logan Thomas, Mike Gesicki and Evan Engram are all on teams that added a wide receiver in one of the first three rounds of the draft while also adding a wide receiver in free agency or via trade. Rob Gronkowski, Hayden Hurst, Dalton Schultz, Hunter Henry, Eric Ebron and Jonnu Smith all have more competition in their own tight end rooms compared to a year ago either due to additions or players returning from injury.
The preseason gave us discouraging news on a number of sleeper tight ends. Irv Smith Jr. is likely to miss the season while Anthony Firkser and Adam Trautman were both expected to see increased roles but didn't through the preseason. A few of the tight ends mentioned will be in the top 10 but nowhere near Kelce, Kittle and Waller's production.