The middle rounds of fantasy drafts are a bit trickier than normal this season due to tier breaks in the third and fifth rounds. This weekend, I entered several Footballguys Players Championship (FPC) drafts at the FFPC to put all of my draft strategies and tier articles into an actionable format.
In this article, I will walk you through my strategy for tackling pick No. 8, including:
Roster construction goals
When to be aggressive vs. ADP
When to wait for value vs. ADP
Which sleepers to target
For this draft, I joined forces with my podcast co-host, Brian Drake from The Fantasy Football Hustle where we recorded the entire draft with commentary.
For those of you not familiar with the FPC format, it is one of my personal favorites because the tight-end premium scoring (1.5 PPR) and dual-flex spots allow for the deployment of many strategies. In this format, you must be strong at the flex, and tight ends matter more than ever.
On Monday, I shared my strategy for picks 9 – 12 in this format.

---
Click here for more PFF tools:
Fantasy Draft Kit | PFF Betting Dashboard | PFF Fantasy Rankings
PFF Fantasy Projections | NFL Premium Stats | Win Totals Tracker
---
FFPC OVERVIEW
Starters: 1QB, 2RB, 2WR, 1TE, 2FLX (RB, WR, TE), 1K, 1TDST
Scoring: PPR for all positions except TE, which receive an additional .5 per reception
Format: Re-draft
Teams: 12
Roster spots: 20
Entry fee: $350
Draft position: Pick 8
Team name: You just gonna stand there and bleed?
If you lead your division in points or win the league, you advance to a playoff format from Weeks 15 to 17 versus teams from all the other leagues that did the same. First place is $500K, which I have just missed three times.
Draft board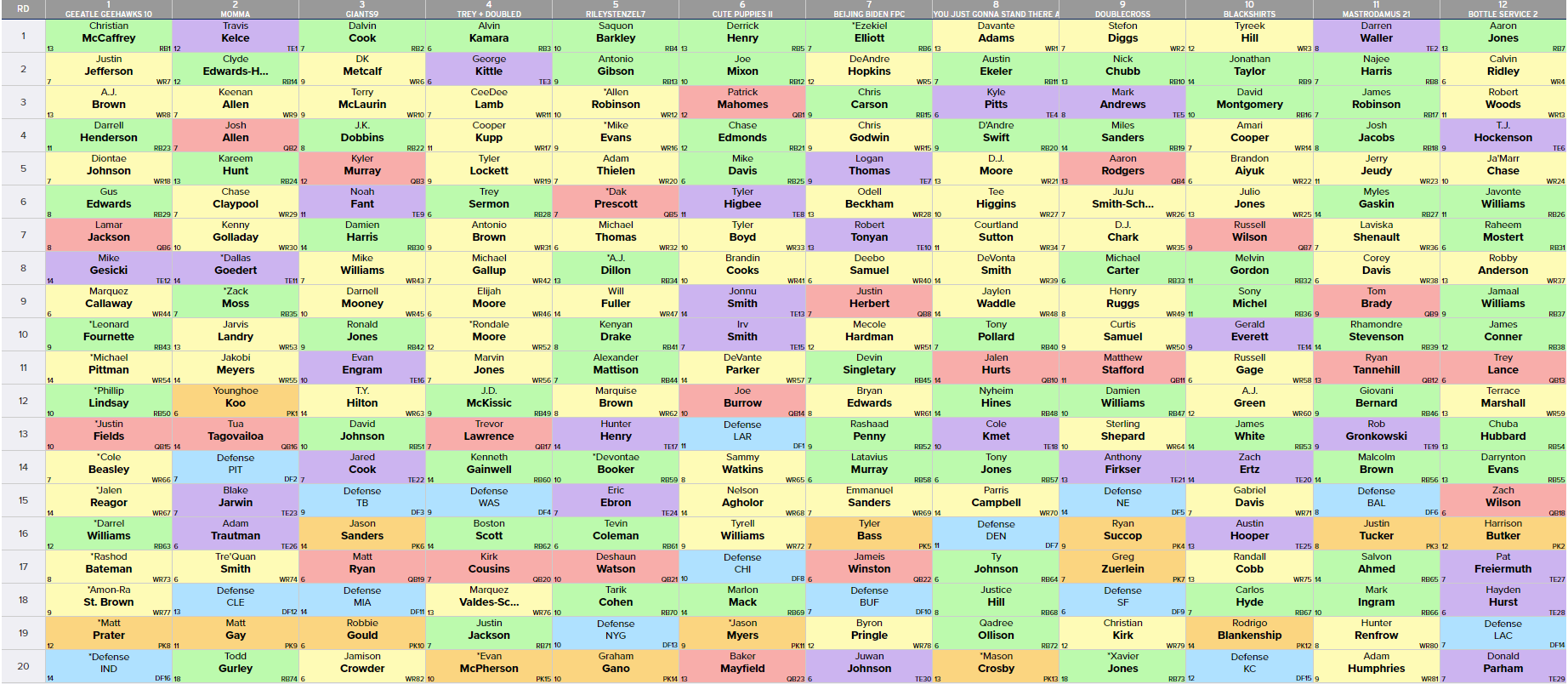 ROUNDS 1-2
The first pick was between Adams, Darren Waller and Aaron Jones.
Having an elite tight end is a differentiator in all league formats, but that is compounded in this format due to the 50% scoring bump on receptions and the ability to use them in the flex.
That last part is important, as it negates the limited nature of the position, especially over the first few rounds. However, unlike picking from the late position, you typically have access to the second tier of tight ends in Round 3 — which I love because running backs hit a dead zone and receivers flatten. Due to this, we chose to wait on tight end.
We would have prioritized Waller, Adams and Jones even if Derrick Henry or Ezekiel Elliott had been available. They all have similar ceilings and floors in this scoring format, but those backs are both close to the 1,500 career rushing attempt mark. Due to that, there isn't a reason to take on the additional risk.
Jones was intriguing, but he sometimes sneaks back around where the receivers and Waller typically don't. Joe Mixon is always in play in the second round, and I have him in the same tier as Henry and Elliott. So we chose to wait on running back and selected Adams.
Ekeler was an easy pick to smash. I have him a tier above several of the backs that went ahead of us. This is the latest he has gone in the last 36 drafts — we grabbed him at a seven-pick discount versus his 1.10 ADP.
Had Ekeler gone, the pick would have been Mixon. In this format, I prefer not to be in need of running backs and a tight end later in the draft. The goal is to create flexibility for the later rounds when players rank closely — which is the case for Mixon and the receivers in the mid-second.
ROUNDS 3-4
Subscribe to PFF Edge to continue reading
Already have a subscription? Sign In