The NFL season is right around the corner, and 2021 fantasy football leagues are starting to take shape. This series focuses on starters, startable players and sleepers for IDPs on every NFL team, working through all eight divisions.
With a week of preseason games in the books, there are also some subtle clues that could give us an idea of potential in-season usage to watch in 2021. We've covered the AFC East, NFC East, NFC North and AFC North. Now, on to the NFC South.

What each category means:
Starters: IDPs who should be drafted highly and expected to be utilized on a regular, if not weekly basis, once the season begins. They are the most trustworthy and offer the highest upside and fantasy potential.
Startable: IDPs who are still likely being drafted in most leagues but aren't players in the "set it and forget it" category. They can provide value as depth pieces who can fill in on bye weeks or in case of injuries to starters.
Sleepers: IDPs who are more under the radar and not necessarily even in a starting role for their respective teams but are good enough to make an impact if situations work out for them. These players are not always being drafted and most will be easily attainable in the average IDP league.
---
Click here for more PFF tools:
PFF Fantasy Draft Kit | PFF Betting Dashboard | PFF Fantasy Rankings
PFF Fantasy Projections | NFL Premium Stats | Win Totals Tracker
---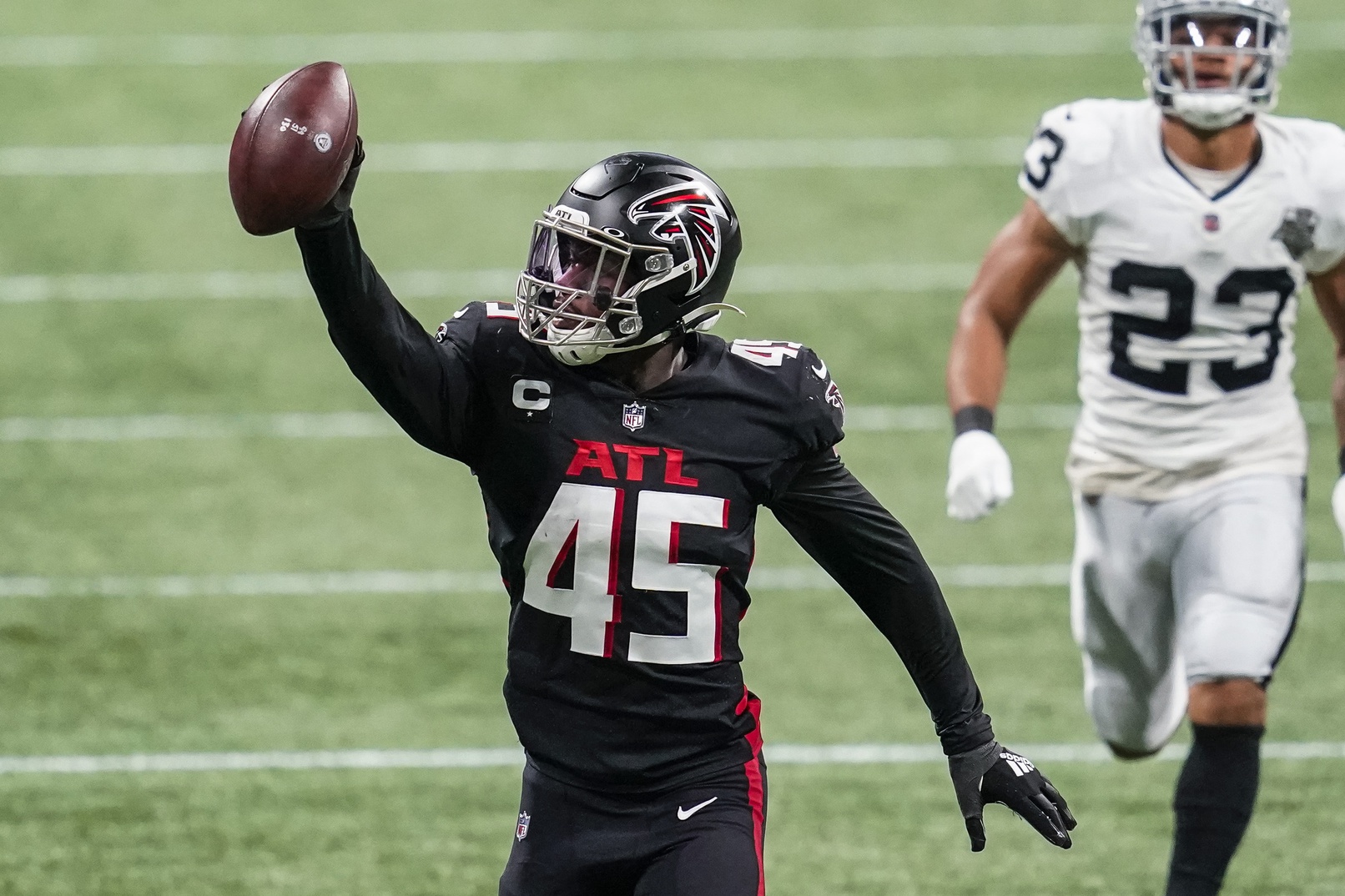 STARTERS
Outside of 2018 when he missed 10 games due to injury, Jones has put up over 100 total tackles in each of his five NFL seasons. He has also been on the field for the large majority of snaps during his time with the Falcons, having led the team in total snaps (1,040) this past season. Jones was given the opportunity to blitz more often in 2020 as well, seeing his pass-rush attempts jump from 45 to 85. This allowed him to put more pressure on the quarterback and convert those pressures into sacks, adding 4.5 on the year. Expect Jones to resume his role as the Falcons' leading linebacker in snap share and to continue his reliability as an IDP in 2021.
Oluokun burst onto the IDP scene in 2021. Working next to a known commodity in Jones, the former Yale Bulldog ended up finishing the season as the more efficient tackler between the two. Oluokun was even used more as a blitzer than Jones, seeing 137 of his snaps dedicated to rushing the passer — which makes his 117 total tackles all the more impressive. Oluokin converted 15% of just under 800 snaps into tackles when he wasn't rushing the passer. This puts him well above the average tackle rate for a linebacker of around 10%. An every-down role appears to be in the cards once again for 2021, giving Oluokun another shot to prove his IDP stardom. 
Jarrett enters the 2021 season as the best player on this Falcons defensive line, and it isn't particularly close. Since 2017, Jarrett has earned PFF grades close to or above 90.0 in all major defensive line categories (overall, run defense, pass rush). His peers in Atlanta are nowhere close to his level in that span. There is no player in that group who is trustworthy enough week-to-week other than Jarrett. He comes in ranked as a top-six interior defender for 2021.
Falcons current defensive linemen since 2017
| | | | |
| --- | --- | --- | --- |
| Player | Overall grade | Run-defense grade | Pass-rush grade |
| Grady Jarrett | 91.2 | 90.0 | 89.3 |
| Dante Fowler Jr. | 62.6 | 56.6 | 73.3 |
| Tyeler Davison | 68.5 | 73.4 | 58.3 |
| Steven Means | 62.3 | 60.4 | 71.0 |
| Jacob Tuioti-Mariner | 57.9 | 71.7 | 54.2 |
| John Cominsky | 73.0 | 70.4 | 67.3 |
STARTABLE
Fowler was always going to have a difficult time living up to his 11.5-sack season in 2019 with the Rams, but managing just three sacks, 30 pressures and a pass-rush grade of 60.9 in 2020 is still very disappointing. Still, Fowler is "startable" because of a likely high-volume role this year. There won't be much competition to keep Fowler off the field, but, like Jarrett, he won't have a lot of help to fall into production, either. Unlike Jarrett, there is less confidence in Fowler to win and produce based on his own merits, so he comes in more as a usable IDP piece as opposed to a locked-in starter every week.
The Falcons appear determined to bring along rookie safety Richie Grant slower than expected despite his draft capital and the uninspiring safety group around him. However, despite the lack of greatness at the position from an NFL perspective, Harris and Harmon could potentially be usable for IDP based on their snap shares alone — at least to start the year. We don't know how much of Atlanta's defensive looks so far in this preseason will carry over into the regular season, but they have run 61% of their coverages with just one single-high safety (Cover-1 & Cover-3) through two games. This is about on par with 2020, which helped keep Keanu Neal an IDP star. Neither Harris nor Harmon has played so far this preseason, so we won't know for sure which one is going to come down and play closer to the line of scrimmage until they do, given that they have both been typical deep safeties for their careers.
SLEEPERS
The IDP excitement for Grant since being drafted has tempered a bit with Erik Harris and Duron Harmon as the likely starters at safety, but that doesn't mean Grant's shot at IDP relevance in 2021 is finished. There are no guarantees that Harris or Harmon maintain their starting roles for the entire season, or that Grant won't be able to force himself onto the field with strong play. As mentioned, the Falcons could be running their fair share of single-high safety looks, which could call for one safety to come down and play in the box more often. Grant could quite easily be the best player for that job. After earning a 90.0 run-defense grade in his final season at UCF, the Falcons could rely on him to play that role more as the season progresses over less-effective box safeties in Harris and Harmon.
Davidson was Atlanta's second-round pick out of Auburn in 2020, but nagging injuries throughout his rookie year kept him from seeing significant snaps or getting into any kind of rhythm. Health is going to be the key for Davidson once again, as he was held out of the Falcons' second preseason game, but that was said to be more of a precaution and nothing long-term. Davidson earned an 81.2 overall grade and an 83.3 pass-rush grade in his final season with the Tigers, totaling 43 pressures and eight sacks. His first preseason game in 2021 offered hope, as he earned a 77.0 overall grade and managed two pressures and a sack on just 51% of the snaps.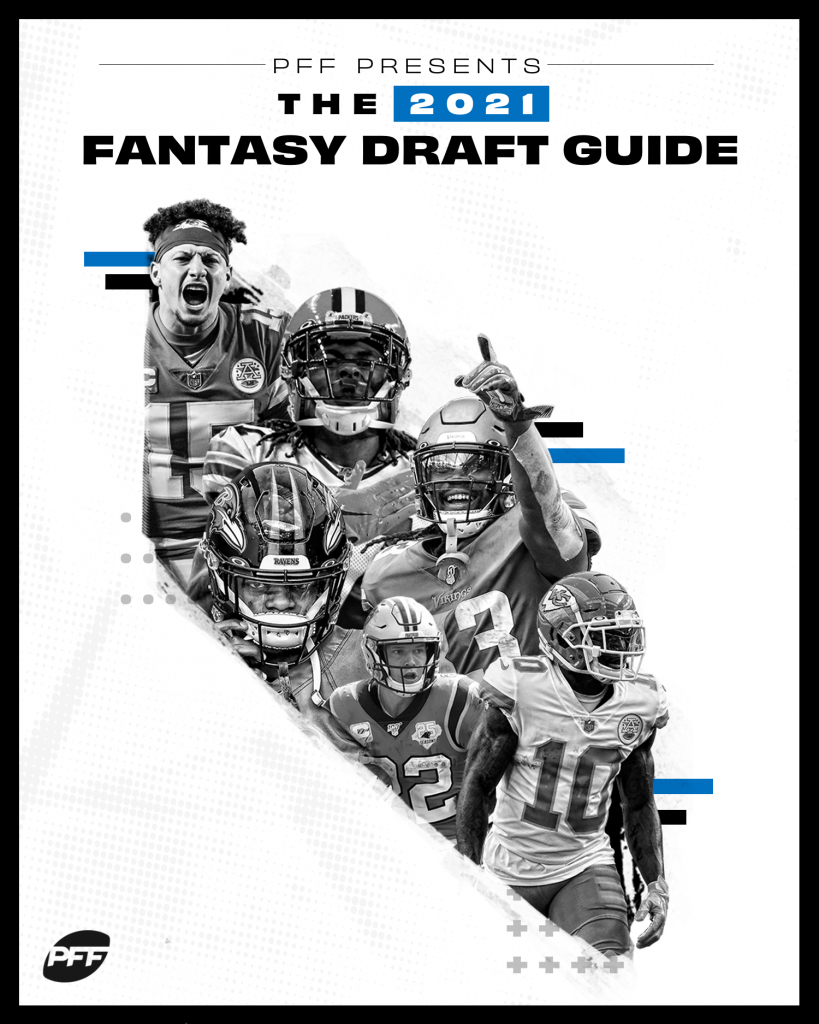 Subscribe to PFF Edge to continue reading
Already have a subscription? Sign In