Top-end fantasy football options abound in the middle of the first round of fantasy drafts, offering any number of paths to a 2021 best ball title. 
Let's dive into the routes available from the 1.05 draft slot — we've already gone over the best plans for the first four selections as part of PFF's inaugural Best Ball DraftKit. As you'll soon discover, drafting at the 1.05 creates an easy path to stack the Dallas Cowboys, Atlanta Falcons and Denver Broncos.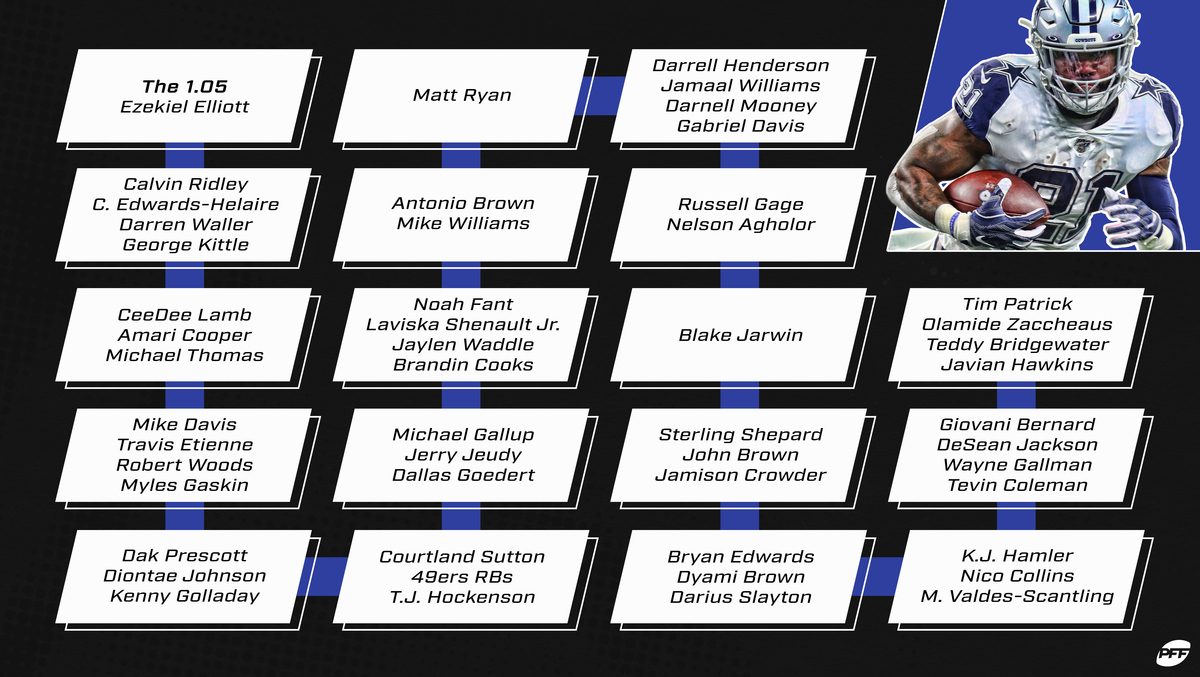 Editor's Note: Dive into PFF's 2021 Best Ball DraftKit for everything you need to win it all at the end of the year!
1.05: RB TIER 2 
We followed ADP with the 1.01, 1.02, 1.03 and 1.04 draft slots, but things get interesting with pick No. 5. The consensus has Alvin Kamara pegged as the No. 5 overall selection, but that's too high considering the questionable quarterback situation in New Orleans. 
Drew Brees' absence could have a much bigger effect on Kamara's fantasy output than many realize. In nine games over the past two seasons without Brees, Kamara averaged 15.9 fantasy points per game. In 20 games with Brees, he averaged 24.3 fantasy points per game.
We don't know how effective this offense will be with either Jameis Winston or Taysom Hill under center. Kamara's talent is the driving force behind his ADP, but signs are telling us that 2021 won't be a repeat performance of 2020. No player finished with more fantasy points over expectation last season. 
Kamara is beating expectations because he's an uber-efficient running back, but supreme outlier seasons are extremely tough to bank on year over year — especially when we have a clear reason to expect negative regression to take place.
Kamara still has a place among the top six to 10 running backs (he's my No. 6 overall back). Consider Ezekiel Elliott with this pick — his situation is the exact opposite of Kamara's.
Elliott finished with the most fantasy points under expectation in 2020 because his quarterback was hurt and the offensive line crumbled. But those are non-issues entering the 2021 season — we can expect a bounce-back effort from Zeke. 
???? pic.twitter.com/S6AZmF4Wll

— PFF Fantasy Football (@PFF_Fantasy) May 29, 2021
Even without a top-five selection, chances are Elliott will fall anywhere between picks six and 12. In my last two Underdog best ball drafts, he's fallen to me at the 1.11. Absurd value. 
2.08: WR TIER 1, TE TIER 1 OR RB TIER 3
From this draft slot, Round 2 offers a decision between Clyde Edwards-Helaire, Calvin Ridley, Darren Waller or George Kittle.  
The advantage of having a premium tight end like Waller or Kittle might be too enticing to pass up. Waller is my second-highest-ranked tight end because he operates as the Las Vegas Raiders' pseudo-No. 1 wide receiver. He needs to be a top priority among best-ball drafters.
But to stack for sky-high upside, Calvin Ridley might be the best option. His stock is on a one-way trip the moon after Julio Jones was traded to the Tennessee Titans. As the last remaining receiver from my WR Tier 1, he's a great pick in this spot. 
Ridley averaged a 30% target share (11 per game) and nearly 20 fantasy points per game last season without a healthy Jones in the lineup. He also sets the foundation to build an Atlanta Falcons offensive stack.
Subscribe to PFF Edge to continue reading
Already have a subscription? Sign In