2021 NFL Draft interest continues to heat up as the calendar flips to March. Each corresponding NFL mock draft shifts the value of dozens of high-end rookies.
I've tried to stay ahead of the rookie buzz with rankings of the top-15 rookie running backs and top-15 rookie wide receivers, along with rookies who appear to be overvalued/undervalued in best ball drafts. 
But the time has finally come to put together my own fantasy football Rookie Big Board. The following rankings will include all positions and can be used as a guide in both dynasty rookie drafts and best-ball leagues.
Subscribe to
These rankings will have to be updated once landing spots are determined in the draft, but getting familiar with the entire class now will make re-evaluating that much easier down the road. 
So, without further ado, let's dive into my top 70 rookies in the 2021 NFL Draft class with details on the top 50 prospects. 
Alabama's Najee Harris has been nothing but a stud since taking over the starting job in 2019. He owns PFF's third-highest rushing grade (93.3) and ranks first in rushing touchdowns (39) and fourth in forced missed tackles (128).
A big part of Harris' senior-year production stemmed from receiving work. His 43 receptions on 53 targets were career highs and ranked third in the nation at the running back position. He dropped only one target and forced a league-high 22 missed tackles after the catch.
With an all-encompassing skill set and desirable size, Harris has fantasy bell-cow back written all over him at the next level, though his lack of top-notch speed could keep him from being elite.
He's more than worthy of the coveted 1.01 selection in rookie drafts.
????️ Get Najee Harris 20+ touches per game ASAP pic.twitter.com/gqQozY2lkv

— PFF Fantasy Football (@PFF_Fantasy) February 24, 2021
Ja'Marr Chase slides in at No. 2 overall, and there's an argument to be made for him at No. 1. He's probably a much better bet to sustain success at the receiver position compared to any running back, but we need to put a premium on bell-cow backs on rookie deals because that's when they produce most for fantasy.
That being said, you won't catch me scoffing at anyone who selects Chase first overall. There's no doubt he would have been the first receiver drafted in a historically great 2020 class last year if he had declared.
At just 19 years old, Chase led the nation in receiving yards (1,780), touchdowns (20) and receptions on targets 20-plus yards downfield (24). He was uber-efficient, ranking seventh in yards per route run (3.52) and sixth in PFF receiving grade (91.3). That earned him a 33% dominator rating. 
And he did that while playing alongside future NFL rookie sensation Justin Jefferson. Don't expect to see Chase move from the No. 1 rookie WR chair anytime soon. 
This past season, North Carolina's Javonte Williams earned the highest rushing grade (95.9) that PFF has ever given. He led the nation with 75 forced missed tackles (48% missed tackle rate — a PFF record) and ranked second in PFF's elusive rating and second in rushing attempts of 15-plus yards (27). 
When factoring in his nine broken tackles on 24 catches, Williams' aggregate total missed tackle percentage (46%) is 11 percentage points higher than the next running back. 
Among the 19 running backs I sampled in my 2021 dominator rating article, Williams had the second-highest career PFF receiving grade (86.3). 
If a team decides to spend a high Day 2 pick on Williams, we should expect him to finally see the type of workload that will unleash his vast talent. 
As a true freshman, Jaylen Waddle hauled in 45 catches for 848 yards and earned the league's seventh-highest PFF grade (89.7). He ranked ninth overall in yards per route run (3.58). 
It's impressive that in Waddle's first season he was able to finish second on the team in receiving yards despite competing for snaps with first-round NFL-caliber talents like Jerry Jeudy, Henry Ruggs and DeVonta Smith. 
Waddle was well on his way to producing an even bigger season in 2020 with 557 receiving yards through the first four weeks, nearly topping his yardage total from the previous year in eight fewer games. If you extrapolated his four games out to a full season, he'd have gone for 75 catches, 1,671 yards and 12 touchdowns. 
He averaged more than a full yard per route run higher than teammate and Heisman-winner Devonta Smith (4.68 versus 3.63) to start the season. His dominator rating (34%) was also higher (32%). 
It's not hard to imagine Waddle continuing to outpace Smith if he hadn't been hurt, which is why he remains my No. 2-ranked receiver in this class. "Upside" is the name of the game when drafting Waddle this summer in rookie drafts. 
Comparing Kyle Pitts' 2020 season to other tight ends doesn't do him justice. His PFF grade (96.1) led all tight ends and was the highest grade in the PFF era. It was also better than any wide receiver.
The playmaker from Florida is a "tight end" by positional designation, but make no mistake that he is much more of a wide receiver — and an excellent one at that. His ability to create separation against opposing defensive backs is top-rate.
Pitts earned a 97.0 PFF receiving grade and averaged 4.91 yards per route run against man coverage. Those ranked first and second, respectively, among all players. No other tight end averaged over 3.0 yards per route run or posted a grade higher than 87.2. 
What's equally impressive is that Pitts had this insane season of production (32% dominator rating) at just 20 years old. High-end, age-adjusted production is extremely encouraging for receivers and tight ends as they enter the next level.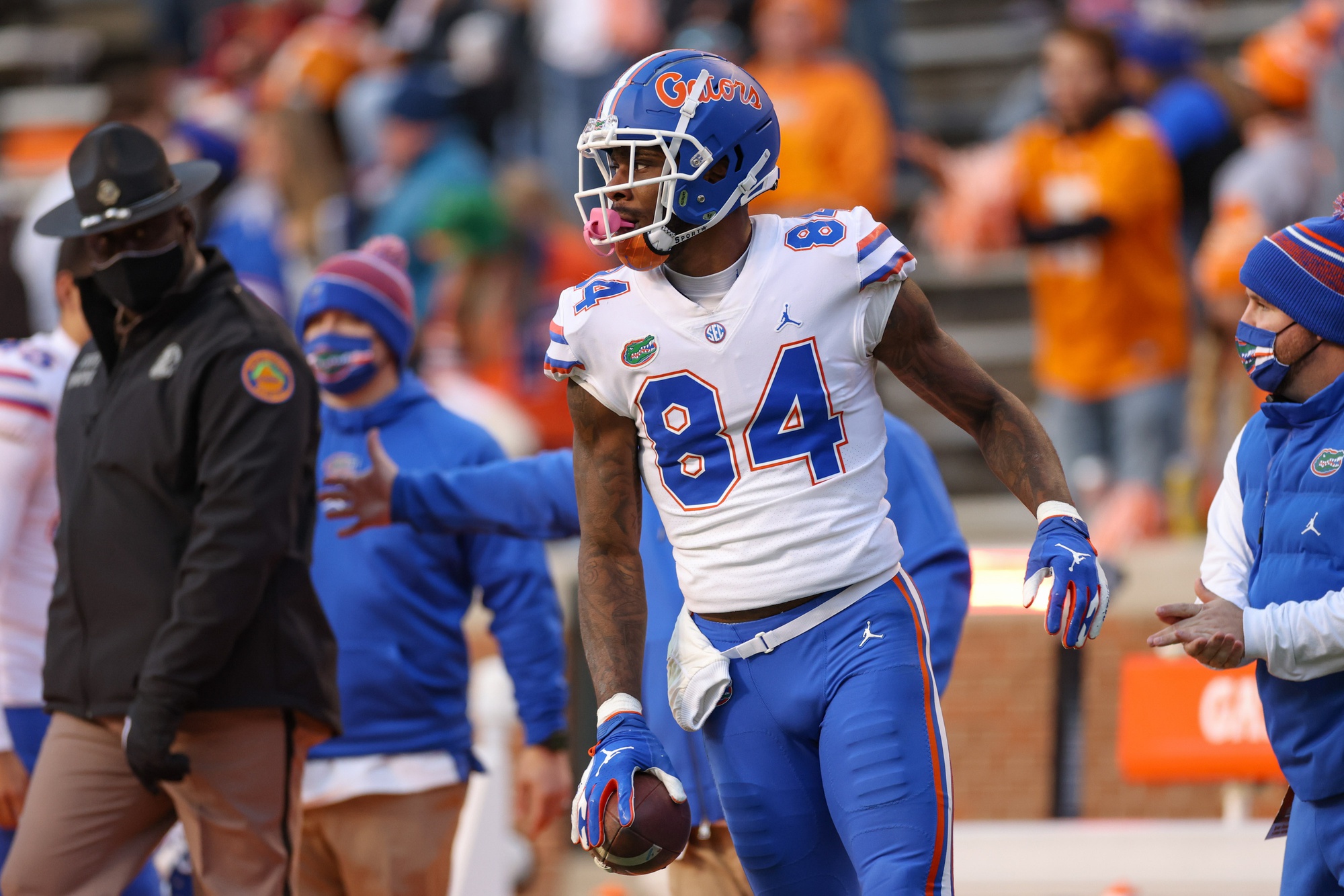 Pitts technically "broke out" during his 19-year-old sophomore season in 2019 when he posted dominator rating over 15%. The guy has it all — he'll be a mismatch nightmare for opposing linebackers and safeties at the next level.
Pitts' naysayers will point to the fact that rookie tight ends rarely produce in their first seasons, but I'd argue that no rookie tight end in recent memory fits the profile of Pitts. 
There are whispers that NFL teams are considering him as more of a wideout, so fantasy managers would be wise to follow suit. 
Banking on Pitts delivering as a rookie is a stretch, but the positional advantage he could provide might make him well worth the top-five rookie draft capital. 
Travis Etienne would have been PFF's No. 1-ranked RB in the 2020 NFL Draft Class had he chosen to forego his final season of eligibility at Clemson.
His final season in college football as a rusher was lackluster: Going back to school resulted in a career-low PFF rushing grade (81.1, 38th out of 100 qualifiers). His mark of 5.6 yards per carry was the first time he fell below 7.0 in college, and his 3.8 yards after contact per attempt was the first time he finished under 4.0. 
Clemson lost a ton of talent across the offensive line, which hurt Etienne. After four Tigers starters moved on to the NFL, Etienne saw just 1.8 yards before contact (below league average) season compared to 2.8 in 2019 and 3.8 in 2018, per PFF's NFL Draft Guide.
But, his overall career grade as a rusher (96.7) still trumps almost all the running backs in the 2021 draft class, and his senior season showed us his growth as a weapon in the passing game. 
He finished first in PFF receiving grade (90.9), first in receiving yards (588) and second in receptions (48) at the running back position. Etienne has improved as a receiver every season of his career — NFL teams will love to use him as a mismatch out of the backfield. 
Etienne's home-run threat ability helps shadow his smaller frame, which could prevent him from seeing huge carry totals at the next level. He hardly will be used to grind out minimal yardage up the middle and in close-out situations. Etienne has just one game on his resume with 20-plus carries since 2018.
Rashod Bateman broke out in his first season for the Golden Gophers at just 19 years old with 51 receptions for 704 receiving yards and six touchdowns. That earned him a 28% dominator rating — a figure that would end up being his lowest in college.
Despite playing alongside future Tampa Bay Buccaneers' wide receiver Tyler Johnson, Bateman's success continued into his sophomore year (2019) when he earned yet another exceptional 38% dominator rating. He and Johnson were neck and neck in terms of production (Johnson: 39%).
After Johnson left for the NFL, Bateman unleashed his will on the offense, earning a 48% dominator rating. That mark is the second-highest among the receivers listed in this rankings. 
The biggest knock on Bateman is his overall athleticism, but he is doing everything in his power to silence the doubters. He reportedly ran a 4.39 laser-timed 40-yard dash at his Exos combine. 
Bateman was originally an auto-draft at the back-end of first-round rookie drafts, but with his draft stock headed to the moon, fantasy managers might not be so lucky to get him at a discount anymore. 
Kenneth Gainwell was my No. 4-ranked running back in my early top-five rookie running back rankings, and he will remain locked into that spot. After researching his 27% career dominator rating, I came away extremely impressed.
Gainwell commanded the majority of touches in 2019  while "sharing" the backfield with future Washington Football Team running back Antonio Gibson. He out-gained Gibson by a huge margin (229 to 33), and his receiving ability really stood out. 
During his magical 2019 run, the Memphis scatback ranked fourth in PFF receiving grade (85.0), fourth in receptions (51), first in receiving yards (610) and second in missed tackles forced (20) on receptions.
Due to his smaller size, we aren't likely to see Gainwell become a workhorse back at the next level, but his ability to win in the receiving game is going to make him a viable fantasy asset.
Devonta Smith and Jaylen Waddle entered the 2020 college football season as an imposing 1A-1B duo for the Crimson Tide. With Waddle sidelined early in the season, Smith stepped up and delivered a performance worthy of the first Heisman Trophy to go to a wide receiver since Desmond Howard in 1991.
The Alabama product graded as PFF's best wide receiver (95.6), catching 117 passes on 145 targets for 1,856 yards and 23 touchdowns. His yards per route run (4.39) also ranked first in the nation.
No college player since 2018 had more receiving yards than Smith with at least one step of separation. He also ranked second in receptions (146) and third in yards per route run (4.65) with at least one step of separation behind only Jerry Jeudy and former Minnesota wide receiver Tyler Johnson.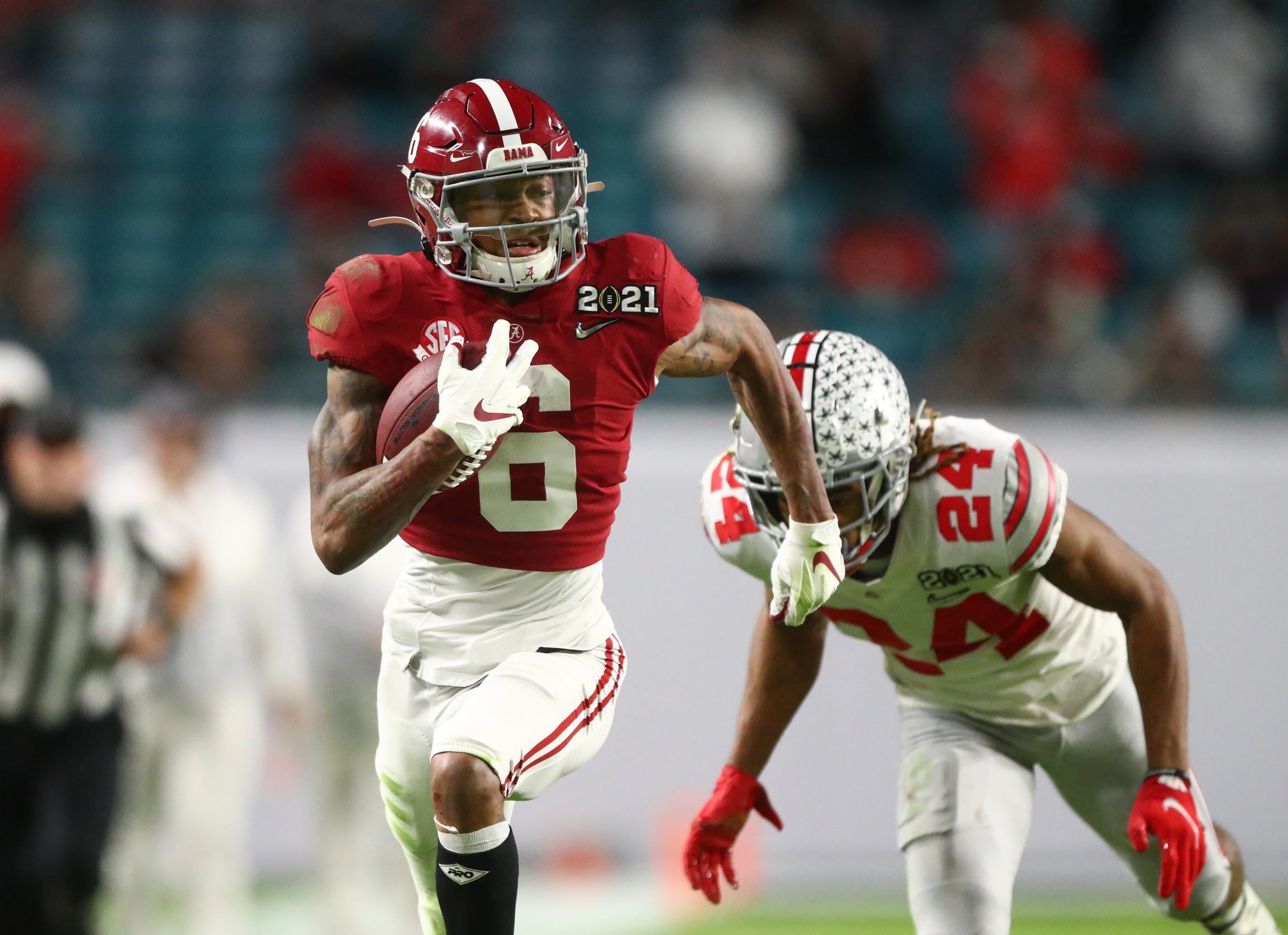 Ultimately, Smith's only true con is his small stature. He's a skinny receiver who probably won't be running a 4.3 40-yard dash, which could potentially keep him from becoming an alpha receiver at the next level.
He declined to weigh in at the Senior Bowl, suggesting that he'd rather have NFL teams scout his tape and not his measurables. His weight/size is going to be debated through the NFL draft process and could cause him to fall in rookie drafts.
But the bottom line per the PFF NFL Draft Guide is that Smith's size wasn't an issue in college, so it may not matter as much as we'd assume in the NFL.
Rondale Moore burst onto the college football scene as an 18-year-old true freshman in 2018, posting over 1,200 receiving yards and 114 catches — the most in the country. That earned him a 37% dominator rating, which is one of the highest ratings of any receiver during their breakout season.
The majority of his yardage can be attributed to his YAC-ability. In addition to leading the country in yards after catch, Moore also led the nation in broken tackles (37) at the wide receiver position.
Moore only played four games in 2019 due to a hamstring injury and then just three games in 2020 due to COVID-19. Still, Moore made the most of his limited action, hauling in 35 balls on 44 targets for 270 yards.
It's been a long time since we've seen Moore play at his peak back in 2018, but don't let that affect your decision on drafting the electric receiver. His playmaking ability and projected first-round draft capital make him worthy of the hype heading into 2021.
I initially overlooked Ole Miss wide receiver Elijah Moore — I didn't even include him as an honorable mention in my original top-five dynasty rookie wide receiver rankings. But after diving further into his prospects, I've bumped him up because he is one of the best slot receivers in the class.
He exploded onto the scene at just 19.5 years old, earning a 46% dominator rating in his second collegiate season after D.K. Metcalf and A.J. Brown took their talents to the NFL. 
Moore compiled nearly all of his catches and yards while operating as the team's primary slot receiver (98% snap share). 
His sophomore campaign firmly put him on the NFL radar, but it wasn't until this past season that he really took the next step. On 11 fewer targets in 2020, Moore posted 365 more yards. His PFF grade (92.4 versus 79.5) and yards per route run (3.65 versus 2.34) increased substantially. Those marks both rank inside the top three among all 2021 draft-eligible receivers. 
Moore ranked first in PFF grade (97.7) and fifth in yards per route run (3.55) from the slot in 2020. 
His upside as a downfield threat also can't be ignored. Of the 2021 draft class receivers, he finished fifth in catches of 20-plus yards (11) and fourth in yards (490). On deep targets from the slot, Moore ranked second in yards and catches.
Clemson's Trevor Lawrence is one of the most highly regarded quarterbacks to enter the NFL in recent memory. He was one of the nation's top recruits coming out of high school, and his future as a No. 1 overall pick seemed set in stone after his true freshman year.
He became the first freshman quarterback to earn a PFF grade above 90.0 and continued that success in his next two seasons. 
Lawrence earned a PFF grade of 90.7 last year, which ranked 10th-best among QBs since the start of the 2019 season. He also increased his accuracy from his first season, going from a sub-65% completion rate in 2018 to a 68% completion rate this past season.
And his completion rate wasn't inflated through a series of RB dump-offs. He showed effectiveness throwing deep, earning PFF's fifth-highest grade on 20-plus yards throws (95.2) while finishing eighth in adjusted completion percentage (48.4%).
The arm strength and improved accuracy suggest that he'll be able to make all the throws. Combine that with upside as a runner, and we have a deadly fantasy asset at our disposal.
In 2019, Lawrence was PFF's fourth-highest-graded rusher (84.6) at the quarterback position. He rushed for 682 yards, 7.8 yards per attempt (second) and scored nine rushing touchdowns. In his final three games to wrap up the 2020 season, he attempted 27 rushes for 133 rushing yards. 
He is as NFL-ready as a rookie quarterback can be and is well-deserving of the first pick in dynasty superflex formats. Pairing him with new Jacksonville Jaguars head coach Urban Meyer could further unlock the rookie's upside as a rusher based on his coach's track record of leveraging QBs as rushing threats.
When PFF's 2021 NFL Draft Guide compares Justin Fields to a smaller version of Cam Newton, savvy fantasy managers would be wise to take note. The dual-threat quarterback was the third-ranked college quarterback in terms of PFF passing grade (93.6) over the past two seasons (2019-20) largely because of his spot-on accuracy. No quarterback in college football was more accurate than Fields last year.
His 72.4% accurate-pass rate, per PFF's ball location charting, made him one of just two quarterbacks to hit at least 70% (Mac Jones). His adjusted completion percentage (81%) ranked No. 2 in the nation. 
Fields also finished second in passing touchdowns of 20-plus yards (29) and third in air yards percentage (71.2%) since the start of the 2019 season, showcasing his affinity for throwing the ball downfield. 
Deadly accuracy and deep-ball prowess are the exact characteristics fantasy owners should be looking for in future quarterbacks, but Fields becomes even more of a slam-dunk selection when his rushing upside is incorporated into the projected outlook.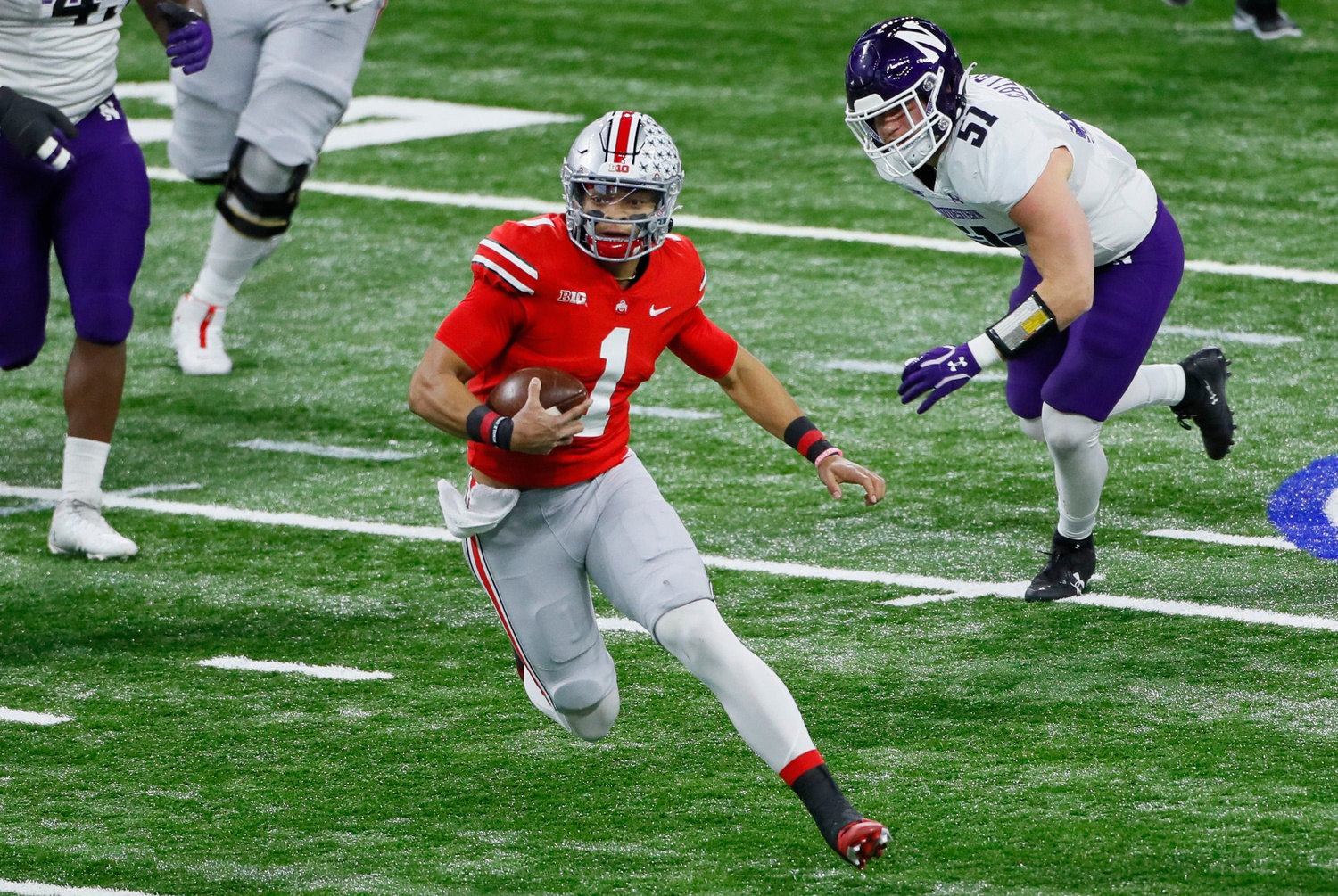 He averaged eight rushing attempts and nearly 55 rushing yards per game at Ohio State. Reaching those thresholds at the collegiate level puts him in the conversation with some of the NFL's best mobile quarterbacks from the past few draft classes.
Specifically, Fields' 3.4 scrambles per game are right on par with the likes of Lamar Jackson and Jalen Hurts in their college days. 
Fields' weaknesses as a passer — poor accuracy outside the pocket, holds the ball too long, doesn't convert many tight-window throws — basically call for him to tuck and run even more. 
Fields will find out quickly that the passing lanes in the NFL are extremely tight. If he's hesitant to make those throws, he will almost certainly use his legs as an escape route — the exact outlet we want our fantasy QBs to utilize. 
In 2021 fantasy football redraft formats, Fields is going to be the late-round quarterback that alters the tides of leagues. 
I anticipate drafting plenty of Tylan Wallace during dynasty rookie drafts this offseason. He's a more under-the-radar prospect and his production speaks for itself. 
Over the past three seasons, the Oklahoma State product ranks third in catches (198), second in yards (3,306) and sixth in PFF receiving grade (91.3). Among the receivers ranked on this list, Wallace's PFF grade is second to only DeVonta Smith.
His productive college resume earned a 32% college dominator rating. He posted an insane single-season 50% dominator rating his junior year before his season ended early due to injury. 
Wallace's special junior season was a follow-up to his uber-productive sophomore campaign when he posted a 37% dominator rating at just 19 years old. Outside of Rashod Bateman, there's an argument to be made that Wallace has the best age-adjusted profile in the draft class. 
What's also impressive about Wallace's production is that he has had zero benefit from playing in the slot. He's never played more than a 13% seasonal snap share lined up inside, but that has hardly impacted his numbers.
When accounting for receivers lined up on the perimeter since 2019 with at least 100 targets, Wallace's yards per route run ranks fourth (3.27). It's not too far off from DeVonta Smith's mark (3.53) under the same criteria. 
There's no question that Terrace Marshall Jr.'s raw production suffered from playing alongside Justin Jefferson and Ja'Marr Chase at LSU. That's why he posted a lowly 22% dominator rating and didn't melt faces till this past season when he got the opportunity to be the No. 1 pass-catching option.
His 46% dominator rating in 2020 was the fifth-best single-season I charted, but his overall grade (81.1, 11th in the 2021 class) and efficiency numbers weren't off the charts compared to the rest of the league. He finished 15th in yards per route run (2.91) among wide receivers with at least 60 targets.
Compared to his 2019 form, he improved dramatically. 
Terrace Marshall Jr. | 2019-20
| | | | | | |
| --- | --- | --- | --- | --- | --- |
| | PFF grade | Yards per route run | Catch rate | Targets | Yards |
| 2019 | 71.6 | 1.59 | 68.0% | 67 | 671 |
| 2020 | 81.1 | 2.91 | 70.0% | 67 | 731 |
Marshall was featured less downfield and got a boost playing from the slot. He went from a 35% slot snap share in 2019 to an 82% slot snap share in 2020.
Because the LSU product has the requisite traits to be a proper alpha wide receiver at the next level, I doubt we see him moved back into the slot. He has a large catch radius that will help him vacuum up targets over defenders, especially in the red zone.
Marshall is PFF's third-highest-graded draft-eligible receiver (83.6) in the red-zone based on career grades. 
Although Marshall played alongside NFL talent throughout his college career, he technically did "break out" at age 19 during his sophomore season. But it was a bit of a "weak" breakout, as he barely reached the 20% dominator rating threshold needed for the distinction. That's not overly impressive, and neither is the fact that he has the second-lowest career PFF grade (77.6) of the 17 rookie receivers I previously analyzed.
Florida's Kadarius Toney figures to be one of the most polarizing rookie wide receivers in dynasty leagues this offseason. There's a serious divide on his projection between fantasy analysts and NFL teams. 
General managers and scouts are falling in love with Toney because of the upside he can deliver with highlight-reel plays and YAC-ability, but he was a fringe producer in college. 
The former Gator didn't achieve a dominator rating over 20% until his senior season at 21.5 years old (23%), and even then he barely got there. Toney's career dominator rating — excluding games he missed due to injury — was just 14%, which tied for last among my 17 rookies sampled.
The Florida wide receiver has been mocked as a first-round pick due to his dynamic skill set, but I'm much less bullish on him. If his price skyrockets with Round 1 cache attached to his name, consider me out.
If any running back can create yards after contact, it's Virginia Tech's Khalil Herbert. The senior tied Jaret Patterson for the lead in yards after contact per attempt (4.74) among the 2021 draft class and finished second in total yards after contact (734) behind only Najee Harris. 
Herbert earned PFF's third-highest rushing grade (90.0) at Kansas in 2019 while averaging 9.2 yards per attempt — the second-highest average in the nation. In 2020, he unleashed his full potential as a grad transfer at Virginia Tech, finishing as PFF's second-highest graded rusher (91.3, 27% dominator rating) while ranking third in yards per carry (7.6) and breakaway rate (55%) among the 2021 draft class.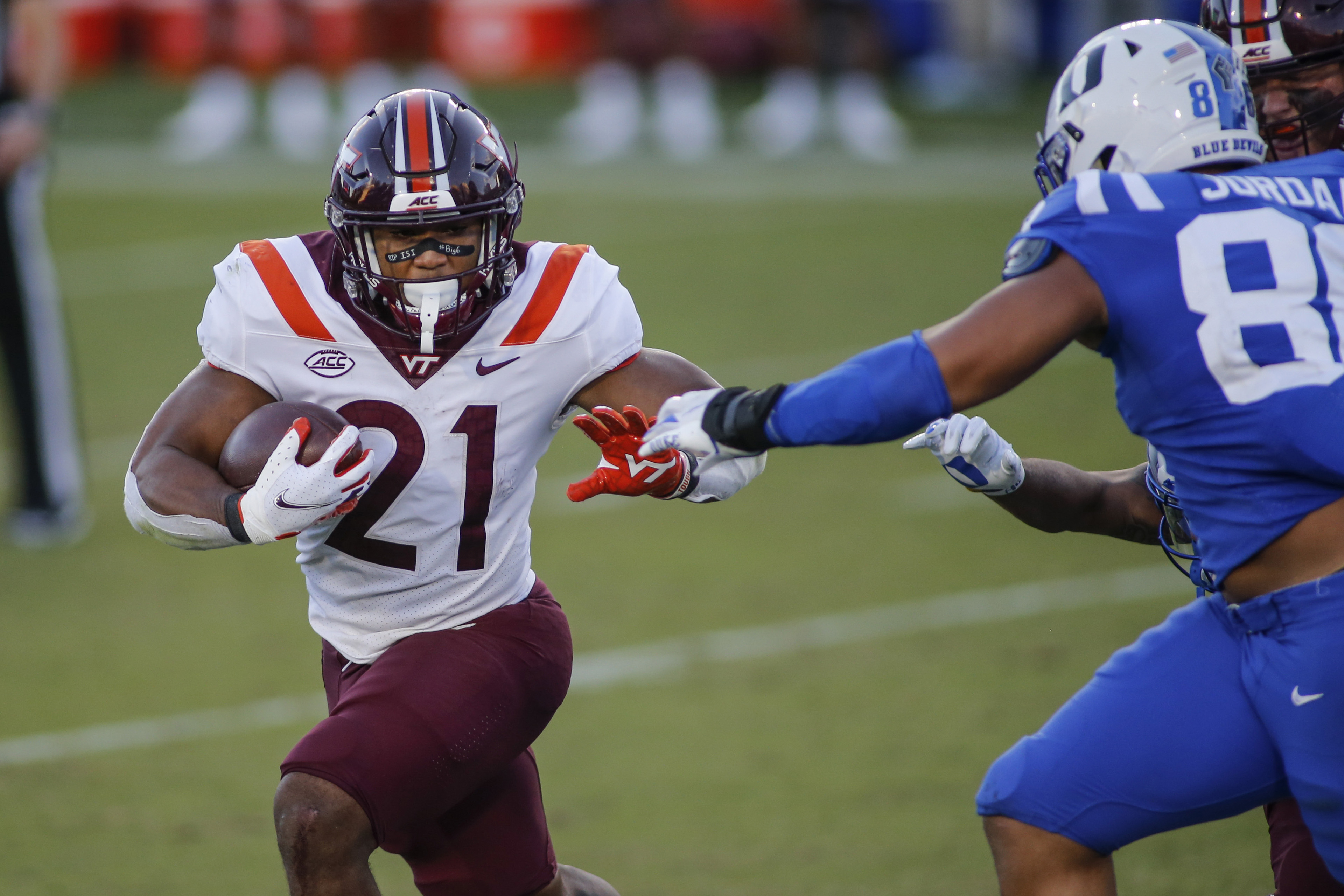 Fantasy naysayers will point to Herbert's draft age (23) as a reason to fade him in fantasy, but age is less important at running back. The rookie deal is really all we're focused on as fantasy managers. Plus, Herbert played in a running back committee until last season, so there's still plenty of tread on the tires.
His real concern is just lack of work as a pass-catcher — he never had more than 10 catches in a season. But Herbert certainly made the most of those receptions — his yards after the catch per reception (19.9) was the highest mark at the running back position.
After three seasons at Oklahoma, Trey Sermon took his talents to Ohio State in search of a bell-cow role. During his final season as a Sooner, the junior averaged 7.1 yards per carry with 17 broken tackles on just 54 attempts.
Fast forward to the 2020 season at Ohio State and Sermon got his chance to be a primary focus in the offense, rushing for 640 yards (9.0 yards per carry) in his last three healthy games while flashing elusiveness with 28 forced missed tackles (30% missed tackle rate).
Sermon's lack of pass-game work (under 50 receptions in four seasons) and top-end speed may hinder his fantasy upside at the next level, but he still can earn a starting role on early downs for an NFL squad. Sermon owns PFF's seventh-highest rushing grade (93.9) since 2018. 
If a team takes Sermon on Day 2, the commitment attached to the higher draft capital would go a long way for his fantasy draft stock. Ascending to the top spot in a backfield has been one of Sermon's biggest issues — he never surpassed an 18% dominator rating in any of his four college seasons.
Until Sermon transferred to Ohio State, his usage at Oklahoma was limited because the offense split rushing attempts between other RBs like Rhamondre Stevenson and mobile quarterbacks like Kyler Murray and Jalen Hurts. 
He has been much more of a victim of circumstances rather than a subpar producer, so I wouldn't knock him too much for his lower dominator rating
Michael Carter had immense success operating alongside Javonte Williams in the North Carolina backfield. He was PFF's seventh-graded rusher (91.1) and actually outproduced Williams on the ground with 1,245 rushing yards despite both players handling exactly 157 carries. Carter led the nation in carries of 15 yards or more. 
He also profiled as the superior pass-catcher of the duo. Williams and Carter each commanded 30 targets last season, with the latter taking the edge in yards per route run (1.93 vs. 1.64) and PFF receiving grade (88.6 vs. 77.5).
The main concerns with Carter are his late development and smaller size — he could be pigeonholed as a scatback at the next level. And although playing alongside Williams explains his low final season (21%) and career dominator ratings (17%), the competition at running back in the NFL is not going to get any easier. 
Similar to Etienne, it would have made all the sense in the world for Chuba Hubbard to declare for the draft last season. He rushed for over 2,000 yards as a redshirt sophomore in 2019 on an insane workload of 328 carries. That earned him a convincing 40% dominator rating.
Hubbard's efficiency took a nosedive in 2020, as his PFF rushing grade (87.6 vs. 71.8), yards per carry (4.7 versus 6.4) and yards after contact per attempt (4.0 versus 2.5) all took massive hits. His PFF rushing grade and yards after contact per attempt ranked outside the top 40 at the running back position.
Some of Hubbard's poor 2020 campaign can be attributed to an ankle injury he sustained toward the end of the season. He had just 14 carries in his last two games when he was averaging well over 20 per game the five weeks prior.
Hubbard's evaluation comes down to weighing his 2019 season versus 2020. In 2019, Hubbard averaged a whopping 5.51 yards per snap, which was over a yard more than any other incoming rookie's best season (Elijah Mitchell, 4.50). Although Hubbard wasn't as exceptional in 2020, he still posted a more than an acceptable 30% dominator rating.
After failing to crack my initial top-10 rookie wide receivers, North Carolina's Dyami Brown is on the move, now coming in at 10th in the WR ranks. He has the exact skillet we want in our rookie wide receivers. 
Brown has a smooth release off the line of scrimmage that is going to help him win on the outside in the NFL. He ranked 11th in yards per route run (3.15) and 10th in PFF receiving grade (83.2) when running routes from the outside. 
Brown's effectiveness getting off the line of scrimmage helped him become one of the deadliest vertical threats in all of college football. No player had more total yards (1,116) or catches (26) on targets of 20-plus yards over the past two seasons.
His breakout age (20) and highest single-season dominator rating (31%) aren't ideal, but they aren't egregious enough to totally dampen his outlook. Brown's dominator rating is somewhat skewed because North Carolina looks to be producing several NFL players this season, including Dazz Newsome, Javonte Williams and Michael Carter. 
It's more difficult to post an extremely high dominator rating when you're surrounded by other talented players. Just ask the Alabama wide receivers. 
Tutu Atwell turned heads during a breakout sophomore campaign, compiling over 1,200 yards and 12 touchdowns with a 40% dominator rating. His outstanding season earned a 91.7 PFF receiving grade, which ranked second among all receivers with at least 70 targets in 2019. That's not an easy task for someone at just 19 years of age.
Atwell's career dominator rating (32%) ranked fourth among the 17 rookie receivers I sampled, which just goes to show how productive he was throughout his college tenure.
He thrived in making explosive plays after the catch and on targets downfield because of his elite speed. Atwell ranks seventh in catches of 20-plus yards (20), fifth in yards per route run (3.45) and fourth in yards after the catch per reception (9.0) among receivers with at least 100 targets since the start of the 2019 season.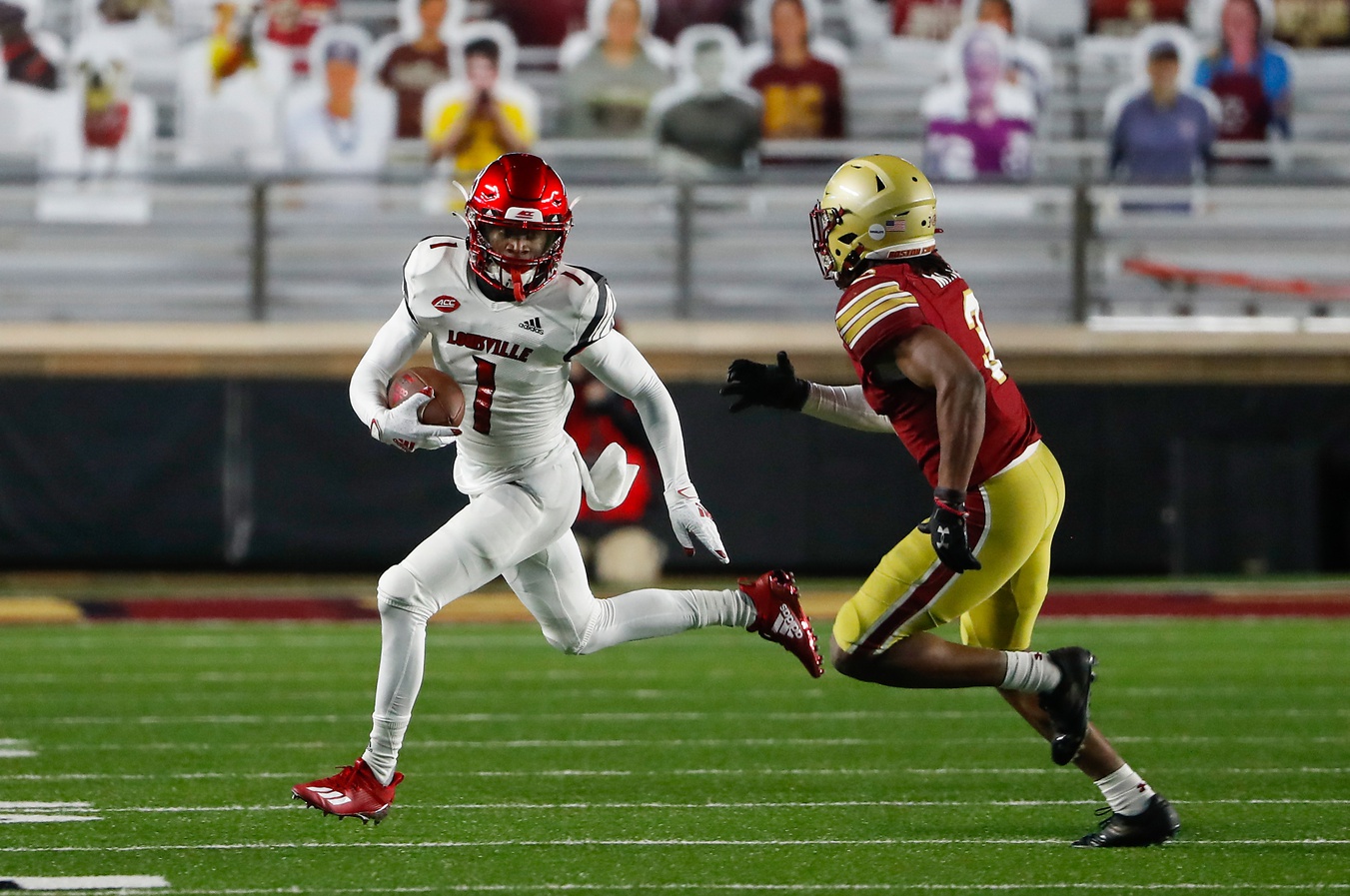 He's a big play waiting to happen, and that's why Louisville went out of its way to feed him the ball. Per PFF's 2021 NFL Draft Guide, over one-third of his catches were behind the line of scrimmage over the past two seasons. The vast majority of his opportunities were either bubble screen-type plays or downfield shots.
At his extremely small size, we can't anticipate Atwell becoming an alpha or bully wide receiver at the next level, but he should function as a nice complimentary piece that can deliver splash plays.
He'd benefit greatly from seeing deployment from the slot. Atwell's 4.37 yards per route run from the slot in 2019 is the third-highest mark in college football over the past two seasons behind only 2020's DeVonta Smith (5.64) and Jaylen Waddle (5.38).
From a fantasy rookie draft perspective, we know the guy already has 4.30 40-yard dash speed, so just be wary of his draft stock climbing too high for a player that has a lot of Tavon Austin to his game. Don't double-count his speed when his pro day time "clocks" a 4.25. We already know he's fast and that he wins with speed.
The intrigue surrounding Jermar Jefferson goes all the way back to his uber-productive true freshman season. At just 18 years old, he rushed for 1,380 yards and scored 12 touchdowns for Oregon State, tacking on 25 receptions. Jefferson's spectacular 2018 campaign netted a 29% dominator rating — a feat he would repeat as a junior.  
In six games in 2020, Jefferson put up 143 rushing yards per game and career highs in yards per attempt (6.5), yards after contact per attempt (3.67) and PFF rushing grade (79.4). His 133 carries and 858 rushing yards from Weeks 10-16 (his entire 2020 college season) both ranked second in the nation. 
If any quarterback can compete with Fields as the best rusher in the class, it's North Dakota State's Trey Lance. In his lone full season as a starter in 2019, Lance rushed for 1,150 yards, fourth-most at the quarterback position. 
In Lance's one showcase game during the 2020 season, he rushed for 161 yards on 15 carries. Using Lance in the running game was part of the offense's game plan — nearly 82% of his total rushing attempts came on designed runs.
We love quarterbacks who can run in fantasy football, and Lance fits that profile to a tee. On top of the rushing upside, he has a cannon arm — 11.5 career aDOT and 118.8 passer rating on 30-plus yard throws.
Drafting Lance is a bet on his upside, because he comes with considerable risk across the board. There are major questions as to whether he will translate as a passer when making the massive leap from FCS to the NFL. 
Lance has serious ball-accuracy issues. Only 47.1% of his passes in his career were deemed to have accurate ball placement, which is by far the worst among my top-five ranked rookie quarterbacks. 
Miami's Brevin Jordan enjoyed an excellent season in 2020, finishing with career highs in receiving yards (576), receptions (38) missed tackles forced (nine) and receiving touchdowns (seven). His overall production earned a dominator rating of 36% in eight games. 
The Canes' tight end did the majority of his damage after the catch, from the slot and against man coverage. He finished second in yards after the catch per reception (9.3) and No. 1 in yards per route run from the slot (2.42) among tight ends (71% slot snap share) this past season. 
Jordan ranks second in receptions and 13th in yards per route run versus man coverage (2.66) since entering college football in 2018. His career started with a bang at just 18 years old, earning a 17% dominator rating as a true freshman. 
There's plenty to like about Jordan's profile when it comes to his receiving ability, and that makes him extremely intriguing for fantasy football. The PFF 2021 Draft Guide cites a path to success for Jordan — landing on a team that leverages a Shanahan-Kubiak scheme that looks to get tight ends in space and let their YAC-ability take over.
Fantasy managers can rest assured that Jordan will most likely only be used as a receiver since he has little to no experience inline blocking.
Penn State's Pat Freiermuth comes in at TE3 as the most well-rounded incoming rookie at the position. He's been dubbed "Baby Gronk" for his combination of size, speed, route-running prowess and dominant inline-blocking ability. His "Gronkness" was on full display in 2019 when he broke nine tackles on 43 catches (21% broken tackle rate). 
As a 20-year-old freshman, Freiermuth broke out with a commanding 26% dominator rating on the back of eight receiving touchdowns while also competing for targets with future second-round wide receiver K.J. Hamler.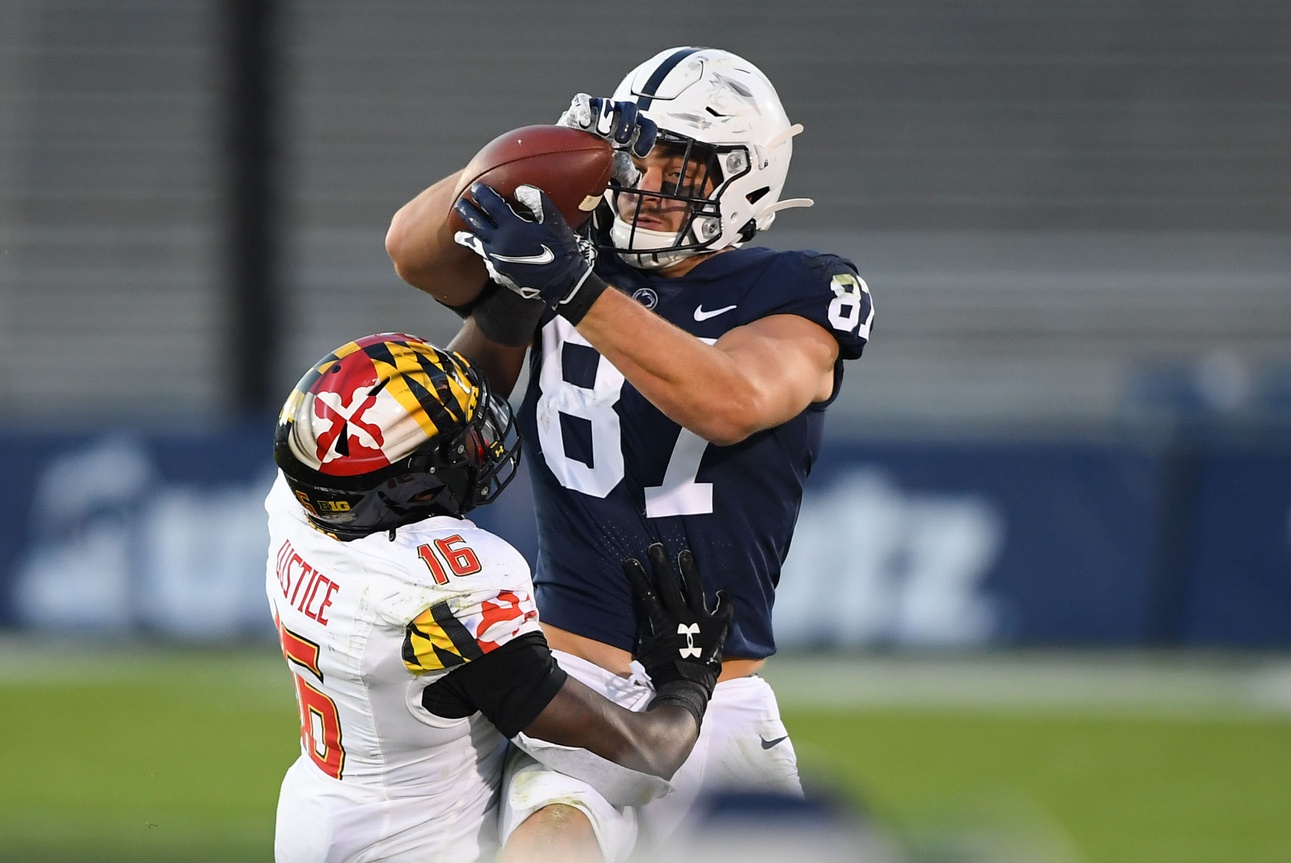 He continued to be heavily involved in the offense over his next two seasons, posting an 18.5% target share his sophomore year with seven touchdowns. He followed that up with a whopping 27.8% target share in four games in 2020.
Most tight ends won't ever come close to being that heavily involved in their offense at the college level — that makes Freiermuth stand out from the masses.
His overall production in three collegiate seasons — third in touchdowns (16), ninth in yards (1,185), fourth in explosive plays (39) and fifth in contested catches (18) — shows that he can produce when used in the passing game. Ultimately, his "strength" as a blocker could hold him back in fantasy early on. 
Amon-Ra St. Brown was an immediate producer in college. In his true freshman season, he caught 60 passes for 750 yards and three receiving touchdowns, earning a dominator rating of 21% at the ripe age of 19 years old. 
St. Brown's early breakout was particularly notable because he was playing alongside stiff competition. He played with Indianapolis Colts wide receiver Michael Pittman for two years but still earned a 21% dominator rating in his freshman and sophomore seasons. 
Once Pittman left and St. Brown became the guy, his dominator rating jumped to 33%. The main issue is that his freshman season PFF grade (76.0) was the highest grade of his career. That's some cause for concern for a player who looked to be a star so early. 
There are also some concerns about how St. Brown will stylistically fit into the NFL. He's not particularly explosive and has struggled against man coverage. His career PFF receiving grade versus man coverage (74.5) ranked 66th out 129 qualifying receivers.
Receivers in today's NFL need to be able to create consistent separation, especially on the outside. St. Brown hasn't shown enough of that. He had the chance to show more ability outside in 2020 but flamed out. His yards per route run (1.88) ranked outside the top 65 receivers when lined up outside. 
At the end of the day, St. Brown is much more of a jack of all trades, master of none player. He can definitely carve out a role in the NFL but perhaps not be a true difference maker. 
North Texas' Jaelon Darden was coined by PFF draft expert Mike Renner as a sleeper in the 2021 draft class. Darden posted gaudy numbers for Mean Green as a senior — 19 touchdowns and 1,190 receiving yards in just nine games. That earned him a dominator rating of 61%, which the type of dominance small-school players have to demonstrate to have a chance at the next level. 
Cade Johnson is another under-the-radar prospect, and he didn't have a chance to play in 2020. The South Dakota State football season was canceled, which meant that Johnson's only chance to increase his draft stock was to ball out at the Senior Bowl. And that's exactly what he did.
Johnson showed everybody at Mobile how he earned a 34% dominator rating in college, grading out as one of the best receivers in the one-on-one drills. The guy wins with speed and has been doing it ever since his redshirt sophomore season when at 20 years old he caught 67 balls for 1,332 receiving yards and 17 touchdowns. That earned him a 45% dominator rating — the second-highest among players I sampled in my dominator rating piece. 
If there's one player who could be this year's James Robinson, it's easily the Ragin' Cajun himself, Elijah Mitchell. He ranked first in career yards per snap (3.58) and second in 2020 yards per snap (4.5) among the 19 top running backs in this class. 
Mitchell has a very obvious NFL skill set with a combination of size, speed and explosiveness. He has the makeup of an NFL running back, and if given the opportunity he could catch on somewhere and be productive just like Robinson. 
Demetric Felton is a converted slot receiver, and 2020 was his first crack at being the featured running back in UCLA's offense. He earned an impressive 30% dominator rating and racked up over 800 yards from scrimmage and 11 touchdowns in just six games.
He took some reps with the wide receivers at the Senior Bowl, which could mean that NFL teams might want him to revert to a slot role.
Either way, Felton's overall versatility as a hybrid running back/receiver will make him viable in fantasy football sooner rather than later, but it won't come in the form of 20-plus carries per game. 
Louisville's Javian Hawkins caught my eye when I was evaluating running back dominator ratings in the 2021 draft class. His career college dominator rating was solid (25%), and he impressed in his second season as a starter with a 30% dominator rating. 
Hawkins is a home-run threat and presents fantasy managers with a ton of upside if he can beef up his size to withstand NFL defenders. He stands at 5-foot-9 and 185 pounds, so it's going to be difficult to see him running over anybody at the next level.
His jitterbug archetype will entice teams to try and manufacture touches for him both on the ground and through the air. He's proven capable as a pass-catcher — including zero drops on 21 career targets — and his explosiveness in space will be a nightmare for teams to defend. 
If he had been more productive as a receiver, it would have improved his 2.73 yards per snap from 2020. That was the second-worst rate (18th) of the original 19 running backs I sampled in this class. 
No player stood out more when I evaluated dominator ratings than Buffalo's RB1, Jaret Patterson. He put together three straight seasons with at least 1,000 rushing yards and generated dominator ratings of 40% (2019) and 43% (2020). His most recent dominator rating is the highest among all players ranked here. Patterson ranked second in offensive yards per snap (3.51) and eighth in PFF rushing grade (91.3) in 2020.
The Buffalo back benefited greatly this past season from playing behind the nation's highest-graded run-blocking unit (90.2), so there's some concern that he was a product of the team's outside-zone-heavy scheme. 
But I'd argue that running backs are at the mercy of their offensive lines more often than not, so we can project Patterson to be a semi-productive rusher at the next level. He will get what is expected out of every rushing attempt.
D'Wayne Eskridge generated solid buzz at the Senior Bowl, so there's a chance the Western Michigan product could move up draft boards before April. His 91.0 career PFF grade in college ranks fifth among players on this list. 
The numbers suggest he is more than deserving of a Day 2 selection. Over the past three seasons, Eskridge leads college football in yards per reception (22.0). His blazing speed helped him put up the sixth-highest yards per route run figure (3.52) and the highest rate of 15-plus-yard plays (57%).
There's a ton of upside in his profile but also a lot of question marks due to the competition level in the MAC, along with his ball skills and physicality. Not to mention, Eskridge didn't break out until he was 21 years old, and he is now already 24. 
A quarterback seems to come out of nowhere every college football season to rise up NFL draft boards. Last year, we saw Joe Burrow take a massive leap at LSU. It was Zach Wilson's turn this year.
Wilson's ascent to a potential top-five draft pick didn't happen quite like Burrow's. Wilson flashed talent early in his college career. Like Trevor Lawrence, he produced as a true freshman, earning an 80.5 PFF grade (33rd) while averaging 8.6 yards per attempt (18th). 
After an injury-riddled sophomore season prevented any further breakout, Wilson took college football by storm in his junior season.
Look up any passing statistic or grade from the 2020 college season, and you'll find Wilson somewhere near the top. He ranked No. 1 in PFF passing grade (95.5, highest in the PFF era), second in passer rating (136.3), third in yards per attempt (11.1), third in touchdowns (32) and third in completion percentage (72.7%).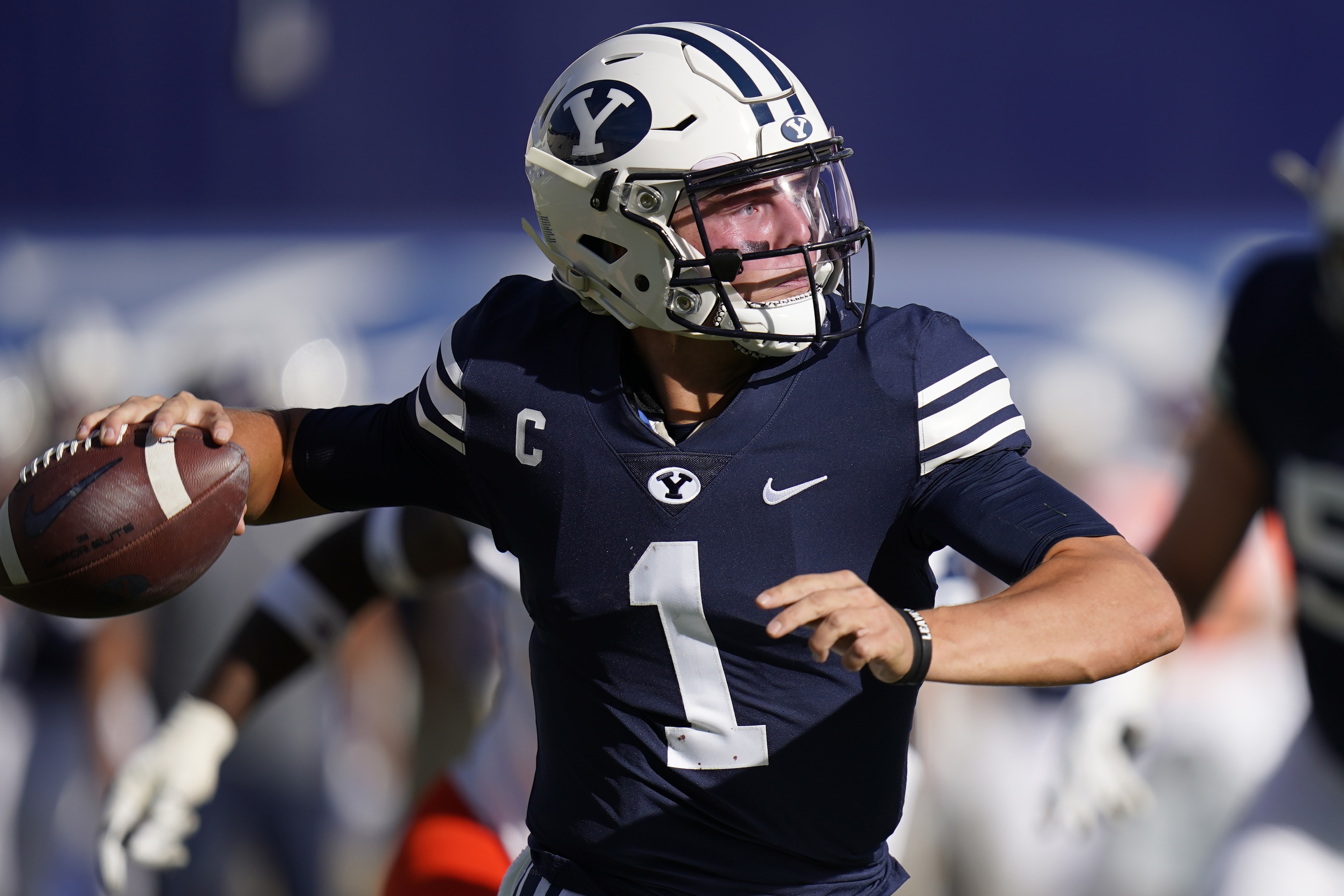 Only 13.6% of Wilson's throws beyond the line of scrimmage were deemed uncatchable this past season, the lowest rate in the FBS. His passing grade on tight-window passes also led all quarterbacks, and it wasn't particularly close (92.7). The next closest quarterback was Spencer Rattler (74.3).  
The BYU gunslinger also ranked first in PFF passing grade on 20-plus-yard throws and compiled the fourth-most yards on those deep pass attempts. No quarterback threw an accurate ball at a higher rate on 20-plus-yard passes in 2020 (73%).
It's hard to believe he was able to find so much success passing the ball downfield while also having the third-lowest turnover-worthy play rate (1.2%).
Wilson checks all the boxes when it comes to passing, but he doesn't add the same level of rushing ability as some of the other quarterbacks listed ahead of him. 
Every draft class has its fair share of bruising running backs who love to make contact, and Rhamondre Stevenson fits that mold to a tee. He ranks second since 2019 in yards after contact per attempt (4.7) among 2021 draft-eligible running backs, behind only Khalil Herbert.
Because of his physical nature and size, Stevenson should be viewed as an early-down grinder and a player who could earn goal-line work. Don't bet on him becoming a three-down workhorse. 
He does deserve credit for earning a career-high dominator rating (25%) last season after Trey Sermon's departure. But his career dominator rating (14%) pales in comparison to most running backs in this class.
Seth Williams was Auburn's most productive wide receiver over the past three years, producing a 30% dominator rating over that span. He broke out at an early age (19) in 2018 while playing alongside future New York Giants wide receiver Darius Slayton. 
His production continued to impress in his next two seasons, headlined by a 37% dominator rating in 2019 and a 32% dominator rating this past season. 
Williams had no problem putting up solid stats at Auburn, but there's real concern about how his struggles to create separation will translate in the NFL. He isn't fast, and his larger frame has not been conducive to him consistently winning contested balls. His 36% career contested-catch rate ranks outside the top 250 wide receivers since 2018. 
He did drop his weight by nearly 15 pounds from 2019 to 2020 in the hopes of improving his game, and that did aid in his ability to separate to some extent. But even so, the NFL tends to be moving away from big-bodied wide receivers and more toward elite separators, which potentially puts Williams into no man's land.
As a true freshman, Pooka Williams earned his highest single-season dominator rating (32%) on the back of 1,145 rushing yards and 288 receiving yards. Williams would go onto post back-to-back seasons with at least a 22% dominator rating while earning a 92.9 PFF rushing grade.
Those accolades aside, Williams does struggle with his vision as a runner, and his size will almost certainly relegate him to scatback duties in the NFL. It's also concerning that a hot start to his college career gave way to an efficiency dropoff in every single season since his impressive rookie campaign.
Give credit where credit is due. That's the story of Mac Jones' 2020 season after he operated one of the best offenses in college football history. His adjusted completion percentage (84.2%) and PFF passing grade (94.8) ranked first and second in the nation, respectively. Both were superior to Joe Burrow's magical 2019 Heisman campaign.
PFF's 29th-ranked player on the NFL Draft Big Board did everything he could to spike his draft stock, but there are some red flags for fantasy purposes.
The situation at Alabama was perfect, with NFL-caliber players littered throughout the roster.  The receivers certainly made life easy for him, as no quarterback accumulated more yardage from open receivers than Jones.
We've also seen only one year of elite production. The pieces around Jones in the NFL will not give him as much of an advantage.
But the elephant in the room is that Jones offers nothing next to nothing as a runner or out of structure. He finished the 2020 season with just 79 rushing yards. If Jones is going to be a force in fantasy football, he needs to become one of the top pocket passers in the NFL. 
Amari Rodgers finally broke out his final season at Clemson, posting over 1,000 yards and seven touchdowns. It's been tough for Rodgers to produce, even in an elite college offense, because he has been playing alongside studs like Tee Higgins and Justyn Ross. 
His 2020 breakout at age 21 earned him a 23% dominator rating, which isn't all that special considering it was nearly identical to that of teammate and fifth-year super senior Cornell Powell (22%).
Rodgers' late breakout doesn't necessarily bode well for him at the next level, and he will almost certainly be pigeonholed into playing the slot. His 68 catches from inside ranked first among college wideouts during the 2020 season. 
The incoming rookie's large frame — 5-foot-10, 210 pounds — could end up being what makes him the most unique slot wideout in the class. His strong lower frame helped him break 17 tackles after the catch (eighth) and finish second in total yards after the catch last season, behind only Alabama's DeVonta Smith. 
When it comes to freaky size-speed wide receiver prospects, look no further than Florida State's 6-foot-4, 210-pound Tamorrion Terry. The wide receiver behemoth broke out at age 20 after redshirting his freshman season, earning a 31% dominator rating and averaging over 21 yards per reception as a sophomore.
Terry's ascent continued into his junior season, as he recorded a 36.0% dominator rating on the back of 1,187 receiving yards and nine touchdowns, but that upward trajectory plateaued in 2020. His dominator rating fell by 10 percentage points from the year before, while his 67.4 PFF receiving grade ranked outside the top 150 players at his position.
Still, based on Terry's physical measurables and the hope that he can continue to develop when he arrives in the NFL, it's hard not to be somewhat intrigued. The Florida State product has been mocked as a fourth-round pick, per GrindingTheMocks.com.
Stevenson reminds me a lot of Green Bay Packers wideout Marquez-Valdes Scantling. And it's not only because of the first name; it is also because of the raw speed he has to offer.
Stevenson's explosiveness and speed are by far his two greatest attributes. Unfortunately, he suffers from the same weakness that has plagued MVS throughout his NFL career — drops.
The Houston wide receiver amassed over 1,000 receiving yards and nine receiving touchdowns in his 2018 breakout season, but he also dropped 10 passes. Still, the 2018 stat line was impressive, given that it was the first time he played after tearing his ACL in 2017.
His overall dominance of Houston's target share continued in both 2019 (42%) and 2020 (30%), as he recorded above-average dominator ratings in each season. But while his production within the scope of the Houston offense was solid, it is the way he got there that creates concerns — he wins with speed, but he was not an effective downfield threat, catching only 17 of his 50 deep targets (65th) from 2018 to 2020.
Stevenson has emerged as a top-75 pick in mock drafts largely because of his 4.3 track speed, but a player as incomplete as he is isn't worth that kind of draft capital. Don't be swayed to invest too heavily in him in rookie drafts should he find an NFL home on Day 2.
An NFL team will take a stab at Anthony Schwartz sooner rather than later because the guy can absolutely fly.
The Auburn product's track background translated smoothly to the football field, as he constantly found himself open downfield. However, his counting numbers hardly give him the credit he deserves because his quarterback just could not hit him deep — he saw 16 deep targets in 2020, and only three were charted as catchable. He came down with all three of those passes for 170 yards and two scores.
The speedy wideout still has a ways to go. Right now, he's just an unpolished field-stretcher. 
Kylin Hill might be one of the most overvalued rookie running backs in fantasy football at the moment, and he has some serious red flags on his profile.
Hill only played three games this past season, so we never got to see him improve upon his 26% dominator rating from 2019. That's hardly a jaw-dropping "best season," and there wasn't much competition for touches at Mississippi State.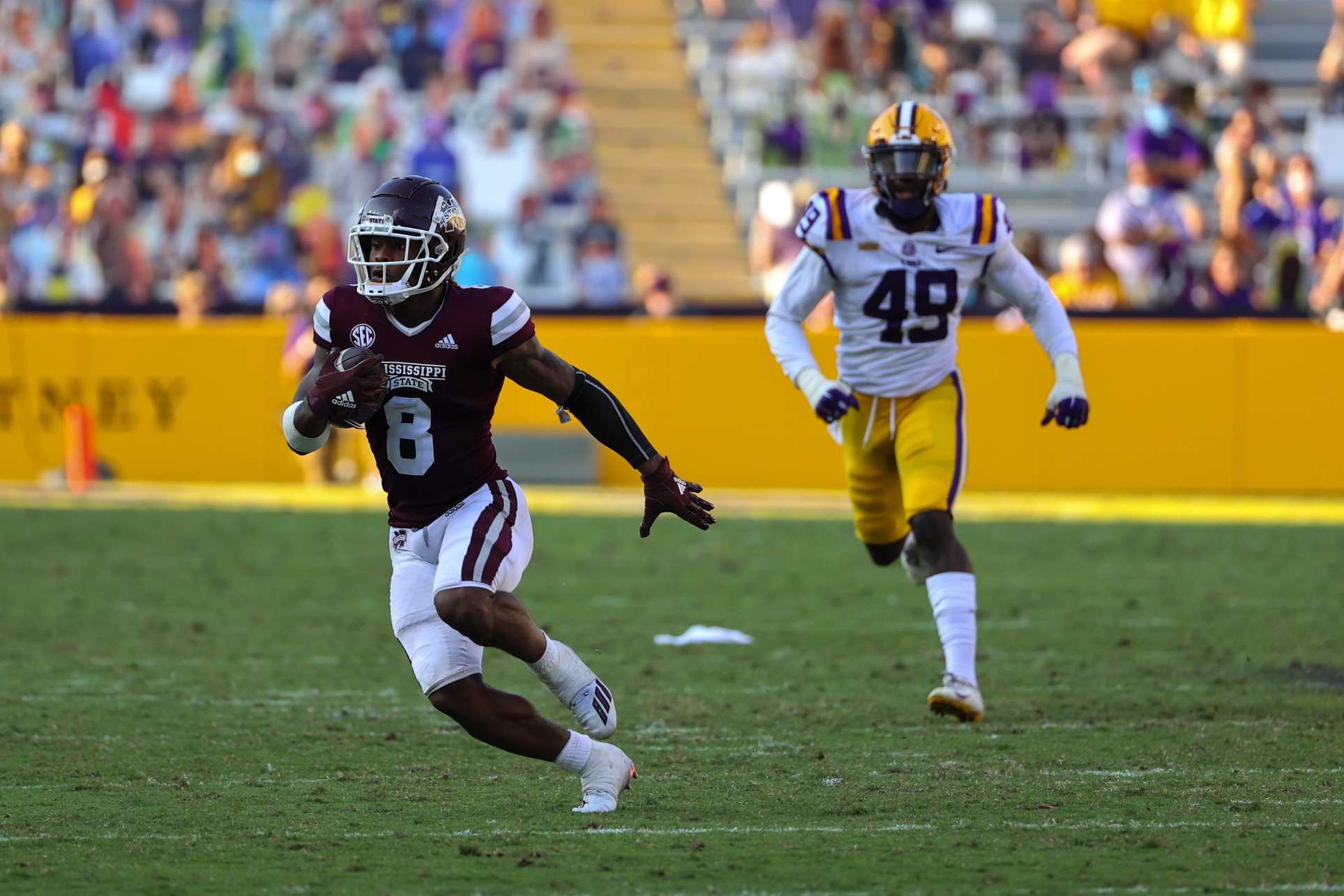 His peripheral metrics from 2019 don't look all that impressive, either. His 85.1 rushing grade ranked outside the top 25 players at his position, and his 3.05 yards after contact per attempt ranked 28th out of the 37 running backs who ran the ball at least 200 times.
The Mississippi State running back also ranked last on my dominator list in yards per snap (2.62) in 2019. When widening the parameters to include Hill's entire college career, his 2.50 yards per snap ranks second-to-last.
Hill would be fine to draft as a late-round flier if his ADP were closer to the end of the draft. But right now, his price makes him vastly overrated. 
Missouri's Larry Rountree took off in his senior season, earning a 42% dominator rating. My main concern with him is that his most productive season didn't happen until much later in his college career, not ideal for an incoming prospect. Still, the fact that he could accomplish such a feat in the SEC does earn some recognition.
Wake Forest's Sage Surratt didn't break out until his third season at the age of 21.5. In 2018, he posted a 16% dominator rating that placed him below the 20% breakout threshold. His backloaded college production profile definitely raises red flags.
His inability to gain separation and his reliance on physicality to command targets — he finished sixth in contested catches in 2019 — is also worrisome for his outlook in the NFL, with the league trending away from players with that specific skill set.
Collins is a 6-foot-4, 215-pound monster from Michigan. He has ideal size and speed, but it has yet to truly translate to legitimate football production. 
He didn't play in 2020, and his eight broken tackles on 78 catches from 2018-2019 leave a lot to be desired for a player who wants to win with his physicality. 
Collins has bodied smaller defensive backs at the college level but likely won't have the same easy path to success in the NFL. Teams will scrutinize Collins' ability to separate as he makes the jump to the next level.  
Newsome ranks second in contested-catch rate (65%) behind only Jaylen Waddle among 2021 draft-eligible wide receivers since 2018.
The North Carolina receiver broke out in his age-20 junior season when he earned career-high marks in PFF receiving grade (84.7), receiving yards (1,018) and receiving touchdowns (10). 
He played exclusively in the slot in college but showed that he could be used downfield in that role. His 13 catches of 20-plus yards in 2019 trailed only teammate and deep-ball specialist Dyami Brown's total in the same season. 
Shi Smith has been involved in the South Carolina offense ever since he stepped foot on campus back in 2017, but his production has never gone beyond middling at best. 
It wasn't until his senior year that Smith finally surpassed a PFF receiving grade of 80.0 and led his team in receiving yards (633). 
The Gamecocks slot receiver played alongside future NFL receivers in Deebo Samuel and Bryan Edwards throughout his college career, which begs the question of why he couldn't do more to stand out in 2020. 
His situation this past season wasn't great, given the overall state of the passing offense, but NFL teams will certainly knock him for his inability to play through contact. With so many excellent slot receivers in this draft class, he may easily fall by the wayside in the real NFL draft. 
Long stacks up nicely from an experience and production standpoint. He led the nation in targets (89) and catches (57) while also finishing second in receiving yards in 2020, all career-high marks for the tight end from Boston College.
Long posted an 18% dominator rating as a redshirt sophomore in 2019; he finished eighth in PFF receiving grade (86.6), third in yards per catch (18.8), fourth in yards after the catch per reception (10.8) and second in yards per route run (3.15) at the tight end position. 
His ability to beat man coverage should also translate to the NFL, as he is PFF's second-highest-graded tight end (91.8) when facing man coverage since the start of the 2019 season.
Long has all the tools to be successful at the next level, but his upside might be capped due to his average athletic profile and lack of dynamism. He broke just three tackles on his 57 receptions in 2020, a figure he will need to improve upon when he enters the NFL.