The 2020 college football regular season has officially come to a close, so now it's time to recognize the nation's top players at every position by naming PFF's All-American teams.
With the help of PFF grades and advanced statistics — which are now available to PFF's CFB Premium Stats+ Subscribers — we present to you the PFF 2020 All-American team.
QUARTERBACK
Lawrence has managed to get even better than he was in 2018 and 2019 when he recorded PFF grades of 90.7 and 91.1 as a true freshman and sophomore. His PFF grade sits at 91.9 this season and the future No. 1 overall pick has diminished any doubts about his accuracy not being elite. There were some minor bouts of inaccuracy from Lawrence last season, but this year he has been pinpoint week after week. He has netted a 56.6% accurate pass rate on throws over 10 yards downfield this season, the third-best rate in the FBS. 
Second-Team: Sam Howell, North Carolina
Third-Team: D'Eriq King, Miami (FL)
Honorable Mention: Brennan Armstrong, Virginia
RUNNING BACK
Williams has put up video game-like numbers for the Tar Heels this season. Before 2020, the highest single-season rushing grade ever recorded in the PFF College era was Ronald Jones' 93.8 for USC back in 2017. This year, Williams has shattered that mark with a 95.9 rushing grade, and he has also broken more tackles per attempt than any FBS running back since 2014 (0.48).
Second-Team: Khalil Herbert, Virginia Tech
Third-Team: Zonovan Knight, NC State
Honorable Mention: Jahmyr Gibbs, Georgia Tech
North Carolina legitimately trouted out one of the best backfields in college football history with Williams and Carter. The two rank first and second in the FBS in the percentage of runs that resulted in a 10-plus-yard gain — 26.8% and 26.1%, respectively — with both figures nearly doubling the FBS average.
While Williams had the best season we have seen from a pure rushing standpoint, Carter had one of the best years for a dual-threat back. Carter is the only running back in the FBS who ranks in the top five in both rushing and receiving grades in 2020.
Second-Team: Travis Etienne, Clemson
Third-Team: Kenneth Walker III, Wake Forest
Honorable Mention: Javian Hawkins, Louisville
WIDE RECEIVER
Roberson came into the season with 29 targets in three years at Wake Forest and has left it the second-highest-graded wide receiver in the FBS (92.4). Yep, just like we all expected. He's created separation all season long as he owns the seventh-highest separation rate in the FBS. His ability to separate helped Roberson garner 4.44 yards per route run, making him the second-most productive wide receiver in the Power 5. 
Second-Team: Tutu Atwell, Louisville
Third-Team: Dazz Newsome, North Carolina
Honorable Mention: Emeka Emezie, NC State
Covering Brown one-on-one in single coverage is ill-advised as most of the time the Tar Heel is going to blow right past his opposition. He came up with 10 deep receptions of 20-plus yards against single coverage this season (most in the Power 5). This helped Brown lead all Power 5 wide receivers with 727 receiving yards against single coverage in 2020.
Second-Team: Zay Flowers, Boston College
Third-Team: Thayer Thomas, NC State
Honorable Mention: Dez Fitzpatrick, Louisville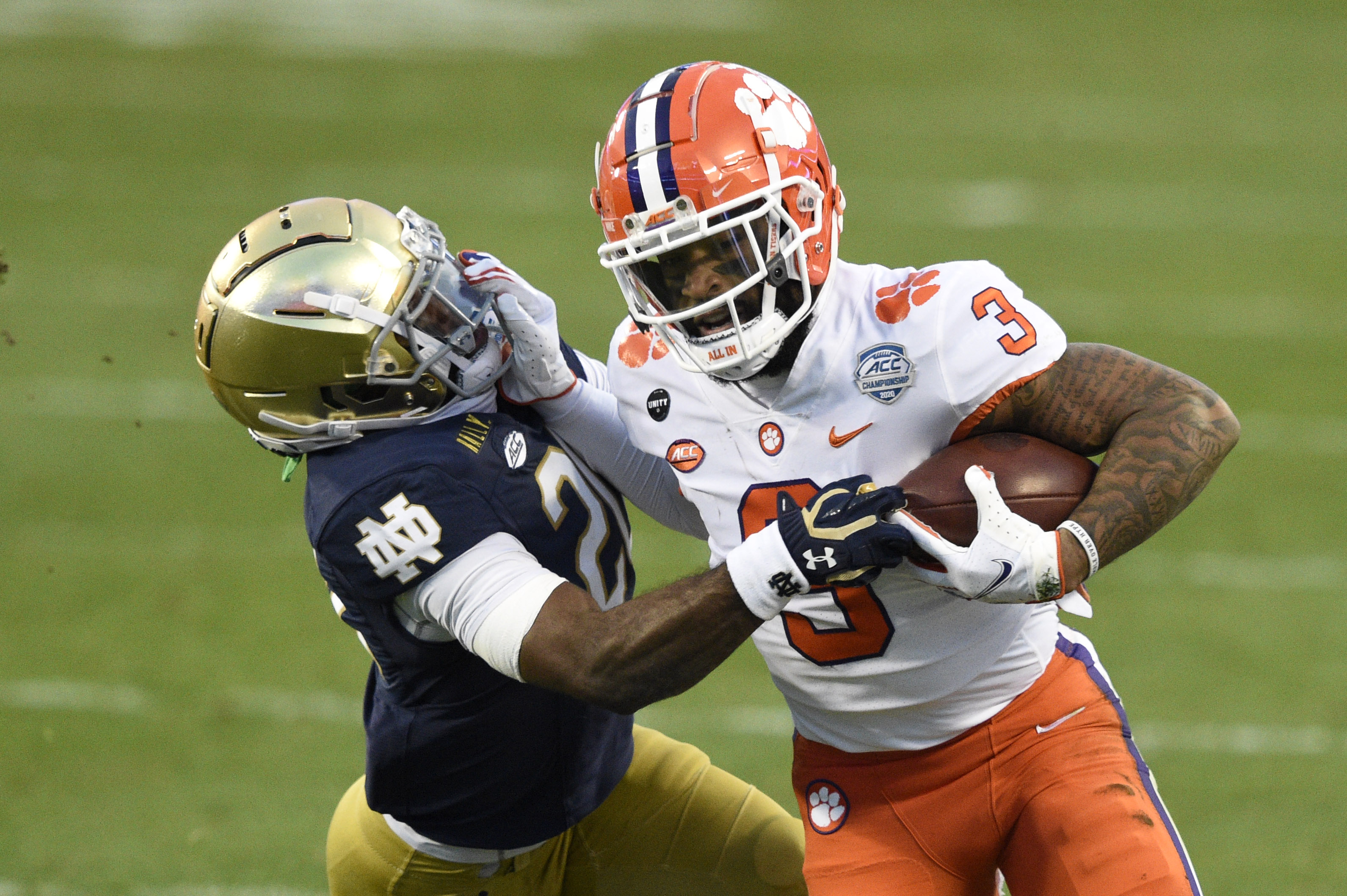 Rodgers has generated plenty of value for the Tigers this season, both in the deep passing game and on receiver screens. The 5-foot-10, 210-pound slot receiver has hauled in five touchdowns 20-plus yards downfield which is the second-most in the ACC this season. Rodgers is also second among the group in yards after the catch per reception (8.3) and broken tackles (16). 
Second-Team: Tre Turner, Virginia Tech
Third-Team: Mike Harley, Miami (FL)
Honorable Mention: Billy Kemp IV, Virginia
TIGHT END
Long was the most targeted tight end in college football this season by over 24 targets with 89 passes thrown his way. He made the most of his opportunities as he recorded the fifth-best PFF grade by a Power 5 tight end (83.3). We haven't seen him make plays after the catch or be utilized in the vertical passing game nearly as much as we did last year, but it's still been a great campaign for Long.
Second-Team: James Mitchell, Virginia Tech
Third-Team: Marshon Ford, Louisville
Honorable Mention: Brevin Jordan, Miami (FL)
LEFT TACKLE
Prior to 2020, the highest-graded season we ever saw from a Power 5 tackle was by Penei Sewell of Oregon in 2019. Darrisaw did the unthinkable and gave Sewell's historic season a run for its money with an astounding 95.6 PFF grade on the year. He was great in pass-protection with no sacks or hits allowed on 293 pass-block snaps, but his run-blocking was on another level. Darrisaw was rarely leveraged in the run game as his 94.5 grade in that facet can attest to.
Second-Team: Liam Eichenberg, Notre Dame
Third-Team: Jackson Carman, Clemson
Honorable Mention: Ikem Okwonu, NC State
LEFT GUARD
Notre Dame has the clear-cut best offensive line in the country, and Banks is a key cog in that unit. He was the only Power 5 left guard who earned a pass- and run-block grade above 80.0 this year. Banks came in at No. 6 among all FBS left guards in PFF pass-blocking grade, which is even more impressive when you consider the fact that he played the fourth-most true pass sets among players at the position.
Second-Team: Caleb Chandler, Louisville
Third-Team: Lecitus Smith, Virginia Tech
Honorable Mention: Joshua Ezeudu, North Carolina
CENTER
Patterson, unfortunately, suffered a season-ending injury in Notre Dame's Week 11 win over Boston College, but he more than proved he was the best center in the ACC in the weeks prior. His 82.0 run-blocking was the best in the conference and eighth-best in the FBS.
Second-Team: Grant Gibson, NC State
Third-Team: Will Taylor, Duke
Honorable Mention: Cole Bentley, Louisville
RIGHT GUARD
This one isn't particularly close — Kraemer's 79.1 PFF grade is nearly 10 grading points higher than any other right guard in the ACC. Despite owning the highest rate of true pass sets in the conference, Kramer still holds the highest pass-block grade at the position. 
Second-Team: Cam DeGeorge, Louisville
Third-Team: Chris Glaser, Virginia
Honorable Mention: Doug Nester, Virginia Tech
RIGHT TACKLE
Notre Dame nearly swept the first-team offensive line, but unfortunately for the Irish, Christian Darrisaw enjoyed a historic year. Nonetheless, Notre Dame's starting right tackle Hainsey has been nothing short of exceptional like the rest of the group. He has a 90.6 PFF grade for the season which ranks fourth among all FBS right tackles. His only poor performance came against Pittsburgh in Week 8 when he recorded a 35.3 pass-block grade, highlighting his consistency on the year.
Second-Team: Jordan McFadden, Clemson
Third-Team: Luke Tenuta, Virginia Tech
Honorable Mention: Tyler Vrabel, Boston College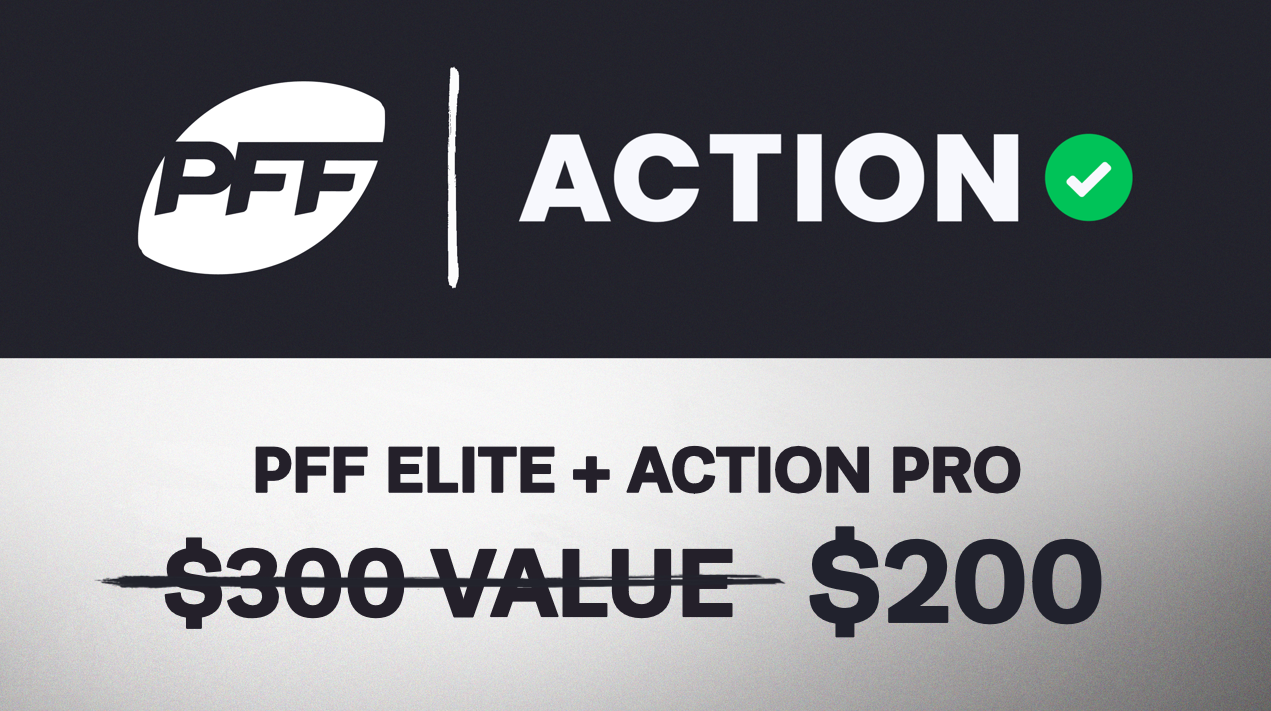 INTERIOR DEFENSIVE LINE
McNeil played 87% of his total snaps at heads-up nose tackle this year, making his production nothing short of incredible. Only one player since 2014 has produced a higher PFF grade at 0-technique than McNeil's 90.5 this season (former Mississippi State Bulldog and current Tennessee Titan Jeffery Simmons in 2017).
McNeil won 10% of his pass-rush snaps from the position, an impressive figure in its own right, but the reason for his overall success is due to his run defense. He was a constant disruptor against opposing run games and earned a 92.1 run-defense grade on the year.
Second-Team: Jared Goldwire, Louisville
Third-Team: Myron Tagovailoa-Amosa, Notre Dame
Honorable Mention: Nesta Jade Silvera, Miami (FL)
It looks like Pitt has turned yet another non-blue chip recruit on the defensive line into one of the best players at the position in the ACC. Kancey did not log a single snap his first-year on campus in 2019 and still managed to come out this season and post the second-best PFF grade in the ACC among interior defenders (80.4). McNeil has him beat when it comes to run defense, but as a pass-rusher, no one in the conference was better than Kancey this season as he generated a conference-leading 26 QB pressures. 
Second-Team: Derrick Tangelo, Duke
Third-Team: Devin Danielson, Pitt
Honorable Mention: Bryan Bresee, Clemson
EDGE
Weaver finished his season with a 90.0 pass-rush grade and produced multiple pressures in every game played. He did this despite facing some extremely stiff competition in the ACC. The Pitt edge defender racked up 20 total pressures in his games against Notre Dame, Clemson, Virginia Tech and Boston College — the four best tackle duos in the ACC this season.
Second-Team: Quincy Roche, Miami (FL)
Third-Team: Myles Murphy, Clemson
Honorable Mention: Marcus Valdez, Boston College
Everyone was excited to watch Gregory Rousseau and Roche form one of the best pass-rush tandems in college football in 2020, but Rousseau elected to opt-out before the season started. This opened the door for UCLA transfer Phillips to see substantial action and surprisingly, he has helped give Miami that top pass-rushing duo we all thought we were going to see with Rousseau and Roche.
Phillips had a bit of a breakout game in his fourth outing of 2020 against Clemson when he generated six pressures, and he managed to sustain that success for the rest of the entire season. Phillips ranked fourth in the FBS in PFF grade and fifth in pressures generated since his bout with the Tigers.
Second-Team: Daelin Hayes, Notre Dame
Third-Team: Patrick Jones II, Pitt
Honorable Mention: Victor Dimukeje, Duke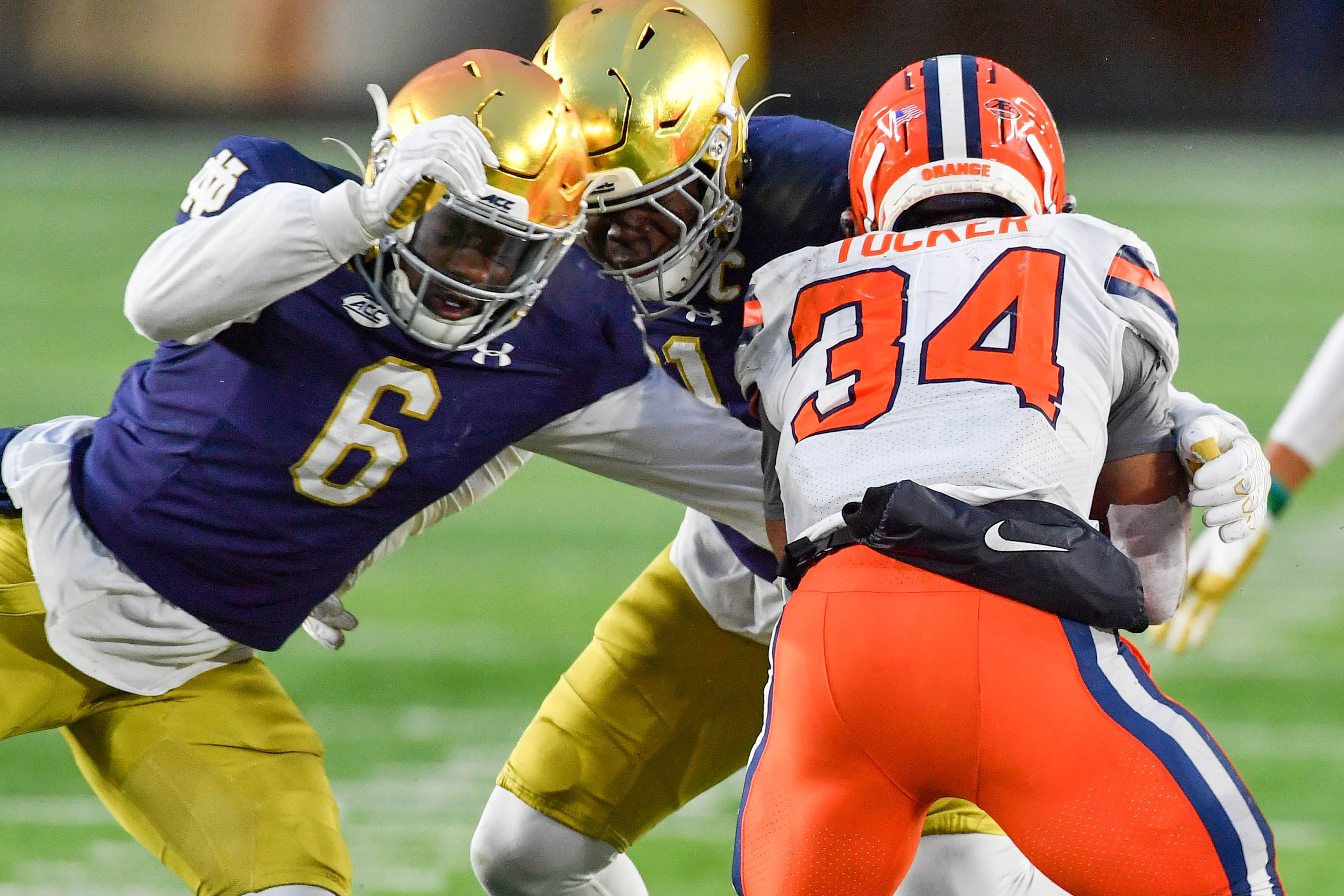 LINEBACKER
Owusu-Koramoah isn't your prototypical linebacker due to the role he plays in the Irish defense that tasks him with living in the slot. His job is a bit more difficult than some other off-ball linebackers in college football, but Owusu-Koramoah has put up an 81.4 coverage grade thanks to his athleticism and instinctive play. When manning the slot, no linebacker has a higher coverage grade than JOK.
Second-Team: Mike Jones Jr., Clemson
Third-Team: Jake Venables, Clemson
Honorable Mention: Amari Gainer, Florida State
Bright has been the exact same player he was last year: an all-around great linebacker. For the second straight season, Bright has earned a grade above 70.0 against the run, as a pass-rusher, in coverage and in tackling. Only three other off-ball linebackers in the Power 5 have done that this year.
Second-Team: James Skalski, Clemson
Third-Team: Drew White, Notre Dame
Honorable Mention: Nick Jackson, Virginia
CORNERBACK
No cornerback owned a higher coverage grade in the ACC this season than Samuel Jr. (82.8). He had been a bit boom-or-bust at times in the past, but this year it was mostly boom as he generated more plays on the ball (nine) than first downs allowed (eight). Samuel's size caused him some trouble in coverage, but he made up for it with his athleticism and routinely forcing tight coverage in man.
Second-Team: Marlon Character, Louisville
Third-Team: Marquis Williams, Pitt
Honorable Mention: Nick McCloud, Notre Dame
Kendrick has shown impressive development at corner in just his second year playing the position after flipping from wide receiver. He has allowed only eight catches and four first downs in eight games this season while forcing six incompletions and nabbing an interception.
Second-Team: Ifeatu Melifonwu, Syracuse
Third-Team: Josh DeBerry, Boston College
Honorable Mention: Michael Carter II, Duke
SAFETY
Just like he was in the past two seasons, Turner has been a difference-maker for the Tigers in 2020. He has put up an 83.4 coverage grade with three interceptions and the fourth-most defensive stops against the pass among FBS safeties (10). One area we needed to see Turner improve in this season was his tackling, and he has done just that. He entered the year with 21 career missed tackles on 94 attempts but this year has missed just four on 58 attempts.
Second-Team: Mike Palmer, Boston College
Third-Team: Deon Jones, Boston College
Honorable Mention: Bubba Bolden, Miami (FL)
Deablo has played well in the box, slot and free safety, but has made the most impact plays when covering the slot. On 125 coverage snaps in the slot, Deablo has allowed only two first downs while intercepting three passes, leading to the fourth-highest coverage grade from the position. 
Second-Team: Tanner Ingle, NC State
Third-Team: Paris Ford, Pitt
Honorable Mention: Lannden Zanders, Clemson
FLEX D
With his size, explosiveness and great eyes in coverage, Hamilton has once again been a playmaker for the Fighting Irish. He tied for the fifth-most defensive stops against the pass among Power 5 safeties this year with nine while breaking up five passes and intercepting one. Hamilton's play in the secondary paved the way to an 82.8 coverage grade on the year.
Second-Team: Andrew Booth Jr., Clemson
Third-Team: Caelen Garson, Wake Forest
Honorable Mention: Trill Williams, Syracuse
KICKER
First-Team: Jose Borregales, Miami (FL)
Second-Team: Brian Johnson, Virginia Tech
Third-Team: James Turner, Louisville
Honorable Mention: B.T. Potter, Clemson
PUNTER
First-Team: Kirk Christodoulou, Pitt
Second-Team: Nolan Cooney, Syracuse
Third-Team: Lou Hedley, Miami (FL)
Honorable Mention: Pressley Harvin III, Georgia Tech
KR/PR
First-Team: Khalil Herbert, Virginia Tech
Second-Team: DJ Turner, Pitt
Third-Team: Jaelen Gill, Boston College
Honorable Mention: Nykeim Johnson, Syracuse