With the New York Jets' unfortunate victory in Week 15, everything we thought we knew about the 2021 NFL Draft has changed…kind of…well, not really.
With the strength of schedule tiebreaker favoring the Jacksonville Jaguars, all Jacksonville has to do is lose to the Chicago Bears Sunday and then lose again against the Indianapolis Colts in Week 17 to "win" the Trevor Lawrence sweepstakes.
However, The Jets' need for a quarterback hasn't subsided, and they'd be shortsighted to pass on such a talented quarterback class.
The first round is loaded with talented players at both quarterback and edge rusher. But while the quarterbacking group has a lot of players who have already shown it on the football field, the edge class includes a lot of athletes who've yet to put it all together.
It's going to take 15 straight losses, but the Jaguars are only a few months away from a possible decade of prosperity. Lost in the whole "how many No. 1 picks at quarterback actually won a Super Bowl with the team that drafted them" conversation is the fact that consistently losing hurts. Even if the Jaguars never win a Super Bowl with Lawrence, they'll still win more games than they did before he arrived.
No need to overthink this. Sure, Sam Darnold could turn things around next season after an injury-plagued Year 3 that's seen him earn a 52.7 passing grade so far. But why take that chance when you have to immediately pay him if he does? Wilson is uber-talented, and he has tape that's littered with special throws.
They might as well hand in the card now. The Bengals already had fans in the stands openly opining for Sewell with their signage on Monday night. He's the best offensive tackle prospect we've scouted in our seven years of doing this — and he won't even turn 21 until next fall.
Fields doesn't fall too far, as Carolina has now fully hit reset after firing general manager Marty Hurney. The Panthers simply have to set their sights higher than Teddy Bridgewater and his 66.8 passing grade this season. They have too much talent offensively to be a below-average scoring offense.
5. Atlanta Falcons – EDGE Kwity Paye, Michigan
In an edge class loaded with physical freaks, Paye sits atop the bunch. He also saw his pass-rushing production take a massive step forward this season. After 37 pressures in all of 2019, Paye notched 22 in only four games before a groin injury this season.
Preston Williams hasn't taken near the leap in Year 2 as some had hoped, and the Dolphins would be well served to give Tua Tagovailoa more weapons on the outside. Chase can win at every single level of the football field. Even though he opted out this year, he still has the second-most deep receptions since the start of 2019.
The Eagles could easily be players in this quarterback class if Jalen Hurts falters down the stretch, but they have a roster built to contend in the NFC East right now if Hurts proves to be an upgrade over Carson Wentz.
8. Dallas Cowboys – CB Caleb Farley, Virginia Tech
Of all the top cornerbacks in the draft, I'm not sure anyone will be able to match Farley physically. At 6-foot-2, 207 pounds, Farley has reportedly run in the 4.3s, and he's had all fall to get his body in shape for the combine. That would be one thing if it hadn't shown up on the football field yet, but last year he allowed a passer rating of only 26.8 in his coverage.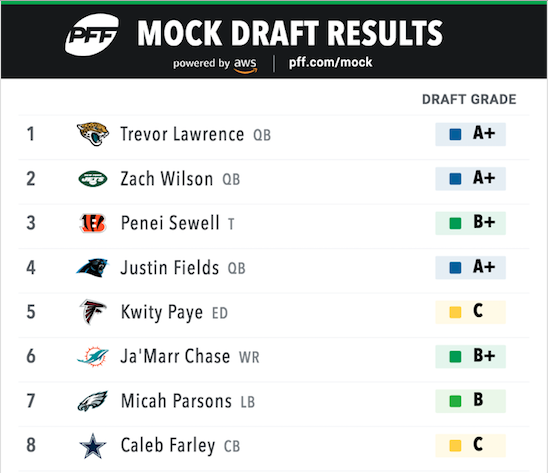 Michael Davis has filled in admirably at outside corner across from Casey Hayward Jr. this year, but he hits free agency this spring and is no guarantee to stay. Even if he is re-signed, Hayward is turning 32 and is already showing signs of decline. Keeping that secondary a strength would be smart. Surtain may not have gaudy pick totals, but he's allowed only 551 yards on 931 coverage snaps over the past two seasons.
10. New York Giants – ED Gregory Rousseau, Miami (FL)
Rousseau has the type of frame that allows him to do anything you ask along the defensive line. At 6-foot-6, Rousseau has rare height and length for the position that will make getting after the passer much easier at the NFL level. It's a shame we didn't get to see him on that talented Miami front this year to see what he could have done for an encore to his 16-sack sophomore campaign.
11. Detroit Lions – QB Trey Lance, North Dakota State
With a new head coach and GM combo in Detroit, nothing is tying them to Matthew Stafford. This isn't giving up on Stafford by any means, though, just like the Packers drafting Jordan Love wasn't giving up on Aaron Rodgers. It's simply admitting Stafford is a mid-tier quarterback and that Lance has the tools that could develop into more than that.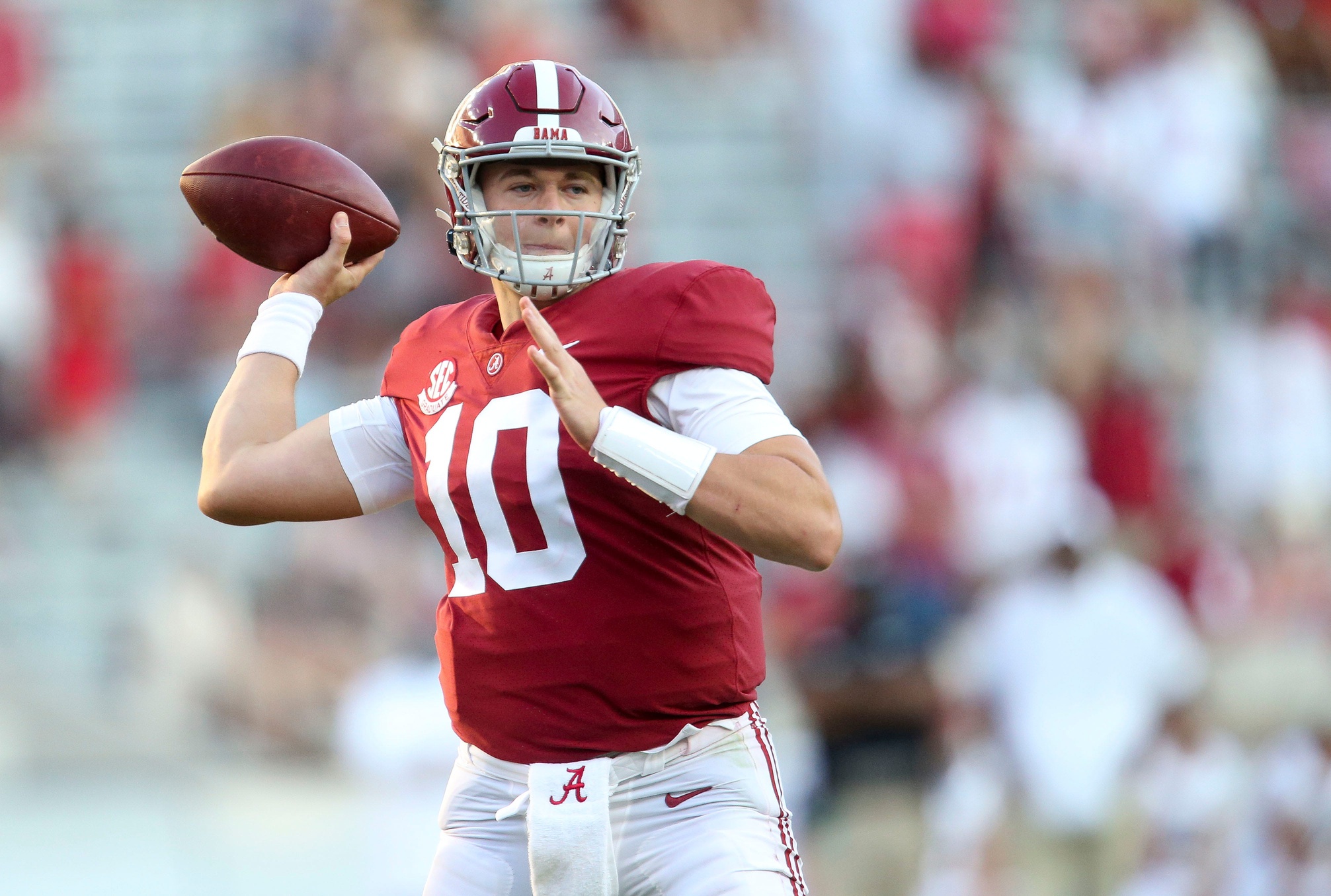 Is it a little high? Possibly. But Jones is currently operating a 2019 LSU-esque offensive juggernaut at Alabama and performing at a higher level than we ever saw from Tua Tagovailoa in his college career. The tools aren't exceptional, but performance matters at ton at the quarterback position. His accuracy, decision-making and anticipation would play in the 49ers' offense.
13. Denver Broncos – LB Jeremiah Owusu-Koramoah, Notre Dame
Is he a safety, or is he a linebacker? I'm not sure it matters, as he's the type of versatile coverage player you want in today's NFL. He's allowed only 197 yards on 31 targets this season while often playing a role that would be classified as slot corner in the NFL.
One of the biggest risers in college football this year, Ojulari consistently clowned left tackles throughout the SEC. He earned an 87.7 pass-rushing grade in nine games this season. Ojulari is undersized at 240 pounds, but his bend makes us think that it won't be a massive issue in the NFL.
Smith falls all the way to 15 not because of talent, but because yet another deep receiver class will likely cause teams to pass early in the draft, knowing they can get one on the wrap. However, with how big of a need it is for New England, they don't have that luxury. Smith currently owns a 94.3 receiving grade, so he could very well break the PFF College single-season record for receiving grade by a wide receiver.
16. Chicago Bears – T Rashawn Slater, Northwestern
Slater can play tackle, guard or center at the next level. With the way injuries have struck the Bears' offensive line of late, they may ask him to play all three. Slater allowed only five pressures in 2019 before opting out this past fall, and he didn't allow a single pressure over the final five games of his career.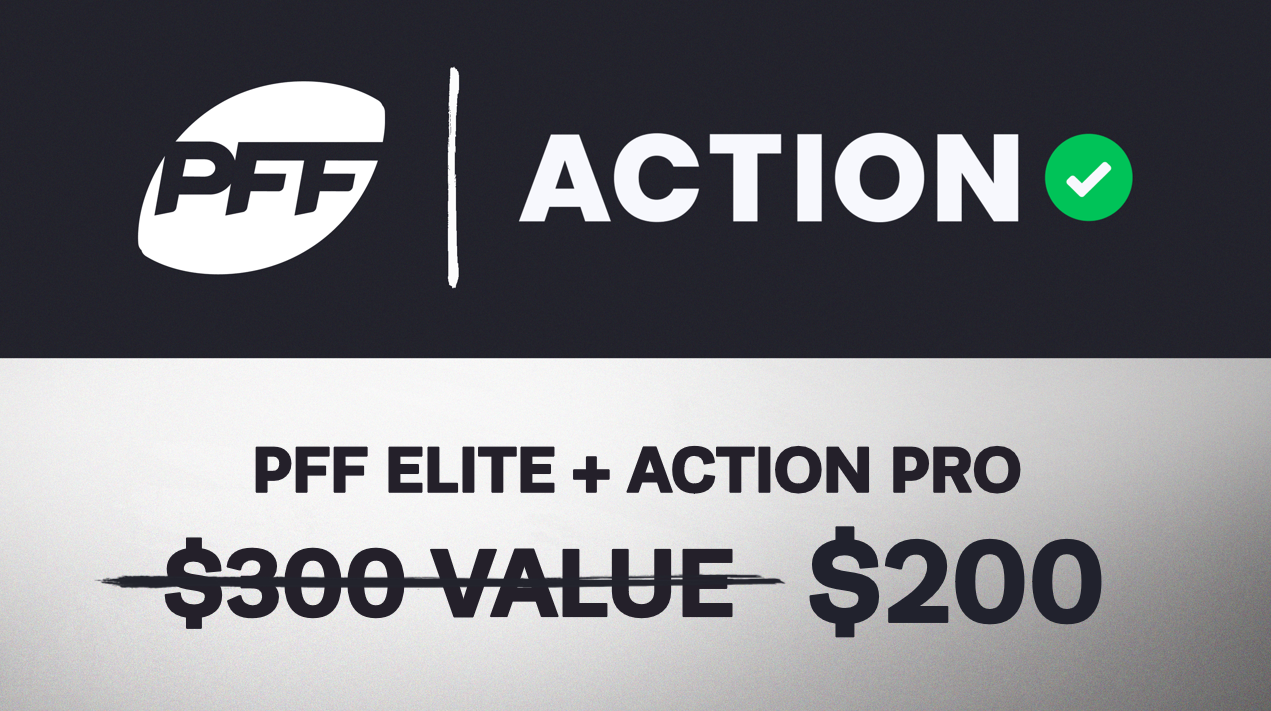 Mike Mayock couldn't care less about your draft board when it comes to picking in the first round — he's going to take hard-nosed football players no matter if you think it's a reach or not. Bolton is just that. He's not going to run a 4.4 or measure in with any special length, but he'll punch you in the mouth play after play. He led the SEC with 44 stops this season.
With the Ravens' use of two-tight end sets, Pitts doesn't have to be a pure inline blocker. He can block on the move and also be a massive target for Lamar Jackson over the middle of the field. It's the best of both worlds for Baltimore, as he can maintain their heavy-personnel looks while giving them another field-stretcher who can beat one-on-one coverage.
It's a shame Waddle broke his ankle so early on in the year because he was outproducing now-Heisman hopeful DeVonta Smith at the time. He averaged nearly 140 yards a game through his first four weeks, and Mac Jones had a perfect 158.3 passer rating when targeting the speedster. Good luck having two corners who can stick with both him and Terry McLaurin deep.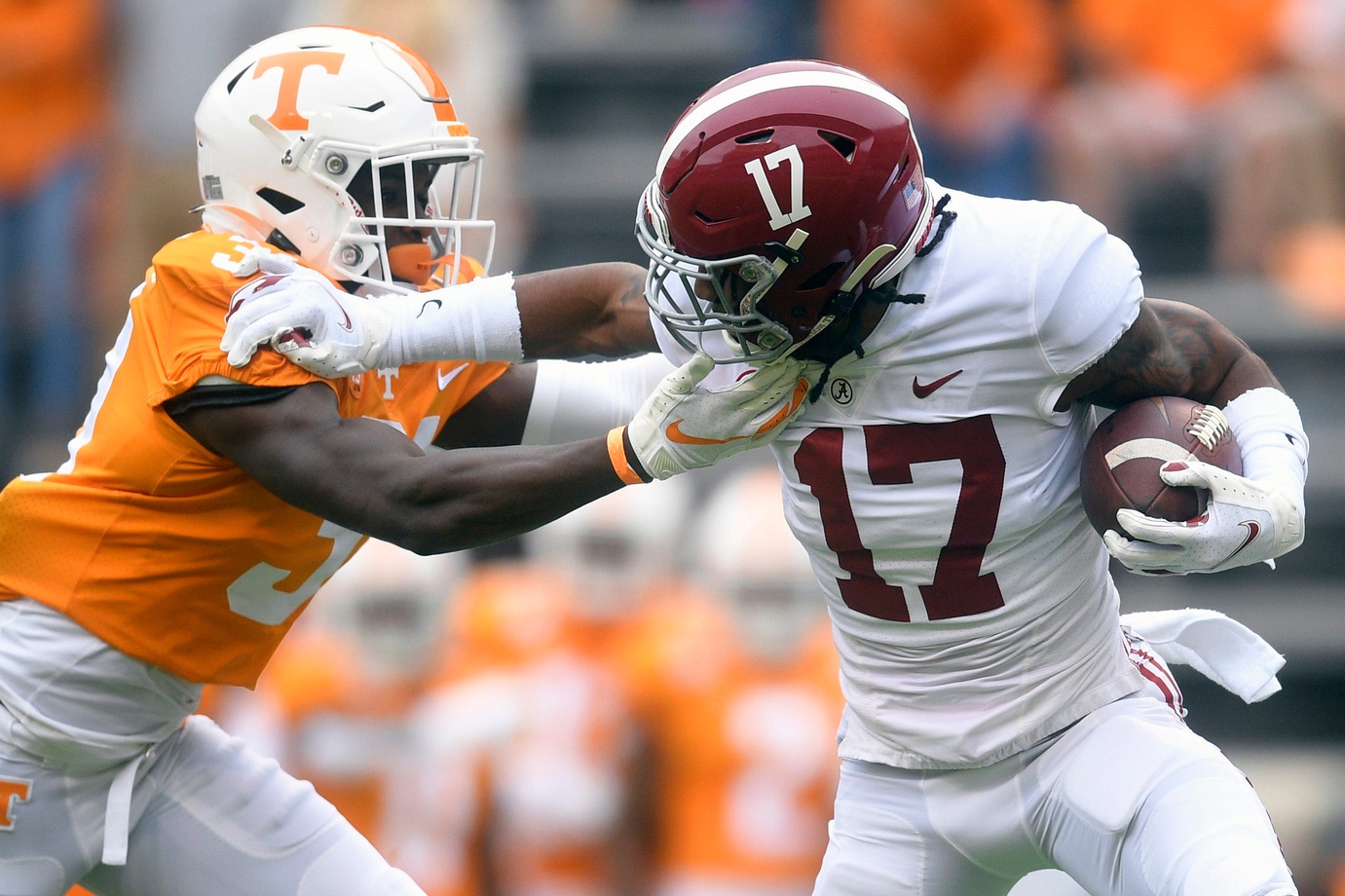 Kendrick's receiver background is going to be intriguing for a lot of teams. The fact that he's only allowed 105 yards all season long won't hurt his draft stock, either. With Patrick Peterson in the last year of his deal, the Cardinals would be wise to keep stockpiling in the secondary.
21. Miami Dolphins – T Christian Darrisaw, Virginia Tech
Darrisaw shot up boards with his dominant play week in and week out for the Hokies this season. He didn't allow a single sack or hit all year en route to a ridiculous 95.6 overall grade. He also faced an ACC slate that featured some of the best edge rushers in the country — and he shut them all down.
Yet another massive riser over the course of the fall. Nixon was an ironman for Iowa's defense, averaging nearly 60 snaps a game for the Hawkeyes. While his seven sacks are a bit inflated — he managed only 23 pressures — Nixon is a battering ram on the interior that the Bucs could use with Ndamukong Suh only on a one-year deal.
With T.Y. Hilton in the last year of his deal at 31 years old, his days as the unquestioned No. 1 in Indy look numbered. Bateman is in a similar mold to Michael Pittman Jr. in that they can beat you any which way you want at every level of the field. It would give Philip Rivers — if he returns — a receiving corps very reminiscent of what he had back with the Chargers.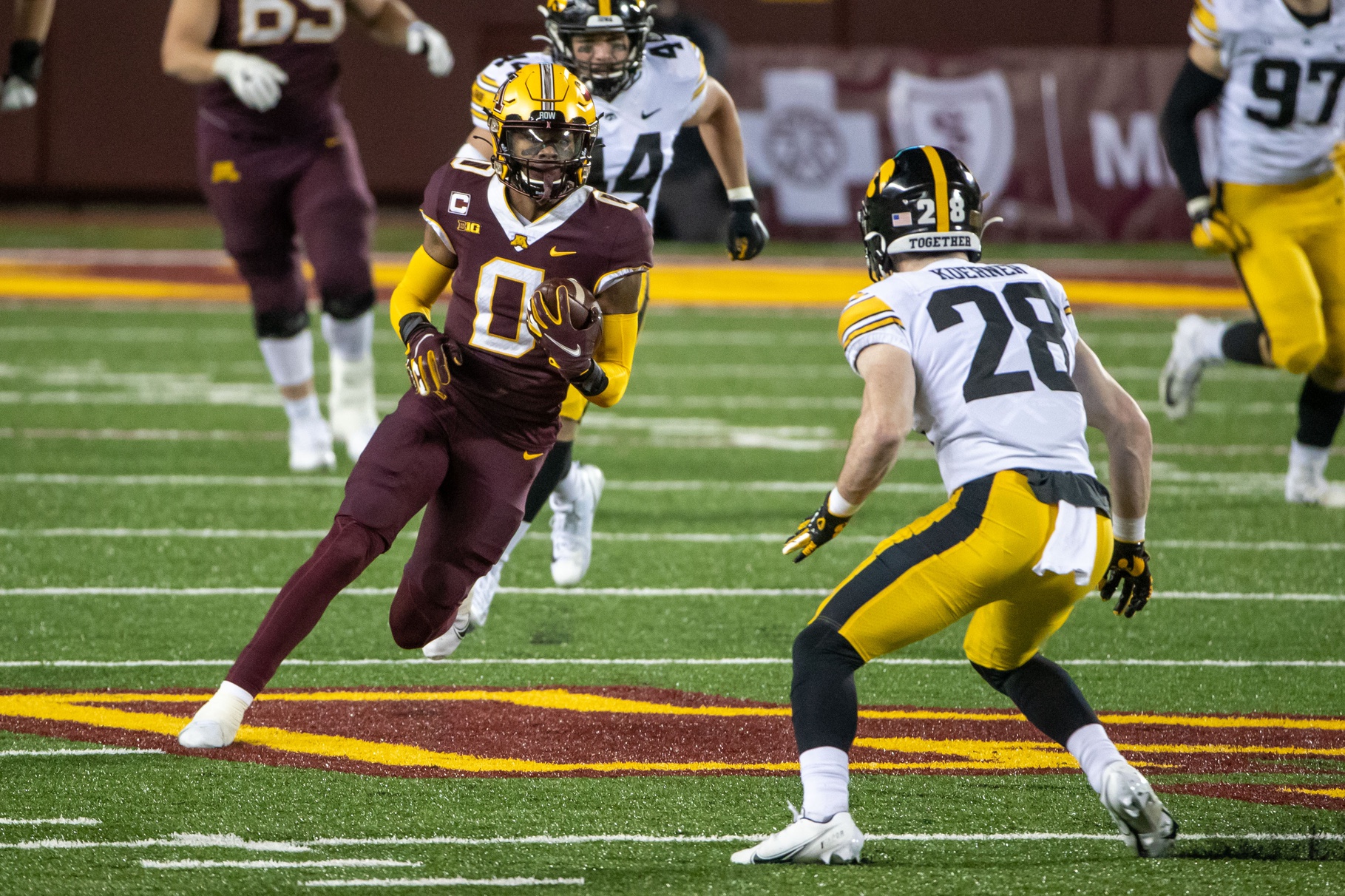 24. Cleveland Browns – EDGE Nik Bonitto, Oklahoma
There was no more dominant edge rusher on a snap-for-snap basis this year than Bonitto. He collected 44 pressures on only 162 pass-rushing snaps. That's more than one every four snaps. He's ultra-twitchy and agile enough to make slower-footed tackles completely miss. While not many can get away with that in the NFL, Bonitto has a move-set reminiscent of a Yannick Ngakoue that makes you think he can pull it off.
The Jaguars' plan at cornerback this year was C.J. Henderson and pray. It's pretty much the reason why they're in line for the No. 1 overall pick. Adding Horn would change that and give the Jaguars two corners capable of playing a hefty amount of man coverage.
The Jets are in a position where they can swing for the fences on some projects. With reportedly sub-4.3 speed yet middling production in his first year as a starter for Penn State this season, Oweh qualifies as such. He only managed 20 pressures in seven games, but Oweh is only scratching the surface of what he could become.
27. Tennessee Titans – ED Carlos Basham, Wake Forest
Jadeveon Clowney was only a one-year rental, so the Titans may want a similar defender more long-term. Basham is a mammoth base end at 6-foot-5, 285 pounds, but he inexplicably took a step back this year after racking up 112 pressures in his sophomore and junior seasons combined.
Trask's 2020 season was truly a sight to behold, and if he could have gotten any help from his defense, it may be thought of in a much different light. Still, he's already tied Joe Burrow for most big-time throws by a Power 5 quarterback in a season, and he hasn't even played his bowl game yet.
The Saints' draft strategy will revolve heavily around who gets treated as a cap casualty this spring, with New Orleans currently almost $100 million over the projected cap next year. One man that will undeniably be the case with is newly acquired linebacker Kwon Alexander and his $13 million cap hit. Combine that with Alex Anzalone's expiring contract and third-rounder Zack Baun's inability to see the field, and the Saints could be in need of linebacker help. Collins was consistently the best player on every field he stepped on this year and finished with a 91.2 overall grade.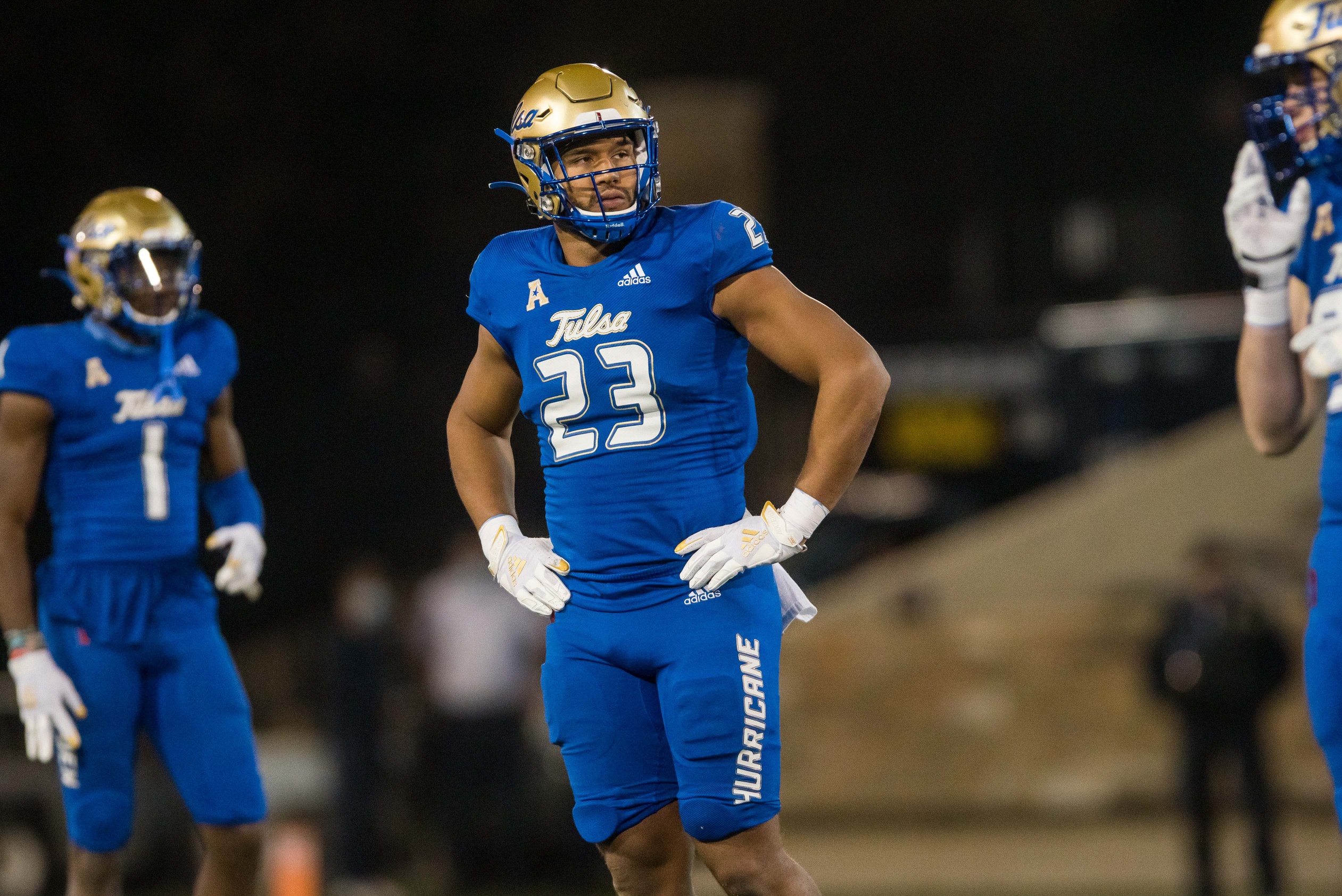 30. Buffalo Bills – IOL Alijah Vera-Tucker, USC
While his performance against Kayvon Thibodeaux in the Pac-12 Championship Game — in which he allowed six total pressures — made it fairly clear his best position is guard, the fact that he allowed only two pressures in the five games outside of that at left tackle was incredibly impressive. The Bills have thrown everything at the guard position this year, with little in the way of results.
The Packers finally pull the trigger on a weapon for Aaron Rodgers. Toney is the type of playmaker defenses have to account for on every play, and Matt LaFleur is creative enough to take advantage of that. Toney could even replace some of the versatility running back Aaron Jones brings to the offense if Jones leaves in free agency.
32. Kansas City Chiefs – ED Jaelan Phillips, Miami (FL)
Phillips was the No. 1 recruit according to 247 sports back in 2017 for a reason. At 6-foot-6, 266 pounds, Phillips has special movement skills for a man that size. Toward the end of this season, he finally started to translate that to the football field. He racked up 36 pressures over his final seven games and looked like a different player from the one we saw at UCLA.