The New England Patriots found themselves in an unfamiliar situation during the 2020 NFL season — they lost the AFC East and missed the playoffs for the first time in over a decade.
It was impossible to overlook New England's struggles with Cam Newton under center, as the Patriots' passing offense generated negative expected points added (EPA)  per play (-0.032) and just 7.1 yards per pass attempt, 26th and 20th, respectively, among offenses.
To exacerbate their position even further, Tom Brady showed this season that he was far from washed up by leading his Tampa Bay Buccaneers to Super Bowl LV.
Many have now left the Patriots dynasty for dead, but I wouldn't be so quick to count them out after their first losing season since Bill Belichick went 5-11 in his first season as the Patriots head coach (2000). The team has the fourth-most available cap space to utilize in free agency and are armed with the 15th overall pick (fourth-highest selection in the Belichick era) to ensure that the 2021 Patriots offense is a vastly improved unit from its 2020 predecessor.
The New England Patriots' checklist this offseason has to start with addressing the elephant in the room: the quarterback position.
The move to acquire Newton last year looked like a stroke of genius to start after he threw for nearly 400 yards against the Seattle Seahawks in Week 2. The 2015 NFL MVP was signed to a super cheap deal, and it looked as if the Patriots had outsmarted out all of the other 31 teams once again.
But Newton's overall play slid, reducing him to little more than fool's gold; his skid saw him fall from 11th league-wide in PFF grade (76.5; 7.4 yards per attempt) from Week 1-9 to 32nd (55.8; 7.0 yards per attempt) from Week 10 onward.
Newton's torment was clear for all to see in 2020, and the fact that the coaching staff felt absolutely zero obligation to get second-year quarterback Jarrett Stidham in the game tells outside viewers all they need to know about how the team thinks about him. He likely isn't the answer at quarterback, either.
Luckily for the Pats, their need for QB comes at a time when the market has never been more filled with capable replacements. Whether it be quarterbacks on expiring deals, such as Ryan Fitzpatrick and Jameis Winston, or ones available for trade, like Deshaun Watson, Matthew Stafford and Jimmy Garoppolo, New England has options.
Trading for Watson or Stafford would be the highest-upside maneuvers, but they are probably the least likely out of outcomes. Due to Watson's no-trade clause, he gets the final say on where he ends up, and all the noise out of his camp has the New York Jets and Miami Dolphins at the top of his list.
Stafford has also been heavily tied to the 49ers, and that pairing could honestly be the best-case scenario for the Patriots. The former Detroit Lion landing in the Bay Area would mean Jimmy G is all but gonzo — and a reunion with New England would seemingly be imminent.
Remember, we are just one year removed from Garoppolo leading the 49ers to a Super Bowl appearance; he was potentially one completed deep pass to Emmanuel Sanders away from a Super Bowl championship.
When you compare Garoppolo to Stafford since the start of the 2019 season, we can see why the 49ers would be looking to upgrade. Stafford threatens much more as a downfield passer, and that is the way the NFL game is trending. His PFF passing grade on 20-plus-yard throws since 2019 (93.0) ranks 11th, while Garoppolo's grade on those same throws ranks 24th (81.0).
Garoppolo has obvious ties to the New England offensive system and is still an upgrade over any QB not named Stafford or Watson. Per PFF's own salary cap expert Brad Spielberger, Garoppolo may not even have to be traded to be acquired — he could easily become a 2021 cap casualty.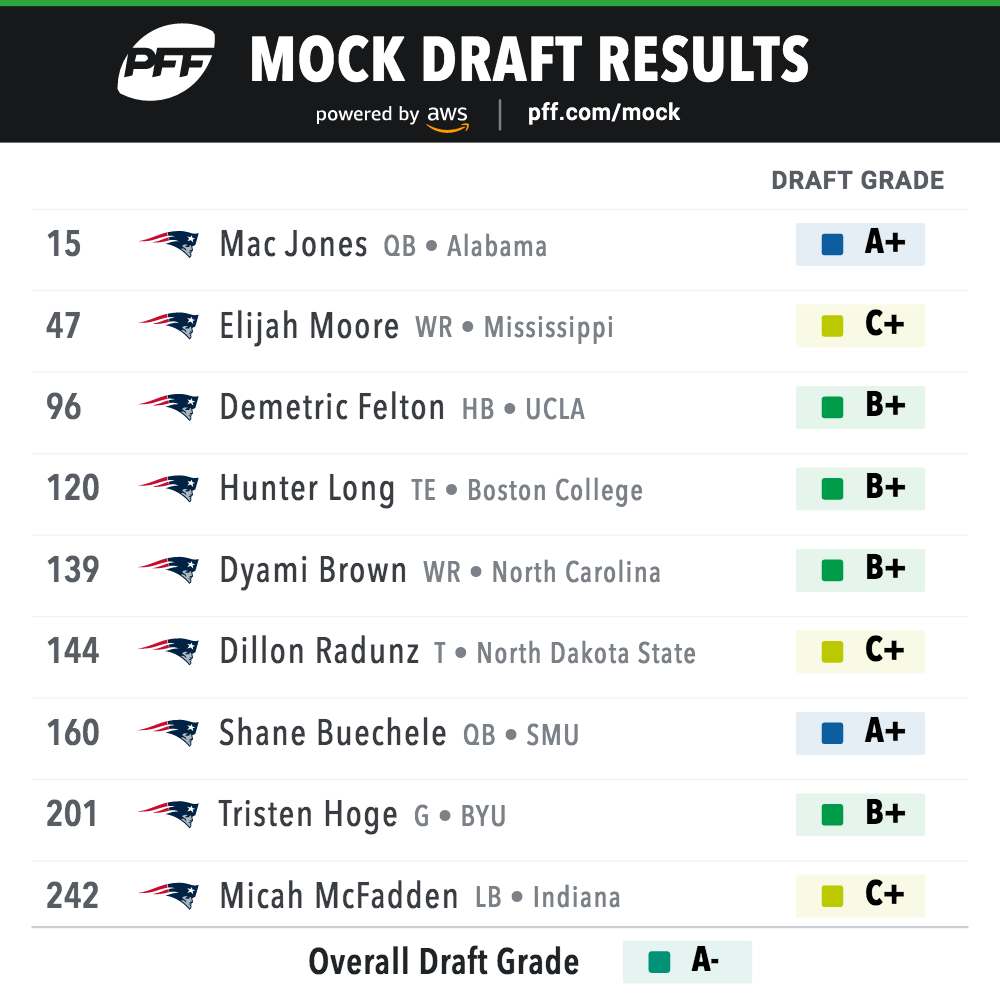 If the dominoes don't fall in the way of the Patriots acquiring a veteran, they may look to the 2021 NFL Draft to address the position. There's a chance that either North Dakota's Trey Lance or Alabama's Mac Jones fall to pick No. 15. Lance is the wild card of the 2021 quarterback class, with a cannon for an arm and the ability in the running game to keep defenses on their toes, and he comes in at QB4 on PFF's 2021 NFL Draft Big Board. Mac Jones falls one spot below Lance on the PFF board, but his accuracy, timing and command of the Alabama offense in 2020 was incredibly impressive.
Jones is much more likely to be available and could fit well in the Patriots' offense; he hardly makes mistakes and is super accurate. His adjusted completion percentage (84.2%) ranked first in the nation and was even better than Joe Burrow's last season (91.9%). Jones' PFF passing grade was also superior (94.8 versus 94.1).
The main issue with Jones is that he offers little to nothing as a dynamic athlete, and that could hinder his production versus other quarterbacks.
Former Wake Forest and Georgia quarterback Jamie Newman could be a later-round alternative because he has the traits and ceiling of a first-round QB. He was PFF's third-ranked QB heading into the 2020 college football season. However, he was unable to increase his draft stock as he opted out of the 2021 season because of the uncertainty surrounding COVID-19.
His draft-stock plummet could make him an insane value pick in Round 2 or 3 because he is well-suited for life in the NFL. Unlike many college QBs who post gaudy numbers because their receivers were always open, that was not the case with Newman. In fact, 53.2% of his total pass attempts in 2019 targeted a tight or closing window, a rate over five percentage points higher than any other quarterback in college football that year. He graded excellently on those tight-window throws, too, ranking only behind Burrow.
The dual-threat quarterback also showed that he could throw deep downfield, which is now becoming a staple in NFL offenses in an effort to keep pace with the other teams. His PFF grade on 20-plus-yard throws (96.5) ranked second, again, to just Burrow.
Then factor in that he adds value with his legs, as he logged the fifth-most designed carries in the Power 5 while churning out 548 rushing yards at 4.3 yards per attempt, and he's got all the tools necessary to be a dynamic quarterback.
I believe many of the flaws in his game stem from the "boring" offense at Wake Forest, an offense that lacked creativity and complexity. This reminds me of Justin Herbert to an extent, as Herbert was also held back by his offense at Oregon, which pushed him down to QB3 in the 2020 NFL Draft.
Jamie Newman ???? Amari Rodgers

(h/t @LedyardNFLDraft)

— PFF Draft (@PFF_College) January 28, 2021
Newman impressed at the Senior Bowl and has reportedly already had a formal meeting with the Patriots. He might be the best option for New England because he won't cost nearly as much draft capital as other QBs, and that will allow the Patriots to add pieces in the draft elsewhere.
Verdict: Trade/sign for Jimmy Garoppolo or draft Jamie Newman.
This is one area that New England shouldn't have much issue addressing this offseason because both their top two running backs from last season, Sony Michel and Damien Harris, are both under contract.
However, primary pass-catching backs James White and Rex Burkhead are both free agents, and the presumption is at least one or both of them won't be back.
You don't need me to tell you that investing heavily in the running back position is not something a team should do, so whatever saves the Patriots the most money is the move. If White and/or Burkhead are willing to return on a team-friendly deal, that should be the approach.
If not, targeting pass-catching running backs such as Jerick McKinnon, Jamaal Williams and DeAndre Washington in free agency should be atop their list. And if worst comes to worst, they can draft either Jaret Patterson (sixth-round projection) or Demetric Felton (fourth-round projection) on Day 3 of the 2021 NFL Draft. Both players can provide upside in the passing game.
Verdict: Acquire/retain pass-catching back at the best value.
---
The Patriots' history of drafting underwhelming receivers precedes itself. We all saw the graphic when the Patriots played the Rams on Thursday Night Football this season.
Patriots wide receivers drafted since 2010:

*Taylor Price – 2010
*Jeremy Ebert – 2012
*Aaron Dobson – 2013
*Josh Boyce – 2013
*Jeremy Gallon -2014
*Malcolm Mitchell – 2016
*Devin Lucien – 2016
Braxton Berrios – 2018
N'Keal Harry -2019

*Out of the NFL pic.twitter.com/iFRybTk7Bh

— CBS Sports HQ (@CBSSportsHQ) December 11, 2020
This is a dire area of need for this team, with former first-round pick N'Keal Harry looking like a bust in his first two seasons and Julian Edelman entering his age-35 season.
The only receiver on their roster they can feel comfortable with is Jakobi Meyers, who finished the season ranked 21st among wideouts in PFF grade (80.1) and led the team in receptions (59). Still, his profile as a receiver is much more suited as a strong No. 3 on an NFL roster, so additions need to be made to round out this receiving corps.
Luckily for the Patriots, both free agency and the draft is littered with talent across the board. And they need to be overly aggressive in targeting the position because an influx of talent is greatly needed.
Many of the PFF mock drafts have New England drafting one of the top wide receivers, either Devonta Smith, Rashod Bateman or Jaylen Waddle. Those three receivers rank inside my top four in the 2021 draft class and can all be immediate contributors for the Pats.
Even after addressing the position in the first round, I don't think they stop there. Nothing is guaranteed when players leave college for the NFL, so the Patriots need to continue to take shots on receivers in Day 2 and Day 3, with the focus being on players who can create separation. Late-round wide receivers listed in the PFF 2021 Draft Guide who fit these criteria include TuTu Atwell, Jaelon Darden, Dyami Brown and Anthony Schwartz.
I don't think they should be satisfied with just drafting a receiver with a high-end pick. After all, they took Harry in the first round, and that flamed out real quick. They need to continue investing in the position, starting at the top with Allen Robinson II.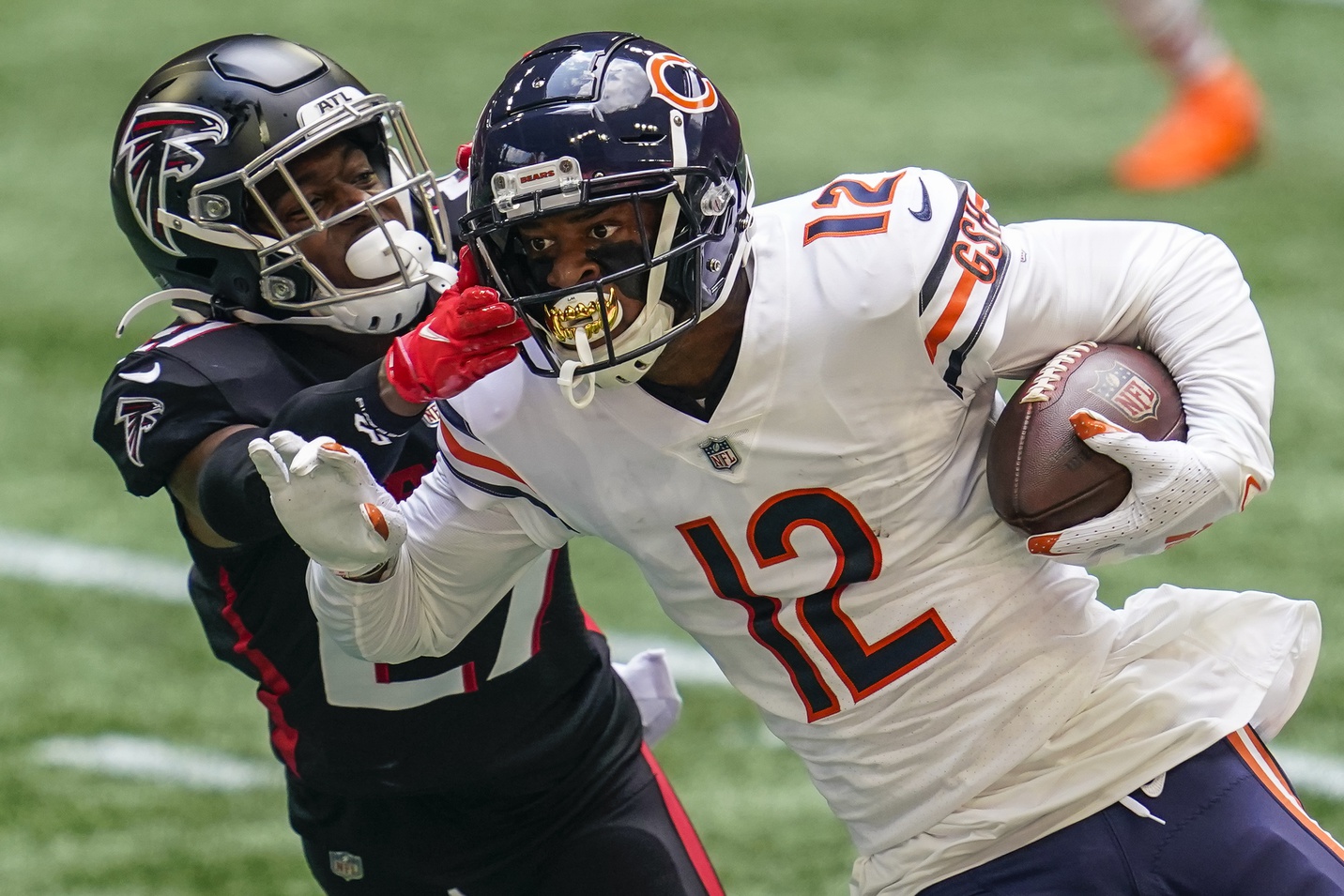 Robinson was the fifth-highest-graded receiver at PFF this season, posting an 88.3 overall mark that tied for the best of his career despite a combination of Mitchell Trubisky and Nick Foles throwing him the football. Robinson has consistently been a top-10 receiver despite having no viable quarterback play, and he's still just 27 years old. He dropped just one pass on 157 targets this past season. He should be the most sought-after wide receiver in free agency, and the Patriots have the funds to bid for him.
If they cannot obtain Robinson, the next receivers they need to acquire include Will Fuller V and Curtis Samuel, as both can be spark plugs for this Patriots offense. Fuller was reportedly thrown around in trade rumors to New England before the trade deadline in 2020. Samuel's versatility seems like a dream fit in a Patriots scheme that takes advantage of players with diverse skill sets.
Verdict: Wide receiver selection at No. 15 and pay up in free agency. This isn't the position to go cheap on.
---
No team has received less production from the tight end position over the past two seasons than the Patriots. New England tight ends have totaled 55 catches, 673 yards and just three touchdown receptions since the start of 2019; the next-closest team, the New York Jets, had their tight ends total 87 catches.
A ground-up rebuild at the position is long overdue after Rob Gronkowski retired and then unretired to get traded to the Tampa Bay Buccaneers. New England did take a couple of shots in last year's draft with Devin Asiasi (51.5 PFF grade) and Dalton Keene (42.2), but expecting either player to be a major contributor even in Year 2 is still a reach.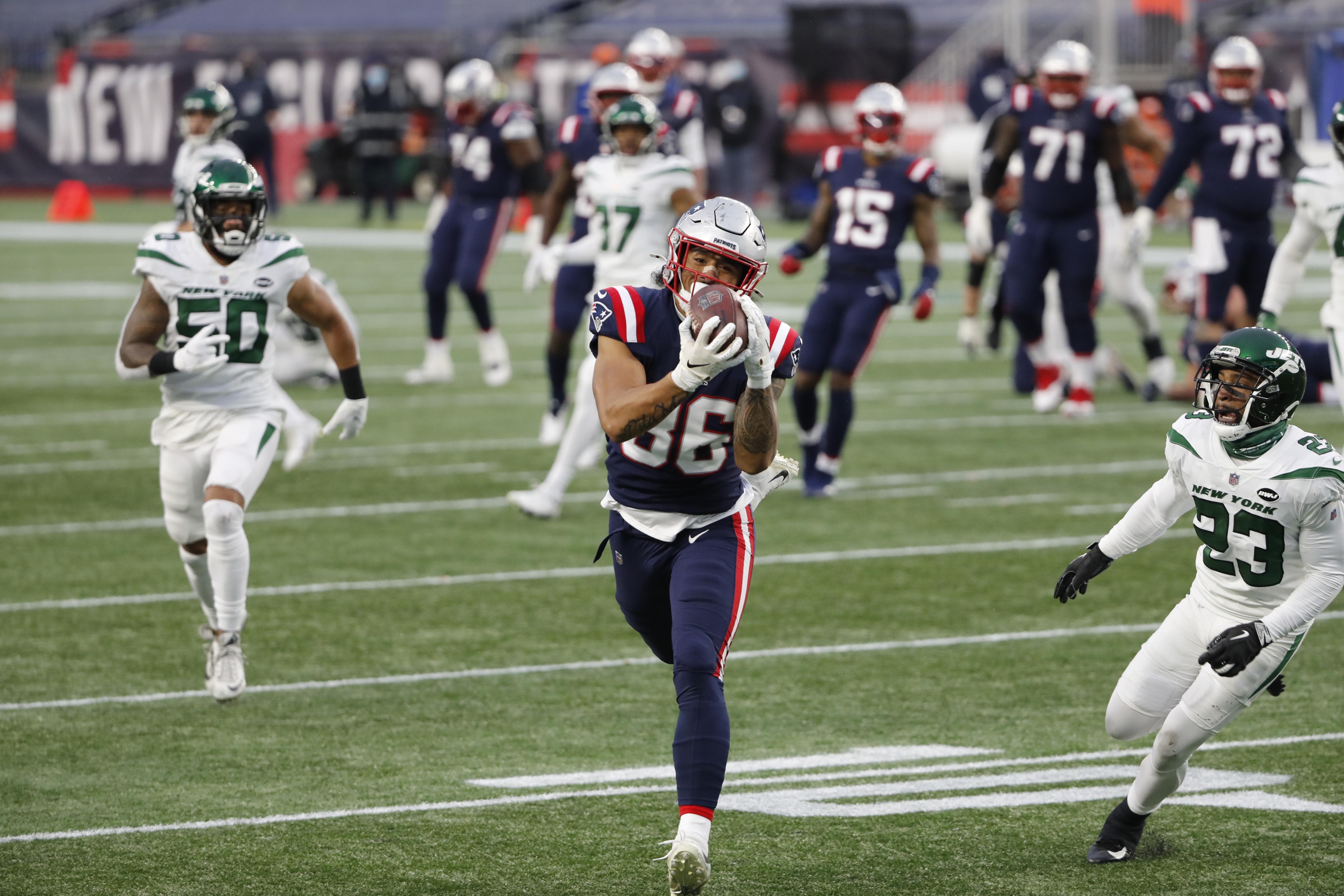 They need to bring in a veteran to provide that immediate production and help develop some of the younger tight ends. After all, an underlying move the Patriots made back in 2011 after they drafted Gronk and Aaron Hernandez was signing established veteran Alge Crumpler, who made his heyday catching passes from Michael Vick.
Breaking the bank for Hunter Henry should be the priority even over signing a wide receiver in free agency. He is easily the best tight end available in free agency, and the Pats enter a bidding war to snag him away from a Los Angeles return.
If New England can't finagle its way into adding Henry, there are still viable tight end options to go after. Both Jonnu Smith and Gerald Everett are super athletic pass-catching tight ends under 27 years old. Many tight ends don't break out till their second contract anyway, so we could see special seasons from either if they land with the Pats.
Verdict: Leave free agency with at least one of the top three available tight ends.
---
Last but certainly not least is the offensive line. And for the most part, this is not a position that the Patriots need to rebuild. They were a top-six-graded run-blocking unit (76.2) in 2020 and even ranked 15th in pass-blocking grade (67.7). And their three highest-graded linemen, right guard Shaq Mason (85.4), right tackle Michael Onwenu (84.3) and left tackle Isaiah Wynn (82.6), are all under contract in 2021.
Joe Thuney and David Andrews are the two starters from last season who are set to be free agents. If the price is right, I don't see how the Patriots don't try to bring back Thuney. The problem is that the price probably won't be right.
The fifth-year pro is PFF's 13th-highest ranked free agent (second among guards) and has never finished worse than 10th in PFF grading since he entered the NFL in 2018.
The Patriots had a chance to lock up Thuney last year and failed to do so. My best bet is that they offer him a deal but ultimately lose out to more aggressive bidding. Still, not overpaying for a guard isn't the worst thing in the world.
Andrews will probably command less money on the open market because he has dealt with injuries over the last two seasons, so the Patriots will get the chance to bring him back on a cheap deal. He's been super consistent in his past three full seasons (top-16 center each year), so it wouldn't make much sense for him to leave unless he gets a lucrative offer elsewhere.
Without Thuney, the Patriots will likely try to draft his replacement, and this OL class has some particularly nice fits at left guard. Alabama guard Deonte Brown is a projected fourth-round pick and systematically fits the Patriots' gap running scheme. He's also as big as a house.
Deonte Brown hasn't allowed a sack across 3 seasons at Alabama (865 snaps)

He's also the largest human on Earth pic.twitter.com/vrDTRaAPZY

— PFF Draft (@PFF_College) January 11, 2021
South Carolina's Sadarius Hutcherson is more of a long-term project and offers versatility that the Patriots like to shoot for in the sixth round.
As for centers to fill-in for Andrews, Oklahoma's Creed Humphrey and Ohio State's Josh Myers fit the mold as Day 3 picks.
Verdict: Let Thuney walk and draft interior offensive line depth.