Ever since their blowout loss to the Alabama dynasty in the 2012 BCS National Championship game, Notre Dame has received slander from all over, stating that the independent Fighting Irish didn't have what it takes to compete with the Power 5 programs.

Even after an undefeated regular season in 2018, fans, media and opposing teams were stating how overblown the Fighting Irish were and didn't deserve a spot in the four-team playoff. Subsequently, the selection committee disagreed and awarded the Irish the third spot where they would face off against the Clemson Tigers. This was the perfect opportunity for Notre Dame to prove the world wrong and show they could indeed play with the big dogs, but they got blown out 30-3, and the Notre Dame Football defamation lived on.
This past week, the Associated Press released their annual preseason top-25 and listed Notre Dame as the ninth-best team to start the 2019 season. Though we here at PFF ranked Notre Dame fourth in our preseason ranking, a ranking that is based on PFF's very own ELO ranking system and one-of-kind grading system where we grade every player, on every play, in every game at the FBS level. Nonetheless, led by Ian Book and an incredibly underrated defensive unit, Notre Dame has everything needed for them to finally dethrone one of the elite Power Five programs in 2019.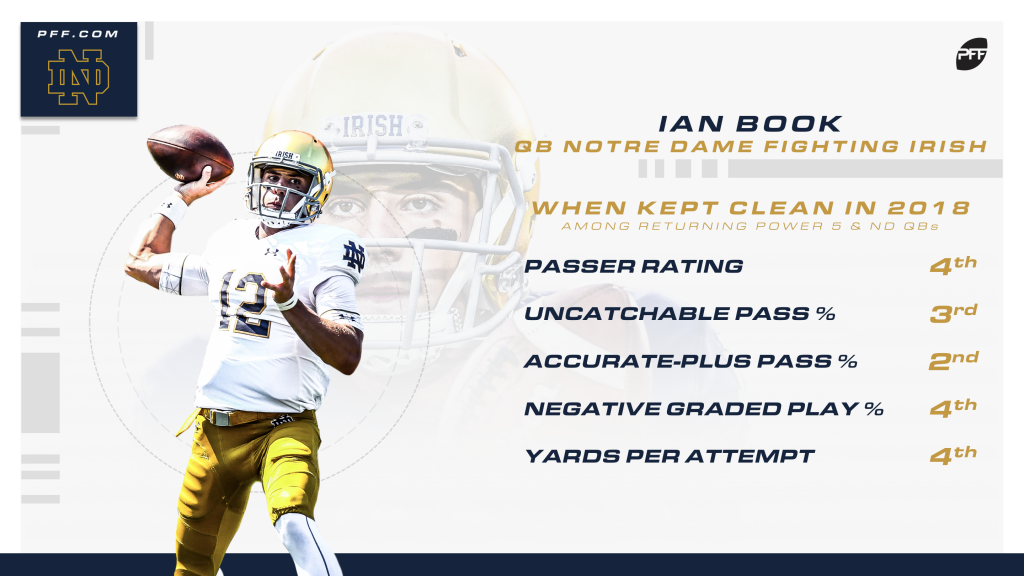 Ian Book limits his passing mistakes just as good as any other college QB
Quarterback Ian Book entered the 2018 season as Notre Dame's second option at the position behind Brandon Wimbush (now at UCF), but he was quickly named as the Fighting Irish's starter just a few weeks into the year. As Notre Dame's signal-caller, Book showed superb poise: Among returning Power Five quarterbacks, Book posted the fourth-best negatively graded play rate and just a 2.0% turnover-worthy play rate (eighth) on throws from a clean pocket. Along with that, Book showed outstanding accuracy when pressure was kept at bay, as he recorded the second-highest "accurate plus" rate and third-lowest uncatchable pass rate, per PFF's quarterback charting system. 
However, when the pass-rush did get home, Book's play declined significantly as he ranked in the bottom fourth in PFF grade against pressure. Though most of this pressure wasn't let up by the offensive line, it was because Book brought it on himself.
As a first-year starter, Book bailed on the pocket far too often and had the most pressures allocated to himself among all college football quarterbacks (29 total). Out of those 29 pressures, 18 ended as a sack which was seven more than any other college quarterback. This type of instinct is as expected from a first-year college starter, and it has been proven that performance under pressure is unstable from year to year, so as a result, if Book trusts the pocket and his offensive line, good things will come. 
As mentioned, Book's accuracy is perhaps his greatest quality, and his accuracy numbers aren't skewed by short dump-off passes, either. On passes 10-plus yards from the pocket, Book ranks first among returning Power Five quarterbacks in "accurate plus" rate. Even on those throws to receivers with tight separation, Book ranks third in "accurate plus" pass and sixth in adjusted completion percentage.
Book thrived inside the pocket in 2018. Most of his mistakes came when brought on himself by bailing too quickly or opting to scramble. Book wasn't the type of quarterback to attempt those big-time throws and often played it safe in 2018. His instinct to trust the pocket and his willingness to throw those big-time throws will develop over time. When this occurs, Book will be able to improve from the 18th-best quarterback in the FBS, to possibly top-10 and take the Fighting Irish a step closer to taking down FBS powerhouses.
When Book improves his ability to remain inside the pocket, Notre Dame's offense will be taken to another level as their offensive line is one of the most complete units in the FBS. The Irish O-line returns four of their five 2018 starters, and three of those ranked in the top-12 at their respective position in PFF grade among returning power five and independent lineman (left guard Aaron Banks, right guard Tommy Kraemer and right tackle Robert Hainsey). Whether it was a run play or a pass play, the Irish o-line excelled. When run-blocking, the Notre Dame o-line unit ranked 20th in PFF run-block grade and assisted on giving their backfield 2.5 yards before contact on designed run plays (22nd). As far as pass-blocking goes, Notre Dame's line allowed a lowly 14.8% pressure rate (13th) and just six total sacks (ninth-fewest).
On the defensive side of the ball, the Irish have a lot to replace with Jerry Tillery, Te'Von Coney, Drue Tranquill and Julian Love all leaving for the NFL. Fortunately, the Irish still have one of, if not, the most underrated defensive units in the FBS — one that is good enough to contain any Power Five offense.
Best edge duo in the nation
It's quite clear that college football's best edge duo belongs to the Notre Dame Fighting Irish, as they are the only team that has two of the top-25 highest-graded players at the position with Julian Okwara (10th) and Khalid Kareem (22nd). 
Okwara comes into the season as a top-three edge defender and the 14th overall prospect in the 2020 class according to the PFF Draft Guide. With ranking fourth in pass-rush win rate (23.9%) and second in pressure rate (20.5%) among returning edge defenders, there's no question Okwara has proven his dominance. Okwara spent most of his 2018 season lined up at outside linebacker where he recorded the fifth-highest PFF grade, 56 total pressures (most by five), the second-highest pressure rate and the second-highest pass-rush win rate. Furthermore, Okwara's play certainly did not falter when facing only Power Five programs, as he ranked first in pressure rate, second in win rate and sixth in overall grade, with his teammate Khalid Kareem being not too far behind at 13th.
Kareem was named by PFF's lead draft analyst, Mike Renner, as the most versatile edge defender in the 2020 draft class. Whether he is lined up at 3-tech, 5-tech, or 6/7-tech, Kareem thrived and often beat the opposition. He spent a majority of his time at 6/7-tech and finished 10th in pass-rush grade and 20th in win rate at that alignment. Overall, Kareem beat his defender but didn't record a pressure (due to a quick release by the quarterback) the second-most times among edge rushers last season, but he also had five batted passes (fifth-most). 
Along with have the best edge duo in the nation, Notre Dame has some depth at the position too. With Daelin Hayes, the Irish have three of the top-30 highest-graded returning Power Five and Independent pass-rushers. Okwars, Hayes and Kareem all excel in blitzes as they each rank in the top 20 in pass-rush win rate when the Irish execute a blitz (Hayes is also the eighth highest-graded edge rusher in a blitz). Moreover, the Irish have the most stunt pressures with their returning edge unit as a whole. 
Consequently, it's safe to say that the Notre Dame pass-rush is ready for any Power Five offensive line. Though, this isn't the only positional group of the Irish to be in the top tier of college football.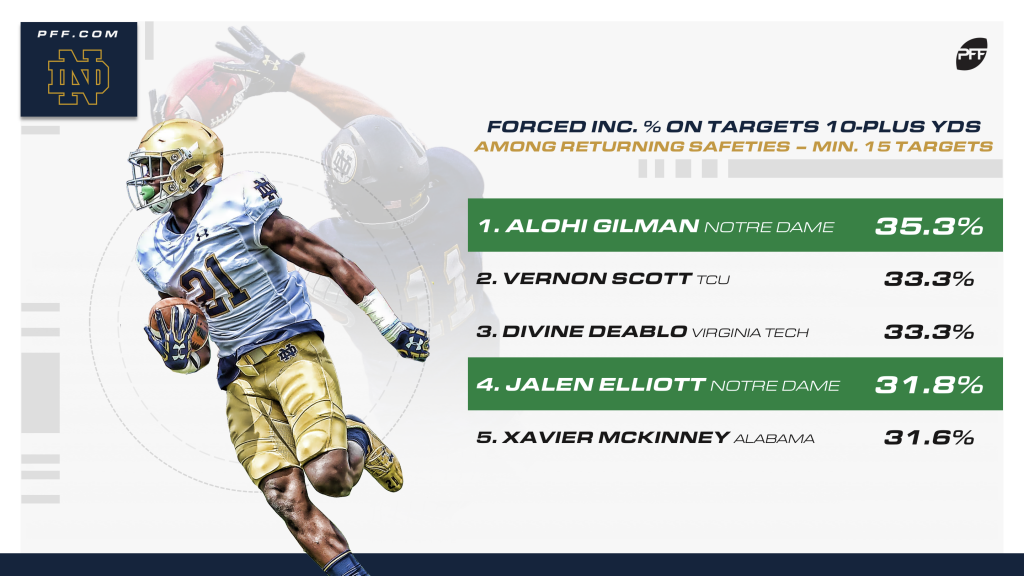 Top-3 secondary in the nation
As previously indicated, the Irish lost a vital piece in their secondary in Julian Love, who finished in the top-five among FBS cornerbacks in coverage grade. However, their secondary is far from depleted with the departure of Love. With safeties Alohi Gilman and Jalen Elliott and cornerback Troy Pride Jr., the Irish form a top-three secondary in all of college football.
Gilman was the highest-graded safety last season with a 91.6 overall grade, which also tied for second with Derwin James in 2017 for the second-best season by a safety since 2015. With coming away with the fifth-highest forced incompletion rate among returning FBS safeties at 23.5%, Gilman is a certified ballhawk and is also versatile enough to play at a high level as a box safety, in the slot and at free safety. Gilman lined up in the box for 275 snaps last season and posted the second-highest overall and run-defense grades at that alignment, along with the third-most run stops (18). Gilman spent only 146 of his snaps in the slot, but still came away with the sixth-highest overall grade, fifth-highest coverage grade and fourth-highest forced incompletion rate there.
Gilman's partner in crime at safety, Jalen Elliott, comes into 2019 as the 14th-highest-graded returning safety in PFF coverage grade at 87.6. Like Gilman, Elliott was a ballhawk in coverage with a 22.2% forced incompletion rate (tied for eighth), nine pass breakups plus interceptions (tied for seventh) and 48.3 passer rating allowed in coverage (eighth). Elliott made impact plays in coverage on a consistent basis as he had the third-highest rate of positively graded plays when he was the primary defender in coverage.
The safety duo of Gilman and Elliott thrived in similar situations last year for the Irish. Notre Dame played a lot of Cover-1 defense last season, with 33% of plays coming from that scheme (11th highest rate in FBS and also happened to be the highest-graded defense in Cover-1), and this is where the safety duo played their best as both graded in the top-10 at their position in Cover-1 (Gilman first, Elliott ninth). Moreover, the Irish safety unit combined to allow just a 29.0 rating in Cover-1 last year and put up a combined forced incompletion rate of 29.2% (fourth). Both Gilman and Elliott were determined to not let up any big-time plays with both posting high forced incompletion rates on targets 10-plus yards downfield, with Gilman at 35.3% (first, also was highest-graded safety in coverage on these targets by a large margin) and Elliott at 31.8% (fourth).
As for cornerback Troy Pride Jr., he too is a forced incompletion machine with 15 last season (eleventh most among returning FBS cornerbacks). Opposite to that of Gilman and Elliott, Pride really showed his worth to this Irish defense when in zone coverage, where he is the ninth highest-graded cornerback at 84.5 and allowed a stingy 51.1% catch rate and 54.9 passer rating.
When in zone coverage and targeted 10-plus yards downfield, Pride may be the best in the game as he put up an impressive 86.7 coverage grade in that scenario, the second-highest among all returning FBS cornerbacks last season. On those targets, he allowed just three catches on 18 targets (16.7% catch rate) and a 17.1 passer rating. Unsurprisingly, he also had 10 forced incompletions on those targets, tying for third-most among returning cornerbacks. Over his time in South Bend, Pride Jr.'s coverage play on deep targets of 20-plus yards has reached elite status. Allowing just four receptions on 24 targets, he is the 10th-highest-graded cornerback on deep targets all-time and has the highest deep forced incompletion rate in the PFF College era (since 2014).
Conclusion: Brace yourselves for Notre Dame to overtake the Power Five
With Ian Book's superb accuracy and having time to develop his pocket awareness alongside Notre Dame's elite offensive line, edge unit, and secondary, the Fighting Irish have everything in place to finally dethrone the Power Five in 2019. Many are overlooking the Irish after their crushing defeat in the College Football Playoff and the losses on their defense (and it shows with their slight fall in the AP top-25), but don't write off the Irish quite yet. All things considered, the Irish won't have to wait long to prove their doubters wrong as they take on the third-ranked Georgia Bulldogs in Week 3 in what could very well be one of the best college games of the season.