The NFL offseason is nearly upon us. While others focus on free agency and how NFL teams might find ways to improve via deals big and small, I'm looking ahead to the NFL draft and what it has to offer in terms of dynasty fantasy football talent for 2021 and beyond.
Throughout draft szn, I'll be delivering top-five lists at every fantasy position in order to keep tabs on the top dynasty prospects on the horizon. For those looking to dig deeper, PFF's 2021 NFL Draft Guide is a crucial resource, currently breaking down the top 150 college prospects. It will be updated throughout the offseason leading up to the NFL Draft in April. 
For now, let's dig into the top five running backs for dynasty fantasy football leagues in 2021 — with a few honorable mentions thrown in for good measure.
| | |
| --- | --- |
| Height | 6-foot-1 |
| Weight | 230 |
| Wing | 81″ |
| Arm | 33 3/8″ |
| Hand | 10″ |
| Class | Senior |
Alabama's Najee Harris has been nothing but a stud running back since taking over the starting job in 2019. He owns PFF's third-highest rushing grade (93.3) and ranks first in rushing touchdowns (39) and fourth in forced missed tackles (128).
The guy just refuses to go down and seemingly always finds a way to pick up positive yardage.
Some thought he made a mistake by not coming out of school a year earlier, but he put up a terrific senior season with 1,464 rushing yards and 26 touchdowns on 252 carries. He also proved he can produce as a three-down running back.
Harris' 43 receptions on 53 targets were career highs and ranked third in the nation at the running back position. He dropped only one target and forced a league-high 22 missed tackles after the catch.
It's important to remember that before taking over the Crimson Tide backfield, the underclassman had been stealing touches from NFL talent in Josh Jacobs and Damien Harris. And he was arguably just as good — if not better — than those running backs.
| | | | | | | |
| --- | --- | --- | --- | --- | --- | --- |
| | PFF rushing grade | Carries | Yards | Yards per attempt | Yards after contact per attempt | Missed tackles |
| Damien Harris | 84.4 | 149 | 871 | 5.8 | 3.2 | 22 |
| Josh Jacobs | 85.2 | 121 | 645 | 5.3 | 4.1 | 33 |
| Najee Harris | 91.8 | 117 | 783 | 6.7 | 4.4 | 37 |
With an all-encompassing skill set and desirable size, Harris should be a solid producer at the next level, though his lack of top-notch speed could keep him from being elite. He only has 25 career carries of 20-plus yards. 
A fast 40-yard dash time at Alabama's pro day will do wonders for Harris' draft stock. 
| | |
| --- | --- |
| Height | 5-foot-10 |
| Weight | 220 |
| Class | Junior |
This past season, North Carolina's Javonte Williams earned the highest rushing grade (95.9) that PFF has ever given. He led the nation with 75 forced missed tackles (48% missed tackle rate — a PFF record) and ranked second in PFF's elusive rating and second in rushing attempts of 15-plus yards (27). 
When factoring in his nine broken tackles on 24 catches, Williams' aggregate total missed tackle percentage (46%) is 11 percentage points higher than the next running back. 
The missed tackle rate is eerily similar to that of Washington Football Team running back Antonio Gibson during his final season at Memphis. The only difference is that Gibson totaled just 71 touches compared to Williams' 181.
Last preseason, I enjoyed pointing out that Gibson forced a missed tackle on nearly half of his touches, so I'm excited that Williams can fill that void for me in 2021.
Williams possesses the explosiveness, size and speed to win at the next level and just needs commitment from a NFL team that he'll get enough work to pursue his high ceiling. He shared time with another 2021 RB prospect, Michael Carter, for his entire collegiate career. If a team decides to spend a high Day 2 pick on Williams, we should expect him to finally see the type of workload to unleash his vast talent. 
Williams and Carter each commanded 30 targets last season, with the latter taking the slight edge in yards per route run (1.93 vs. 1.64) and PFF receiving grade (88.6 vs. 77.5).
PFF's Eric Eager found that Williams has an excellent median NFL projection even if he's deployed like he was at North Carolina. His statical comps include Dalvin Cook, Alvin Kamara and Derrick Henry.
| | |
| --- | --- |
| Height | 5-foot-10 |
| Weight | 205 |
| Class | Junior |
Travis Etienne would have been PFF's No. 1-ranked RB in the 2020 NFL Draft Class had he chosen to forego his final season of eligibility at Clemson. 
Unfortunately, going back to school resulted in a career-low PFF rushing grade (81.1, 38th out of 100 qualifiers). His mark of 5.6 yards per carry was the first time he fell below 7.0 in college, and his 3.8 yards after contact per attempt was the first time he finished under 4.0.
Clemson lost a ton of talent across the offensive line, which clearly hurt Etienne. After four Tigers starters moved on to the NFL, Etienne saw just 1.8 yards before contact (below league average) this season compared to 2.8 in 2019 and 3.8 in 2018, per PFF's NFL Draft Guide. 
Etienne still possesses the explosive upside that he demonstrated from 2018-2019 when he posted a 92.4 PFF rushing grade and 40 rushing attempts of 20-plus yards — 11 more than the next-closest running back. His PFF rushing grade led all FBS backs in both seasons and ranked among the three best grades ever at the position.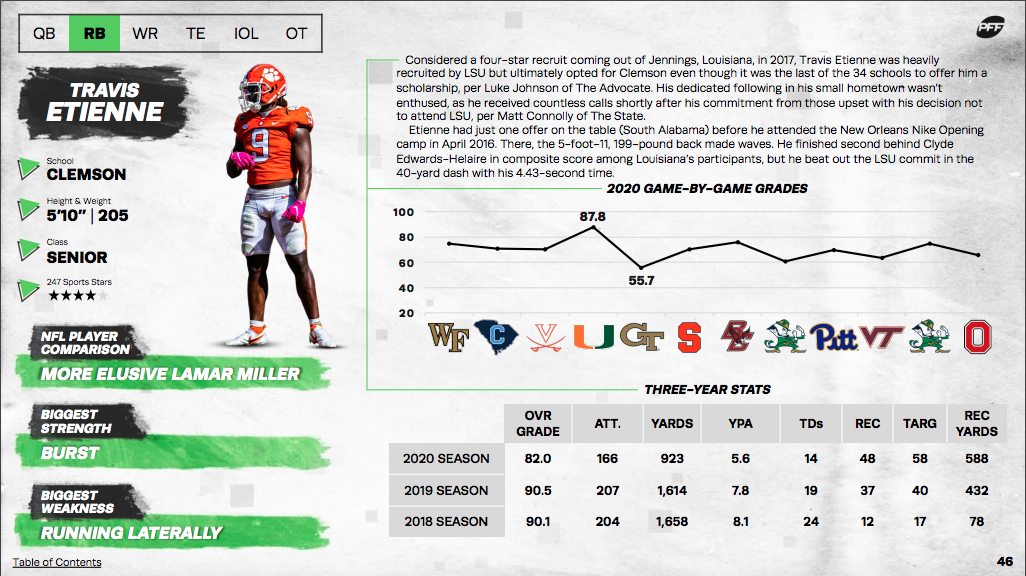 So we shouldn't over-weigh Etienne's senior season after two years of being the most-valuable non-quarterback in college football. His rushing production clearly left us wanting more, but the silver lining was his continued growth as a receiver. He finished first in PFF receiving grade (90.9), first in receiving yards (588) and second in receptions (48) at the running back position.
In fact, Etienne has improved as a receiver every season of his career — NFL teams will love to use him as a mismatch out of the backfield. 
His home-run threat ability helps shadow his smaller frame, which could prevent him from seeing huge carry totals at the next level. He hardly will be used to grind out minimal yardage up the middle and in close-out situations. Etienne has just one game on his resume with 20-plus carries since 2018. 
| | |
| --- | --- |
| Height | 5-foot-11 |
| Weight | 191 |
| Class | Redshirt sophomore |
Kenneth Gainwell opted out of Memphis' 2020 season prepare for the 2021 NFL Draft. He made his claim to fame during the 2019 season as an RB that can seamlessly operate as a slot wide receiver.  
In 2019, Gainwell ranked fourth in PFF receiving grade (85.0), fourth in receptions (51), first in receiving yards (610) and second in missed tackles forced (20) on receptions. His receiving prowess was able to keep the team from fully unleashing Antonio Gibson in the passing game when the two "shared" the backfield — and Gainwell actually out-carried Gibson 229 to 33. 
The Memphis scatback was also efficient as a rusher, compiling 1,466 yards (12th) with an average of 6.4 yards per attempt (eighth) among RBs with at least 150 carries. 
Due to his smaller size, we aren't likely to see Gainwell become a workhorse back at the next level, but his ability to win in the receiving game is going to make him a viable fantasy asset. The last running back to have a collegiate season with at least 1,200 rushing yards and 600 receiving yards was Saquon Barkley.
Barkley has been a fantasy phenom because he can catch the ball and utilize his upper-percentile athleticism between the tackles. Gainwell's ceiling isn't going to compare to Barkley's, but the pass-catching chops will ensure that he has a role on an NFL offense. 
| | |
| --- | --- |
| Height | 6-foot |
| Weight | 213 |
| Wing | 79″ |
| Arm | 32″ |
| Hand | 91/2″ |
| Class | Senior |
After spending three seasons at Oklahoma, Trey Sermon took his talents to Ohio State in search of a bell-cow role. During his final season as a Sooner, the junior averaged 7.1 yards per carry with 17 broken tackles on just 54 attempts.
Flash forward to the 2020 season at Ohio State and Sermon got his chance to be a primary focus in the offense, rushing for 640 yards (9.0 yards per carry) in his last three healthy games while flashing elusiveness with 28 forced missed tackles (30% missed tackle rate).
Sermon's lack of pass-game work (under 50 receptions in four seasons) and top-end speed may hinder his fantasy upside at the next level, but he still has the ability to earn a starting role on early downs for an NFL squad. 
Sermon owns PFF's seventh-highest rushing grade (93.9) since 2018. 
Honorable Mention:
Not enough juice to crack the top-five, but these running backs are worth keeping an eye on throughout the NFL draft process. 
| | |
| --- | --- |
| Height | 5-foot-9 |
| Weight | 199 |
| Class | Senior |
It was impossible to not include Carter on this list somewhere, as he had immense success operation alongside Javonte Williams in the North Carolina backfield. Carter was PFF's seventh-graded rusher (91.1) and actually outproduced Williams on the ground with 1,245 rushing yards despite both players handling exactly 157 carries. He led the nation in carries of 15 yards or more. 
The main concerns with Carter are his late development and smaller size — he could be pigeonholed as a scatback at the next level. 
| | |
| --- | --- |
| Height | 6-foot-1 |
| Weight | 207 |
| Class | Redshirt junior |
Like Etienne, it would have made all the sense in the world for Hubbard to declare for the draft last season. He rushed for over 2,000 yards as a redshirt sophomore in 2019 on an insane workload of 328 carries.
Hubbard's efficiency took a nosedive in 2020, as his PFF rushing grade (87.6 vs. 71.8), yards per carry (4.7 versus 6.4) and yards after contact per attempt (4.0 versus 2.5) all took massive hits. His PFF rushing grade and yards after contact per attempt ranked outside the top-40 at the running back position.
Some of Hubbard's poor 2020 campaign can be attributed to an ankle injury he sustained toward the end of the season. He had just 14 carries in his last two games when he was averaging well over 20 per game the five weeks prior. 
| | |
| --- | --- |
| Height | 5-foot-10 |
| Weight | 217 |
| Class | Junior |
The intrigue surrounding Jefferson started during his uber-productive true freshman season. At just 18 years old, he rushed for 1,380 yards and scored 12 touchdowns for Oregon State, tacking on 25 receptions as well.
Jefferson's six-game sample in 2020 yielded 143 rushing yards per game and career-highs in yards per attempt (6.5), yards after contact per attempt (3.67) and PFF rushing grade (79.4). His 133 carries and 858 rushing yards during Weeks 10-16 of the college season (his entire 2020 season) both ranked second in the nation.