USC head coach Clay Helton recently announced that true freshman JT Daniels will open the season as the Trojans' starting quarterback. While there will undoubtedly be growing pains as Daniels adjusts to a massive increase in competition from high school to college, look no further than the 2017 College Football Playoff Championship performances of Jake Fromm and Tua Tagovailoa for evidence that true freshmen can flourish at the quarterback position.
PFF's feature on USC is brought to you by Eckrich, the Official Smoked Sausage and Deli Meat of the USC Trojans.
Daniels is particularly well equipped for early success with the emergence of wide receivers Michael Pittman Jr. and Tyler Vaughns as two of the Pac-12's most dangerous receiving weapons.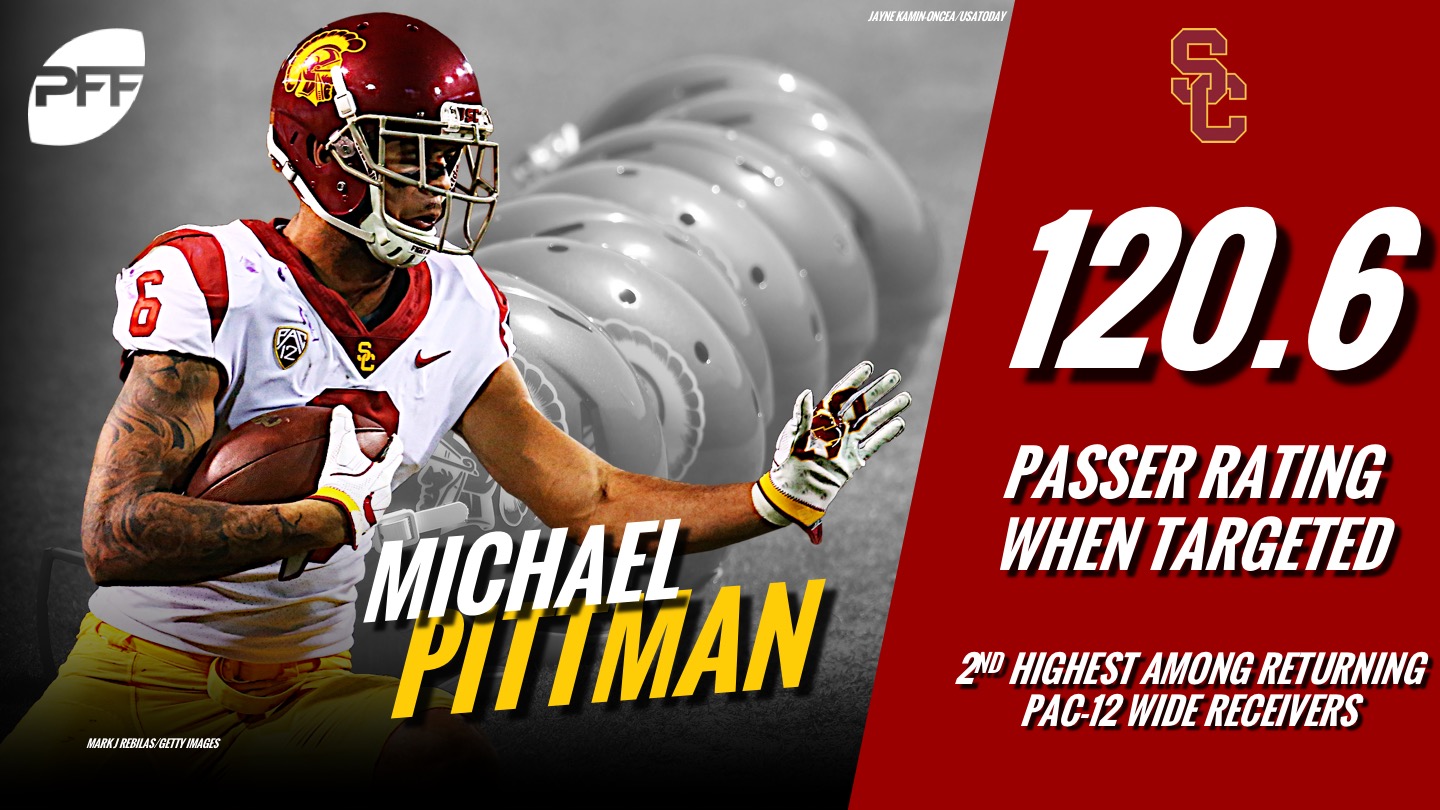 With Deontay Burnett's Pac-12 leading 130 targets up for grabs, Pittman Jr. and Vaughns are staring at a massive volume spike and an immense opportunity to become household names across the country. They flashed as two of the Pac-12's most efficient wide receivers last season as Pittman Jr. generated a 120.6 passer rating when targeted (ranking second among returning Pac-12 receivers) on 36 targets and Vaughns' 118.4 passer rating when targeted (fourth) on 77 targets not too far behind. Since 2014, Juju Smith-Schuster and Nelson Agholor are the only other USC wide receivers to generate a passer rating above 115.0 in a single season.
On a per route basis, Vaughns and Pittman Jr. were highly productive last season. Among returning conference receivers, Vaughns' 1.95 yards per route run ranked tied for fifth and Pittman Jr. ranked ninth at 1.81.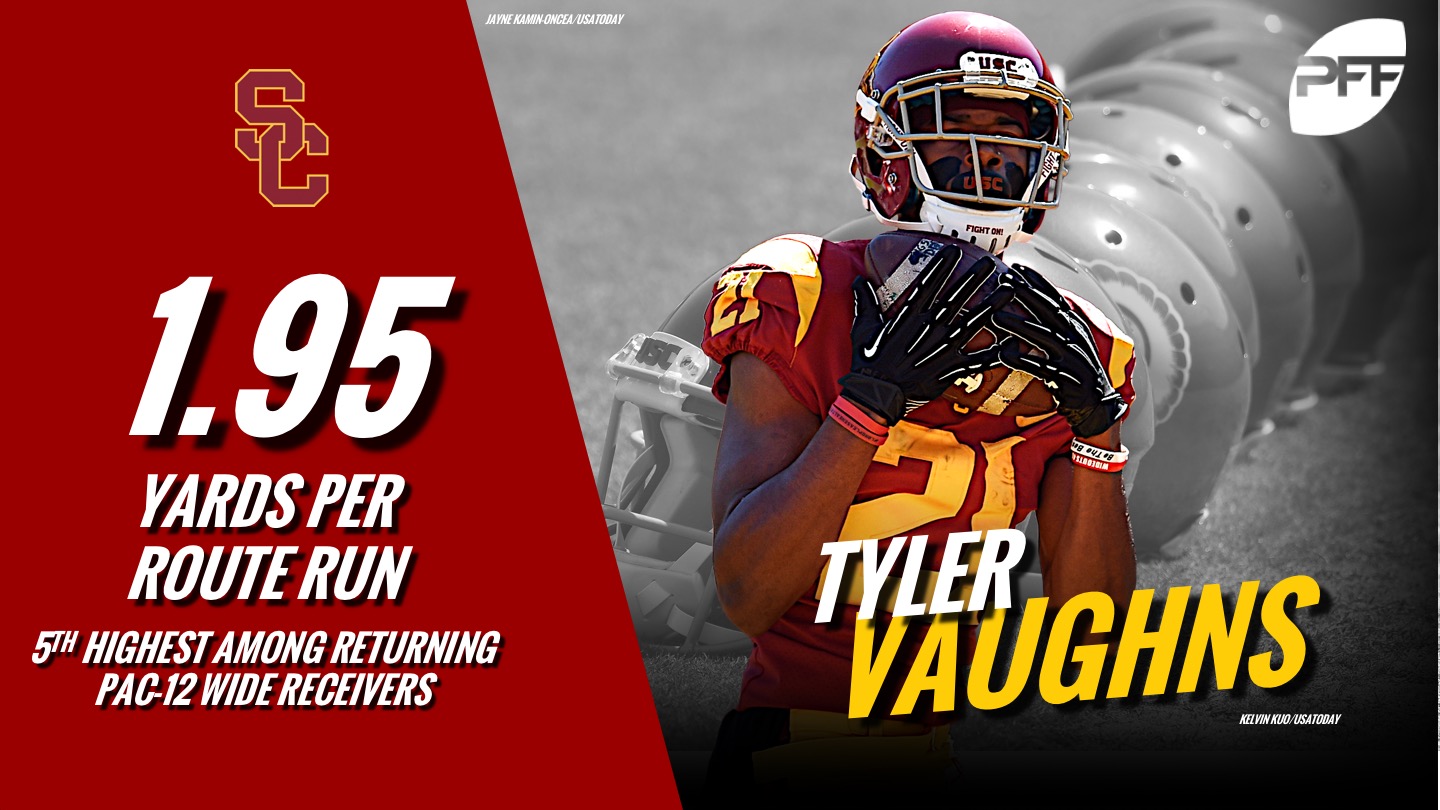 Vaughns and Pittman Jr. really hit their stride in the second half of last season. Vaughns broke out in Week 9 against Arizona State and in the final six games recorded 26 receptions for 457 yards, four touchdowns and a perfect 158.3 passer rating on his targets. Pittman Jr. was no slouch himself with 20 receptions for 363 yards, two touchdowns and a 137.5 passer rating during that same six-game stretch. The receiving duo stepped up in USC's biggest games of the season as Vaughns dropped hauled in 119 yards through the air against Ohio State in the Cotton Bowl while Pittman Jr. helped take down Stanford in the Pac-12 Championship game with seven receptions for 146 yards and a touchdown.
The contrasting styles of Vaughns and Pittman Jr. complement each other quite well and may go a long way with a young signal-caller at the helm. Vaughns, a 6-foot-2 and 185-pound redshirt sophomore, is a route-running technician with explosive open-field quickness. He excelled on extended plays last season, ranking third among Pac-12 receivers with a 134.4 passer rating on plays that took at least 2.6 seconds from snap to pass attempt.
Pittman Jr., a 6-foot-4 and 215-pound junior, uses his size and strength to torment defensive backs. He was the Pac-12's top receiver in the quick passing game last season with a 139.4 passer rating on plays thrown in 2.5 seconds or less.
Another thing Daniels will have going for him when targeting Pittman Jr. and Vaughns is the security of safe hands. Pittman Jr. did not drop a single pass last season and was one of just four Pac-12 receivers to have at least 30 targets without recording a single drop. Vaughns dropped all of one pass last season and his 1.72 percent drop rate was the second lowest among all Pac-12 wide receivers.
Though it may seem daunting to ask a true freshman to take the reins of an offense with Pac-12 Championship and College Football Playoff aspirations, having a pair of proven stud pass-catchers in Vaughns and Pittman Jr. will ease the burden on Daniels. Asking your veteran wide receivers with Biletkinoff ambitions to serve as the focal point of the passing attack sounds a lot more palatable.
Daniels just has to get them the ball.