The mock draft you love to hate is back. This collection of 32 picks, along with their accompanying trades, represents the selections we would make at each position, leaning on our college-to-pro projections and all of the film study and analysis that goes into creating PFF's Big Board and Draft Guide.
Unlike our initial mock last season, we incorporated trades that made sense for both sides and added some necessary spice, as well as evolved on some notions we ignored last year, including the value of interior defensive linemen. Some claim the perfect mock is impossible. They were wrong. Enjoy!
Eric Eager: It's easy to overthink things, but in this case, the Jaguars get their guy. Lawrence, who has been the 2021 No. 1 overall pick in waiting since he went 20-of-32 for 347 yards and three touchdowns against Alabama in January 2019, didn't surpass his 90.6 passing grade as a true freshman in his sophomore or junior campaigns, but he did fare better in other facets.
Despite the signal-caller losing Tee Higgins and Justyn Ross this past year, and contracting COVID-19 during the middle of the season, his 9.3 yards per pass attempt and 7.1% big-time throw rate were the best marks of his career. The Jaguars have around $70 million in cap space in a league where the salary cap is going to go down, giving the Clemson star a chance to thrive in one of the better environments for a first overall pick in quite some time.
George Chahrouri: The Panthers might feel down if they miss out on the Deshaun Watson sweepstakes, but they also might end up with just as good a team by paying a lesser price to move up to the second pick at a lower cost. Carolina's roster is far from ideal right now, so unlike the Dolphins, trading for Watson doesn't immediately make them a contender.
If they could somehow convince the Jets to take Christian McCaffrey, the No. 8 pick and a little sweetener for the No. 2 pick, the Panthers would come out as a massive winner. This is not any hatred toward one of our favorite NFL players in CMC, who is an absolute stud on and off the field, but paying a running back $16 million per year isn't a winning strategy.
If it weren't for Trevor Lawrence's generational splendor, Zach Wilson would be the alpha in this class. Wilson was otherworldly both in and out of structure last season at BYU. To quote PFF lead draft analyst Mike Renner in this year's PFF NFL Draft Guide, "Wilson's arm is special. He made more NFL throws weekly than any other quarterback in the class."
Wilson also projects to have the best yards per attempt in the class, and with offensive coordinator Joe Brady at his side, this Panthers offense could be electric from the jump. Wilson earned a 96.5 PFF grade from a clean pocket last season (best in the class) and managed to mitigate turnover-worthy plays to only 1.2% of his dropbacks despite a 10.9-yard average depth of target, which was the highest of the potential first-round signal-callers.
It should also be noted that while Wilson didn't face much in the way of pressure last season at BYU, his average time to throw was just 2.8 seconds, which is right near the NFL average. To make so many spectacular off-platform throws but keep that time-to-throw figure low is something you don't see in the NFL outside of Kansas City (this is not a comp to the baby GOAT, but damn, Wilson is impressive).
EE: Even though the Texans get Tua Tagovailoa in this trade with Miami, they don't rest at the quarterback position. We've written about Justin Fields from a mathematical standpoint this offseason, and while his projection is not quite that of Wilson, he has a chance to find success in the NFL given the right circumstances.
Now, considering Houston already had one of the best quarterbacks in the league in Deshaun Watson and made the situation pear-shaped in a relatively short time, it might be an uphill climb for Fields. The proposed trade would amount to something along the lines of:
Miami receives: Deshaun Watson
Houston receives: Tua Tagovailoa (remember this for later), Xavien Howard, Pick Nos. 3 and 18 and another future first-rounder
GC: There will be some clamoring for Atlanta to choose a defensive player here, but drafting for need is a peasant move. Draft to win. Julio Jones, Calvin Ridley, Ja'Marr Chase, Matt Ryan and Arthur Smith, among others, has the potential to form the best offense in the NFL.
Chase is the choice as WR1. He didn't play last season, but at 19 years old, his numbers would have made him the easy choice. The only reason there's even a debate about whether he should be the first wide receiver taken is that the coronavirus pandemic has clouded our memories of earlier times.
Chase annihilated deep coverage, earning a 99.9 PFF grade on targets of 20-plus yards downfield, including 24 such catches (DeVonta Smith had 15 this season, for reference). Just look at these heat maps from the PFF Draft Guide.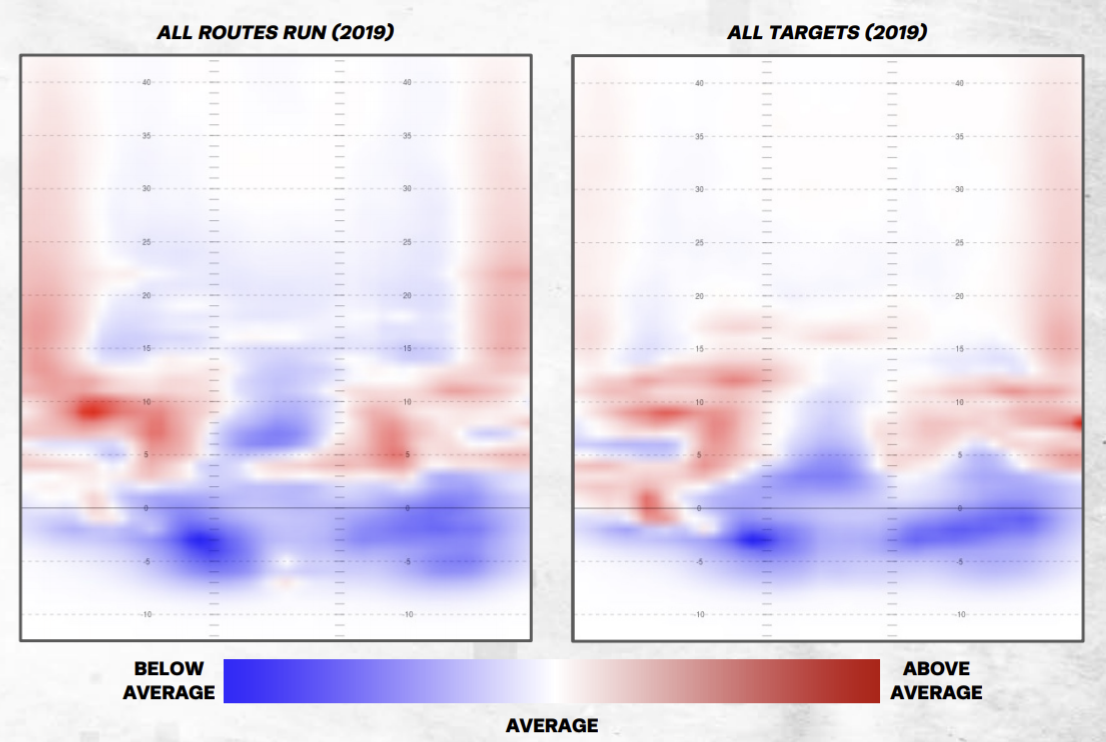 EE: We're fairly bearish on the value of individual offensive linemen on the field, but as Green Bay and Kansas City showed in the playoffs and as Cincinnati showed during the regular season, being awful along the line is more harmful than being elite there is beneficial.
The problem is that buying even average tackles is pretty expensive relative to taking one high in the draft. While we still think the Bengals need a receiver (everyone does), a prospect of Sewell's quality at this price is superior to whatever Cincinnati might acquire in free agency on a per-dollar basis to protect Joe Burrow after his encouraging rookie year.
GC: A lot has been made of the Eagles going after a quarterback here. And while we ascribe to the notion that thou shalt not pass up the chance at a great signal-caller, we weren't confident enough in the small samples of Trey Lance or Mac Jones and his boosted production at Alabama.
Just because 2020 first-rounder Jalen Reagor hasn't turned into a stud yet doesn't mean the Eagles shouldn't draft the most valuable player on the board — even if he's a wideout. Smith would perfectly complement Reagor's electric speed.
If you are going to make a call on the Eagles sticking with Jalen Hurts, it better not be with the "well, we haven't seen him with real playmakers" caveat. Smith was so slippery off the line and dominated downfield despite his thin frame. His route heat map looks as if the computer messed up and spilled red paint on the field. He led the class in deep receiving yards and screen yards. Smith is simply the WR1 that Philly needs.
EE: Many people think Waddle is a better prospect than DeVonta Smith, and while Waddle was spectacular at Alabama prior to injury, Smith does have the highest projected yards per target in his class. That said, Waddle's statistical comps include Stefon Diggs, Sterling Shepard and Tyler Boyd — all very productive players.
The Lions, with their top three receivers heading to unrestricted free agency, need to give new quarterback Jared Goff and his eventual successor weapons to work with in what is soon to be a wide-open NFC North.
GC: The Jets' belief in Sam Darnold might cost them Zach Wilson, but it gives them a chance to beef up their weaponry and create a team reminiscent of the 49ers. Pitts is a tight end in name only; his dynamic skill set will be an asset wherever he lines up.
Pitts gives new Jets head coach Robert Saleh and offensive coordinator Mike LaFleur a chess piece like George Kittle or Travis Kelce who can win from anywhere and at any level. Pitts earned a 96.1 PFF receiving grade and posted 10 catches on targets 20-plus yards downfield in 2020 — just five behind Alabama's DeVonta Smith on 11 fewer targets.
EE: Denver needs to make another bet at the quarterback position, and after taking a reasonable shot in the second round in 2019 with Drew Lock, they take a similarly strong-armed prospect in Trey Lance here with a much higher pick.
Our college-to-pro projection system is a little bearish on Lance if you put him in the same circumstances he endured at North Dakota State, but given offensive coordinator's Pat Shurmur's success with some young quarterbacks (Sam Bradford) and less-elite quarterbacks (Case Keenum), there's enough there in Denver to justify taking this shot.
GC: We debated between a few options here since the Cowboys have gaping holes at every valuable defensive position and an offensive line in recession. Ultimately, Farley was the best player at the position where offenses shredded the Cowboys in 2020; no Dallas cornerback earned a 65.0-plus PFF grade last season. Farley earned an 86.9 grade as a sophomore along with a 26.8 passer rating when targeted before sitting out the 2020 campaign.
EE: The Giants struck gold last offseason with the acquisition of James Bradberry in free agency, and there was some temptation to take another corner here to fortify a strength. However, given the value proposition of elite edge players taken high in the draft relative to what they are paid as veterans at the top end, Paye is an athletic bet the Giants need to make here to secure their first elite edge defender in quite some time.
GC: The 49ers could have taken Mac Jones, but they opt for another year of Jimmy Garoppolo and grab a few more picks along the way. Meanwhile, Washington desperately needs to start taking shots at quarterback, and after missing out on the Deshaun Watson train in this scenario, this pick makes the most sense for them.
Jones has the short-area accuracy and ability to make timing throws that will greatly benefit wide receiver Terry McLaurin. Jones' 84.2% adjusted completion percentage (accounting for drops, batted passes and throwaways) was the highest in the class, and he eviscerated the middle of the field (see the heat maps below).
You don't have to think he's better than Tua Tagovailoa to take him in the first round. His player comp in the 2021 PFF Draft Guide sums this up perfectly — go check it out.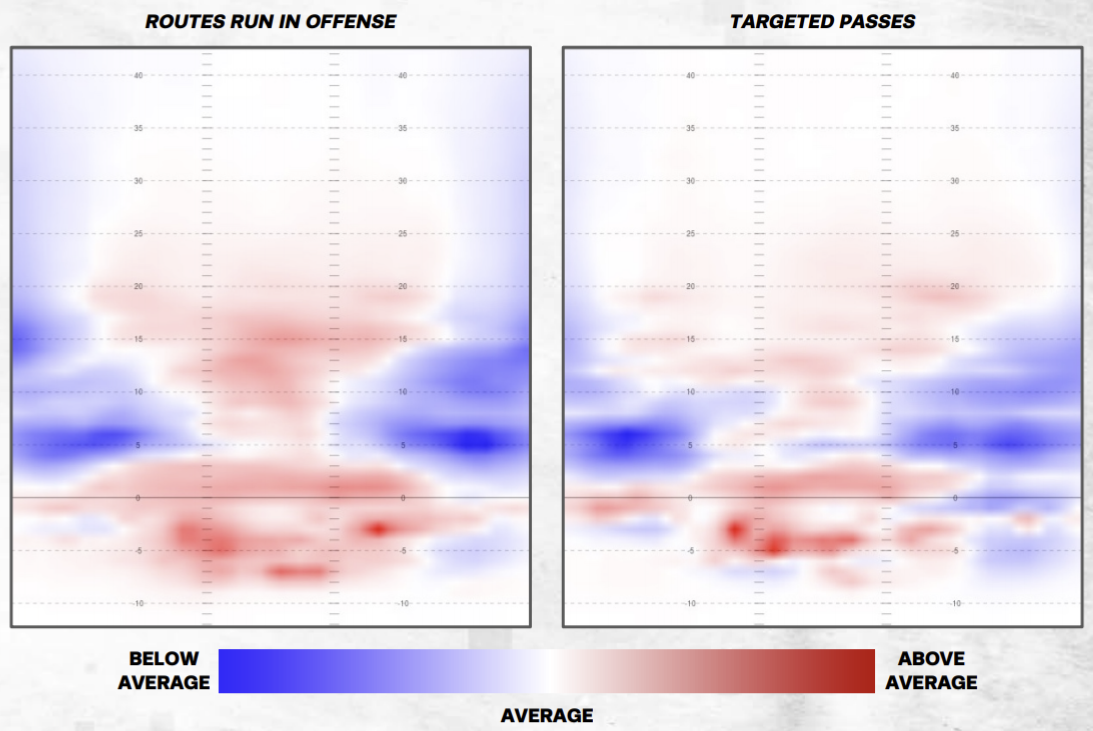 EE: Slater and Virginia Tech's Christian Darrisaw are both equally plausible picks here to protect reigning Rookie of the Year Justin Herbert. Slater has statistical comps that include Trent Williams and Nate Solder during their first five NFL seasons as pass protectors, which would offer substantial value for a franchise that has struggled up front for the better part of a decade.
GC: Contrary to popular belief, the analytics nerds are capable of learning new things. PFF's Eric Eager has been known for his ability to convert to the truth, and this switch-up to interior defense mattering is perhaps the one good thing to happen in 2020.
It just so happens that his hometown Vikings are able to benefit here at No. 14 and snag the only interior defender worth drafting anywhere near the first round. Barmore earned a 91.5 PFF pass-rush grade in 2020, and his player comp from PFF's Mike Renner is Gerald McCoy.
EE: Houston trades the rights to Tua Tagovailoa for New England's first-rounder, as the Patriots trade out of the first round for the second straight year. Pairing Samuel with Xavien Howard (see the trade at Pick No. 3) gives the Houston Texans, who were the eighth-worst team at turning salary into WAR at the cornerback position in 2020, a pair of coverage guys with which to rebuild their defense in the Justin Fields era.
GC: With Patrick Peterson on the way out, the Cardinals bring in a CB3 to join a suddenly young and versatile defense that consists of Budda Baker and 2020 first-round pick Isaiah Simmons. Surtain has the technique and size to jump in and contribute immediately. He forced 10 incompletions last season, the seventh-most in the draft class.
EE: The Raiders take a wide receiver for the second straight year, opting for the more complete Rashod Bateman out of Minnesota. Bateman's statistical comps for his first five years are Robert Woods and Davante Adams — also in their first five years — which would nicely complement Henry Ruggs III's speed and Darren Waller's elite play in the middle of the field. Bateman reported that he ran a sub-4.4 40-yard dash, which should quell any of the bogus fears about his straight-line speed.
GC: Another part of the Deshaun Watson trade from Pick No. 3, the Texans look to rebuild their team with a replacement for future Hall of Famer J.J. Watt. Ojulari projects extremely well as a pass rusher, and he showed why in his final season at Georgia, winning 25% of his pass-rush snaps.
EE: After trading back, the 49ers acquire Horn, who should step right in for the departed Richard Sherman. Horn has the third-lowest projected adjusted completion percentage allowed in the draft class in addition to the fifth-best projected playmaker rate (rate of passes broken up or intercepted).
GC: If the Bears are somehow able to make a move for Russell Wilson, this pick figures to bring Alabama running back Najee Harris to Seattle. Assuming that doesn't happen, Chicago will need to create an environment conducive to passing success for whoever leads their offense.
Darrisaw could have easily gone ahead of Rashawn Slater, as his projected pressure rate allowed is actually a little better and he earned an insane 95.6 PFF grade last season — a 15-point jump from his 2019 campaign — that ranked second in the FBS.
EE: Moehrig is the best safety in the class and the type of solid playmaker that the Colts have built their team with during the Frank Reich/Chris Ballard era. With Malik Hooker a pending free agent, look for the Colts, a team that has used veterans very effectively to build their defense, to go young.
GC: The Titans could attack a multitude of positions here, but their pass rush struggled so much last season that only the Vikings, Bengals and Jaguars generated lower pressure rates. This afforded opposing quarterbacks far too many clean pockets. Rousseau is another guy who sat out last season, but his 87.2 pass-rush grade on true pass sets as a sophomore was encouraging enough to boost his projection into the first round.
EE: The Jets, after sticking with Sam Darnold, get new head coach Robert Saleh his Deebo Samuel/Brandon Aiyuk clone with the pick from the Jamal Adams trade.
Moore, who missed much of the past two seasons, is as dangerous with the ball in his hands as anyone in this draft. And along with Kyle Pitts, he should finally give the Jets the production they've longed for since they traded a bunch of picks for Darnold's draft slot three years ago.
GC: Toney can score from anywhere on the field, and with Big Ben throwing the ball quicker than any quarterback since PFF started in 2006 (2.17-second average time to throw), a player of Toney's caliber would bode well for the Steelers' offense.
Toney exhibited that ability at Florida, where he lived in the short and intermediate middle of the field (see heat map from PFF Draft Guide). He is raw as a route runner but hauled seven of his nine deep targets in 2020, so it's not as if he will be limited if given the proper instruction.
We learned this year from watching the Buccaneers steam past the Chiefs that an NFL team quite literally cannot have enough receiving weaponry. Pairing Toney with Diontae Johnson's route-running brilliance and Chase Claypool's physicality could help make the most of whatever Big Ben has left in the tank or pave the way for the next Steelers quarterback to come out firing.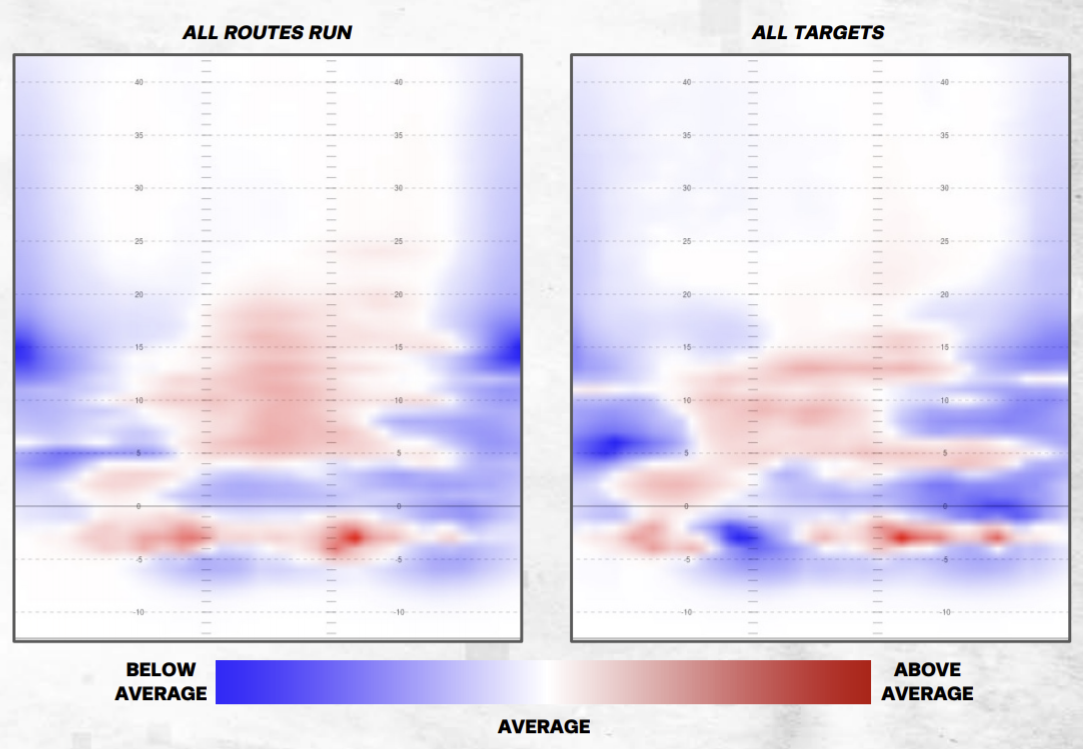 EE: The Jaguars, after taking Trevor Lawrence first overall, supplement him on offense by taking Vera-Tucker with the second pick secured from the Jalen Ramsey trade. Vera-Tucker, who has inside-outside flexibility, boasts the best pass-protection projection of any interior lineman in the draft and offers plus play in the run game.
GC: The Browns invested heavily in creating a stronger pass-protecting core in 2020, and while they could really use more receiving talent, we instead pivoted to the best linebacker in the draft — albeit one who is raw in coverage.
Parsons still projected well and could be a special chess piece given his ability as a pass rusher. The NFL values run defense at the linebacker position more than we do, hence why all of our teams in this mock have shied away from selecting Parsons. The Browns benefit from that here.
EE: Orlando Brown Jr. is seeking a trade, and the Ravens are too smart a franchise to cave into the demands of a player that, while good, is boosted a bit by the conditions elicited by playing for an offense led by Lamar Jackson and coached by Greg Roman.
Jenkins steps into the role of a bookend to Ronnie Stanley, who the Ravens extended last season, and he provides insurance should Stanley not be available to start the season due to the injury that knocked him out of the 2020 campaign.
GC: Our projections last year loved Justin Jefferson despite some concerns about his lack of usage on the outside. Marshall not only suffers from that "slot-only" stigma, but he also didn't have the once-in-a-lifetime opportunity to play with Joe Burrow as a top-two option in LSU's offense.
Instead, Marshall endured a disaster of a 2020 season with the Tigers. Despite that, he showed great speed off the line and downfield ability, posting a 150.0-plus passer rating when targeted more than 10 yards downfield and making 25 contested catches on 41 such targets.
Terrace Marshall Jr. could be the steal of the draft and the extra piece head coach Sean Payton and quarterback Jameis Winston need.
EE: The Packers have a need at wide receiver, and some reports indicate they are going to lose Corey Linsley, the league's most valuable center, as well. However, Jeremiah Owusu-Koramoah has been what the Packers have lacked on defense since before their last Super Bowl victory, a linebacker who can comfortably play all three downs in the modern NFL. The former Notre Dame star has the highest projected playmaker rate at his position.
GC: Thanks to all the work of general manager Brandon Beane, the Bills are one of the most complete teams in the NFL. While more weaponry for quarterback Josh Allen wouldn't hurt, the Bills were unable to make the Chiefs pay for their weak tackles in the AFC conference championship. Adding one of the best pass rushers in the draft is a step toward that end.
At 6-foot-5 and 252 pounds, Oweh is an absolute freak, as evidenced by twice landing in the top 10 of Bruce Feldman's Freaks List. Weirdly, he didn't pick up a single sack last season at PSU, but he did earn an 86.0 PFF grade on true pass sets and was dominant against the run. Oweh would make an impact for a Super Bowl hopeful Bills team.
EE: There's obviously a draw here for the Chiefs to take a tackle. After all, Mitchell Schwartz and Eric Fisher both had surgery this offseason, and 2020 third-rounder Lucas Niang opted out of what would have been his rookie campaign, leaving the Chiefs' offense with less-than-ideal replacements when it ran headfirst into Tampa Bay's defense in the Super Bowl.
That said, much of the failure in that game was on tertiary receivers Mecole Hardman and Sammy Watkins, and while those guys have emerged in the past, throwing numbers at that position is of utmost importance if you're trying to win big games against complete defenses. 
GC: There are those who see a strength and ignore it. That quickly turns a strength into a weakness. The Bucs have drafted better than any other team over the past four seasons, and a big reason why is their investment in coverage players.
Washington adds to that dynamic defense with playmaking ability that extends all over the field. He saw 100-plus snaps each at slot corner, in the box and at free safety last season. Washington has the Honey Badger dynamism that makes him a no-brainer at the end of the first round for the defending champs.
---
Courtesy of PFF's 2021 NFL Draft Guide, find PFF's top draft prospect, biggest riser and wild card to watch at each position here: