Joe Burrow and the LSU Tigers shocked the college football landscape in 2019 when the young quarterback exploded with one of the most prominent breakouts in recent memory. Burrow skyrocketed up draft boards before being selected by the Cincinnati Bengals with the No. 1 pick of the 2020 NFL Draft, while his passing game coordinator, Joe Brady, landed the Carolina Panthers' offensive coordinator job after making his name known as one of the bright young minds in the game.
Those two — and that entire LSU team — went from unknown to unstoppable.
The 2019 LSU Tigers ended up shattering almost every offensive record set in the PFF College era (2014-present). Burrow had the most valuable season of any college player in that span, according to PFF WAA, and he also produced the best single-season PFF grade by a quarterback with a mark of 94.9.
Burrow, in conjunction with star receivers Ja'Marr Chase and Justin Jefferson, helped the Tigers record a successful pass play rate (the percentage of passing plays that generated positive expected points added) of 58.8%, the highest rate we have ever seen; they won the 2019 National Championship over Trevor Lawrence and the Clemson Tigers by 17 points after smashing Oklahoma by five touchdowns in the College Football Playoff Semifinals.
The 2019 LSU Tigers were arguably the best team in the entire 150-year history of college football, and it didn't seem likely that we would see another group like that one anytime soon. Then, in 2020, a season that appeared to be fatally marked by the threat of COVID-19 and all the uncertainty that befalls it, that all changed.
Mac Jones and the Alabama Crimson Tide defied the odds and put together an even more impressive season than the one we saw from Joe Burrow and the LSU Tigers in 2019.
They are fresh off handling the Notre Dame Fighting Irish in the 2020-21 College Football Playoff semifinal and are breaking many of the records set by Burrow and the Tigers.
Jones has now earned the highest PFF grade we have ever recorded at his position (95.5), topping the mark set by Burrow in 2019. Meanwhile, his No. 1 wide receiver, DeVonta Smith, has done the same at his position (94.0).
That starring pair, along with several others in vital supporting roles, generated a successful pass rate of 60% this season, breaking the previous record set by LSU in 2019 by a full percentage point.
LSU Tigers offense (2019) vs. Alabama Crimson Tide offense (2020): Team-level metrics
| | | |
| --- | --- | --- |
| 2019 LSU | | 2020 Alabama |
| 94.5 | PFF team offense grade | 97.0 |
| 89.9 | Team receiving grade | 93.0 |
| 0.45 | EPA per pass play | 0.53 |
| 58.8% | Successful pass play rate | 60.0% |
Last year's Alabama passing offense trailed only LSU, Oklahoma and Ohio State in successful pass play rate, and they actually led the entire country in expected points added (EPA) per pass generated.
Whether it was Tua Tagovailoa or Jones under center for the Crimson Tide, Alabama rolled over defenses with a potent receiving corps that featured Jerry Jeudy, Henry Ruggs III, Jaylen Waddle and DeVonta Smith.
And despite losing Tagovailoa, Jeudy and Ruggs to the NFL and Waddle to injury early in the year, the Crimson Tide passing offense somehow managed to go from elite to arguably the best in history.
So, what changed? Structurally, nothing major.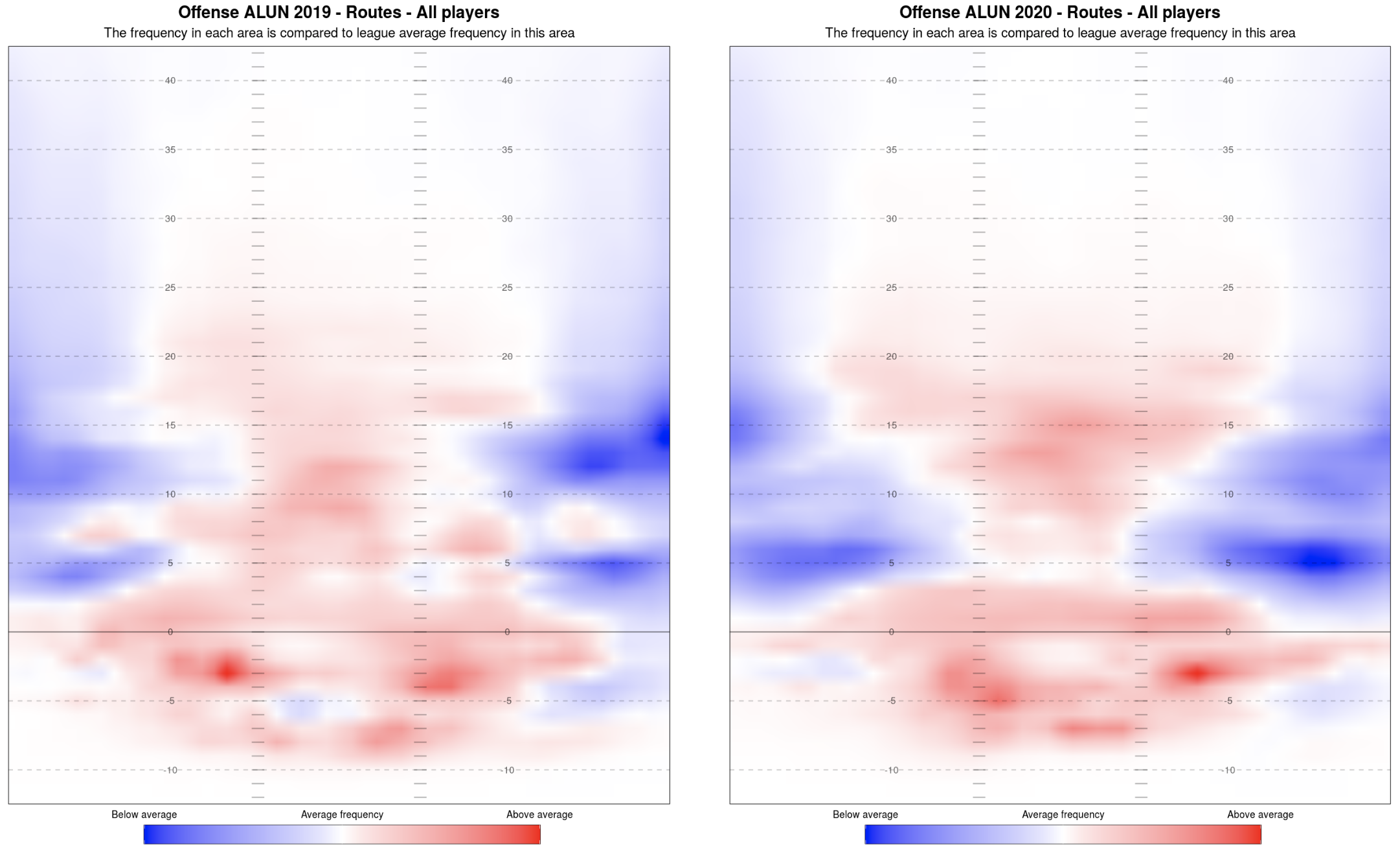 We still see Steve Sarkisian dialing up the same usage of screens…
List of all Power 5 WRs to turn multiple screens into a 20+ yard gain in a game this season:

DeVonta Smith vs Notre Dame pic.twitter.com/Nxd2nyaaVl

— Anthony Treash (@PFF_Anthony) January 2, 2021
Run-pass option (RPO) slants…
Alabama QB Mac Jones on RPOs vs Notre Dame (@PFF_College)

10 comp / 11 att
176 yards
2 TDs
(pulled ~50% of the time)

Alabama generated 0.69 EPA per RPO against ND. Sark put on a clinic. pic.twitter.com/BIMIE61c1g

— Anthony Treash (@PFF_Anthony) January 2, 2021
And vertical shots…
.@Metchie_Jr ???????????????????????? #IronBowl pic.twitter.com/ErbWT9dvJ9

— CFL (@CFL) November 28, 2020
The biggest difference from 2019 to 2020 has been an uptick in their use of motion (48% to 65%); running back Najee Harris has also been getting more work in the passing game mostly via the use of flares out of the backfield, and Jones has been a bit more aggressive than Tagovailoa.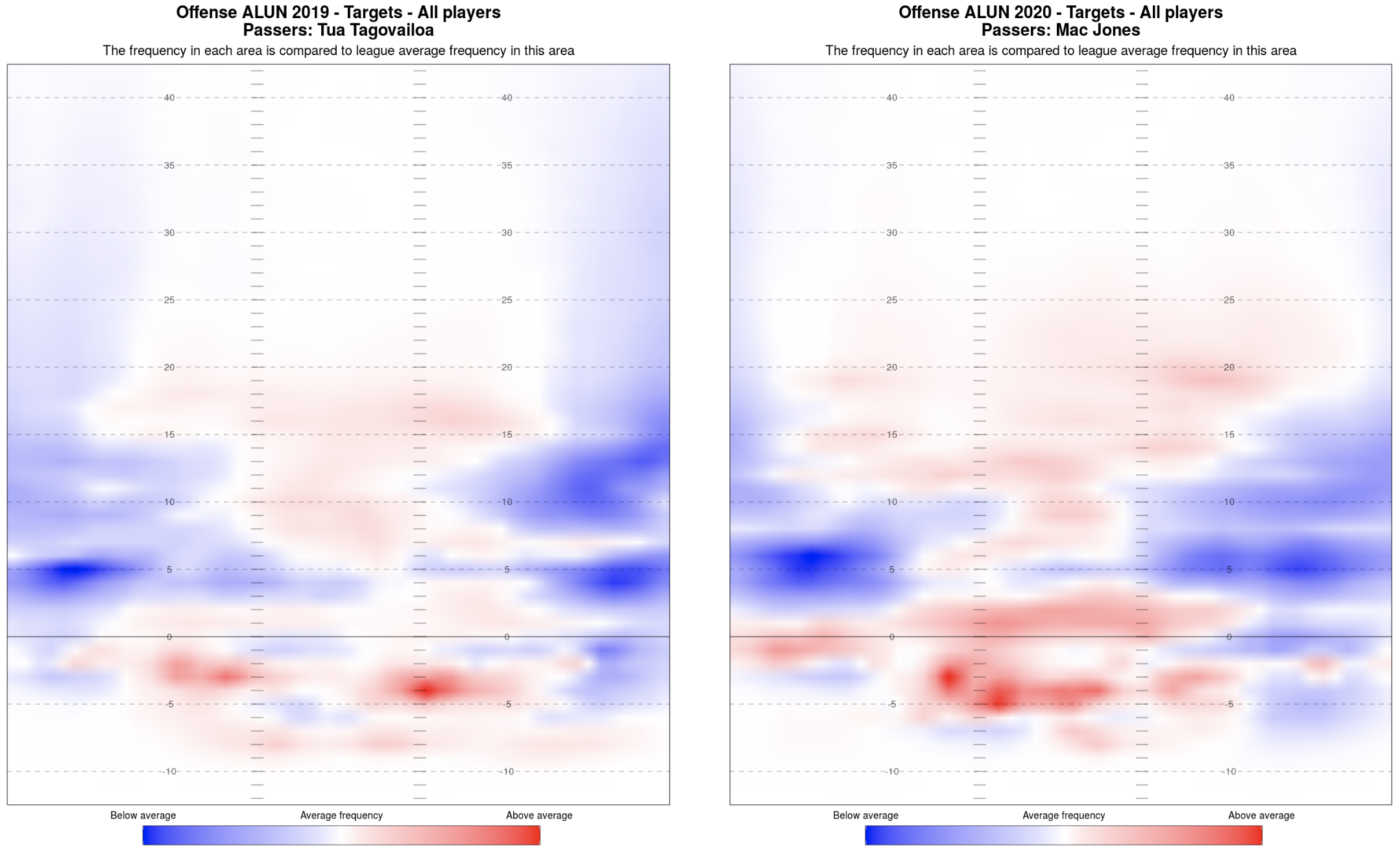 We didn't see a lot of the latter against Notre Dame in the Rose Bowl, but Jones still made all of the right reads and decisions. Don't let that one game convince you that Jones hasn't been the biggest reason why Bama's offense transformed from an elite attack into a historically good one. Yes, the ecosystem is incredibly favorable, but it's rare to see a quarterback show off the accuracy, touch and decision-making Jones has this season.
Tagovailoa was exceptional for Alabama in 2018 and 2019, earning PFF grades of 90.9 and 90.3, respectively. Before this season, those two grades were the second- and fourth-best we have ever recorded by an SEC quarterback.
However, Jones has flat-out outplayed Tagovailoa and has been on the Joe Burrow-level of near perfection at the game's most important position.
Jones has notched an elite PFF grade north of 90.0 in exactly half of his games played this season, and his lowest-graded game of the year came in Week 15 when he posted a 72.8 PFF grade. For most quarterbacks, that's a pretty good day. In fact, Jones is the only Power 5 quarterback this season to record a 70.0 PFF grade in every single one of his games, and no one was remotely close to doing the same.
Joe Burrow (2019) vs. Mac Jones (2020): Passing statistics
Joe Burrow, LSU
(2019)
Mac Jones, Alabama
(2020)

94.9

PFF grade

95.5

94.1

PFF passing grade

94.5

10.8

Yards per attempt

11.2

140.9

Passer rating when clean 

142.4

141.1

Passer rating under pressure

122.7

24.3%

Uncatchable pass % on throws 10-plus yards

18.7%

37.9%

Uncatchable pass % on tight-window throws

34.7%
It seemed virtually impossible that we would ever see another quarterback challenge Burrow's accuracy records, yet Jones has done just that.
The Bama quarterback has thrown an uncatchable ball on just 18.7% of his 10-plus-yard passes, which is over four percentage points better than any other Power 5 quarterback since we began charting QB accuracy and ball location back in 2018.
Further cementing his place at the top is Jones' ability to limit negative plays. One of the most important and stable statistical measures to quarterback play is negatively graded throw rate, and there hasn't been a better quarterback in that metric this season than the Crimson Tide passer. Not only does he lead all quarterbacks in negatively graded play rate this year, but he also leads every single QB of the PFF College era.
And all of this success isn't entirely because he has open throw after open throw. He's actually thrown into a tight window on 15.2% of his passes this season, a rate that is about four percentage points higher than Tagovailoa's last season and is nearly double that of Justin Fields (8.3%) this year. Oh, and Jones has also been the most accurate passer on tight-window throws this season — by a large margin.
The Crimson Tide signal-caller also fared well in unfavorable situations. Play under pressure is volatile, but Jones has shown he's not a complete statue; he has converted just 11% of his pressured dropbacks into sacks, the second-best rate in the SEC, while earning the fourth-best pressured passing grade in his conference.
From DeVonta Smith to Najee Harris to Steve Sarkisian to Nick Saban to the defense as a whole, this Alabama team has been nothing short of incredible this season. Still, the biggest reason for Alabama's historic rise to the top of the college football world is the play of quarterback Mac Jones.
Jones has turned this Crimson Tide passing offense into perhaps the best attack college football has ever seen.