On Oct. 3, the North Dakota State Bison — the defending FCS champions — took the field in what will be their lone contest of the fall after the rest of their schedule was canceled due to COVID-19 concerns. While the Bison came away victorious and extended their winning streak to 38 games, the vast majority of casual fans watching could not have cared less about the outcome. They came to see redshirt sophomore quarterback Trey Lance.
On April 29 next year, one franchise will pin their hopes to the 6-foot-4, 226-pound signal-caller. The allure of a right arm that can sling it 70-plus yards and legs that can cover 40 yards in the 4.5-second range are going to trump any concerns of a run-heavy offense or poor FCS competition. It remains to be seen, however, exactly where in that first round Lance will fall and where he'll slot among what's shaping up to be a historic quarterback class. So let's answer the question right here and right now: After a wholly unimpressive showcase through the air, is Trey Lance worth a top-five pick?
First off, let's break down his showcase game that was one of the most absurd scheduling quirks I've ever seen. It wasn't great. Lance threw the first interception of his entire career in what was a fairly egregious turnover-worthy play where he simply didn't see the safety.
Trey Lance will not go his entire career without throwing an interception. pic.twitter.com/5O82zGbcRJ

— Bryan Fischer (@BryanDFischer) October 3, 2020
Defensive Back
# 7⃣@NNakwaasah pic.twitter.com/Vh0XgBvRfq

— #10 ???????????? ???????????????????? ???????????????????????????????? (@UCA_Football) October 6, 2020
One of the more disappointing developments in the showcase game wasn't necessarily the interception — it's not as if Lance hadn't made poor decisions before — but rather that the mini-dip in his delivery was unchanged from a year ago. It's not a deal-breaker by any means, but it will come into play more in the NFL, and that elongated release was exploited even in this game.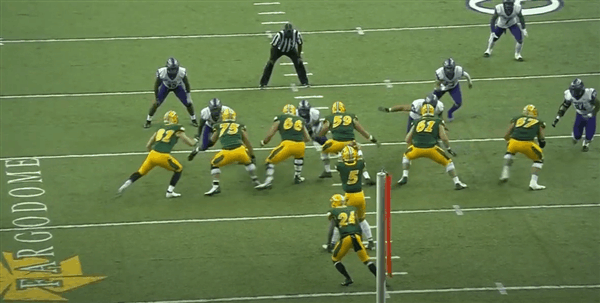 More worrisome than any technical issue, however, was Lance's accuracy. Only 28.6% of his targeted attempts against Central Arkansas were deemed accurate, compared to 49.5% last year. That number was already something we wanted to see improve in a big way heading into his redshirt sophomore year. Here's how his accuracy numbers since the start of 2019 stand in comparison to the top quarterbacks in the 2021 class as well as the 2020 first-rounders:
| | | |
| --- | --- | --- |
| QB | Accurate Rate | Uncatchable Rate |
| Joe Burrow | 71.7% | 13.7% |
| Trevor Lawrence | 63.6% | 18.2% |
| Tua Tagovailoa | 63.0% | 14.8% |
| Justin Herbert | 59.4% | 18.6% |
| Justin Fields | 57.6% | 18.4% |
| Jordan Love | 57.5% | 24.9% |
| Zach Wilson | 54.3% | 19.4% |
| Trey Lance | 47.1% | 24.4% |
To say that's concerning is an understatement. It's not like Lance was operating a high-volume passing offense that could afford misses in favor of big plays. His 34 dropbacks last weekend were the second-most of his career. As a starter for the Bison, he averaged just under 22 dropbacks and 19 attempts a game. Inaccuracy on such low volume is beyond concerning.
All that being said, Lance still showed why he is a special quarterback prospect. The arm strength, well that was on full display.
It was an up-and-down performance from Trey Lance on Saturday, but I thought this was one of his more impressive throws of the game.

Takes the deep out route to the field on a mesh concept over the middle. pic.twitter.com/mffCPxxpnO

— Jordan Reid (@JReidNFL) October 6, 2020
That's a 20-yard far-hash out on an absolute line. Around half the starting quarterbacks in the NFL right now cannot make that throw. An arm like that opens up the entire field for offensive coordinators to attack.
The other trait that Lance possesses that opens up playbooks is his running ability. What he can do on the ground, in my opinion, will be more valuable in the NFL than his arm strength. He's every bit the jumbo run threat that someone like Cam Newton or Josh Allen has been at the NFL level. On Saturday, we saw that on display with scrambles…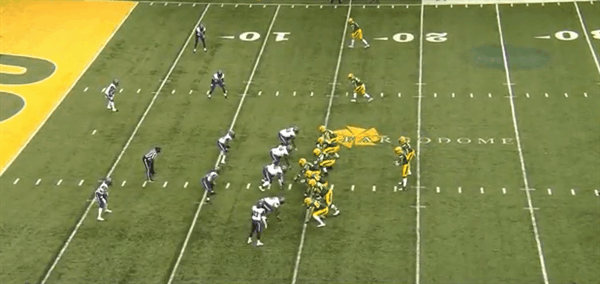 …and designed runs.
Over the course of his college career, he broke 50 tackles on 154 attempts, averaged 7.3 yards per carry and scored 18 touchdowns. He's going to be the single most versatile rushing threat at the position to enter the league since Lamar Jackson. It can't be understated how much that impacts opposing defenses. It's not only a value add to the running game, but it also simplifies looks a quarterback see in coverage. It's far easier to acclimate a rookie to the NFL when they have that to fall back on. And in the long run, it gives a high floor to whatever offense Lance will be in charge of.
As it stands, Lance is a clear tier below Trevor Lawrence and Justin Fields. There are real concerns about how he'll translate as a passer when making the massive leap from FCS to the NFL. There's also a very good chance that early standouts like BYU's Zach Wilson and Florida's Kyle Trask could pass Lance on the PFF draft board if they continue their hot starts throughout the season.
That being said, Lance is still very much worthy of a top-five pick. You mix the positional value of quarterback, Lance's absurd arm talent and, most importantly, his absurd leg talent, and you've got yourself a worthy franchise-type prospect.