We're still a few weeks away from full-on NFL Draft season, but that doesn't mean we shouldn't start thinking about our dynasty fantasy football teams with NFL free agency kicking off in less than a month.
I broke down my top-five list at the wide receiver position in January, but it's time to dig a little deeper. For those looking to go beyond even what we'll cover here, PFF's 2021 NFL Draft Guide has you covered — the current iteration breaks down the top 200 college prospects, and it will be updated throughout the offseason leading up to the NFL Draft in April. 
For now, let's dig into the top 15 wide receivers for dynasty fantasy football leagues in 2021. These rankings will certainly be affected by players' landing spots, but it's a place to start for those who might be trading rookie draft picks in the dynasty offseason. 
| | |
| --- | --- |
| Height | 6-foot-1 |
| Weight | 200 |
| Class | Junior |
There's no doubt that Ja'Marr Chase would have been the first receiver drafted last year if he had declared.
At just 19 years old, Chase led the nation in receiving yards (1,780), touchdowns (20) and receptions on targets 20-plus yards downfield (24). He was uber-efficient, ranking seventh in yards per route run (3.52) and sixth in PFF receiving grade (91.3). That earned him a 33% dominator rating. 
The superstar receiver also showed that he will have no problem overcoming press coverage from defensive backs at the next level. He faced the third-most targets against press coverage looks and posted the No. 1 PFF receiving grade (92.2) against it.
And although Chase was unable to directly "increase" his draft stock after sitting out the 2020 season, his former LSU teammate Justin Jefferson indirectly inflated it for him. The Minnesota Vikings first-round selection just posted arguably the best season from a rookie wide receiver — and Chase was the more productive of the two when they played together in Baton Rouge. 
It shouldn't be a surprise to see Chase locked into the No. 1 spot. 
| | |
| --- | --- |
| Height | 5-foot-10 |
| Weight | 182 |
| Class | Junior |
Jaylen Waddle's explosiveness separates him from most prospects. His biggest strength in the PFF 2021 Draft Guide is twitch, and we've seen that type of attribute help receivers excel at the next level. 
As a true freshman, Waddle hauled in 45 catches for 848 receiving yards and earned the league's seventh-highest PFF grade (89.7). He ranked ninth overall in yards per route run (3.58). 
It's impressive that in Waddle's first season he was able to finish second on the team in receiving yards despite competing for snaps with first-round NFL-caliber talent like Jerry Jeudy, Henry Ruggs and DeVonta Smith. 
Waddle was well on his way to producing an even bigger season in 2020 through the first four weeks with 557 receiving yards, nearly topping his yardage total from the previous year in eight fewer games. If you extrapolated his four games out to a full season, he'd have gone for 75 catches, 1,671 yards and 12 touchdowns. He averaged more than a full yard per route run more than teammate and Heisman-winner Devonta Smith (4.68 versus 3.63) to start the season. His dominator rating (34%) was also higher (32%). 
It's not hard to imagine Waddle continuing to outpace Smith if he hadn't been hurt, which is why he remains my No. 2-ranked receiver in this class. Upside is the name of the game when drafting Waddle this summer in rookie drafts. 
| | |
| --- | --- |
| Height | 6-foot-1 |
| Weight | 170 |
| Class | Senior |
Devonta Smith and Waddle entered the 2020 college football season as an imposing 1A-1B duo for the Crimson Tide. With Waddle sidelined early in the season, Smith stepped up and delivered a performance worthy of the first Heisman Trophy to go to a wide receiver since Desmond Howard in 1991.
The Alabama product graded as PFF's best wide receiver (95.6), catching 117 passes on 145 targets for 1,856 yards and 23 touchdowns. His yards per route run (4.39) also ranked first in the nation.
No college player since 2018 had more receiving yards than Smith with at least one step of separation. He also ranked second in receptions (146) and third in yards per route run (4.65) with at least one step of separation behind only Jerry Jeudy and former Minnesota wide receiver Tyler Johnson.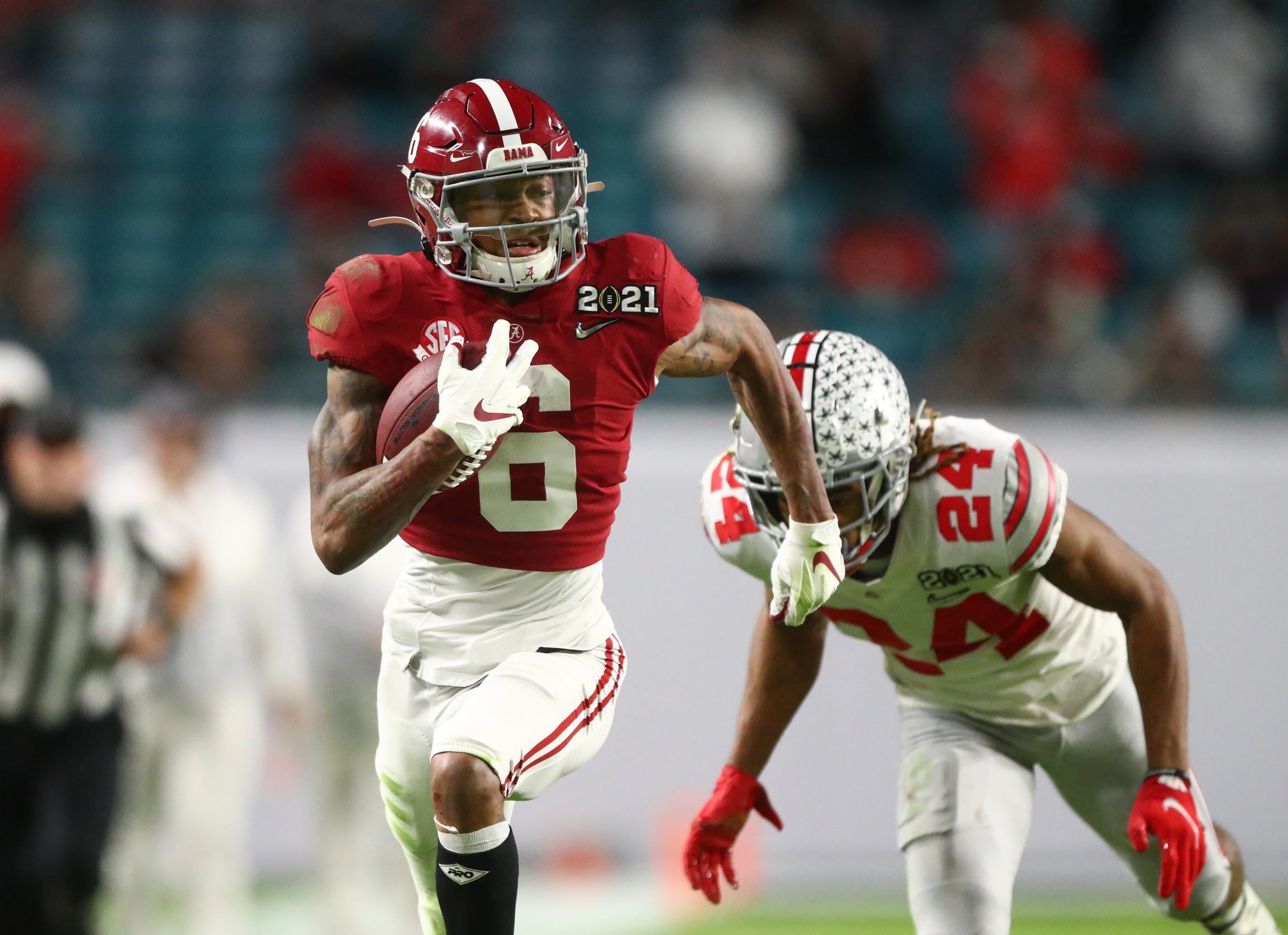 Ultimately, Smith's only true con is his small stature. He's a skinny receiver who probably won't be running a 4.3 40-yard dash, which could potentially limit him from becoming an alpha receiver at the next level.
He declined to weigh in at the Senior Bowl, suggesting that he'd rather have NFL teams scout his tape and not his measurables. His weight/size is going to be debated through the NFL draft process and could cause him to fall in rookie drafts.
But the bottom line per the PFF NFL Draft Guide is that Smith's size wasn't an issue in college, so it may not matter as much as we'd all assume in the NFL.
| | |
| --- | --- |
| Height | 6-foot-2 |
| Weight | 210 |
| Class | Junior |
Rashod Bateman broke out in his first season for the Golden Gophers at just 19 years old with 51 receptions for 704 receiving yards and six touchdowns. That earned him a 28% dominator rating — a figure that would end up being his lowest in college.
Despite playing alongside future Tampa Bay Buccaneers' wide receiver Tyler Johnson, Bateman's success continued into his sophomore year (2019) when he earned yet another exceptional 38% dominator rating. He and Johnson were neck and neck in terms of production (39%).
After Johnson left for the NFL, Bateman unleashed his will on the offense, earning a 48% dominator rating. That mark is the second-highest among the receivers listed in this rankings. 
Bateman is an auto-draft at the back-end of first-round rookie drafts.
| | |
| --- | --- |
| Height | 5-foot-9 |
| Weight | 180 |
| Class | Junior |
Rondale Moore burst onto the college football season as an 18-year-old true freshman in 2018, posting over 1,200 receiving yards and 114 catches — the most in the country. That earned him a 37% dominator rating, which is one of the highest ratings of any receiver during their breakout season.
The majority of his yardage can be attributed to his YAC-ability. In addition to leading the country in yards after catch, Moore also led the nation in broken tackles (37) at the wide receiver position.
Moore only played four games in 2019 due to a hamstring injury and then just three games in 2020 due to COVID-19. Still, Moore made the most of his limited action, hauling in 35 balls on 44 targets for 270 yards.
It's been a long time since we have seen Moore play at his peak back in 2018, but don't let that affect your decision on drafting the electric receiver. His playmaking ability and projected first-round draft capital make him worthy of the hype heading into 2021.
| | |
| --- | --- |
| Height | 5-foot-11 |
| Weight | 184 |
| Class | Junior |
I initially overlooked Ole Miss wide receiver Elijah Moore — I didn't even include him as an honorable mention in my original top-five dynasty rookie wide receiver rankings. But after diving further into his prospects, I've bumped him up to No. 6 because he is one of the best slot receivers in the class.
He exploded onto the scene at just 19.5 years old, earning a 46% dominator rating in his second collegiate season after D.K. Metcalf and A.J. Brown took their talents to the NFL. 
Moore compiled nearly all of his catches and yards while operating as the team's primary slot receiver (98% snap share). 
His sophomore campaign firmly put him on the radar for NFL teams, but it wasn't until this past season that he really took the next step. On 11 fewer targets in 2020, Moore posted 365 more yards. His PFF grade (92.4 versus 79.5) and yards per route run (3.65 versus 2.34) increased substantially. Those marks both rank inside the top three among all 2021 draft-eligible receivers. 
Elijah Moore 2019-2020
| | | | | | |
| --- | --- | --- | --- | --- | --- |
| | PFF grade | Yards per route run | Catch rate | Targets | Yards |
| 2019 | 79.5 | 2.34 | 57.6% | 118 | 853 |
| 2020 | 92.4 | 3.65 | 83.2% | 107 | 1,218 |
Moore ranked first in PFF grade (97.7) and fifth in yards per route run (3.55) in 2020. 
Justin Jefferson famously earned the "slot-only" perception during last year's draft process, and there's a chance that could happen to Moore as well. But it's a great company to be a part of — Jefferson finished his 2019 collegiate season with a nearly identical PFF grade from the slot (97.9) while also playing in the SEC. 
Moore doesn't have quite the height, weight and size as Jefferson entering the NFL, so we can't make a direct comparison. But the similar production profiles in the SEC are encouraging for the newcomer's potential. 
Moore's upside as a downfield threat also can't be ignored. Of the 2021 draft class receivers, he finished fifth in catches of 20-plus yards (11) and fourth in yards (490). On deep targets from the slot, Moore ranked second in yards and catches.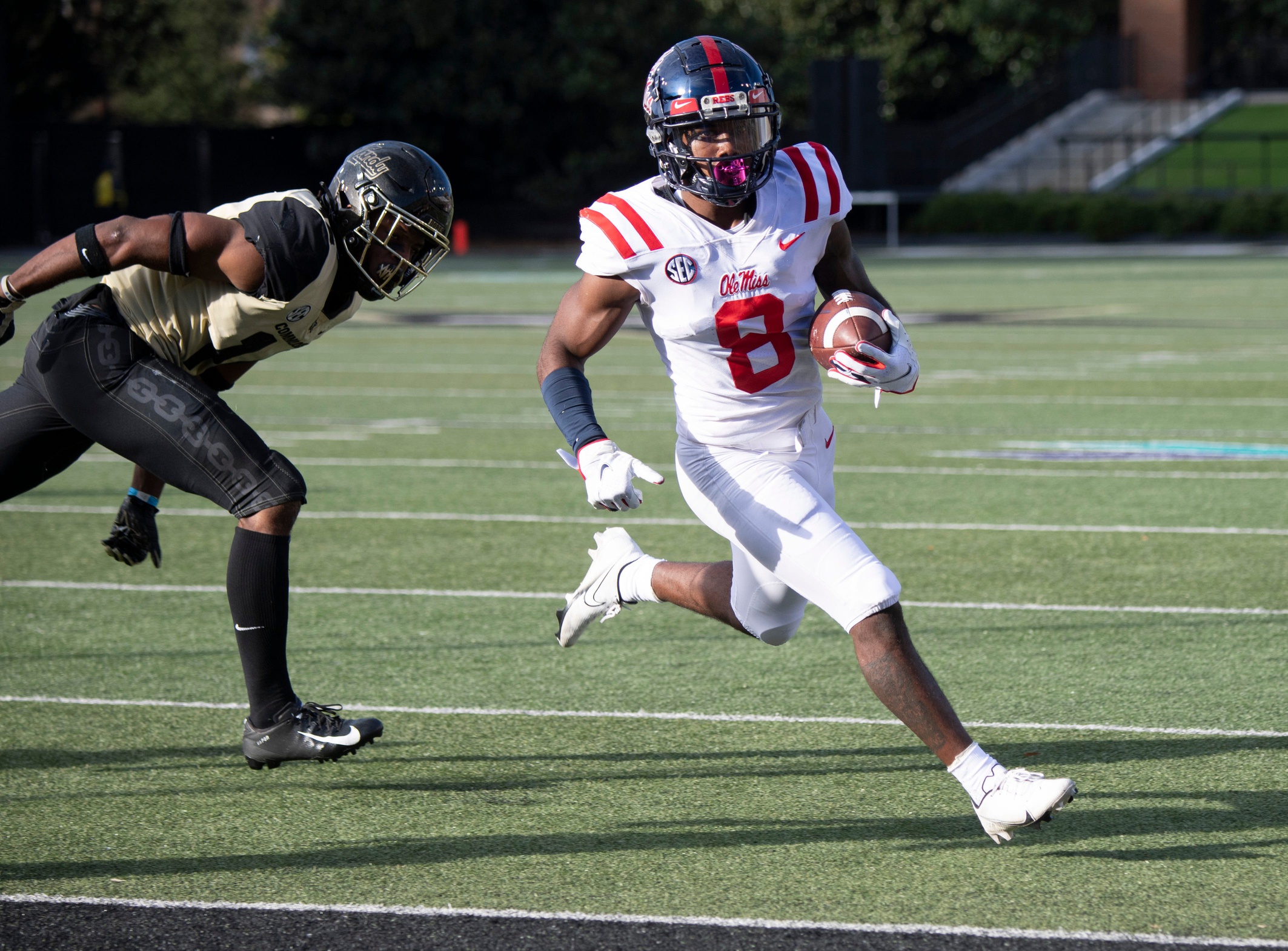 Moore is likely going to be labeled as just a slot receiver by talking heads for the next few months, but I don't think the book is out yet on whether he can succeed outside. He played out wide a bit more in 2020 (20% versus 2% in 2019) and made the most of his opportunities, catching 18 of his 22 targets for 243 yards and one touchdown.
Moore has yet to be truly tested against press-man coverage — only 38 snaps versus press all season — so it remains to be seen if he can win on the outside consistently at a smaller size. It's clear his best fit is in the slot, so an NFL team that intends to use him there would help him realize his potential.
| | |
| --- | --- |
| Height | 5-foot-11 |
| Weight | 193 |
| Wing | 73 1/2" |
| Arm | 32 5/8" |
| Hand | 91/2″ |
| Class | Senior |
I anticipate drafting plenty of Tylan Wallace during dynasty rookie drafts this offseason. He's a more under-the-radar prospect and his production speaks for itself. 
Over the past three seasons, the Oklahoma State product ranks third in catches (198), second in yards (3,306) and sixth in PFF receiving grade (91.3). Among the receivers ranked on this list, Wallace's PFF grade is second to only DeVonta Smith.
His productive college resume earned a 32% college dominator rating. He posted an insane single-season 50% dominator rating his junior year before his season ended early due to injury. 
Wallace's special junior season was a follow-up to his uber-productive sophomore campaign when he posted a 37% dominator rating at just 19 years old. Outside of Rashod Bateman, there's an argument to be made that Wallace has the best age-adjusted profile in the draft class. 
What's also impressive about Wallace's production is that he has had zero benefit from playing in the slot. He's never played more than a 13% seasonal snap share lined up inside, but that has hardly impacted his numbers.
When accounting for receivers lined up on the perimeter since 2019 with at least 100 targets, Wallace's yards per route run ranks fourth (3.27). It's not too far off from DeVonta Smith's mark (3.53) under the same criteria. 
| | |
| --- | --- |
| Height | 6-foot-2 |
| Weight | 200 |
| Class | Junior |
There's no question that Terrace Marshall Jr.'s raw production suffered from playing alongside Justin Jefferson and Ja'Marr Chase at LSU. That's why he posted a lowly 22% dominator rating and didn't melt faces till this past season when he got the opportunity to be the No. 1 pass-catching option.
His 46% dominator rating in 2020 was the fifth-best single-season I charted, but his overall grade (81.1, 11th in the 2021 class) and efficiency numbers weren't off the charts compared to the rest of the league. He finished 15th in yards per route run (2.91) among wide receivers with at least 60 targets.
Compared to his 2019-form, he improved dramatically. 
Terrace Marshall Jr. 2019-2020
| | | | | | |
| --- | --- | --- | --- | --- | --- |
| | PFF grade | Yards per route run | Catch rate | Targets | Yards |
| 2019 | 71.6 | 1.59 | 68.0% | 67 | 671 |
| 2020 | 81.1 | 2.91 | 70.0% | 67 | 731 |
Marshall was featured less downfield and got a boost playing from the slot. He went from a 35% slot snap share in 2019 to an 82% slot snap share in 2020.
Because the LSU product has the requisite traits to be a proper alpha wide receiver at the next level, I doubt we see him moved back into the slot. He has a large catch radius that will help him vacuum up targets over defenders, especially in the red zone.
Marshall is PFF's third-highest-graded draft-eligible receiver (83.6) in the red-zone based on career grades. 
Although Marshall played alongside NFL talent throughout his college career, he technically did "break out" at age 19 during his sophomore season. But it was a bit of a "weak" breakout, as he barely reached the 20% dominator rating threshold needed for the distinction. That's not overly impressive, and neither is the fact that he has the second-lowest career PFF grade (77.6) of the 17 rookie receivers I previously analyzed. 
| | |
| --- | --- |
| Height | 5-foot-11 |
| Weight | 189 |
| Wing | 74 1/2" |
| Arm | 30 1/2" |
| Hand | 91/2″ |
| Class | Senior |
Florida's Kadarius Toney figures to be one of the most polarizing rookie wide receivers in dynasty leagues this offseason because there's a serious divide on his projection between fantasy analysts and NFL teams. 
General managers and scouts are falling in love with Toney because of the upside he can deliver with highlight-reel plays and YAC-ability, but he was a fringe producer in college. 
The former Gator didn't achieve a dominator rating over 20% until his senior season at 21.5 years old (23%), and even then he barely got there.
Toney also posted a worse dominator rating (8%) than teammates Lamical Perine (18%) and Van Jefferson (20%) in 2019. And that's just factoring in Perine's role as a receiver. Those players haven't been world-beaters at the NFL level, which begs the question as to why Toney never produced in the offense with those guys when healthy. 
Toney's career dominator rating — excluding games he missed due to injury — was just 14%, which tied for last among my 17 rookies sampled.
The Florida wide receiver has been mocked as a first-round pick due to his dynamic skill set, but I'm much less bullish on him. If his price skyrockets with Round 1 cache attached to his name, consider me out. 
| | |
| --- | --- |
| Height | 5-foot-9 |
| Weight | 165 |
| Class | Junior |
Tutu Atwell was another wide receiver I didn't investigate from the start, but when I started to research dominator ratings and breakout ages of the 2021 wide receiver draft class, the Louisville junior stood out. 
Atwell turned heads during a breakout sophomore campaign, compiling over 1,200 yards and 12 touchdowns with a 40% dominator rating. His outstanding season earned a 91.7 PFF receiving grade, which ranked second-highest among all receivers with at least 70 targets in 2019. That's not an easy task for someone at just 19 years of age.
Highest-graded college WRs in 2019 (minimum 70 targets)
Atwell's career dominator rating (32%) ranked fourth-highest among the 17 rookie receivers I sampled, which just goes to show how productive he was throughout his college tenure.
He thrived in making explosive plays after the catch and on targets downfield because of his elite speed. Atwell ranks seventh in catches of 20-plus yards (20), fifth in yards per route run (3.45) and fourth in yards after the catch per reception (9.0) among receivers with at least 100 targets since the start of the 2019 season.
He's a big-play waiting to happen, and that's why Louisville went out of its way to feed him the ball. Per PFF's 2021 NFL Draft Guide, over one-third of his catches were behind the line of scrimmage over the past two seasons. The vast majority of opportunities he saw were either bubble screen-type plays or downfield shots.
There may not be anyone in college football that can catch Tutu Atwell! ????

(Via @accnetwork)pic.twitter.com/0YUfYaZeEI

— PFF Draft (@PFF_College) November 28, 2019
At his extremely small size, we can't anticipate Atwell becoming an alpha or bully wide receiver at the next level, but he should function as a nice complimentary piece that can deliver splash plays.
NFL teams would be wise to move him into the slot where his speed can be more emphasized with free releases. Marquise Brown and Mecole Hardman have been used in similar fashion in the NFL.
Atwell's 4.37 yards per route run from the slot in 2019 is the third highest-mark in college football over the past two seasons behind only 2020's DeVonta Smith (5.64) and Jaylen Waddle (5.38).
From a fantasy rookie draft perspective, we know the guy already has 4.30 40-yard dash speed, so just be wary of his draft stock climbing too high for a player that has a lot of Tavon Austin to his game. Don't double-count his speed when his pro day time "clocks" a 4.25. We already know he's fast and that he wins with speed.
| | |
| --- | --- |
| Height | 6-foot-1 |
| Weight | 195 |
| Class | Junior |
Dyami Brown has the exact skill set we want in our rookie receivers. He has a smooth release off the line of scrimmage that is going to help him win on the outside in the NFL. He ranked 11th in yards per route run (3.15) and 10th in PFF receiving grade (83.2) when running routes from the outside. 
Brown's effectiveness getting off the line of scrimmage helped him become one of the deadliest vertical threats in all of college football. No player had more total yards (1,116) or catches (26) on targets of 20-plus yards over the past two seasons.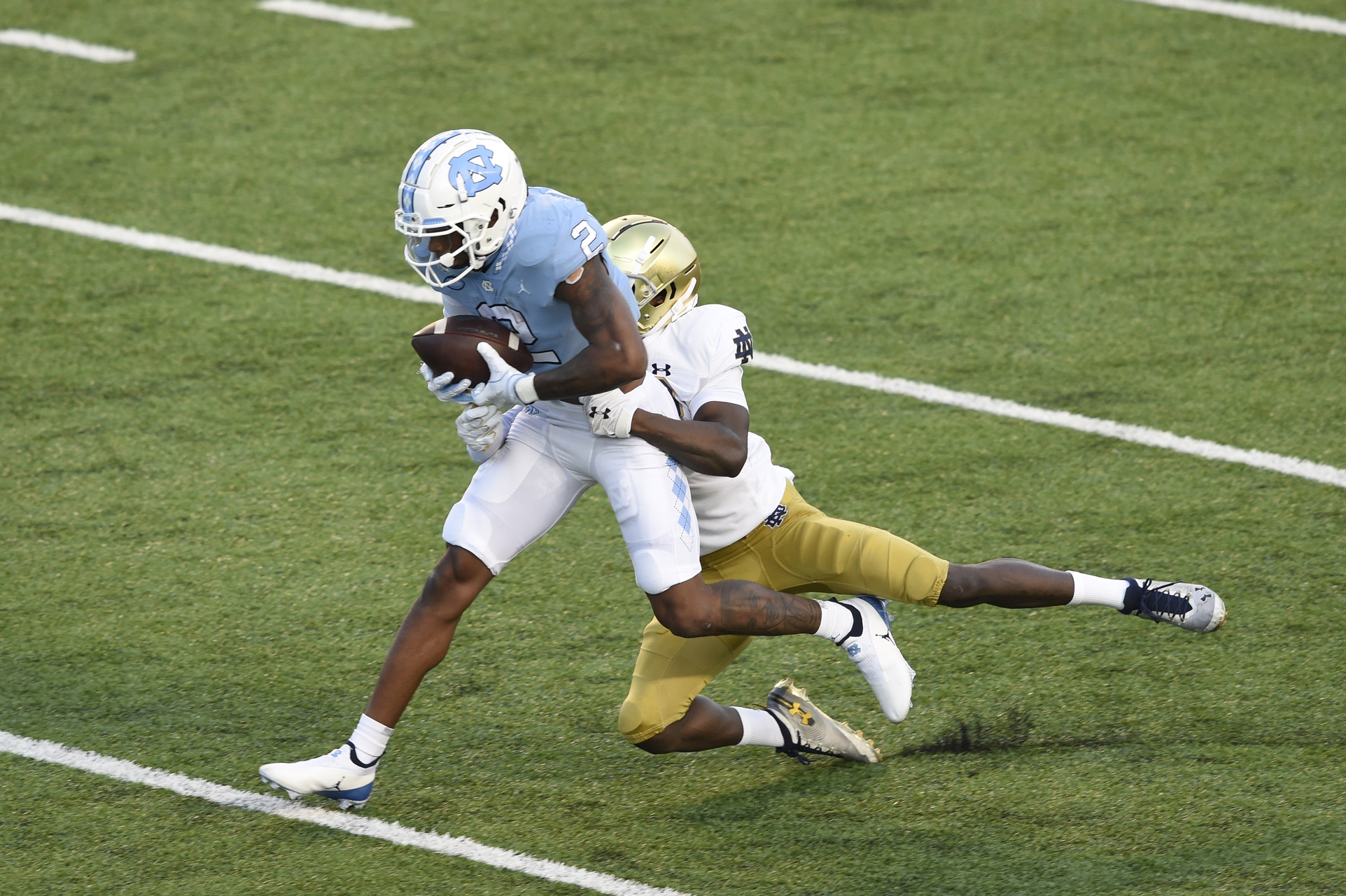 His breakout age (20) and highest single-season dominator rating (31%) aren't ideal, but they aren't egregious enough to totally dampen his outlook. Brown's dominator rating is somewhat skewed because North Carolina looks to be producing several NFL players this season, including Dazz Newsome, Javonte Williams and Michael Carter. 
It's more difficult to post an extremely high dominator rating when you're surrounded by other talented players. Just ask the Alabama wide receivers. 
| | |
| --- | --- |
| Height | 6-foot-1 |
| Weight | 195 |
| Class | Junior |
Amon-Ra St. Brown didn't quite crack the top-five when I first ranked the rookie wide receivers, but he was listed as an honorable mention. 
The USC product was an immediate producer in college. In his true freshman season, he caught 60 passes for 750 yards and three receiving touchdowns, earning a dominator rating of 21% at the ripe age of 19 years old. 
St. Brown's early breakout was particularly notable because he was playing alongside stiff competition. He played with Indianapolis Colts wide receiver Michael Pittman for two years but still earned a 21% dominator rating in his freshman and sophomore seasons. 
Once Pittman left and St. Brown became the guy, his dominator rating jumped to 33%. The main issue is that his freshman season PFF grade (76.0) was the highest grade of his career. That's some cause for concern for a player who looked to be a star so early. 
There are also some concerns about how St. Brown will stylistically fit into the NFL. He's not particularly explosive and has struggled against man coverage. His career PFF receiving grade versus man coverage (74.5) ranked 66th out 129 qualifying receivers.
Receivers in today's NFL need to be able to create consistent separation, especially on the outside. St. Brown hasn't shown enough of that. He had the chance to show more ability outside in 2020 but flamed out. His yards per route run (1.88) ranked outside the top 65 receivers when lined up outside. 
| | |
| --- | --- |
| Height | 5-foot-9 |
| Weight | 174 |
| Class | Senior |
North Texas' Jaelon Darden was coined by PFF draft expert Mike Renner as a sleeper in the 2021 draft class. Darden posted gaudy numbers for Mean Green as a senior — 19 touchdowns and 1,190 receiving yards in just nine games. That earned him a dominator rating of 61%, which the type of dominance small-school players have to demonstrate to have a chance at the next level. 
| | |
| --- | --- |
| Height | 5-foot-11 |
| Weight | 175 |
| Class | RS Senior |
Cade Johnson is an under-the-radar prospect for the sole fact that he did not get the chance to play in 2020. The South Dakota State football season was canceled, which meant that Johnson's only chance to increase his draft stock was to ball out at the Senior Bowl. And that's exactly what he did.
Johnson showed everybody at Mobile how he earned a 34% dominator rating in college, grading out as one of the best receivers on the one-on-one drills. The guy wins with speed and has been doing it ever since his redshirt sophomore season when at 20 years old he caught 67 balls for 1,332 receiving yards and 17 touchdowns. That earned him a 45% dominator rating — the second-highest among players I sampled. 
| | |
| --- | --- |
| Height | 5-foot-9 |
| Weight | 188 |
| Wing | 74 1/8" |
| Arm | 30 1/8" |
| Hand | 9″ |
| Class | RS Senior |
D'Wanye Eskridge generated solid buzz at the Senior Bowl, so there's a chance the Western Michigan product could move up draft boards before April. His 91.0 career PFF grade ranked fifth among players on this list. 
The numbers suggest that he is more than deserving of a Day 2 selection. Over the past three seasons, Eskridge leads college football in yards per reception (22.0). His blazing speed helped him put up the sixth-highest average yards per route run (3.52) and the highest rate of his plays going for at least 15 yards (57%).
There's a ton of upside in his profile but also a lot of question marks due to the competition level in the MAC, along with his ball skills and physicality. 
One of the red flags on his profile has to be his late breakout age at 21 years old and the fact that he is already 24.