PFF's 2021 NFL Draft Guide includes scouting reports and advanced data on 150 draft prospects. So, what better way to celebrate its initial release than to take a look through the PFF lens at the top prospect at each position along with one prospect to keep an eye on as we navigate through draft season.
PFF's 2021 NFL Draft Guide is live and available to all EDGE and ELITE subscribers. If you're already an EDGE or ELITE subscriber, download your copy here.
Listed at 6-foot-5, 235 pounds on his recruiting profile, Kyle Pitts had ample suitors coming out of Pennsylvania's Archbishop Wood High School as a four-star tight end recruit in 2018. He led his high school football team to a state title in his senior season while playing tight end and defensive end. He received more than 20 scholarship offers from major programs around the country, including Florida, Alabama, Virginia Tech and Georgia. He committed to the Gators in July 2017.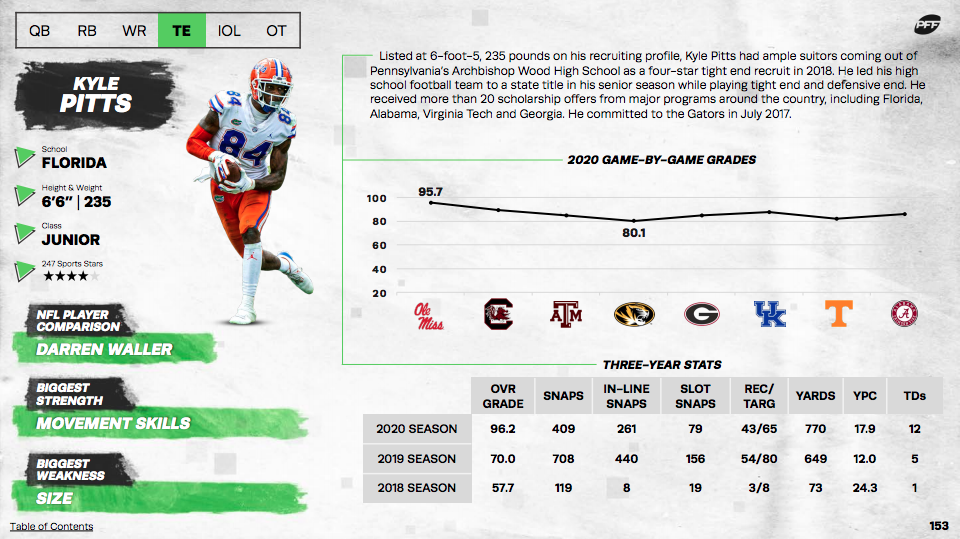 I'm no fan of drafting a tight end early — they can be taken out of game plans too easily if they can't separate man coverage. The good news is that Pitts would still be a first-rounder if you just called him a wide receiver. He's already shown he can separate against high-level corners and averaged 4.91 yards per route run vs. man coverage this year, the third-highest of any player in the country and nearly two yards more than any other tight end. That's different. Pitts also took a considerable step forward as a run-blocker this year, although that's still going to be an issue in the NFL.
NFL player comparison:  Darren Waller
Biggest strength: Movement skills
Biggest weakness: Size
Projection: First-round pick
Bottom line: He'd be a first-rounder even if you considered him solely a
receiver. How many past tight ends can we say that about?
For advanced stats, pros and cons, passing heatmaps, three-year grades, game-by-game breakdowns and more, download your copy today!
---
Hunter Long committed to Boston College in the 2017 recruiting class as a three-star prospect out of Deerfield Academy in Massachusetts over offers from schools such as UConn and UMass. Long was a two-time all-conference selection while at Deerfield and racked up 508 receiving yards on 30 receptions to go along with seven sacks as a defensive lineman.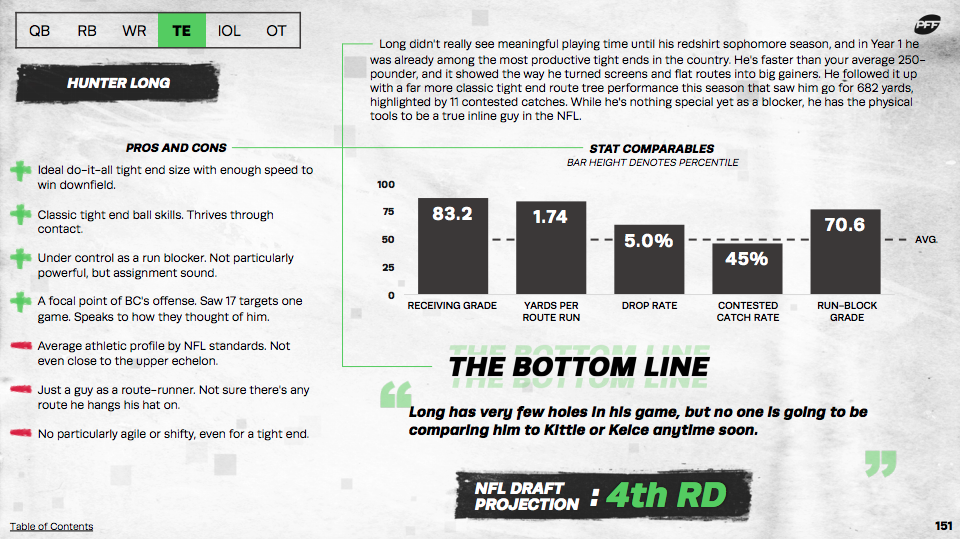 Long didn't really see meaningful playing time until his redshirt sophomore season, and in Year 1 he was already among the most productive tight ends in the country. He's faster than your average 250-pounder, and it showed the way he turned screens and flat routes into big gainers. He followed it up with a far more classic tight end route tree performance this season that saw him go for 682 yards, highlighted by 11 contested catches. While he's nothing special yet as a blocker, he has the physical tools to be a true inline guy in the NFL.
NFL player comparison: N/A
Biggest strength: Production
Biggest weakness: Dynamism
Projection: Fourth-round pick
Bottom line: Long has very few holes in his game, but no one is going to be
comparing him to George Kittle or Travis Kelce anytime soon.
For advanced stats, pros and cons, passing heatmaps, three-year grades, game-by-game breakdowns and more, download your copy today!
---
Per 247Sports' composite ranking, Brevin Jordan was the top tight end prospect in the country coming out of Bishop Gorman High School in Las Vegas. Jordan racked up 63 receptions for 1,111 yards and 13 touchdowns during his senior season. He had 31 offers in total — a list that included nearly every blue-blood program in the country — but ultimately signed with Miami. Brevin's father, Darrell, was drafted by the Atlanta Falcons in the 1990 NFL Draft.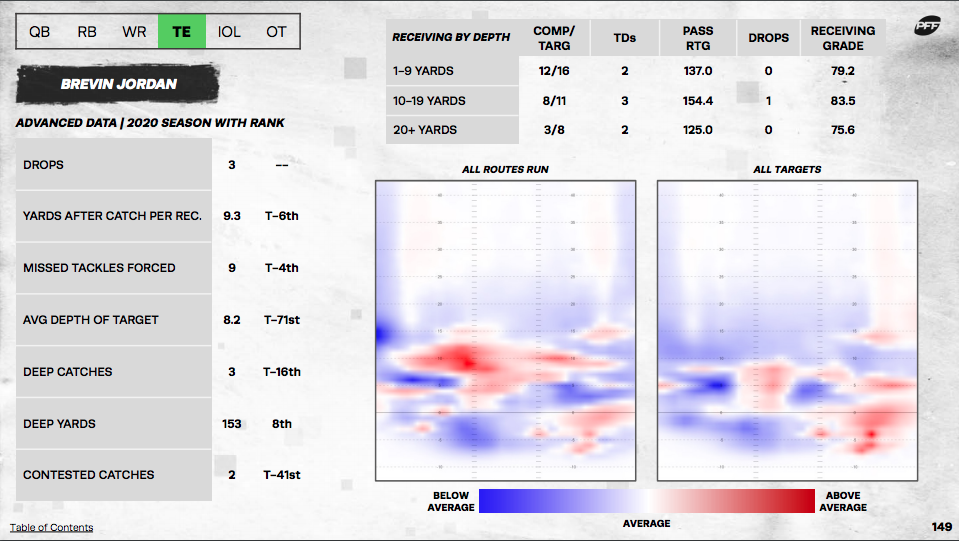 Jordan showed up at Miami looking like a running back but being called a tight end. His usage was closer to that of a running back, with an average depth of catch of only 3.4 yards downfield. After filling out his frame a bit more, Jordan still looks like a running back, only now that running back is Derrick Henry. Jordan has a very clear path to success in a Shanahan-Kubiak scheme that runs its tight ends on a lot of drags, flats and seams where speed and YAC are king. The problem is that he'll have to prove to defenses that he's a legit inline threat first.
NFL player comparison: Clay Harbor
Biggest strength: YAC ability
Biggest weakness: Ball skills
Projection: Fourth-round pick
Bottom line: His speed will play in the right schemes, but the ultimate question is: Will defenses even treat him as a tight end?
---
Courtesy of PFF's 2021 NFL Draft Guide, find PFF's top draft prospect, biggest riser and wild card to watch at each position here: