We're inching closer to full-on NFL Draft season, so it's time to start thinking about our dynasty fantasy football teams with NFL free agency kicking off in less than a month. Having just released my top-300 dynasty rankings, believe me when I say that I have a small case of rookie fever.
I previously broke down my top-15 list of incoming rookie wide receivers. Now we move onto the running backs, where landing spots will be even more crucial to determining each player's ultimate fantasy value. 
Subscribe to
For now, we'll use the tape and our trusty PFF 2021 NFL Draft Guide to line up the 2021 rookie running backs in the order we would draft them today. Here are my top 15. 
| | |
| --- | --- |
| Height | 6-foot-1 |
| Weight | 230 |
| Wing | 81″ |
| Arm | 33 3/8″ |
| Hand | 10″ |
| Class | Senior |
Alabama's Najee Harris has been nothing but a stud since taking over the starting job in 2019. He owns PFF's third-highest rushing grade (93.3) and ranks first in rushing touchdowns (39) and fourth in forced missed tackles (128).
Some thought he made a mistake by not coming out of school a year earlier, but he put up a terrific senior season with 1,464 rushing yards and 26 touchdowns on 252 carries. That earned him a 32% dominator rating, which is utterly impressive considering all the talent at Alabama. 
Previous Bama backs like Josh Jacobs and Damien Harris who recently made the leap to the NFL never put up a dominator rating higher than 18% in college.
It's important to remember that before taking over the Crimson Tide backfield, the underclassman had been stealing touches from Jacobs and Harris. And he was arguably just as good — if not better — than those running backs.
| | | | | | | |
| --- | --- | --- | --- | --- | --- | --- |
| | PFF rushing grade | Carries | Yards | Yards per attempt | Yards after contact per attempt | Missed tackles |
| Damien Harris | 84.4 | 149 | 871 | 5.8 | 3.2 | 22 |
| Josh Jacobs | 85.2 | 121 | 645 | 5.3 | 4.1 | 33 |
| Najee Harris | 91.8 | 117 | 783 | 6.7 | 4.4 | 37 |
A big part of Harris' senior-year production stemmed from receiving work. His 43 receptions on 53 targets were career highs and ranked third in the nation at the running back position. He dropped only one target and forced a league-high 22 missed tackles after the catch.
With an all-encompassing skill set and desirable size, Harris has fantasy bell-cow back written all over him at the next level, though his lack of top-notch speed could keep him from being elite.
We will all be eagerly awaiting his pro-day numbers and hoping he can prove us wrong from an athletic testing standpoint. 
| | |
| --- | --- |
| Height | 5-foot-10 |
| Weight | 220 |
| Class | Junior |
This past season, North Carolina's Javonte Williams earned the highest rushing grade (95.9) that PFF has ever given. He led the nation with 75 forced missed tackles (48% missed tackle rate — a PFF record) and ranked second in PFF's elusive rating and second in rushing attempts of 15-plus yards (27). 
When factoring in his nine broken tackles on 24 catches, Williams' aggregate total missed tackle percentage (46%) is 11 percentage points higher than the next running back. 
The missed tackle rate is eerily similar to that of Washington Football Team running back Antonio Gibson during his final season at Memphis. The only difference is that Gibson totaled just 71 touches compared to Williams' 181.
Last preseason, I enjoyed pointing out that Gibson forced a missed tackle on nearly half of his touches, so I'm excited that Williams can fill that void for me in 2021.
Williams' career (21%) and final season (29%) dominator rating don't seem impressive until you consider that he played his entire career with another NFL-caliber running back, Michael Carter. 
Carter is going to garner most of the praise as the better player when it comes to pass-catching chops (stay tuned for Carter's ranking on the list), but Williams showed throughout his career that he can more than hold his own as a receiver. 
Among the 19 running backs I sampled in my 2021 dominator rating article, Williams had the second-highest career PFF receiving grade (86.3). 
If a team decides to spend a high Day 2 pick on Williams, we should expect him to finally see the type of workload to unleash his vast talent. 
| | |
| --- | --- |
| Height | 5-foot-10 |
| Weight | 205 |
| Class | Junior |
In the same sample of 2021 draft-eligible running backs, no RB achieved a higher PFF rushing grade (96.7) than Travis Etienne. The former Tiger would have easily been PFF's No. 1-ranked RB in the 2020 NFL Draft Class had he chosen to forego his final season of eligibility at Clemson.
His final season in college football as a rusher was lackluster: Going back to school resulted in a career-low PFF rushing grade (81.1, 38th out of 100 qualifiers). His mark of 5.6 yards per carry was the first time he fell below 7.0 in college, and his 3.8 yards after contact per attempt was the first time he finished under 4.0. 
Clemson lost a ton of talent across the offensive line, which hurt Etienne. After four Tigers starters moved on to the NFL, Etienne saw just 1.8 yards before contact (below league average) this season compared to 2.8 in 2019 and 3.8 in 2018, per PFF's NFL Draft Guide.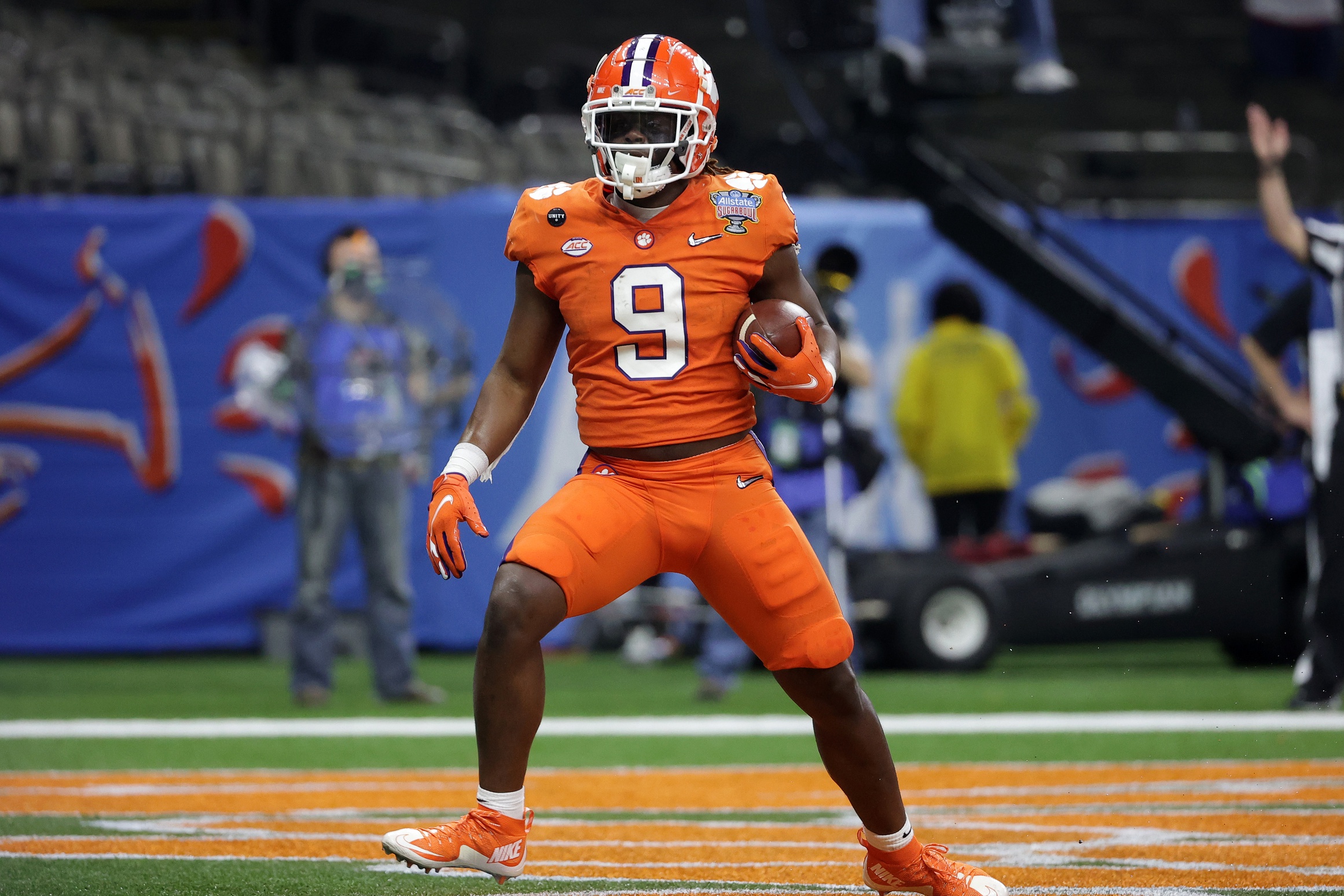 But, as I've noted, his overall grade as a rusher still trumps almost all the running backs in the 2021 Draft class, and his senior season showed us his growth as a weapon in the passing game. 
He finished first in PFF receiving grade (90.9), first in receiving yards (588) and second in receptions (48) at the running back position. Etienne has improved as a receiver every season of his career — NFL teams will love to use him as a mismatch out of the backfield. 
His home-run threat ability helps shadow his smaller frame, which could prevent him from seeing huge carry totals at the next level. He hardly will be used to grind out minimal yardage up the middle and in close-out situations. Etienne has just one game on his resume with 20-plus carries since 2018.
| | |
| --- | --- |
| Height | 5-foot-11 |
| Weight | 191 |
| Class | RS sophomore |
Kenneth Gainwell was my No. 4-ranked running back in my early top-five rookie running back rankings and he will remain locked into that spot. After researching his 27% career dominator rating, I came away extremely impressed.
Gainwell commanded the majority of touches in 2019  while "sharing" the backfield with future Washington Football Team running back Antonio Gibson. He out-gained Gibson by a huge margin (229 to 33), and his receiving ability really stood out. 
During his magical 2019 run, the Memphis scatback ranked fourth in PFF receiving grade (85.0), fourth in receptions (51), first in receiving yards (610) and second in missed tackles forced (20) on receptions.
Due to his smaller size, we aren't likely to see Gainwell become a workhorse back at the next level, but his ability to win in the receiving game is going to make him a viable fantasy asset. The last running back to have a collegiate season with at least 1,200 rushing yards and 600 receiving yards was Saquon Barkley.
Barkley has been a fantasy phenom because he can catch the ball and utilize his upper-percentile athleticism between the tackles. Gainwell's ceiling isn't going to compare to Barkley's, but the pass-catching chops will ensure that he has a role on an NFL offense.
| | |
| --- | --- |
| Height | 5-foot-8 |
| Weight | 204 |
| Wing | 71 3/4" |
| Arm | 30 1/8″ |
| Hand | 8 5/8″ |
| Class | Senior |
If any running back can create yards after contact, it's Virginia Tech's Khalil Herbert. The senior tied Jaret Patterson for the lead in yards after contact per attempt (4.74) among the 2021 draft class and finished second in total yards after contact (734) behind only Najee Harris. 
Herbert earned PFF's third-highest rushing grade (90.0) at Kansas in 2019 while averaging 9.2 yards per attempt — the second-highest average in the nation. In 2020, he unleashed his full potential as a grad transfer at Virginia Tech, finishing as PFF's second-highest graded rusher (91.3, 27% dominator rating) while ranking third in yards per carry (7.6) and breakaway rate (55%) among the 2021 draft class.
Fantasy naysayers will point to Herbert's draft age (23) as a reason to fade him in fantasy, but age is less important at running back. The rookie deal is really all we're focused on as fantasy managers. Plus, Herbert played in a running back committee until last season, so there's still plenty of tread on the tires.
His real concern is just lack of work as a pass-catcher — he never had more than 10 catches in a season. But Herbert certainly made the most of the — his yards after the catch per reception (19.9) was the highest mark at the running back position. 
| | |
| --- | --- |
| Height | 6-foot |
| Weight | 213 |
| Wing | 79″ |
| Arm | 32″ |
| Hand | 91/2″ |
| Class | Senior |
After three seasons at Oklahoma, Trey Sermon took his talents to Ohio State in search of a bell-cow role. During his final season as a Sooner, the junior averaged 7.1 yards per carry with 17 broken tackles on just 54 attempts.
Fast forward to the 2020 season at Ohio State and Sermon got his chance to be a primary focus in the offense, rushing for 640 yards (9.0 yards per carry) in his last three healthy games while flashing elusiveness with 28 forced missed tackles (30% missed tackle rate).
Sermon's lack of pass-game work (under 50 receptions in four seasons) and top-end speed may hinder his fantasy upside at the next level, but he still can earn a starting role on early downs for an NFL squad. Sermon owns PFF's seventh-highest rushing grade (93.9) since 2018. 
If a team takes Sermon on Day 2, the commitment attached to the higher draft capital would go a long way for his fantasy draft stock. Ascending to the top spot in a backfield has been one of Sermon's biggest issues — he never surpassed an 18% dominator rating in any of his four college seasons.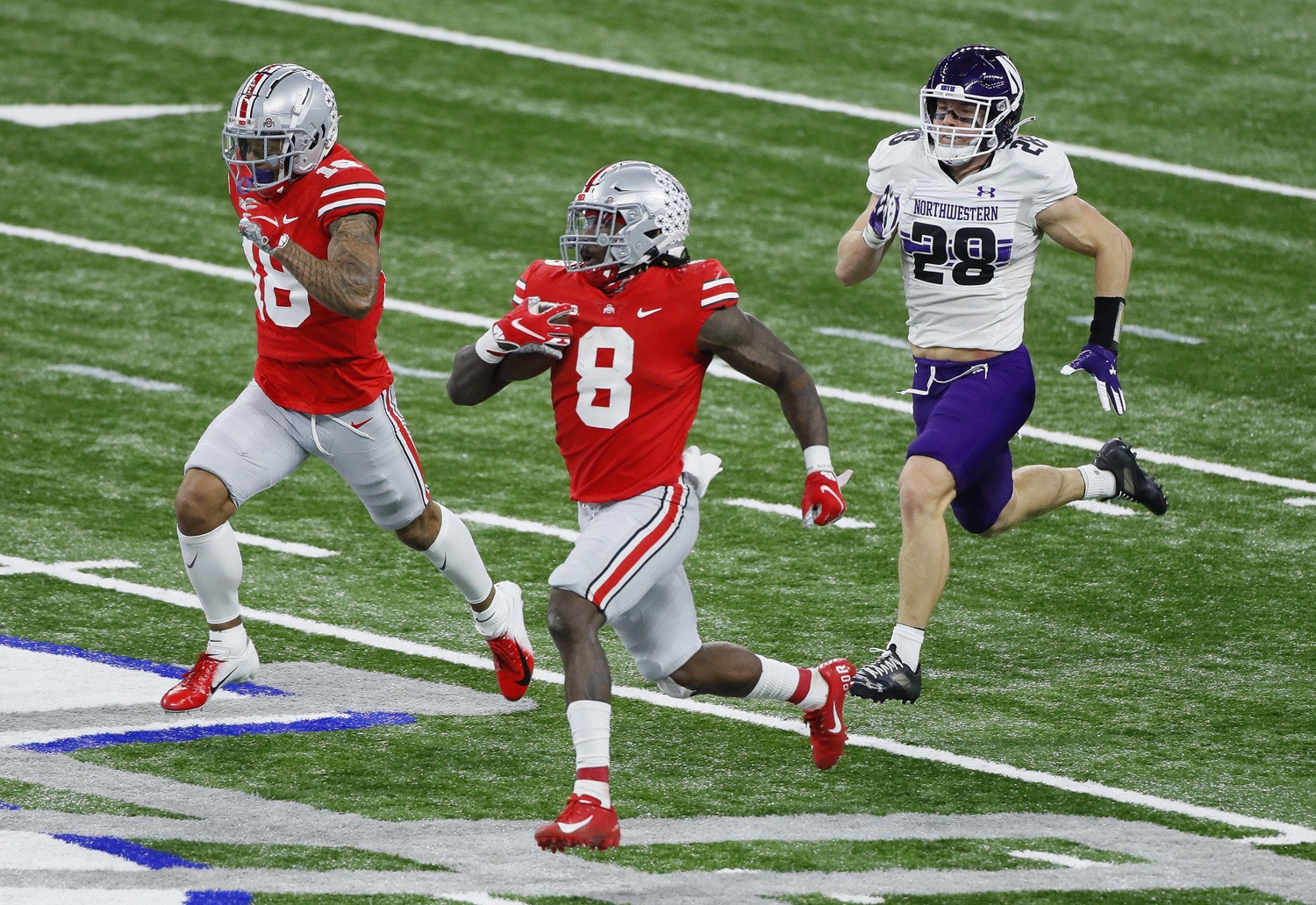 Until Sermon transferred to Ohio State, his usage at Oklahoma was limited because the offense split rushing attempts between other RBs like Rhamondre Stevenson and mobile quarterbacks like Kyler Murray and Jalen Hurts. 
He has been much more of a victim of circumstances rather than a subpar producer, so I wouldn't knock him too much for his lower dominator rating
Still, if Sermon finds himself as a later Day 3 pick and fighting for a spot on an NFL roster, then I'll be much less bullish on him. His lack of overall juice in the passing game would almost certainly cement his status as waiver wire fodder.
Because of these concerns, I had to move Sermon down the rankings from his initial spot at No. 5. 
| | |
| --- | --- |
| Height | 5-foot-7 |
| Weight | 202 |
| Wing | 73 1/2" |
| Arm | 29 1/8″ |
| Hand | 9″ |
| Class | Senior |
Carter had immense success operating alongside Javonte Williams in the North Carolina backfield. He was PFF's seventh-graded rusher (91.1) and actually outproduced Williams on the ground with 1,245 rushing yards despite both players handling exactly 157 carries. Carter led the nation in carries of 15 yards or more. 
He also profiled as the superior pass-catcher of the duo. Williams and Carter each commanded 30 targets last season, with the latter taking the edge in yards per route run (1.93 vs. 1.64) and PFF receiving grade (88.6 vs. 77.5).
The main concerns with Carter are his late development and smaller size — he could be pigeonholed as a scatback at the next level. And although playing alongside Williams explains his low final season (21%) and career dominator rating (17%), the competition at running back in the NFL is not going to get any easier. 
| | |
| --- | --- |
| Height | 6-foot-1 |
| Weight | 207 |
| Class | RS junior |
Similar to Etienne, it would have made all the sense in the world for Hubbard to declare for the draft last season. He rushed for over 2,000 yards as a redshirt sophomore in 2019 on an insane workload of 328 carries. That earned him a convincing 40% dominator rating.
Hubbard's efficiency took a nosedive in 2020, as his PFF rushing grade (87.6 vs. 71.8), yards per carry (4.7 versus 6.4) and yards after contact per attempt (4.0 versus 2.5) all took massive hits. His PFF rushing grade and yards after contact per attempt ranked outside the top 40 at the running back position.
Some of Hubbard's poor 2020 campaign can be attributed to an ankle injury he sustained toward the end of the season. He had just 14 carries in his last two games when he was averaging well over 20 per game the five weeks prior.
Hubbard's evaluation comes down to weighing his 2019 season versus 2020. In 2019, Hubbard averaged a whopping 5.51 yards per snap, which was over a yard more than any other incoming rookie's best season (Elijah Mitchell, 4.50). Although Hubbard wasn't as exceptional in 2020, he still posted a more than an acceptable 30% dominator rating — tied for fifth among runners in these rankings. 
| | |
| --- | --- |
| Height | 5-foot-10 |
| Weight | 217 |
| Class | Junior |
The intrigue surrounding Jermar Jefferson goes all the way back to his uber-productive true freshman season. At just 18 years old, he rushed for 1,380 yards and scored 12 touchdowns for Oregon State, tacking on 25 receptions. Jefferson's spectacular 2018 campaign netted a 29% dominator rating — a feat he would repeat as a junior.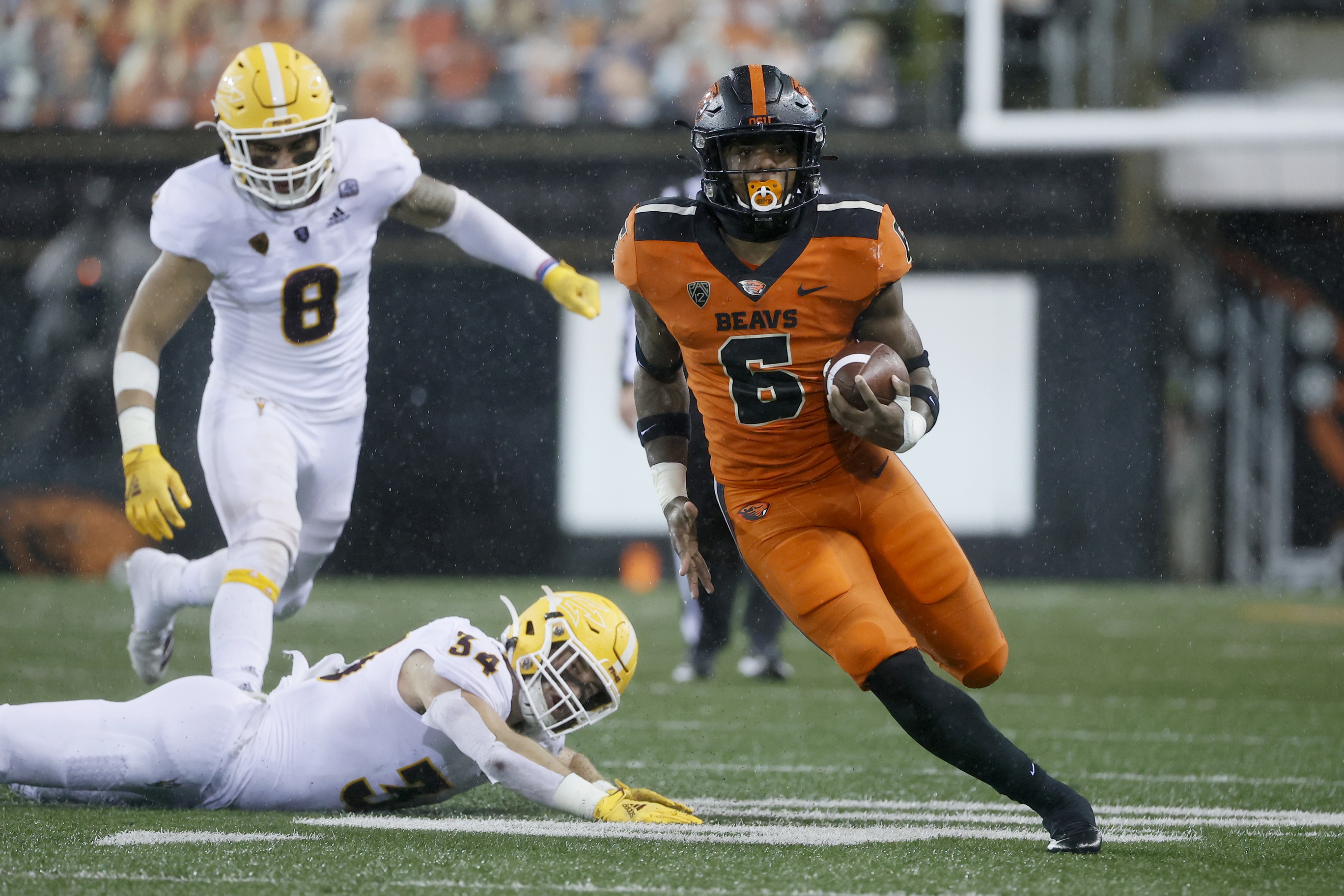 In six games in 2020, Jefferson put up 143 rushing yards per game and career-highs in yards per attempt (6.5), yards after contact per attempt (3.67) and PFF rushing grade (79.4). His 133 carries and 858 rushing yards during Weeks 10-16 of the college season (his entire 2020 season) both ranked second in the nation. 
| | |
| --- | --- |
| Height | 5-foot-10 |
| Weight | 215 |
| Wing | 76 5/8" |
| Arm | 31″ |
| Hand | 9 3/4″ |
| Class | Senior |
If there's one player who could be this year's James Robinson, it's easily the Ragin' Cajun himself, Elijah Mitchell. He ranked first in career yards per snap (3.58) and second in 2020 yards per snap (4.5) among the 19 top running backs in this class. 
Mitchell has a very obvious NFL skill set with a combination of size, speed and explosiveness. He has the makeup of an NFL running back, and if given the opportunity he could catch on somewhere and be productive just like Robinson. 
| | |
| --- | --- |
| Height | 5-foot-8 |
| Weight | 189 |
| Wing | 74 1/8" |
| Arm | 31 1/8″ |
| Hand | 9 3/8″ |
| Class | Senior |
Demetric Felton is a converted slot receiver, and 2020 was his first crack at being the featured runner. He earned an impressive 30% dominator rating and compiled over 800 yards from scrimmage and 11 touchdowns in just six games.
He took some reps and ran routes with wide receivers at the Senior Bowl, which could mean that NFL teams might want him to revert to his old role in the slot. 
Either way, his overall versatility as a hybrid running back/receiver will make him fantasy viable sooner rather than later, but it won't come in the form of 20-plus carries per game. 
UCLA RB Demetric Felton running WR routes in Mobile is BIG for his stock — dude is a stud.

— Austin Gayle (@PFF_AustinGayle) January 26, 2021
| | |
| --- | --- |
| Height | 5-foot-9 |
| Weight | 182 |
| Class | RS sophomore |
Louisville's Javian Hawkins caught my eye when I was evaluating the dominator ratings of the running backs in this class. His career college dominator rating was solid (25%), and he impressed in his second season as a starter with a 30% dominator rating. 
Hawkins is a home-run threat and presents fantasy managers with a ton of upside if he can beef up his size to withstand NFL defenders. At 5-foot-9 and 185 pounds soaking wet, it's going to be difficult to see him running over anybody at the next level.
His jitterbug archetype will entice teams to try and manufacture touches for him both on the ground and through the air. He's shown that he is a capable pass-catcher — zero drops on 21 career targets — and his explosiveness in space will be a nightmare for teams to defend. 
Javian Hawkins can MOVE! Louisville will need more of this in the second half to beat the Cats!

(Via @accnetwork)pic.twitter.com/xfTQ6zDu6G

— PFF Draft (@PFF_College) November 30, 2019
If he had been more productive as a receiver, it would have improved his 2.73 yards per snap from 2020. That was the second-word rate (18th) of the 19 running backs I sampled in this class. 
| | |
| --- | --- |
| Height | 5-foot-9 |
| Weight | 195 |
| Class | Junior |
No player stood out more when I evaluated dominator ratings than Buffalo's RB1 Jaret Patterson. Patterson has three straight seasons with at least 1,000 rushing yards and dominator ratings of 40% (2019) and 43% (2020). His most recent dominator rating is the highest among all players ranked here. Patterson ranks second in offensive yards per snap (3.51) and eighth in PFF rushing grade (91.3).
The Buffalo back benefited greatly in 2020 from playing behind the nation's highest-graded run-blocking unit (90.2), so there's some concern that he was a product of the team's outside-zone-heavy scheme. 
But I'd argue that running backs are at the mercy of their offensive lines more often than not, so we can project Patterson to be a semi-productive rusher at the next level. He will get what is expected out of every rushing attempt.
Jaret Patterson has sleeper fantasy potential ???? pic.twitter.com/mrxFrIY1OX

— PFF Fantasy Football (@PFF_Fantasy) February 12, 2021
| | |
| --- | --- |
| Height | 5-foot-11 |
| Weight | 227 |
| Wing | 75" |
| Arm | 30″ |
| Hand | 9″ |
| Class | Senior |
Every draft class has its fair share of bruising running backs who love to make contact, and Rhamondre Stevenson fits that mold to a tee. He ranks second since 2019 in yards after contact per attempt (4.7) among 2021 draft-eligible running backs behind only Khalil Herbert. 
Because of his physical nature and size, Stevenson should be viewed as an early-down grinder and a player who could earn goal-line work. Don't bet on him becoming a three-down workhorse. 
He does deserve credit for earning a career-high dominator rating (25%) last season after the team moved on from Trey Sermon. But his career dominator rating (14%) pales in comparison to most running backs in this class. 
| | |
| --- | --- |
| Height | 5-foot-8 |
| Weight | 170 |
| Class | Junior |
As a true freshman, Pooka Williams earned his highest single-season dominator rating (32%) on the back of 1,145 rushing yards in addition to 288 receiving yards. Williams would go onto post back-to-back seasons with at least a 22% dominator rating while earning a PFF rushing grade of 92.9.
These accolades aside, Williams does have serious issues when it comes to his vision as a runner, and his size will almost certainly relegate him to scatback duties in the NFL. It's also concerning that after starting his career "en fuego," Pooka's efficiency has dropped off every single season.
Pooka Williams | 2018-2020
| | | | |
| --- | --- | --- | --- |
| Season | PFF rushing grade | Yards per attempt | Yards after contact per attempt |
| 2018 | 89.9 | 7.1 | 4.6 |
| 2019 | 88.3 | 5.2 | 3.1 |
| 2020 | 74.4 | 4.0 | 2.5 |