One of the beautiful things about college football is the unpredictability of player development. A top prospect might show out as a freshman and consistently get better every year, as Chase Young did. They might also not see the field for a few years and blow up overnight, as Quinnen Williams did. In this piece, the focus will be on the prospects like Williams. These are the players at each position who've seen their draft stock rise the most precipitously in the 2019 season.
QB Joe Burrow, LSU
Are we surprised? Burrow went from a middling 79.5 overall grade last year to the highest-graded quarterback in college football. And he did it facing arguably the most difficult slate of defenses of any top quarterback. Burrow's accuracy numbers are unlike anything we've ever seen at this point, and he shows no signs of slowing down. On throws targeted 10-plus yards downfield, Burrow has been charted as accurate 65.0% of the time. That's the highest figure in college football, and only six other quarterbacks are above 50%.
Joe Burrow with all the time in the world. Not fair.

(via @CBSSports)⁰pic.twitter.com/hWnBJxKwAq

— Bleacher Report (@BleacherReport) December 7, 2019
RB Clyde Edwards-Helaire, LSU
The draft stocks of many players on the Tigers' offense have shot through the roof with their record-breaking performance in 2019. After breaking only 33 tackles on 147 carries last year, Edwards-Helaire almost doubled that with 63 on 196 carries this season. Maybe more importantly, he proved to be a threat as a receiver, hauling in 50 catches for 399 yards after catching just 10 passes for 94 yards in 2018.
WR Jauan Jennings, Tennessee
Jennings' best season prior to 2019 came as a true sophomore in 2016, when he had 40 catches for 580 yards, seven touchdowns and 12 broken tackles. A wrist injury ended his 2017 season after just one game, and he managed only 438 yards in 2018 after returning. Fully healthy this season, the 6-foot-3, 208-pound wideout showed just how freaky he is after the catch. On only 57 catches, he broke 29 tackles — the most in the country. That's rare ability for a big receiver.
Jauan Jennings.

That's it. That's the tweet.#PoweredByTheT pic.twitter.com/u6jXAweGu5

— Tennessee Football (@Vol_Football) October 27, 2019
WR Sage Surratt, Wake Forest
In only nine games this season, the redshirt sophomore showed elite contested-catch ability. He hauled in 18 contested catches on 30 opportunities. That was the fourth most of anyone in the country. Surratt also nearly doubled his yardage total from 581 last year to 1,006 this season. While his speed is limited, Surratt consistently wins in the underneath and intermediate range.
You just CANNOT defend Sage Surratt!

(Via @accnetwork)pic.twitter.com/PkvxYWiAum

— PFF College (@PFF_College) October 20, 2019
TE Hunter Bryant, Washington
After injuries limited him to 338 snaps in his first two seasons combined, Bryant needed to prove he could stay healthy and produce on more snaps. With the third-highest yards per route run among tight ends in the country (2.71) and the 20th most routes (304), Bryant ticked both of those boxes in his junior season. He's a bit of a tweener, but he has a combination of athleticism and receiving ability that no other tight end in the country can match.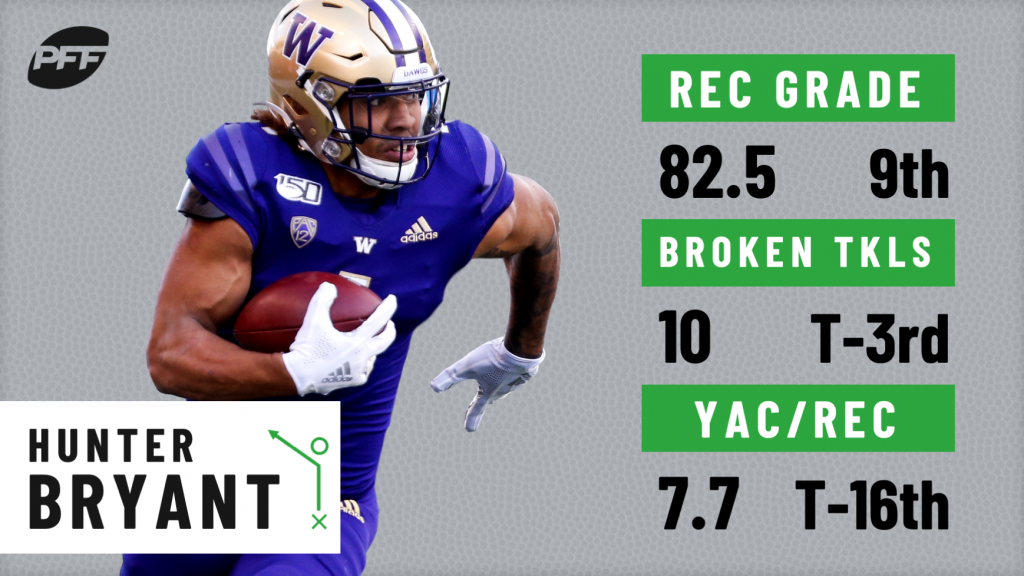 Hunter Bryant!! pic.twitter.com/VjnKtOZoPA

— Ty Wurth (@WurthDraft) January 2, 2019
LT Josh Jones, Houston
Jones was firmly on our radar heading into 2019 after back-to-back seasons with pass-blocking grades over 80.0. He added some serious power to his game over the course of the offseason, though, and put together a dominant 2019 campaign. His run-blocking grade went from 62.8 to 92.7 this season, and his 93.2 overall grade was the highest we've ever seen from a Group of 5 tackle. He showed up at 27th on PFF's latest draft board.
LG Trey Smith, Tennessee
Smith's lack of offseason practice time while dealing with blood clots in his lungs, combined with Tennessee moving him to left tackle, resulted in an unsightly 62.9 overall grade in 2018. He returned on the eve of the 2019 season and, after a rocky few weeks, finished off the season playing far and away the best football of his career. The talent was always there, but he showed the necessary progression at left guard we needed to see. From Week 4 onward (nine games), Smith finished with the fourth-highest overall grade of any guard in the country.
C Matt Hennessy, Temple
Hennessy had been starting for Temple since his sophomore year in 2017, but he made the leap as a senior to the highest-graded center in the country. While he's been impenetrable in pass protection his entire career, Hennessy saw his performance in the run game take a drastic leap, from a 70.4 grade in 2018 to an 86.9 mark this season. He's one of the quickest centers off the ball in the country and is perfect for modern screen games.
RG Wyatt Davis, Ohio State
As a redshirt freshman in 2018, Davis played all of 239 snaps — including starts in the Big Ten Championship and the Rose Bowl — for an uninspiring 60.8 overall grade. After bumping that up to 81.6 on 836 snaps this season, Davis looks like Ohio State's best offensive line prospect (in our eyes) since Taylor Decker.
RT Jedrick Wills Jr., Alabama
Wills' dominance in the run game this season has been a sight to behold. He's right up there with Penei Sewell for the best run-blocking offensive lineman in the country this season. The true junior went from a 63.1 run-blocking grade last season to a 91.4 this season. His 11 big-time blocks are the most of any draft-eligible tackle. Wills may very well end up in the top-10 come April.
Jedrick Wills with the short yardage movement… pic.twitter.com/vE0YqZrv9l

— Cole Cubelic (@colecubelic) November 30, 2019
DI Jordan Elliott, Missouri
We saw Elliott flash his dominance after earning elite grades against Tennessee and Arkansas toward the end of 2018. This season, though, he sustained that over the entire campaign, becoming the only Power-5 defensive tackle to earn run-defense and pass-rushing grades over 90.0. The redshirt junior even outgraded much-heralded Auburn defensive tackle Derrick Brown on the season and in SEC play. Elliott has very much played his way into the first-round conversation.
Jordan Elliott cannot be contained. pic.twitter.com/hKZxtjKFO8

— CBS Sports (@CBSSports) November 23, 2018
DI Bravvion Roy, Baylor
Up until this season, all we knew Roy for was his run defense. The 333-pounder earned run-defense grades over 80.0 in both 2017 and 2018. This season, though, Roy added some much-needed penetration ability to his game. He more than doubled his pressure total from 2018, going from 20 to 50 this season. Everyone and their mother is looking for a nose tackle who can push the pocket — and Roy looks like the rare big fella with the ability to do so.
ED Alex Highsmith, Charlotte
Highsmith spent his 2018 season playing almost exclusively over or inside offensive tackles. For a player listed at 242 pounds, that was a blatant misuse of Highsmith's skillset. This season, he's been lining up well outside the tackles and racking up the pressures. He's got excellent bend around the edge, resulting in a 91.1 pass-rushing grade this season after a 75.6 mark last year. The former walk-on snuck in the back end of our latest top-100.
ED Josh Uche, Michigan
Uche was tied for the Michigan team lead in sacks in 2018, racking up seven on just 97 snaps. In fact, he had played all of 197 snaps in his career prior to this season — although, they'd been damn good. In a larger role this season, all Uche did was record the second-highest pass-rushing win rate in the country at 29.2%. While a bit undersized, Uche's quickness and hand usage are off the charts.
LB Zack Baun, Wisconsin
Whether it was as a pass-rusher or in coverage, Baun looked like a different player from the one we saw in 2018. Playing in an outside linebacker role where he drops into coverage about 20% of the time, Baun looked equally capable in both regards. He racked up 52 pressures to go along with a pick and two pass breakups. While Baun is undersized, his skillset is eerily reminiscent of former Badger Joe Schobert, who's turned into one of the best off-ball linebackers in the NFL.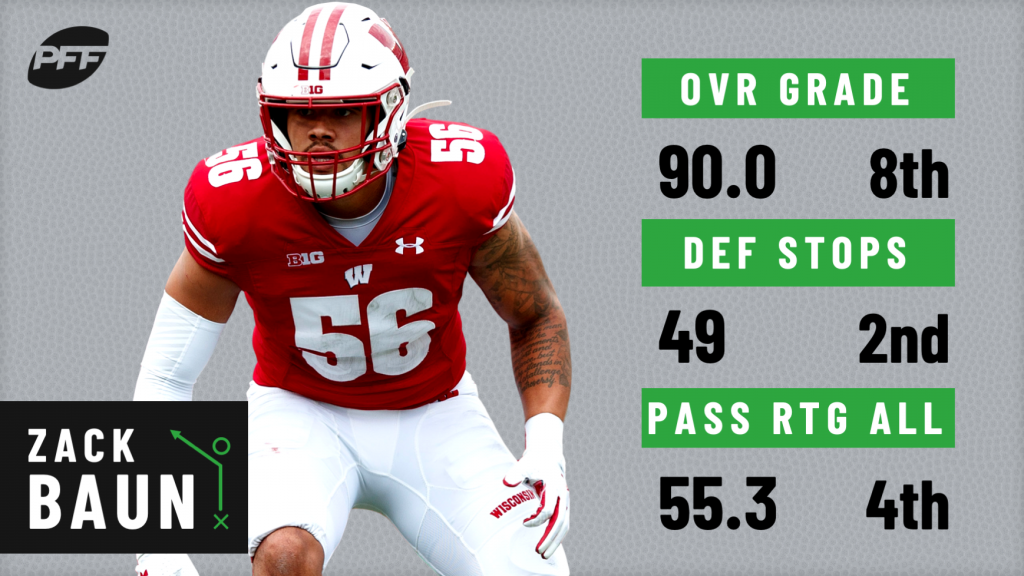 Zack Baun can rush the passer quite well, too.

@zackbizzaun | @BadgerFootball pic.twitter.com/DjM2yS5W4z

— Wisconsin On BTN (@WisconsinOnBTN) November 16, 2019
LB Logan Wilson, Wyoming
The four-year starter made the leap from good to elite play this season in all facets of the game. He earned a 92.6 run-defense grade, an 87.9 pass-rushing grade and an 85.6 coverage grade. He's a throwback at 6-foot-2, 250 pounds, but Wilson is more than athletic enough to cover in today's NFL. Wilson racked up four picks and five pass breakups this year and received a Senior Bowl invite in the process.
CB Jaylon Johnson, Utah
Johnson's 2018 was far too up-and-down for us to get on board with him as a top prospect. That's all changed in 2019. On 65 targets this year, he allowed only 29 catches for 319 yards and a passer rating of 52.0. He had a five-game stretch in Pac-12 play where he allowed only five yards on 10 targets. The junior is playing his way into the first round.
Jaylon Johnson with the pick 6 ???? pic.twitter.com/ZHrOuzMqV5

— Stadium (@Stadium) November 3, 2019
CB Caleb Farley, Virginia Tech
Farley is big, Farley is fast and Farley played some elite football as a redshirt sophomore for the Hokies this season. On 50 targets, he allowed only 19 catches for 265 yards and one touchdown, while notching four picks and nine pass breakups for a passer rating of 29.2. At 6-foot-2, 207 pounds, he's one of the most physically imposing corners in the country, as well. While no lock to declare this year, Farley shot up our board after his 59.3 coverage grade back in 2018 kept him mostly off our radar.
S Antoine Winfield Jr., Minnesota
After getting medical hardship waivers in both 2017 and 2018, Winfield broke out in a big way this season. He not only showed the physicality that his father was known for, but he also had some great angles and instincts on the back end en route to an 89.5 coverage grade. While he technically has two years of eligibility left after this season, Winfield's stock may not go any higher than it already has after his seven interceptions in 2019.
In Antoine Winfield Jr. we trust. 〽️ pic.twitter.com/KVIjOlxiwL

— Minnesota Football (@GopherFootball) September 8, 2019
S Terrell Burgess, Utah
Burgess had played all of 385 snaps of spot duty in his career before earning a starting safety job in 2019. He took the reins and never looked back this year, earning a 90.1 coverage grade and a Senior Bowl invite. He proved to be exceptional around the line of scrimmage, spending 574 of his 723 snaps in the box or covering the slot. Of his 39 targets this season, only eight resulted in first downs.