After unveiling the PFF 2020 All-American team and the PFF All-Conference teams, it's now time to name PFF's Player of the Year for each of the 10 FBS conferences. 
This selection process had nothing to do with positional value. Rather, It's solely based on who played the best at their respective position.
So, with the help of PFF grades and advanced statistics — which are now available to PFF's CFB Premium Stats+ Subscribers — we present to you the top conference players from the 2020 college football season.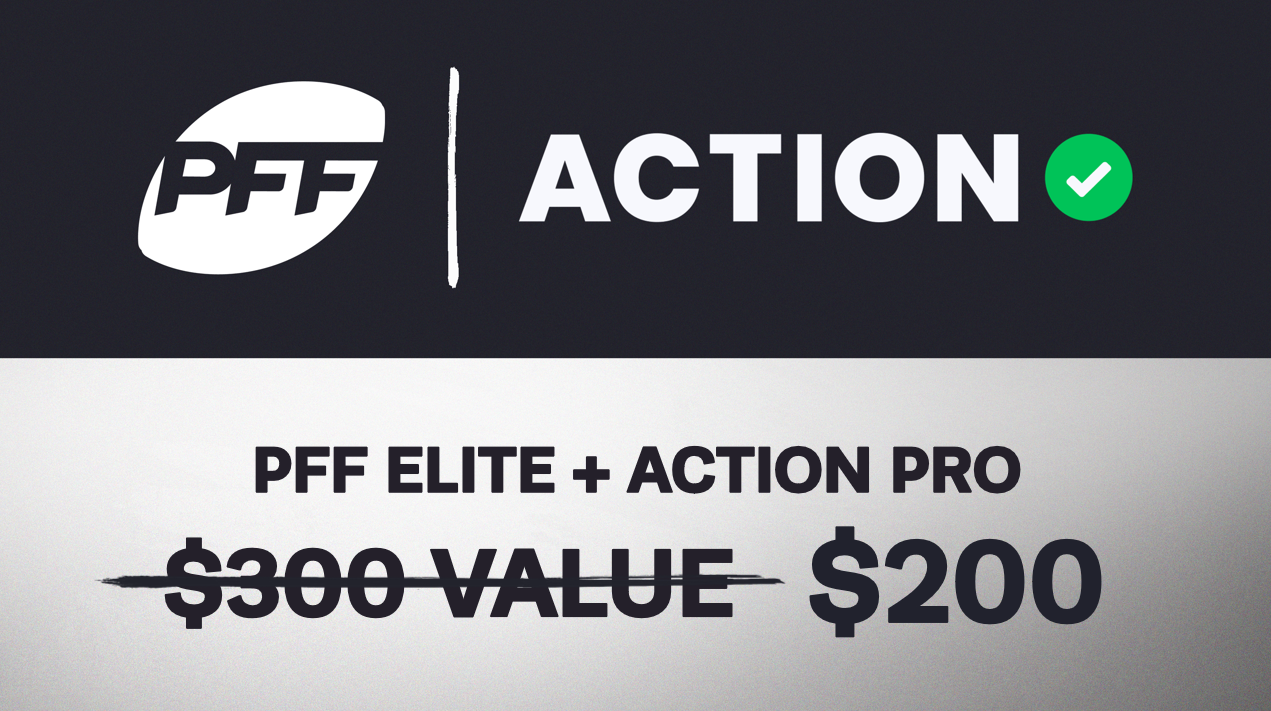 This one was seemingly locked up by Trevor Lawrence — the presumed 2021 No. 1 overall pick — in the preseason, but Javonte Williams had a record-breaking season. The Tar Heel's 95.9 rushing grade wasn't just the highest of the entire 2020 season, it was the best we have ever recorded at the position since PFF College began seven years ago.
Williams made defenses look silly week after week in 2020. He has broken 0.48 tackles per attempt this season with his top-notch balance and agility. That is also a PFF College record. Not to mention, nearly 27% of his carries this season have resulted in a 10-plus yard gain, the highest rate among running backs this season.
Fields faltered against Indiana and Northwestern, but even with those two games on his grading profile, the Buckeye has still managed to rank sixth among all FBS quarterbacks in PFF grade this season (92.3). He has been that good through the air and on the ground.
Fields established himself as one of the most accurate passers in the country a season ago, and he has maintained that in 2020. His 72% accurate pass rate on throws beyond the line of scrimmage is nearly seven percentage points better than any other FBS quarterback this season. Granted, he was being aided to a certain degree by his offense and a slew of separation-getters.
Fields did have the lowest rate of passing to a tight window in the FBS (7.9%). At the end of the day, though, he limited negatives as well as anyone in college football. His negatively graded throw rate is the third-best in the country — behind only BYU's Zach Wilson and Alabama's Mac Jones.
And let's not forget about what he can do with his legs. Fields has broken 18 tackles and generated 12 explosive runs of 10 or more yards on 49 attempts this season. He's a dual-threat in its purest form.
Rattler may not have made the first or second All-Big 12 teams, but he was by far the best quarterback and player overall in the conference.
In his first year starting for the Sooners, Rattler's 92.5 passing grade ranked fifth-best in the entire FBS. Sure, there were some issues with his reads in the pocket, and we saw that on game-sealing interceptions against Kansas State and Iowa State, but don't let a couple of throws lead you to believe he isn't a special passer.
Rattler has a beautiful release, and his blend of arm talent and accuracy is nothing short of amazing. And all of that has allowed him to make some ridiculous off-platform throws and be one of the best passers outside of the pocket in college football. Rattler recorded a 93.1 passing grade when out of the pocket this season, edging out Baker Mayfield in 2016 for the best we have recorded in the PFF College era.
I'd be remiss if I also didn't mention he has had numerous crushing drops from his receiving unit. In fact, no quarterback has had more deep passes dropped this year than Spencer Rattler (seven). 
Even with DeVonta Smith and Kyle Pitts playing at historic levels and setting records at their respective positions for best single-season PFF grade, they couldn't quite edge out Mac Jones for PFF SEC Player of the Year. That's how good the Crimson Tide quarterback has been this season.
Week in and week out, Jones is producing at an extremely high level. His two lowest-graded games of the year came in at 79.4 and 72.8. For most college quarterbacks, those are strong outings. For Jones, they're his worst of the year.
The Alabama signal-caller is on pace to shatter the record for best single-season grade by a quarterback since PFF College's inception in 2014. Heading into the College Football Playoff semifinal, Jones sits at a 95.3 PFF grade — 0.4 grading points higher than the record mark set by Joe Burrow in 2019. And let's not forget Jones has done this facing solely SEC defenses.
Jones' accuracy and ball placement have been sublime. No Power Five quarterback generated a lower uncatchable pass rate (18.9%) or passing grade (97.4) on throws over 10 yards downfield this year than Jones.
The most talented defense in the Pac-12, without question, belongs to the Washington Huskies. That group had numerous players in the running for PFF Conference Player of the Year, but Elijah Molden stands out above the rest.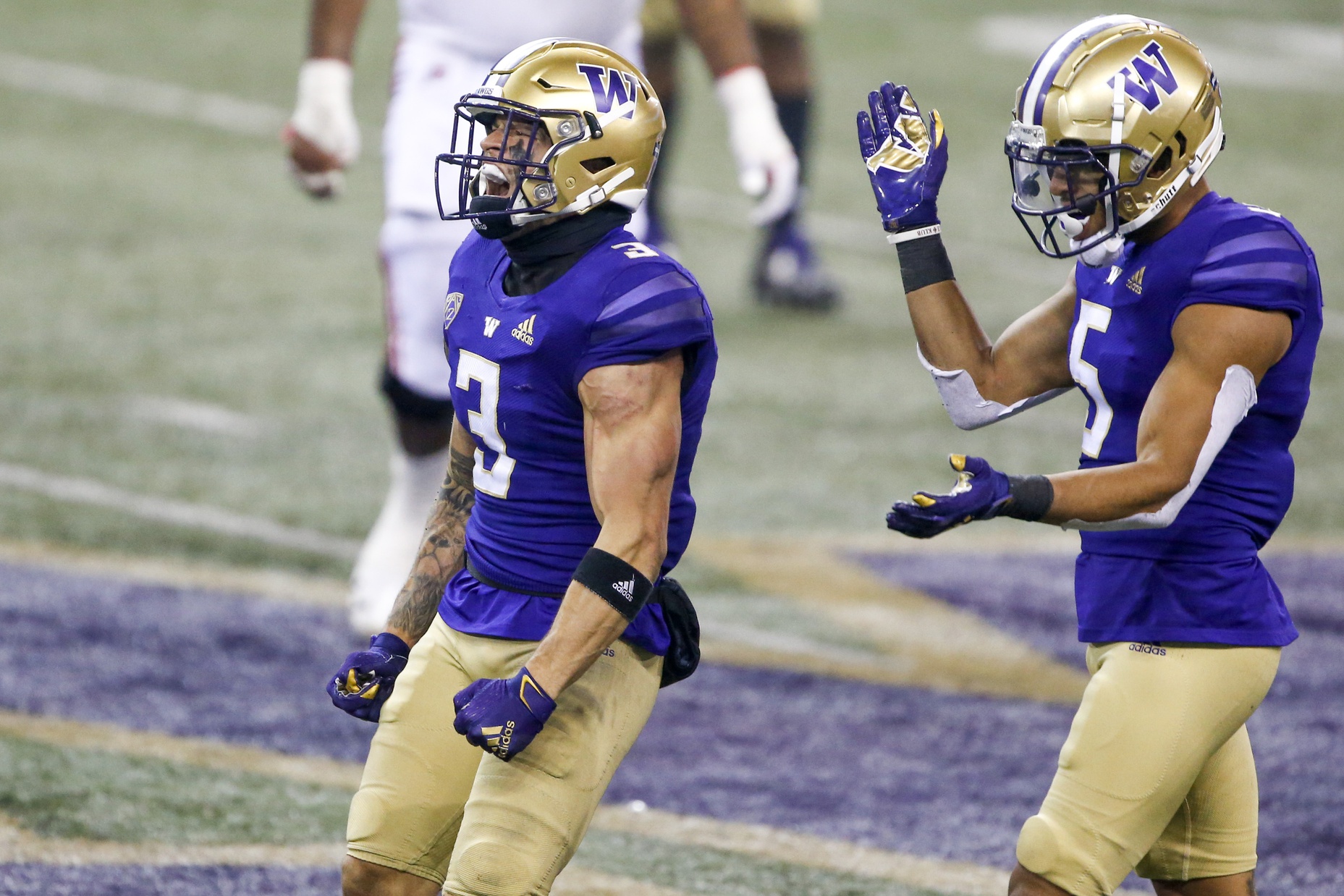 Molden was unequivocally the best slot corner of the 2019 season, displaying tremendous short-area quickness, ball skills and more physicality than you'd expect. Despite playing in only four games this year, he was one of the best defensive backs in college football.
He still managed to put together the fourth-best slot coverage grade in the Power Five in those four games while recording seven passing stops, an interception, two forced incompletions and just 65 total yards allowed in coverage. 
In addition to being one of the more physically imposing off-ball linebackers in college football at 6-foot-4, 260-pounds, Collins is also the most productive.
Whether he was blitzing or dropping into coverage, Collins was a big-time weapon for Tulsa's pass defense. He notched 16 pressures on 51 pass-rush snaps en route to a 90.6 grade in that facet.
And when dropping into coverage this season, Collins performed at a historic level. The highest coverage grade we have seen at the position prior to the 2020 season came courtesy of former UCLA Bruin and current Minnesota Viking Eric Kendricks back in 2014 (92.1). Collins has shattered that mark with a 93.7 coverage grade, featuring four interceptions, this season.
This was the most hotly contested spot of any of the conferences. Ultimately, Darden narrowly took home the award over UAB edge defender Jordan Smith.
Darden finished the season as the fourth-highest-graded wide receiver in all of college football. The 5-foot-9, 174-pound wide receiver has been among the most elusive in the game, breaking an FBS-high 23 tackles en route to averaging 7.7 yards after the catch.
Darden was clearly a threat on screens, but he was even more so on vertical routes with his deep speed. His receiving grade on such routes is the fourth-best in the FBS, and his 11 receiving touchdowns are two more than anyone else.
All five of Patterson's linemen blocking ahead of him may have grabbed a PFF All-MAC first-team spot for a clean sweep, but that doesn't mean his production is solely because of them.
Among all FBS running backs with at least 75 carries, Patterson ranked eighth in broken tackles per attempt (0.32) and sixth in yards after contact per attempt (4.7). That balance paired with his speed makes him the ideal college scatback. Patterson racked up seven rushing touchdowns in which he had over 10 yards after contact, which led the entire FBS. And keep in mind, he did that in just six games.
Jean-Charles is arguably the most underappreciated player in all of college football. He plays the catch point as well as anyone in the game with pinpoint timing and location. That elite trait helped Jean-Charles record an identical forced incompletion rate and catch rate (33.3%) this season.
That is unheard of. 
The Mountaineer allowed 16.5 yards per game this season and was rarely beat in single coverage. Jean-Charles actually saw 33 targets in single coverage this year, allowing just four catches for 49 yards while forcing 18 incompletions.
Jean-Charles may not be a Power Five corner, but there is no doubt he is just as good as the cream of the crop from the bluebloods.
Snyder is the biggest dark horse winner on this list. While he was known as one of the top tackles in the conference entering the year, he wasn't quite at an elite level to think he could ever win PFF Mountain West Player of the Year. But here we are.
The fifth-year senior came into the campaign with three years of starting experience under his belt and showed nice growth each year by boosting his PFF grade from 64.7 to 71.2 to 77.0.
This season, the improvement he made wasn't nearly as subtle.
Snyder's PFF grade in 2020 skyrocketed to 91.2, trailing only BYU's Brady Christensen and Virginia Tech's Christian Darrisaw for the best among all FBS left tackles. He routinely created wide-open gaps for the ground game and netted the third-highest positively graded run-block rate among FBS tackles.
The backbone of Snyder's success came when protecting the passer, though. He ranked second among all FBS tackles in pass-blocking grade and allowed just two pressures — neither of which were a sack or hit — on 282 such snaps snaps over seven games.