With only the College Football Playoff National Championship between the Alabama Crimson Tide and Ohio State Buckeyes left to play before the 2020-21 college football season officially comes to a close, it is finally time to unveil PFF's choices for all the major college football awards.
All of our senior college analysts came together to decide on each winner based on a number of factors, including PFF grade and other advanced statistics that are available to PFF's CFB Premium Stats+ Subscribers.
So, without further ado, here are PFF's picks for all of the major awards for the 2020 college football season.
HEISMAN TROPHY, FRED BILETNIKOFF AWARD, MAXWELL AWARD, WALTER CAMP AWARD: DeVonta Smith, Alabama
The Heisman Trophy, arguably the most prestigious award in sports, goes to the most outstanding player in all of college football, regardless of position.
By now, we all know that the quarterback position is the most valuable position on the field, and Mac Jones has generated more value than anyone — as the best quarterback in college football always does — but Smith has simply been the best performer in the country this season. The Bama wideout has shattered records that were seemingly untouchable in a normal season, let alone a campaign that was severely impacted by COVID-19.
Smith has earned a 94.7 receiving grade for the season, with only next Monday's national championship game left to play. That grade tops the previous PFF College-era FBS record set by Andy Isabella in 2018 (93.8) and also takes down the Power 5 record set by Amari Cooper in 2014 (93.3).
The 6-foot-1, 175-pound receiver has garnered more targets than anyone in college football this season, with 130, and he still generated an incredible 151.9 passer rating when targeted. No FBS wide receiver in the PFF College era has produced a higher passer rating while seeing more than 100 targets.
Smith has it all, from his release package to his ball skills to his route-running to his after-the-catch ability, and he has been virtually impossible to cover this season.
LSU's Ja'Marr Chase broke just about every record in the book last year when isolating wide receiver performance against single coverage, yet Smith is demolishing those records. The Crimson Tide star has generated an explosive reception of 15-plus yards on 46% of his targets against single coverage, the best rate we have recorded since we began tracking single coverage data three years ago.
While his teammate and top target edged him out for the PFF Heisman, no one is topping Jones when it comes to PFF's national quarterback of the year award.
It seemed highly unlikely that we would see another SEC quarterback break the record for the highest single-season PFF grade, a record set by Joe Burrow in his historically good 2019 season. But with just one game left to play, Jones is about to do just that.
The Alabama quarterback leads college football in PFF grade at 95.5, and he has shown off extraordinary accuracy and decision-making. One of the most important and stable statistical measures of quarterback play is negatively graded throw rate, and there simply hasn't been a better quarterback in that metric this season. Not only does he lead all quarterbacks in negatively graded play rate this year, but he also leads every single QB of the PFF College era.
Jones has orchestrated what is arguably the best passing attack in college football history.
Williams not even being named as a finalist for the Doak Walker Award is truly head-scratching — he just had one of the most productive years we have ever seen at the position and came away with the highest rushing grade of the PFF College era (95.9).
Williams averaged 0.48 broken tackles per rushing attempt in 2020, which is also a PFF College record, and he did so while leading all backs in the percentage of runs that picked up a gain of 10 or more yards (26.8%).
The balance Williams possesses is truly special. Despite ranking 19th in the FBS in carries, Williams racked up four more runs that included 10 or more yards after contact than anyone in the country (23).
That, right there, is why he is our clear-cut winner of this award.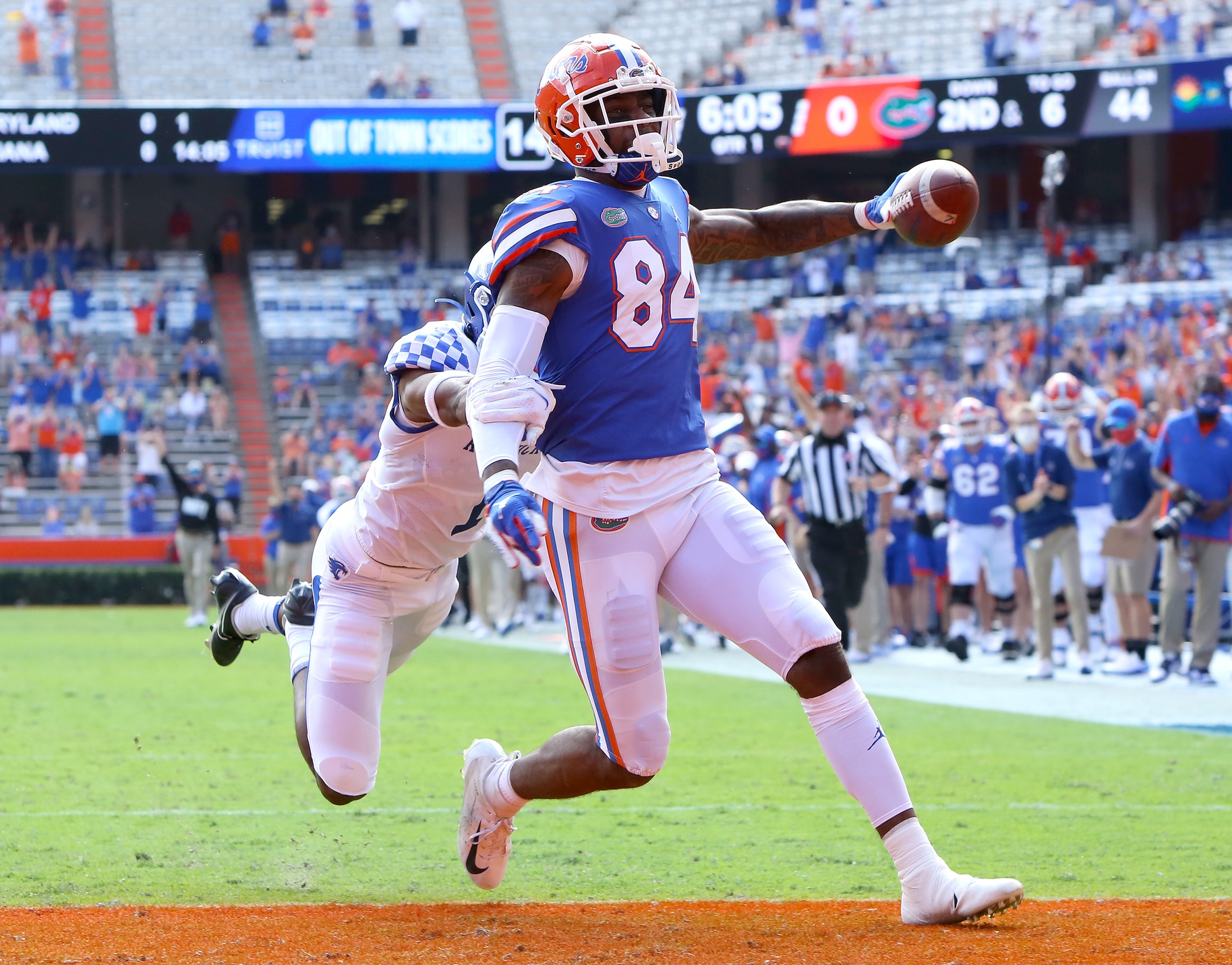 Just as Smith did at wide receiver and Jones did at quarterback and Williams did at running back, Pitts produced a record-breaking year at tight end this season.
The versatile receiving weapon generated a 96.2 PFF grade this year, more than five grading points higher than any other tight end and well above the previous record set by former FAU Owl and now-Cleveland Brown Harrison Bryant in 2019 (92.5).
Pitts' production was off the charts in 2020, regardless of where he was on the field, and he averaged a colossal, position-leading 3.26 yards per route run.
The Florida Gator played just shy of 64% of his offensive snaps inline, but he dominated unlike any other tight end we had ever seen when he lined up out wide in single coverage. Pitts went toe-to-toe with press coverage when lined up out wide for 40 receiving snaps this season and came away with seven explosive receptions of 15-plus yards on those opportunities. We have never seen a tight end record more than two of those in a single year before Pitts this season.
Darrisaw didn't quite break Penei Sewell's record for the highest single-season PFF grade by a Power 5 tackle (95.8), but he certainly challenged it, and he did so despite going against far stiffer competition. Darrisaw led all Power 5 tackles in both pass- and run-blocking grade this year, culminating in a 95.6 PFF overall grade for the season.
The Virginia Tech left tackle logged 293 pass-block snaps across 10 starts in 2020, yet he allowed just six pressures, all of which were hurries. He also notched the highest positively graded run-block rate in the Power 5 for his efforts as a people-mover in the Hokies' zone-rushing attack.
Darrisaw declared for the 2021 NFL Draft after his dominant 2020 season, and according to our very own Mike Renner, this year has him poised to be taken in the top 20.
Two years ago, Linderbaum had just finished up his first season at Iowa as a defensive tackle. Now, he has just wrapped up a season in which he led all FBS centers in PFF grade, at 91.5.
Yes, you read that correctly.
Linderbaum made the switch to center last season and earned an impressive 81.7 PFF grade to rank third in the Power 5, but he took his play from great to elite this year.
He now has the best single-season grade we have given to a Power 5 center since former Arkansas Razorback and current Detroit Lion Frank Ragnow back in 2016.
Fortunately for the Hawkeyes, they get another year of Linderbaum anchoring their offensive line, as he decided to remain in school for the 2021 season as opposed to declaring for the NFL Draft. He is our clear-cut winner of the Rimington in 2020 and is the overwhelming favorite to do it again next year.
DICK BUTKUS AWARD, CHUCK BEDNARIK AWARD, BRONO NAGURSKI AWARD: Zaven Collins, Tulsa
Collins did unprecedented things at the linebacker position this past fall and winter for the Tulsa Hurricane. His 93.7 grade in coverage is now well above the previous PFF record set by former UCLA Bruin and current Minnesota Viking Eric Kendricks all the way back in 2014 (92.1).
The 6-foot-4, 240-pound off-ball linebacker tallied up four interceptions, three forced incompletions and nine passing stops when dropping into coverage, and he was also one of the top blitz weapons in the entire country. All told, Collins picked up 16 pressures on 51 rushes and was the only player at his position to record a 90.0-plus grade in coverage and as a blitzer.
Bonitto's role is a bit different from all the other contenders for this award, as he serves in a hybrid role as the Sooners' rush end. Still, he rushed the passer far more often than not and was by far the nation's most productive edge defender in the pass rush this season.
Bonitto ranked first in pass-rush grade (93.5), pass-rush win rate (28.5%) and pressure rate generated (25.7%) among 257 qualifying FBS edge rushers this season — and there really wasn't anyone close to him in any of those three metrics.
Bonitto's explosiveness and athleticism caused headaches for every offensive tackle he faced, and there truly wasn't a single lineman who was able to shut him down. His lowest win rate in a single game this year sat at 17.6% — for most FBS edge rushers, that's a pretty good day.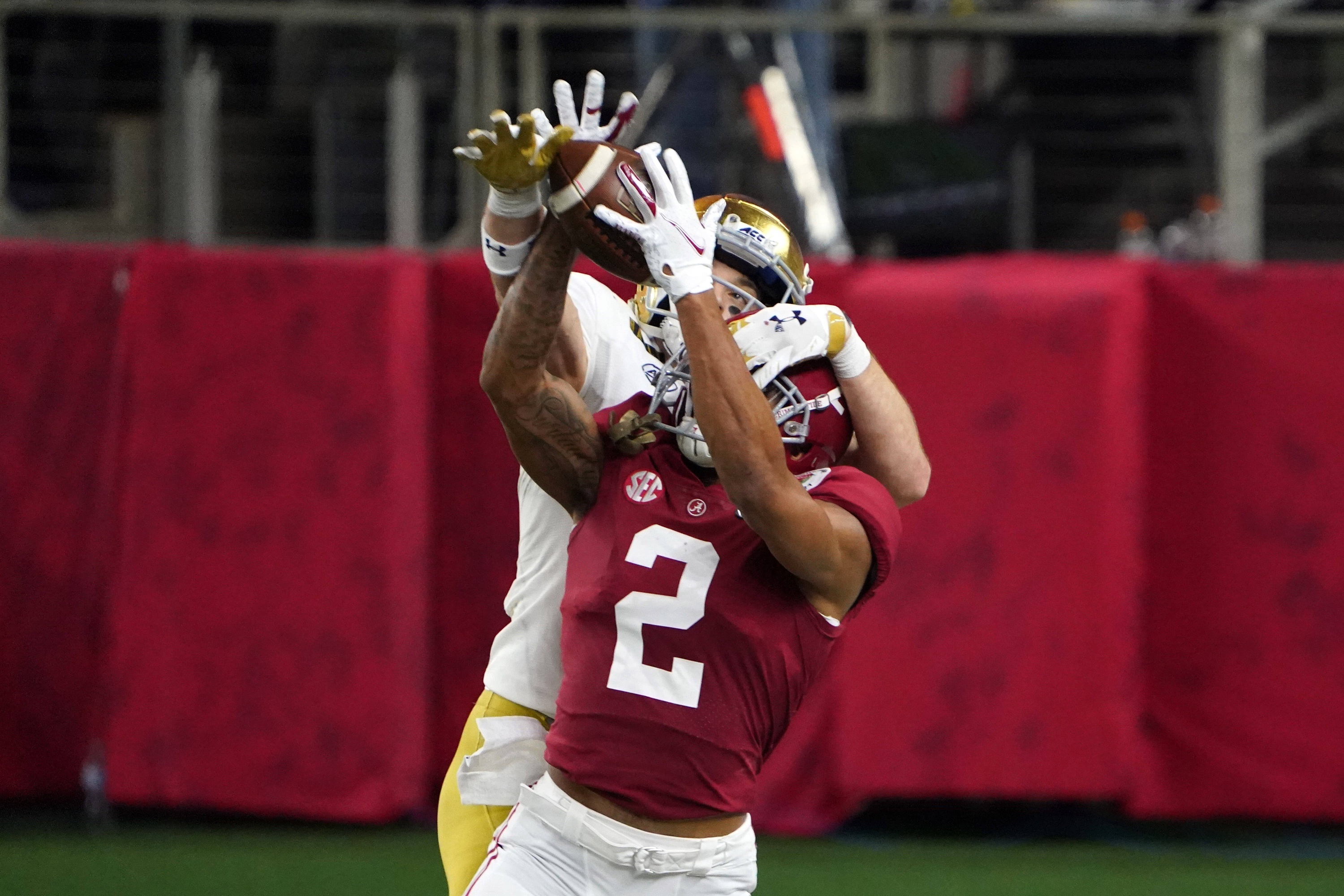 No FBS cornerback played more press coverage this season than Surtain, who lined up in press coverage for 340 snaps, 60 more than anyone else. Despite being put on an island more than anyone in the country in the toughest conference in college football, Surtain allowed less than 15 yards in coverage in exactly half of his games played, and he never allowed any more than 60 in one outing.
The Crimson Tide cornerback is going to have his hands full next week against Chris Olave and Garrett Wilson, two of the most refined route-runners in the country, but given that Surtain has forced more incompletions (13) than the number of catches he's allowed while in single coverage this year (12), there's a good chance we see those two kept quiet against the Crimson Tide corner.
Yes, the Oklahoma game was an ugly one for both Kyle Trask and the Florida passing offense as a whole, but let's not ignore the work Dan Mullen did when he had his slew of receiving weapons at his disposal. He took this Florida passing offense from good in 2018 and 2019 to one of the best in the country in 2020:
Florida Gators Passing offense under Mullen (ranks among FBS programs)
| | | |
| --- | --- | --- |
| Season | EPA per pass play | Passing grade |
| 2020 | 0.29 (11th) | 92.0 (t-4th) |
| 2019 | 0.17 (23rd) | 70.4 (t-58th) |
| 2018 | 0.06 (38th) | 72.7 (55th) |
No SEC offense turned more throws of nine yards or less downfield into an explosive gain of 15-plus yards this season than Florida, who racked up 34 such plays, 12 more than anyone else in the conference.
Mullen and Co. consistently schemed up open throws, gave his receivers room to run after the catch and took away some of the more difficult reads over the middle of the field for Kyle Trask (the same reads he struggled with in 2019).
The Florida QB emerged halfway through the 2020 season with five straight games of passing grades above 85.0 (Weeks 10-14) and showed off his accuracy constantly while hitting all those wheel routes, seams and fades that his head coach dialed up. Mullen helped turn Trask from one of the worst big-time throw to turnover-worthy play ratios in 2019 (9:22) to one of the best in 2020 (41:14).
With Sarkisian pulling the strings of the offense, the 2020-21 Crimson Tide has broken the PFF College record for best single-season successful pass play rate that was previously held by Joe Burrow and the LSU Tigers. In conjunction with Mac Jones and DeVonta Smith, he helped construct arguably the best passing offense in college football history.
Bama fried Notre Dame with run-pass options this past Friday night, which is exactly what we saw from the Tide throughout the campaign. Sark got himself a head-coaching gig with the Texas Longhorns for his performance this season, and deservedly so.