The 2021 NFL Draft is still two months away, but that hasn't stopped rookies from being drafted aggressively across offseason fantasy football formats. Whether it be best ball or dynasty start-up leagues, fantasy gamers have set the market on these incoming prospects without knowing which team will draft them and how early. 
Subscribe to
With a solid chunk of ADP data available, it's time to dive into the rookie market to see who the consensus is higher and lower on. Keep in mind that these players' values will fluctuate considerably after the NFL Draft. Last season, Clyde Edwards-Helaire went from the consensus RB5 predraft to the RB1 in dynasty rookie drafts after the Chiefs selected him in the first round.
I've compared my latest best ball rankings to the most recent ADP listed on BestBall10s. This is a good starting point for identifying which rankings/ADPs differ the most. 
Overvalued 2021 Rookies
The vast majority of players who look overvalued in current BestBall10s are running backs who project to be drafted between the fifth and sixth rounds of the NFL Draft, per PFF's 2021 NFL Draft Guide. 
The hit rate on rookie running backs on Day 3 — especially after the fourth-round — is extremely low. In the past three seasons, 23 running backs have been selected in Rounds 5-7. None have been relevant in fantasy.
Over the past three years, the only two rookie running backs who significantly contributed to fantasy rosters were Philip Lindsay and James Robinson — and they both went undrafted. 
There's definitely a slightly higher hit rate in the fourth round than Rounds 5-7, as players like Chase Edmonds, Nyheim Hines, Tony Pollard, Joshua Kelley and DeeJay Dallas enjoyed fantasy-relevant weeks as rookies. 
Either way, it doesn't make sense to draft a player like Kylin Hill inside the top 200 when he has some serious red flags on his profile. He only played three games this past season, so we never got to see him improve upon his 26% dominator rating from 2019. That's hardly a jaw-dropping "best season," and there wasn't much competition for touches at Mississippi State.
Hill's peripheral metrics from 2019 don't look all that impressive, either. His rushing grade (85.1) ranked outside the top 25 and his yards after contact per attempt (3.05) ranked 28th out of 37 qualifying running backs with at least 200 carries. 
Plus, he ranked last on my dominator list in yards per snap (2.62) in 2019. When widening the parameters to include Hill's entire college career, his yards per snap (2.50) ranks second to last.
Hill would be fine to draft as a late-round flier if his ADP was closer to the end of the draft, but right now his price makes him vastly overrated.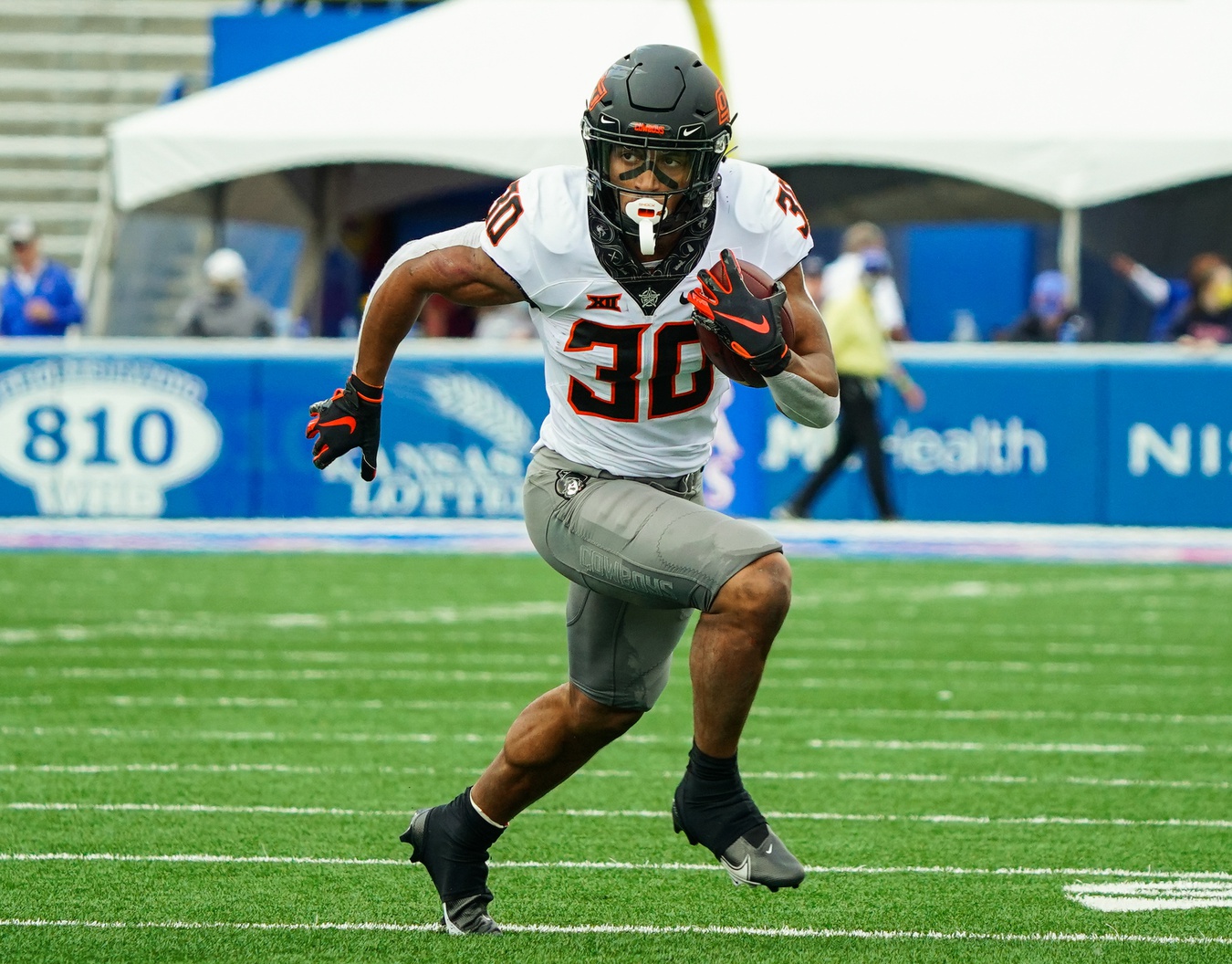 The same can be said for Oklahoma State's Chuba Hubbard, who is emerging as the No. 5 running back in ADP behind the big four of Najee Harris, Javonte Williams, Travis Etienne and Kenneth Gainwell.
I'm not entirely sure the hype and cost are warranted for the former 2,000-yard rusher. His current price tag is assuming he'll be the same running back from 2019 — it's not factoring in the fact that he'll probably be a Day-3 selection. 
As my No. 8-ranked rookie running back, I understand Hubbard's upside, but fantasy owners shouldn't assume he's just going to walk onto an NFL field, dominate and become an immediate contributor (at a less-than-ideal size).
Selecting Hubbard at his current ADP means missing out on the type of player we know has insane upside potential if given the opportunity — such as Tony Pollard. Fellow rookie Kyle Pitts is also available in this range and would be a surefire selection for me over Hubbard.
In Hubbard's defense, I will say that his ADP (20th overall) in rookie drafts matches my rankings exactly. That's around the spot I'd be open to getting exposure. 
I'm not looking to fade Travis Etienne by any means — he's my third-ranked rookie and 57th-ranked player overall — but he's overvalued at an ADP of 42. 
Etienne is being pushed up to the fourth round because of the fragility of the running back position, but this is the range where drafting wide receivers is the optimal strategy. Chris Godwin, Julio Jones, Diontae Johnson, CeeDee Lamb, Tee Higgins, Brandon Aiyuk and D.J. Moore are all begging to be selected in this area.
If you want to leave your redraft league with rookie upside, just take Javonte Williams two or three rounds later. 
Undervalued 2021 Rookies 
Khalil Herbert crept his way inside my top five when I was researching my top-15 rookie running backs. He's a monster at creating yards after contact, currently projected to be drafted in the fourth round. There's even a chance he could sneak into Day 2 after an impressive showing at the Senior Bowl. 
Herbert is currently ranked 94th overall on PFF's Big Board. We shouldn't be surprised if he's drafted early enough in April to significantly raise his ADP from around 250. He's a great value in dynasty rookie drafts, currently being selected outside the top 40. 
North Dakota State's Trey Lance is also going entirely too late as QB32 behind the likes of Drew Lock, Sam Darnold and Zach Wilson. I understand that we don't know his landing spot or when he'll be selected relative to the other quarterbacks. But we know that he is ultimately going to be a first-round pick, and that means he's likely to see the field in some capacity as a rookie.
Lance is the deadliest runner among the incoming rookie quarterbacks, so he'll be fantasy relevant as soon as he steps onto an NFL field. He's being slept on as QB28 (180th overall) in the Underdog best ball format and at 27th overall in rookie drafts. 
Moving over to the wide receivers, I think this class as a whole is being undervalued. My top 10 rookie wide receivers all appear above in some capacity, with the likes of Tylan Wallace, Elijah Moore, Jaylen Waddle and Rondale Moore each looking supremely undervalued in fantasy drafts. 
All of them but Wallace — who is projected to be a third-round pick (71st overall on the Big Board) — are being drafted in the first two rounds. These receivers are going to see their values spike as the fantasy community realizes how soon "X" receivers can thrive as rookies.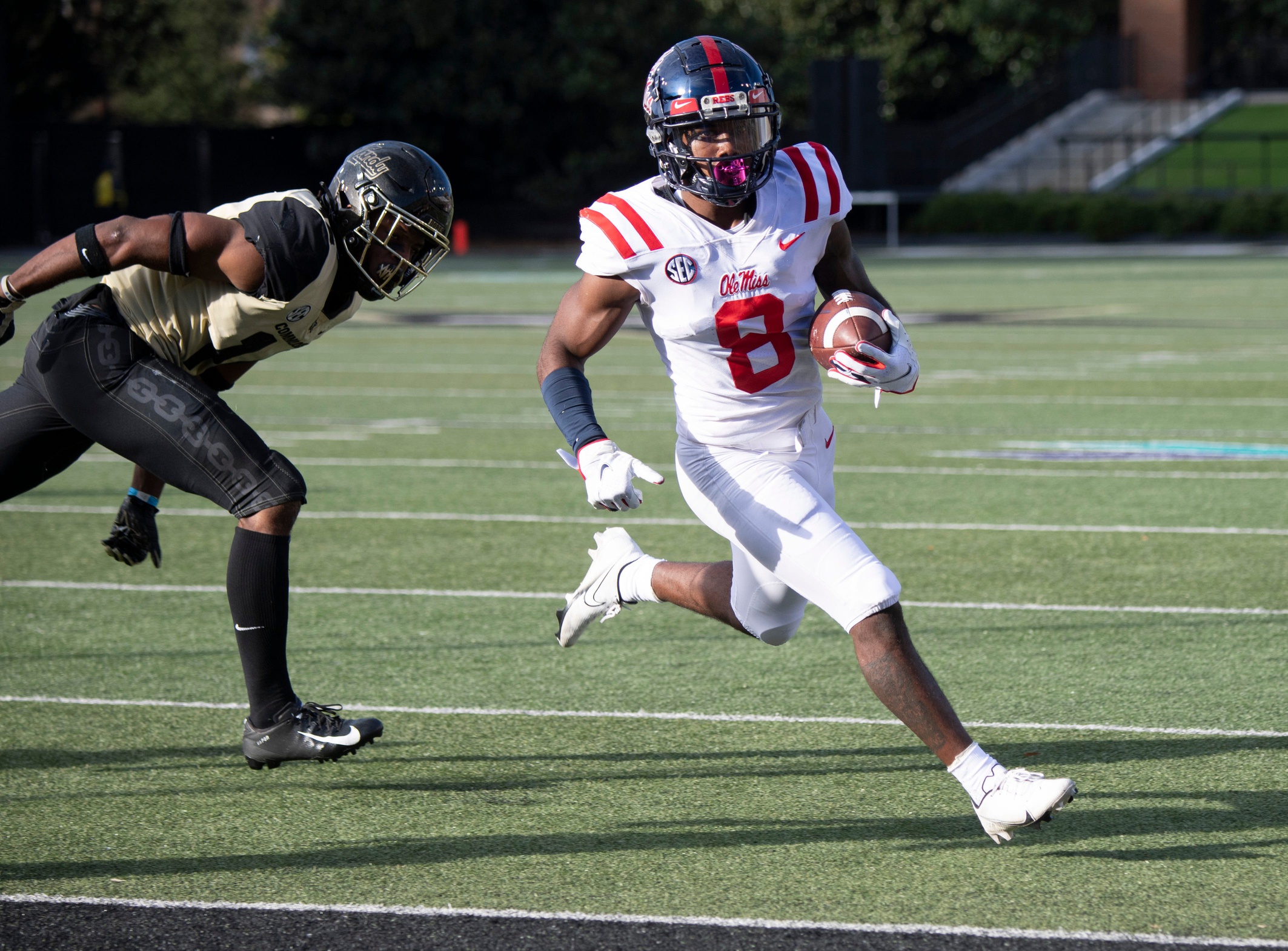 Elijah Moore isn't being drafted at all in Underdog leagues despite being a consensus top-50 overall player and a top-20 player in high-profile NFL mock drafts.
Rondale Moore and Waddle are a bit pricier, going 100 slots earlier, but consider the players they're being drafted around: Darius Slayton, Gabriel Davis, Henry Ruggs III, John Brown, Jakobi Meyers and *holds breath* A.J. Green. Fantasy football doesn't have to be hard. 
Waddle's ADP difference from Underdog (101st overall) to BestBall10s (149th overall) demonstrates how much value is available with rookie WRs on various platforms. Still, Waddle's ADP isn't the most egregious discrepancy I've found scoping out the best ball streets: Louisville's Tutu Atwell doesn't even have an ADP on BestBall10s even though he's generating the draft buzz of a late-first rounder or earlier second-round pick. 
PFF's Big Board has Atwell ranked No. 113 overall, and he currently rests at No. 10 in my rookie wide receiver rankings. We're clearly tempering expectations for the speedy 5-foot-9 receiver. But the NFL talking heads have Atwell mocked extremely high, so take the value and run if that's how things play out.
Even if Atwell doesn't pay off in the real NFL as a top-36 pick, his explosiveness after the catch and ability to make big plays downfield are the perfect combination for the best ball format. Always chase players with the potential for "boom" weeks. 
I was originally in line with the consensus ranking and draft position of rookie "tight end" Kyle Pitts. But if NFL teams are considering him more of a wideout, fantasy gamers need to adjust the rankings accordingly.  
Rookie tight ends struggle early in their careers because they're tasked with learning the nuances of both blocking and receiving at the NFL level. But Pitts might be able to escape those growing pains if teams mostly use him as a wide receiver.
So even though I labeled Pitts overvalued — and vocalized my take on the Dynasty Warzone Podcast — I'm going to temper that stance and rank Pitts inside my top 100 for best ball leagues to make sure he ends up on a few of my rosters. 
He looks to be undervalued relative to the wide receivers in his class. And if he weren't formally labeled a TE, it might be hard to tell the difference — Pitts earned PFF's highest receiving grade (96.1) in the PFF era.