While PFF often says running backs don't matter, it's a little bit different in college, truth be told — running backs actually do matter some. Since 2014, three of the four most-valuable seasons PFF College has recorded from a non-quarterback in regard to PFF's Wins Above Average (WAA) have been occupied by running backs (cornerback Derek Stingley Jr. claimed the number one spot after his 2019 season). At the NFL level since 2006, the highest WAA (not WAR) a running back has produced ranks 1,312th among non-quarterbacks, and the next-best running back after that sits at 1,857th.
[Editor's note: Subscribe to PFF ELITE today to gain access to PFF's Premium Stats and new Player Grades experience in addition to the 2020 NFL Draft Guide, 2020 Fantasy Rookie Scouting Report, PFF Greenline, all of PFF's premium article content and more.]
As you can see in the density plot below — which shows the distribution of every single running back's WAA that we have data on at both the collegiate and professional level — running backs do, in fact, matter some in college: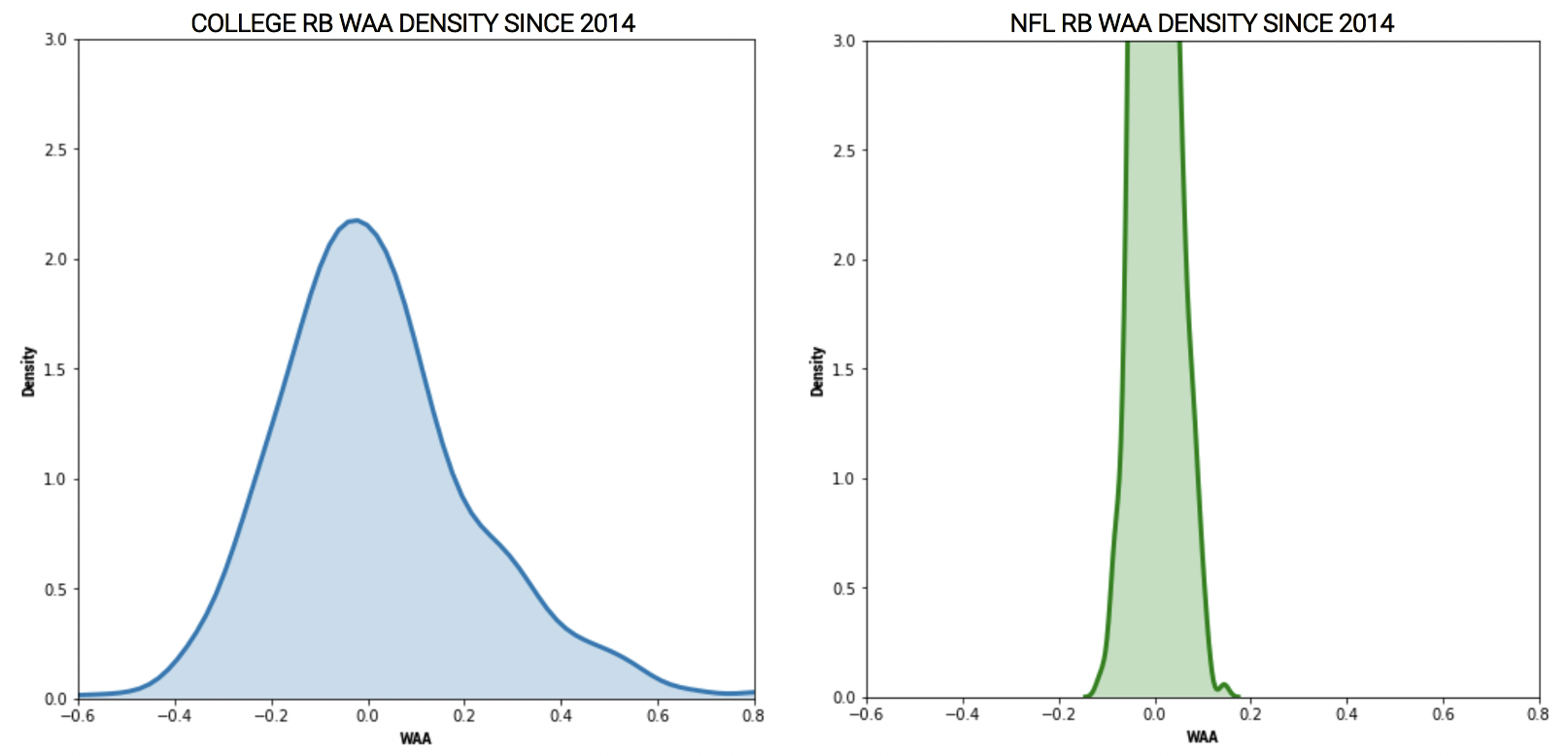 The reason why running backs matter some in college and not in the NFL, in short, is twofold: The talent disparity is obviously significant, and running just matters more in college football than it does in the NFL — 43% of FBS programs generated positive EPA per rush in 2019 whereas only 12.5% of NFL teams did. That said, quarterbacks still matter a lot more, and passing is the driver to success — but running backs do matter some in college.
With that out of the way, let's dive into college football's best running back who has every opportunity to become one of the best players we have ever come across: Clemson's Travis Etienne.
For perspective on how good Etienne already is, he would have been our clear-cut RB1 in the 2020 NFL Draft had he declared as many assumed he would (which means he's our RB1 for 2021). Etienne actually rang in at No. 1 in our list of draft prospects who opted to return to college football instead of declaring.
Etienne wasn't deemed the best running back recruit in his class (just RB15), but he was a four-star prospect and received offers from powerhouses Alabama and LSU before committing to Clemson. In his true freshman 2017 season, Etienne was a part of a committee and saw only 107 carries, but he made known his rare talents. Among FBS running backs to see at least 100 carries that year, Etienne posted top-10 marks in missed tackles forced per attempt (0.28, tied for eighth), yards per carry (7.1, seventh) and yards after contact per attempt (4.8, tied for third).
After that, it was a pretty easy decision to make Etienne the consensus starter, and what he'd go on to do in that role is nothing short of spectacular. Etienne posted a 92.4 PFF rushing grade in each of the past two years — a mark that led all FBS backs in both seasons and ranked among the three best grades ever at the position. Etienne has actually been the most-valuable non-quarterback in college football since 2018 by a pretty good margin. And since PFF College began back in 2014, Etienne is tied for the third-most valuable running back and is nearing first (Christian McCaffrey) with another year to go.
Etienne is perhaps the biggest home-run threat in college football with his speed, explosiveness and ability to shed tackles. We've seen Etienne create numerous big plays since he was named the starter — back in 2018, he recorded 23 runs that resulted in a 20-plus yard gains, which is still the fifth-most in a single season since 2014, and no running back recorded a higher rate of runs resulting in a 10-plus yard gain this past year than Etienne at 22.7%. He's always looking for the big play, and when he finds it, he'll seize the opportunity. That running style won't be as effective in the NFL, but he can get away with it in college largely because the talent disparity is massive. Defenses can't contain his speed or overall athleticism, nor can they handle his ability to withstand contact.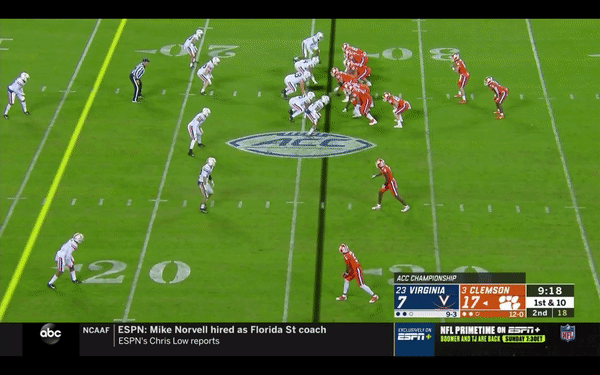 As great as his 2018 campaign was — where he owned the 17th-most valuable year we have recorded at the running back position — Etienne's 2019 season should be considered historic. He averaged 7.8 yards per carry, 5.7 yards after contact per attempt and broke 91 tackles on 2017 carries — all of which ranked first in college football. His broken tackle per attempt rate of 0.44 was the best in a single season by a running back since 2014, slightly above Georgia Tech's Jordan Mason from this past year.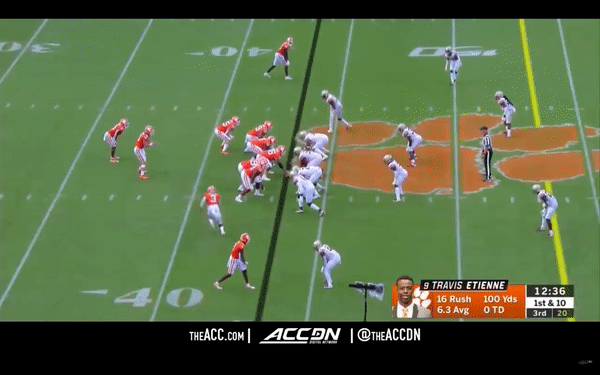 Etienne improved his win share total from 0.55 in 2018 (the 17th-best mark since 2014) to 0.81 in 2019, which ranked seventh-best since 2014. And a big reason why Etienne's 2019 was significantly better can be attributed to his improvement as a receiver. It's essentially a requirement for a running back to possess reliable receiving ability in today's game, and Etienne was far from reliable in this facet before 2019. The season prior, Etienne saw only 17 targets and dropped four of them en route to a 45.6 receiving grade.
Yesterday Clemson QB Trevor Lawrence was asked about using RB Travis Etienne in the passing game this year. He said that Etienne came up to him all throughout fall camp asking to run routes and catch passes after practice. Could be an exciting new element to #9s game. pic.twitter.com/l4eljrBR2d

— Eric Mac Lain (@EricMacLain) August 27, 2019
Etienne set out to improve in that area in the summer before the 2019 season, and his development was far more substantial than most anticipated. Etienne saw 40 targets this past year and dropped fewer balls than in 2018 despite having more than twice the targets (three total drops). Similar to his ability as a runner, we saw game-wrecking ability and elusiveness in his play as a receiver — he broke 12 tackles on 37 catches and owned the third-most catches that resulted in a 15-plus yard gain (11). Etienne's rushing production in itself is rare to see. Throw in the fact he has become one of college football's most dangerous receiving backs, and you have one of the best all-around players in college football.
Etienne was elite in 2018 and historic in 2019. If he matches that type of production in 2020, he'll easily be one of the best players PFF College has ever seen and perhaps in the entire history of the college game.