It's only February, but NFL draft season is already in full swing.
As you'd expect, PFF.com is going to be stuffed to the gills with content on all of your favorite draft prospects, as our own draft guru Mike Renner has been grinding tape throughout the college football season. His work has already produced the second version of PFF's Draft Guide, which is available to grab with any PFF Edge or Elite subscription.
Compared to Mike, I'm coming late to the party when it comes to draft evaluation. Still, I come armed with PFF's database to help me watch the tape, and I thought we could go through that journey together in this article.
The first player we're going to fire up is the Heisman Trophy winner, Alabama WR DeVonta Smith.
To get a quick feel for his game, I'm going to look at every target thrown his way this season — all 155 of them. That's obviously not a complete picture of his game and will tend toward plays where he was actually open, but it will give a good picture of his route-running ceiling and his skills when the ball does get sent his way, as well as give us a look at how he wins.
Timeline
Here are my thoughts in chronological order as I sifted through Smith's tape. Each takeaway is labeled with +/- (or double plus or minus for significantly good or bad things) and a ~ for neutral.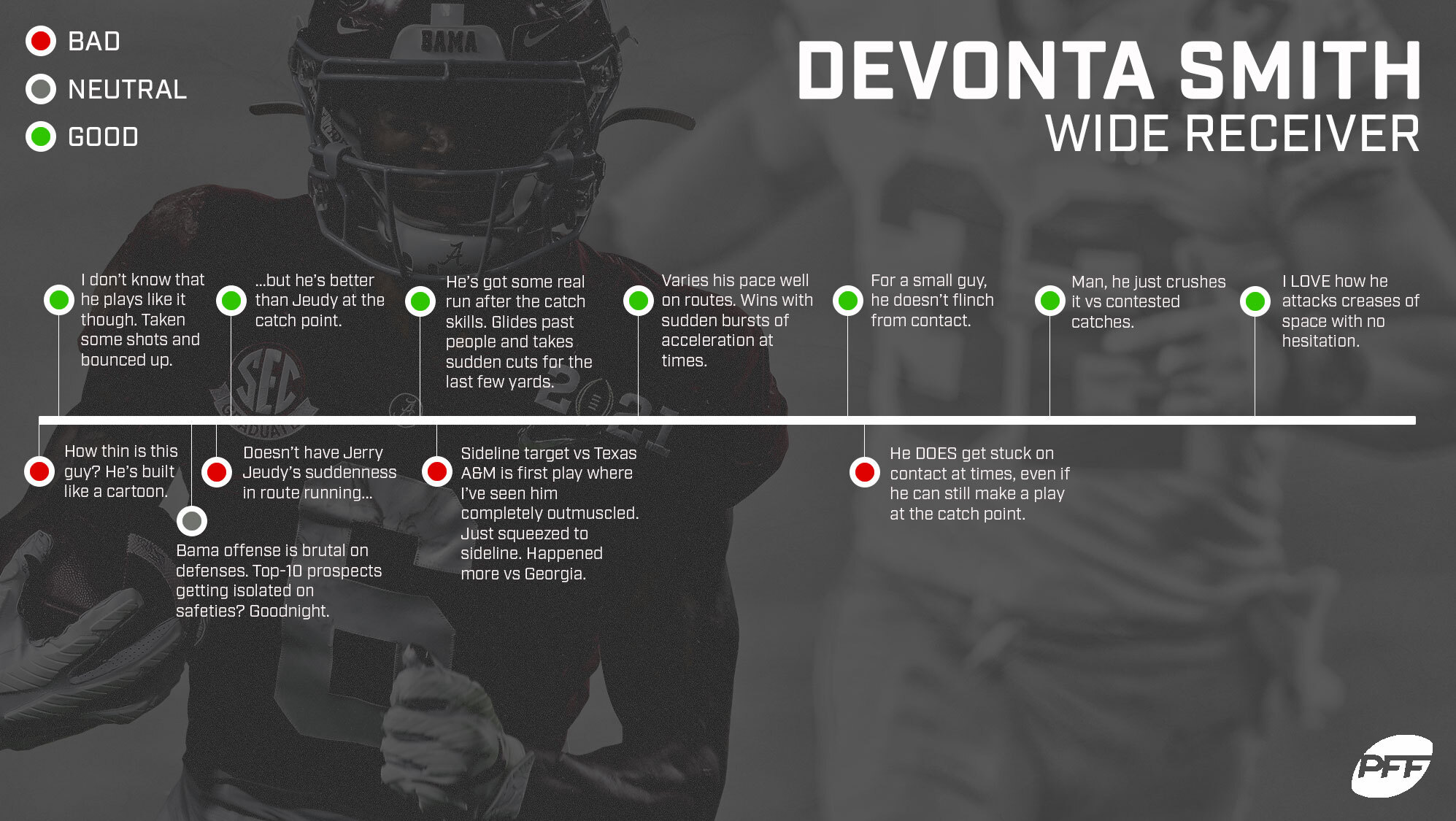 – How thin is this guy? He's built like a cartoon. No, seriously, look at this caricature of Randy Moss hanging on my wall … same energy
I've been trying to work out who Devonta Smith reminds me of given his crazy proportions.

I finally figured it out. Randy Moss… But the CARICATURE version that @piericksmithart painted!!

The guy is literally built like a cartoon pic.twitter.com/x0nzO24gQo

— Sam Monson (@PFF_Sam) February 13, 2021
This is going to be the referendum on DeVonta Smith. Can you get past the idea that he looks like a cartoon out there and is likely to weigh in at something around 175 pounds despite being over 6-feet tall?
---
+ I don't think that he plays like it, though. Just in these first few targets, he's taken some shots and contact yet bounced up
For as slight as Smith is, there's very little evidence of it on his tape other than the visual. You don't see him play like a guy who doesn't want contact. He takes some big hits and bounces right back up. He attacks the soft shoulders of defenders with run-after-the-catch angles. Early signs are good that it's just a visual concern.
---
~ This Bama offense/WR group is just brutal on defenses. Top-10 draft prospects getting isolated on safeties? Goodnight!
I mean, seriously. And these are only his 2020 targets. College defenses facing the four guys from 2019? Four first-rounders on the field to go with a coaching staff that has the creativity to force favorable matchups? This offense was just unfair.
---
– Doesn't have Jerry Jeudy's suddenness in route running…
But who does?
---
+ …but he has him beat at the catch point
The one negative I had on Jeudy was that he wasn't great at the catch point, and that held through his rookie season in the NFL. To be fair to him, he generates so much separation that it doesn't matter most of the time, but it still holds him back from being a complete — and elite — receiver.
---
+ He's got some real run-after-the-catch skills, too. He glides past people and takes sudden cuts for the last few yards
I'm not sure I expected Smith to look so effortless after the catch. It's just such a smooth style, almost like the wide receiver equivalent of Arian Foster. Even when it's not necessarily going anywhere, it is just aesthetically pleasing.
---
– Sideline target vs. Texas A&M is the first play where I've seen him completely outmuscled in a route. Just squeezed to the sideline. And it Happened more against Georgia
OK, this is the first play that would concern me if anyone used it in a case against his size and strength. If you're going to be built the way Smith is and thrive in the NFL at under 180 pounds, you've got to show functional strength against bigger defenders.
This was what failed Andy Isabella on tape in college. While he carved up college defenses, Isabella lost for physicality whenever anybody got a hand on him. It didn't happen much because his offense was very good at scheming him away from any kind of contact, but there was enough there to scare me in terms of his NFL projection.
This play against Texas A&M is the same thing for Smith. On an outside release, he just gets squeezed to the sideline and eliminated from the play by a stronger cornerback. Let's hope we don't see too many more of these.
---
++ Varies his pace well in his routes. Wins with sudden bursts of acceleration at times
We tend to think about route running as a sick, sudden move or a great sequence of moves at speed, but a lot of it is actually just varying the pace of your movements and catching defenders out with that sudden acceleration or deceleration when they were expecting a uniform speed. Smith is really good at changing up that speed in both directions to keep defenders constantly on their toes, and he exploits them ruthlessly when they fall for it.
---
+ For a small guy doesn't flinch from contact/imminent hits
You would expect to see a guy who weighs less than 180 pounds being conscious of that at times on the field, but you really don't with Smith. There's a play against Georgia where he runs a slant from the slot, but Georgia attacks it with the backside safety who makes a beeline for Smith, effectively trying to meet him in a head-on car crash after he catches the ball. By the time the pass is coming his way, Smith must be aware of the threat, but he catches it smoothly without adjusting his stride and even manages to make a subtle movement just before the hit comes, avoiding the worst of it and converting a first down on the play.
I wouldn't have been surprised to see that kind of oncoming hit distract even a much bigger-bodied receiver, but for Smith to not even acknowledge it with anything beyond a move to avoid it is really impressive and a good sign for concerns over his size.
---
– He DOES get stuck on contact a little, though, even if he can still make a play at the catch point
This is the second piece of evidence that play strength can be a little bit concerning with Smith. This time, against Georgia, you can find plays where he gets stuck on contact with the defensive back during the route. This is the kind of thing that neutralizes route running and speed. If you can't break free of the initial contact from the defensive back, you're never going to outrun him or separate because he is maintaining a physical connection and you become, in effect, one moving body throughout the route.
It is encouraging that he still has the skills to win at the catch point in a contest with the defender anyway, but he needs to show that he can limit the number of plays he needs to — if NFL defenses discover he can't break that contact, he will lose his effectiveness.
---
++ Man, he still crushes it in contested situations
PFF data backs that up. Smith has earned a 90.0-plus PFF grade on contested targets over the past two seasons, basically tying with Ja'Marr Chase, who outweighs him by around 30 pounds. Smith caught an almost identical percentage of those contested targets as Chase did (49%) and averaged 4.0 yards per route run despite those contests. You wouldn't expect somebody built like he is to be consistently this good at the catch point or with defenders hanging off him.
---
++ I LOVE how he attacks creases of space with no hesitation
He's happy to lower his head and maximize what space there is, even when there's a hit at the end of it. He just attacked a pocket of space against Georgia and plowed his way into three defenders.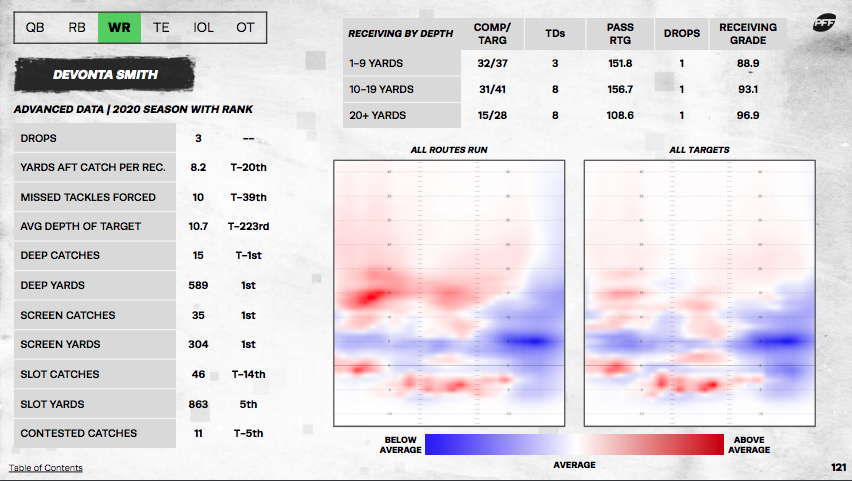 The Bottom Line
The first thing that jumps out at you the second you throw on DeVonta Smith's tape is his physical build. He is incredibly thin — unusually so — for a wide receiver hoping to succeed at the NFL level.
That focuses your attention for the first period of your analysis — you're looking for places where that lack of size and bulk shows up and try to see how much of a problem it was in his college career. Given that he racked up over 3,100 yards and 37 touchdowns over the past two seasons, it obviously wasn't a big problem. The problem is that any issue is magnified at the NFL level, so seeing it anywhere is significant.
However, it did not show up for the most part, and everything else about Smith's game is impressive. He has the speed to burn past defenders, route-running savvy to separate and is excellent at the catch point. He runs hard and efficiently after the catch, and if he were a 200-pound player, I think he would be the first receiver off the board without any kind of hesitation.
You still see him outmuscled every now and again, and those plays will scare teams. It's not a big problem, but the fact that it does show up raises the potential for it to show up more at the NFL level, where the players are bigger, stronger, faster and better. The chances of that increase taking Smith from a devastating player in the SEC to anything less than impactful at the NFL level are small, but it's a flaw in an otherwise elite skill set.
Ultimately, I buy into the rest of what Smith has to offer, and those negative plays happen so infrequently that I'm prepared to overlook them. Still, those plays will live in the back of my mind whenever I'm pushing his case as the best receiver in the draft.
---
Courtesy of PFF's 2021 NFL Draft Guide, find PFF's top draft prospect, biggest riser and wild card to watch at each position here: