Football is a team sport in every sense of the phrase. Most would agree that Patrick Mahomes is the best player in the league at this moment of time, but even his superhuman acts of brilliance can be undone by mistakes from his teammates. Running backs need good blocking, cornerbacks can't hold up without some semblance of a pass rush; the list of positions that are severely impacted by the performance of others goes on and on.
Wide receivers certainly aren't immune to getting screwed over by their teammates. No worse feeling exists in fantasy land than seeing your receiver break free down the field, only to watch the potential big play dissipate due to a bad throw.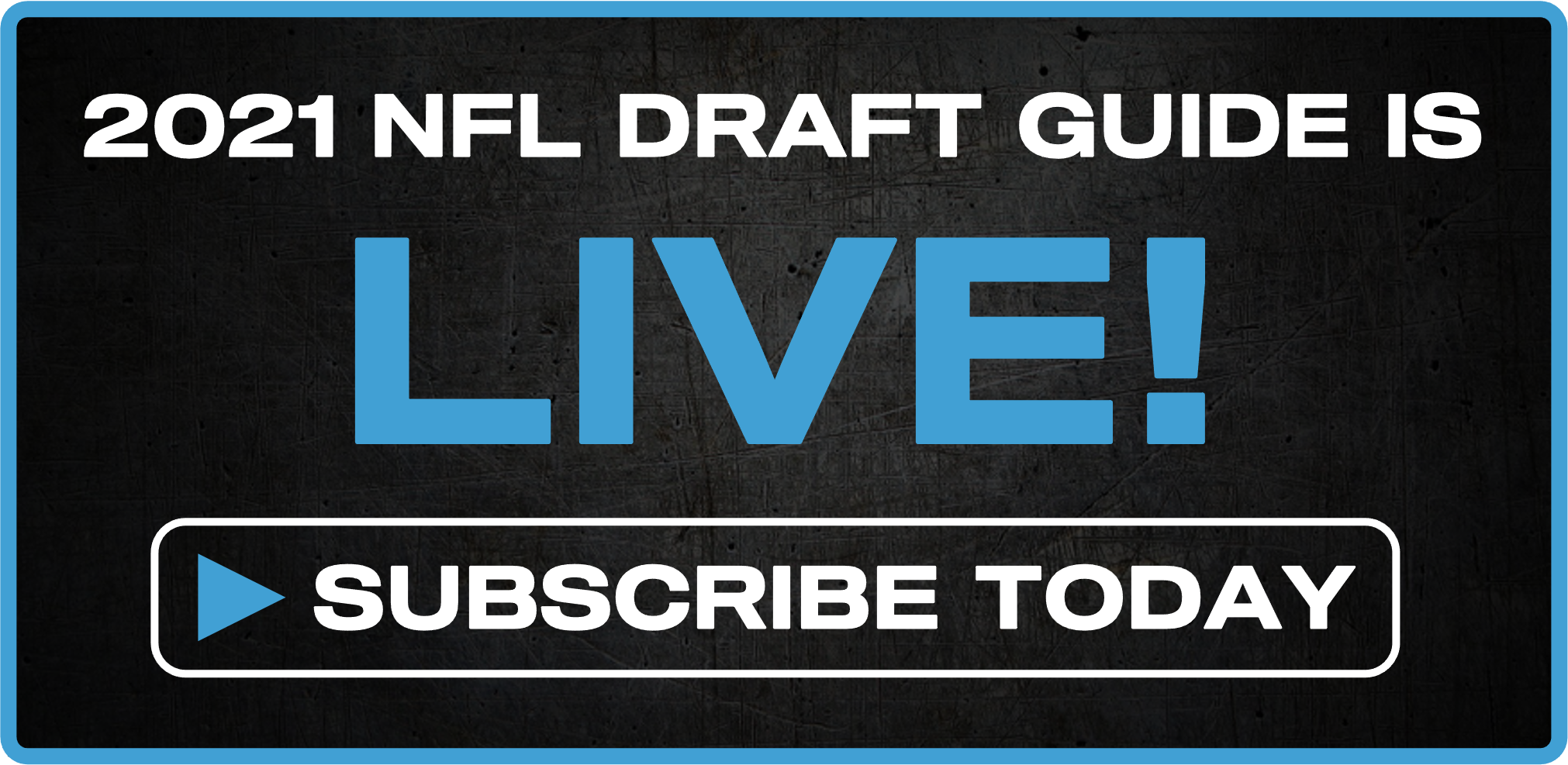 PFF tracks every type of incompletion and assigns responsibility to either the QB, receiver or  defender. The potential miscues for the signal-caller include: overthrown, underthrown, in front, behind, caught out of bounds, misread coverage and a slip. Let's take a look at overall, deep ball, end zone and open separation uncatchable targets in the hopes of "crowning" the NFL's most unlucky wide receiver from 2020.
Uncatchable targets
Six WRs had at least 20 targets deemed uncatchable last season:
There are a few factors at play here, the first most notably being volume. Ridley (137 targets) and Hill (131) fall into this pool, as each saw plenty of volume on top of boasting top-20 average target depths in this 84 WR sample.
Green is a bit of a unique case. He was outplayed by basically every teammate and didn't come close to passing the eye test. I'm selling the idea that AJG was the victim in this equation, even though we see him at the bottom of the list when it comes to catchable rate.
That leaves us with Jeudy, Gallup and Moore as the three true receivers that were consistently victims of misfires. Each receiver ranked inside of the top 30 players in average target depth, although the respective talents under center for the Broncos, Cowboys (post-Dak) and Panthers obviously left a lot to be desired throughout the season.
A better way of measuring which receivers were more unlucky than others is what percentage of their targets were deemed to be the QB's fault. Only six WRs had at least 20% of their targets wind up incomplete because of their signal-caller:
Once again we see Jeudy and Gallup leading the way; Moore only slid to 15th. Believe me: There was far more good than bad to DJM's game in 2020.
D.J. Moore is 23 years young pic.twitter.com/kgaq2by0w4

— Ian Hartitz (@Ihartitz) February 4, 2021
Several egregious drops take MVS out of the conversation of "unlucky" receivers, while Harry has a similar AJG argument in regards to his inability to separate being a larger issue than his QB. I'm also hard pressed to feel too sorry for Slayton. Yes, the Giants had the fourth-worst offense in overall uncatchable rate, but he only had one fewer drop than MVS in 2020 and (surprisingly) played with the league's sixth-most accurate signal-caller on passes thrown at least 20 yards downfield.
Uncatchable deep ball and end zone targets
Once again: Jeudy leads the way. His 47% uncatchable rate on deep balls was surpassed by only Mike Williams (48%), Stefon Diggs (50%) and Gallup (50%). I'm generally a Drew Lock apologist because the man mixes some real highs (fifth in big-time throw rate!) with plenty of lows (35th in turnover-worthy play rate) that people (understandably) focus on. With that said: Jeudy was held back severely as a rookie and generally did nothing other than ball the hell out when blessed with even a semi-accurate pass. His 12 drops trailed only Diontae Johnson (14) and must be addressed; just realize the  21-year-old talent already looks the part of the game's next great route runner.
Jerry Jeudy route running already on god mode pic.twitter.com/fXCNDF57nq

— Ian Hartitz (@Ihartitz) April 15, 2021
All in all, eight WRs racked up at least 10 uncatchable deep ball targets: Jeudy (14), Williams (12), Hill (12), Ridley (12), D.J. Chark (11), Gallup (10), Green (10) and Darnell Mooney (10).
The latter receiver truly had some big missed opportunities last season. There were not one, not two but three examples by the end of October of Mooney utilizing a slick double-move to break wide open downfield against the likes of Jalen Ramsey and Carlton Davis, only to be egregiously missed. The constant presence of Gallup on this list should probably lead to some caution in assuming Andy Dalton is the missing key to unlock Mooney's full potential.
Only four of Green's 24 targets thrown 20-plus yards downfield in 2020 were deemed catchable. However, Green was considered open or wide open on just *one* of those targets. Again: AJG was more dust than not in 2020, although he does (again) find himself among the top receivers in uncatchable end zone targets as well.
Overall, nine receivers had at least five targets into the end zone considered uncatchable in 2020:
It's wild that Gallup finds himself at the top of so many lists considering his tendency to make the most out of his contested-catch opportunities. It's fair to say he's the third-best WR on his own team, but that doesn't mean there weren't plenty of flashes in 2020.
Best of Michael Gallup in 2020 pic.twitter.com/13smHO92FA

— Ian Hartitz (@Ihartitz) April 14, 2021
Let's close things out with a look at who couldn't even catch a break when considered open or wide open.
Uncatchable targets when open or wide open
Last season, only Moore had double-digit uncatchable targets when there wasn't a defender in his general vicinity. Just five receivers had fewer than 85% of their open targets be considered catchable:
It's tempting to crown Moore for being so underutilized both when open as well as in the end zone. Still, the Broncos' rookie talent continues to find himself near the top of every single leaderboard available.
Verdict
The most unlucky wide receiver of 2020 was Jerry Jeudy. He didn't help his own case at times with drops, but too often his pristine route-running ability was wasted by erratic passes and/or bad decision-making under center. It remains to be seen whether or not Drew Lock will again be the starter in Denver next season. Improvement could always come; just be careful before criticizing Jeudy if issues continue and the counting statistics we know he's capable of achieving fail to come to fruition again in 2021.