One of the most chalky mock draft selections was Alabama RB Najee Harris to the Steelers at pick No. 25. Sure enough: Harris will be wearing black and yellow this September and beyond. There isn't a more well-molded three-down back in this draft: Don't let Harris' lack of straight-line speed distract from the fact that he should see a ton of volume in 2021.
View PFF's 2021 NFL Draft position rankings:
QB | RB | WR | TE | T | iOL | DI | EDGE | LB | CB | S
What follows is a breakdown on what makes Harris such an intriguing prospect, whether or not he fits the mold of a great fantasy football QB, as well as what we should expect from him and this Steelers offense in 2021.
There might not be a better rookie RB than Harris
PFF stated the following about Harris in our 2021 NFL Draft Guide:
"The common rule of thumb for running backs is usually to declare as soon as possible, but there's a real chance Harris made himself some money with his play this year. He doubled his touchdown total from 13 on the ground in 2019 to 26 this season and maintained his efficiency despite a massive workload. Harris' ball skills keep him inside our top three backs despite not being much of a home run threat. His catch radius is one of the biggest you'll ever see from a running back — he should feature in any pass game."
Many point to Harris' lack of high-end speed as a potential kryptonite at the next level. While being faster is always preferred to being slower, Harris has exhibited the sort of ridiculous tackle-breaking chops to warrant his status as the No. 1 RB off the board.
Najee Harris can play some football. He can play left, he can play right, don't make no difference. He can block, tackle, score the TD, snap the ball and kick the extra point. Hell, he'll fill up the Gatorade cooler, walk the dog and paint your back porchpic.twitter.com/1gXubU3Yxh

— Ian Hartitz (@Ihartitz) April 29, 2021
Harris is a walking, talking bell-cow back that has the sort of receiving ability to make a mockery out of full point-per-reception formats. Fantasy football doesn't always reflect the best real-life players; don't be surprised if Harris balls out on the stat sheet thanks to volume alone even if the Steelers' offense fails to take a major step forward.
FOLLOW THE VOLUME. I can't overstate this enough. I'm a fan of Harris as the player, but any RB getting first-round draft capital from the Steelers can't be ignored in fantasy land. We simply have too many examples over the years of Day 1 backs balling out sooner rather than later.
Early-round RBs are the most-productive type of rookies
RB has nearly twice as many top-24 rookie performers (30) than WR (16) over the past decade. We know the shelf life for the position is shorter than most, so it makes sense that teams look to get the most out of their investments from jump street. Note that we don't see the same sort of reliance on Round 1 at RB compared to QB or WR. There have been more Day 2 (14) backs to ball out as a rookie than Day 1 (10). Overall, 80% of top-performing rookie backs were selected inside of the top three rounds since 2010.
We have more exceptions to the high-round rule at RB than elsewhere, although each instance featured a fairly clear route to the top of the depth chart for the victorious rookie. Opportunity typically trumps talent in fantasy land, people. Every outlier situation featured either the 1) team's incumbent RB leaving during the offseason, and/or 2) offense being run by a Shanahan.
The idea that RBs don't matter is true in the sense that there are far more than 32 high-end backs on planet Earth. Still, RBs still need to matter enough to win their team's respective job, and players that have received the backing from the front office via draft capital have typically performed better as rookies than those that have had to fight to even keep a roster spot. For every Phillip Lindsay, there have been dozens of unheralded backs with rookie seasons that more closely resembled Darwin Thompson or Justice Hill.
Add it all together and …
Harris should be fired up as an immediate upside RB2
At the end of the day, Harris' potential lack of big-play ability isn't as much of a hindrance to his fantasy stock as a lack of pass-game chops would be. There are zero concerns in the latter department: Harris' combination of body control and catch radius makes him a pleasant enigma at the position.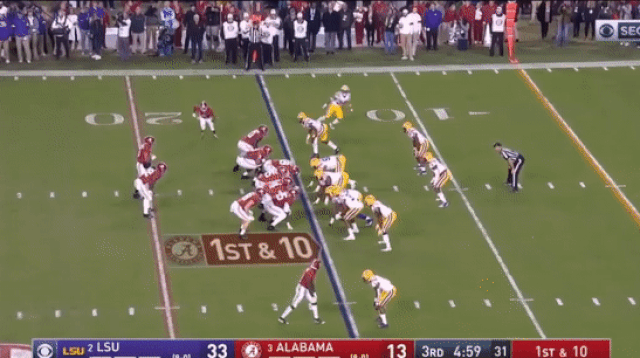 James Conner averaged 4.3 yards per carry last season. Obviously that statistic in and of itself doesn't completely tell the whole story; just realize this low-graded offensive line wasn't enough of a trainwreck to completely ruin everybody involved.
Each of Le'Veon Bell (25.6 touches per start), DeAngelo Williams (22.8), James Conner (20.8), Jaylen Samuels (18) and Stevan Ridley (17) were absolutely fed the ball from 2014-2018. We've seen more of a committee look in between Conner injuries over the past two seasons, but coach Mike Tomlin at his core is a featured-runner type guy. Harris is the No. 1 RB in this class when it comes to projecting who has the most NFL-ready three-down ability; his potential lack of home-run ability is easily outweighed by a potentially huge receiving workload in Pittsburgh.
Harris is my RB16 at the moment, behind Antonio Gibson and D'Andre Swift, but ahead of Miles Sanders and J.K. Dobbins. It doesn't make sense that players are rewarded a full point per reception in fantasy land, but that's the game we play. Take advantage and draft one of the league's last remaining workhorse RBs.