To absolutely nobody's surprise: Zach Wilson is now a member of the New York Jets. While the former BYU QB was never a legit threat to go ahead of Trevor Lawrence, his rise as a prospect has been nothing short of meteoric over the past 12 months. We'll find out if the hype is warranted; either way Wilson is the Jets' QB of the present and future.
View PFF's 2021 NFL Draft position rankings:
QB | RB | WR | TE | T | iOL | DI | EDGE | LB | CB | S
What follows is a breakdown on what makes Wilson such an intriguing prospect, whether or not he fits the mold of a great fantasy football QB, as well as what we should expect from him and this Jets offense in 2021.
Few possess Wilson's off-script ability
PFF stated the following about Wilson in our 2021 NFL Draft Guide:
"Call him a one-year wonder if you must, but Zach Wilson's ascent isn't near the same as Joe Burrow's a season ago. Wilson was out here earning an 80.5 overall grade as a true freshman in 2018 while leading a team full of adults at BYU. A shoulder injury and hand injury limited him in 2019 before he lit college football on fire this past fall. Blessed with a snappy right arm, Wilson has thrown passes as far as 65 yards through the air this season (against WKU, to be exact) with little more than a flick. He can not only make all the throws, but he can also make them accurately."
Level of competition be damned: There are more than a few absolutely absurd throws on tape that will take any lonely film grinder from six to midnight in a hurry.
What the hell is this gypsy magicpic.twitter.com/EVc4WxNC60

— Ian Hartitz (@Ihartitz) April 7, 2021
Yes, it's worrisome that it took Wilson until his final collegiate season to put together any sort of real high-level production. Also yes, Wilson proved to be nothing short of excellent when throwing just about anywhere, grading out highly in overall passing (95.5), intermediate throws (93.9) and deep balls (99.9).
The biggest potential red flag for Wilson is the reality that he wasn't forced to deal with pressure much, and his 74.1 grade in these situations wasn't nearly as ideal as we saw when he was kept clean (96.5). It's not that Wilson can't make plays under pressure; we just didn't see him consistently rushed due to 1) BYU's baller offensive line, and 2) the generally low-level competition at play.
The latter point is the largest issue when projecting Wilson into 2021. Clearly the young man has the sort of uncoachable arm talent to thrive if surrounded by even an adequate supporting cast; it just remains to be seen if the Jets will be able to provide that sort of environment as early as 2021.
Good news: Wilson largely fits the mold of historically productive rookie QBs.
Wilson should have every opportunity to put up big numbers assuming health
The QB position has produced seven rookies that finished their debut seasons as a top-12 fantasy performer since 2010. Among those, only Dak Prescott (Round 4) and Russell Wilson (Round 3) weren't first-round selections.
The larger trends from this group includes 1) being a Week 1 starter, and 2) the existence of a rushing floor. Each of Cam Newton, Andrew Luck, Robert Griffin, Prescott, Wilson and Kyler Murray started from the get-go and rushed for at least 25 yards per game in college. Justin Herbert is the only exception to both rules, although his status as a 1) plus athlete, and 2) Week 2 starter, doesn't make him too much of a wild card.
Note that we're only looking at season-long finishes here. Plenty of other higher-round signal-callers such as Jalen Hurts, Daniel Jones, Josh Allen, Lamar Jackson and Deshaun Watson have managed to supply some serious highs as rookies. This has (again) largely been thanks to their rushing upside.
While Wilson (6-foot-2, 214-pounds) isn't the sort of QB that should be heavily leaned on as a rusher, it's clear that he's more than capable of making an impact with a well-timed designed run.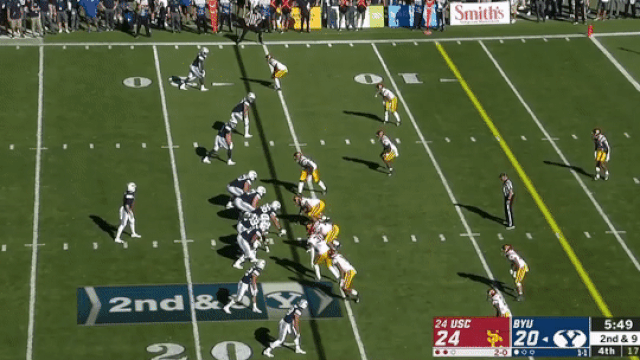 Wilson is also fantastic at maneuvering the pocket; he's just not in the Trey Lance or even Justin Fields mold when it comes to having the mindset to actively take off and pick up yards on the ground. His average of 21.4 rushing yards per game isn't anything to scoff at, but I'd probably take the under on that number in the NFL due to his tendency to scramble in order to pass.
Add it all together and …
There's a non-zero chance Wilson makes a rather large fantasy impact in 2021
It remains to be seen exactly what the new-look Jets will do from a schematic standpoint, but either way Wilson is looking like a late-round dart worth pursuing in 2-QB and best-ball fantasy formats. Before the draft Wilson's ADP rested as the QB26 over at Underdog Fantasy; he should probably be projected to top that number purely based on the likelihood that he'll start 17 games in 2021.
The real allure of targeting Wilson is in best ball, as it's tough to find a cheaper overall stack than him, Corey Davis, Denzel Mims, and hell, even Chris Herndon. In fantasy football we want to target players that are being priced closer to their floor than ceiling; that's pretty much the state of the entire Jets offense at the moment.
The best news about Wilson being a starting NFL QB is the potential for weekly high-end entertainment. It's rare to see anybody at the position play with such a playground style, let alone succeed while doing so. I'm not convinced Wilson will break out in 2021 and prove to be the next great rookie QB, but don't be surprised if the result (for better and for worse) makes for excellent television.