The Patriots didn't even need to trade up in order to get their signal-caller of the future, locking in Alabama QB Mac Jones at pick No. 15 patiently waiting throughout his free fall. I'm as big of a Cam Newton stan as there is; Jones should be considered the favorite to start Week 1. The Patriots' decision to not add a similar dual-threat talent reflects the reality that we're likely looking at New England (again) embracing a pass-first, two-TE heavy offense.
View PFF's 2021 NFL Draft position rankings:
QB | RB | WR | TE | T | iOL | DI | EDGE | LB | CB | S
What follows is a breakdown on what makes Jones such an intriguing prospect, whether or not he fits the mold of a great fantasy football QB, as well as what we should expect from him and this Patriots offense in 2021.
Jones might not move well, but he's as accurate as they come
PFF stated the following about Jones in our 2021 NFL Draft Guide:
"Jones is the wild card of the quarterback class. He produced out-of-this-world stats that hold up to Joe Burrow's from a season ago, which will make many ask why he's not getting the same level of hype. The answer is that even though Burrow's team was loaded with NFL talent, Jones' situation was still far more favorable. The Bama quarterback completed 44 passes into tight windows all season compared to 124 from Burrow in 2019. Jones still showed tremendous command of the Tide's offense and also displayed good accuracy, but his job will get way harder next season."
In order for Jones to succeed he'll have to demonstrate 1) a mastery of this offense, and 2) pin-point accuracy. The former goal was more than achieved at Alabama, while the latter is something that we've at least seen plenty of, particularly when throwing to the short and intermediate areas of the field.
Mac Jones with a SEED over the middle pic.twitter.com/FKOwYbQhyB

— Austin Gayle (@PFF_AustinGayle) January 27, 2021
Obviously we're dealing with a lack of high-end mobility here, but as a passer it's hard to find any true holes in Jones' 2020 performance with the obvious exception being mobility. Yes, Jones certainly benefited mightily from playing with Bama's never-ending crop of first-round receivers. Also yes, he operated one of the most dominant offenses in college football history and was the single-most accurate QB in the nation under 10 yards.
Jones might not make as many sexy big-time throws as some of this class' other QBs; just realize there's a lot more good to his game than bad, even at this early stage of his career. Don't be surprised to see him under center as early as Week 1, although the fantasy potential here is undoubtedly low.
Jones should find the field early, but don't expect fantasy fireworks
The QB position has produced seven rookies that finished their debut seasons as a top-12 fantasy performer since 2010. Among those, only Dak Prescott (Round 4) and Russell Wilson (Round 3) weren't first-round selections.
The larger trends from this group includes 1) being a Week 1 starter, and 2) the existence of a rushing floor. Each of Cam Newton, Andrew Luck, Robert Griffin, Prescott, Wilson and Kyler Murray started from the get-go and rushed for at least 25 yards per game in college. Justin Herbert is the only exception to both rules, although his status as a 1) plus athlete, and 2) Week 2 starter, doesn't make him too much of a wild card.
Note that we're only looking at season-long finishes here. Plenty of other higher-round signal-callers such as Jalen Hurts, Daniel Jones, Josh Allen, Lamar Jackson and Deshaun Watson have managed to supply some serious highs as rookies. This has (again) largely been thanks to their rushing upside.
Jones actually tested well in a variety of athletic drills, but at the end of the day we're talking about a QB that *totaled* 42 rushing yards in 30 career games.
Do not draft Mac Jones in 2021
It's not out of the realm of possibility that Jones continues to develop quickly as a passer and puts together some big weeks as a rookie. There's no rushing floor here, and passing windows will be tighter than ever at the next level, but make no mistake about it: Jones throws a pretty ball.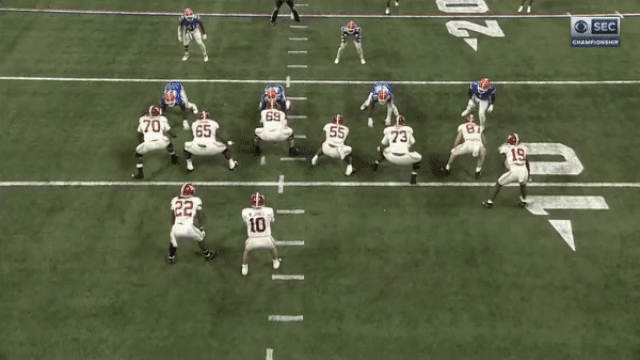 The problem is that the play is basically dead if Jones can't work from a clean pocket, something that Cam Newton didn't see a ton of behind this offensive line in 2020. The Patriots have made major strides in their offensive personnel (particularly at WR and TE); they're still probably a below-average unit in terms of collective skill-position talent.
It's hard enough for non-mobile QBs to thrive in fantasy football; we don't have any recent evidence of a rookie doing so. Jones is a fantastic value for the Patriots at pick No. 15; just realize his best-case scenario was landing with the 49ers and potentially replicating Jimmy Garoppolo's fantasy QB23 finish from 2019.
Great real life QBs can still be bad fantasy QBs. I'm not sure Jones is the former, but I'm confident he's the latter — especially in 2021.