It's only February, but NFL Draft season is in full swing.
PFF.com is going to be stuffed to the gills with content on all of your favorite draft prospects, as PFF draft guru Mike Renner has been grinding tape throughout the college football season. His work has already produced the second version of PFF's Draft Guide, available to grab with a PFF Edge or Elite subscription.
Compared to Mike, I'm late to the party when it comes to draft evaluation. Still, I come armed with PFF's database to help me watch the tape, and I thought we could go through that journey together in this article.
The first player I looked at was the Heisman Trophy winner, Alabama WR Devonta Smith. Next up was LSU's Ja'Marr Chase, followed by Jaylen Waddle,  Kyle Pitts and Rashod Bateman.
Now I want to look at Rondale Moore, who became an immediate superstar in the Big Ten and took home the Big Ten Freshman of the Year Award in 2018. Moore's best season was that 114-catch freshman year, as injuries and the specter of COVID-19 limited him to only 64 catches over the last two seasons.
I'm going to start by looking at the high watermark of that 2018 season to get a feel for how special he can be.
The same caveats as before still apply: This is not a complete picture of his game, as it will lean toward plays where he was actually open. But it will give a good snapshot of his route-running ceiling, as well as his skills when the ball does get sent his way — including a look at how he wins.
For a first impression, this method makes a lot of sense, and we can go back and fill in the blanks later.
Subscribe to
Timeline
Here are my thoughts in chronological order as I sifted through Moore's tape. Each takeaway is labeled with +/- (or double plus or minus for significantly good or bad things) and a ~ for neutral.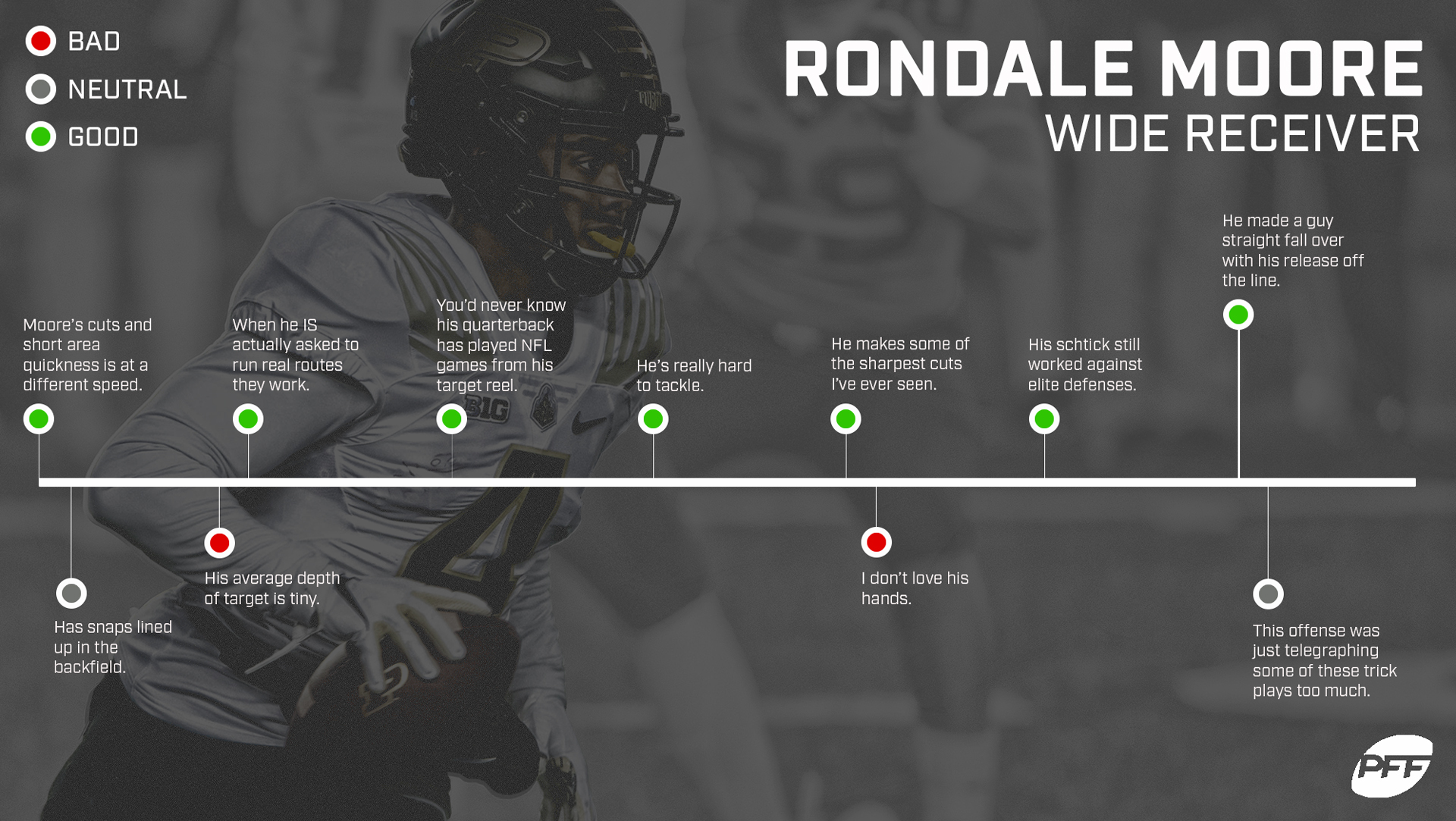 + Moore's cuts and short-area quickness are at a different speed
One of the first plays on his reel is a simple smoke route against off-coverage. And while that's certainly setting a receiver up for success, the ease with which he made the cornerback miss — he didn't even come close to touching him — was impressive to see. That kind of quickness and ability to move in tight spaces is terrifying to defenders who can be made to look ridiculous at any moment.
~ He has snaps lined up in the backfield
It turns out that there aren't that many of these snaps in total (12 in this first season and another five over the next two years), but that is an intriguing wrinkle for a guy as devastating as he is as a receiving weapon. We have seen the Kansas City Chiefs do similar things with Tyreek Hill and other teams use Percy Harvin and Randall Cobb in the same kind of way. Moore isn't necessarily built for too much running back work, but putting him in the backfield in the passing game causes some genuine chaos in a defense.
– His average depth of target is tiny
It's not quite as egregious as it seemed because of some deep shots on targets from the slot, but there are stretches where everything that comes his way is at or behind the line of scrimmage. For his entire career, Moore's average depth of target is just 5.8 yards downfield. In 2020, that number was only 3.6.
He was used less as a wide receiver and more as a designated screen weapon or YAC threat. This isn't necessarily Moore's fault, but it still ramps up the projection aspect of this draft evaluation.
+ When he IS actually asked to run real routes, they work
That quickness and speed also plays on conventional wide receiver patterns, and Moore is eager to throw in little route-running nuances like head fakes and fake steps to help the separation along. It wasn't a big part of his game, but there are signs on tape of him doing NFL things — and doing them well — which will only be encouraging to teams that have to make that projection.
+ You'd never know that his quarterback has played NFL games from this target reel
David Blough earned an overall PFF grade of 73.0 for this 2018 season, and he doesn't look good at all from just the targets to Moore. The quarterback regularly led him into trouble and was off-target or inaccurate on passes that did get to the man. When you compare these targets to those of some of the other top receivers, Moore certainly loses some bottom-line production because of the quarterback play, making his numbers all the more remarkable.
+ He's really hard to tackle.
I know he's small, but that low center of gravity combined with outstanding balance and play strength makes him a nightmare for defenses to tackle when they're struggling to keep up with his speed and quickness. Moore routinely bounces off tackle attempts or spins and fights his way out of them. He broke 47 tackles on 178 catches in his college career — 37 of them came in that 2018 season alone.
+ He makes some of the sharpest cuts I've ever seen
And he can do it at full speed. Whether it's with the ball in his hands after the catch or as part of his route, he can instantly generate a couple of yards of separation with one step, given the precision of the cuts he can make. This is another reason to really like his ability to transition to the NFL despite his relatively sparse route tree in college. That kind of cut generates separation against coverage.
– I don't love his hands
There are more drops in this reel than I'd want to see, and they're generally not difficult catches. I think receivers of this style are always likely to be predisposed to drops a little — they dedicate too much mental runtime to what they will do after catching the ball that they don't have enough in reserve to actually make the catch.
He even has some catches that aren't clean and needed adjustments or juggling to bring them in. His drop rate isn't terrible, 10 across 188 catchable passes, but they are typically frustrating when they come.
+ His shtick still worked against elite defenses.
Moore recorded 12 catches for 170 yards and two scores here against Ohio State. He reeled in 11 catches in his bowl game against Auburn, who had some elite cover guys in their secondary.
In this Ohio State game, he's beating man coverage and causing problems any time the ball comes near him. Moore certainly took advantage of some sub-standard players in his career, but he also beat up on players who will be or have already played NFL football.
++ He made a guy straight fall over with his release off the line.
Plays like this are why many people now project Shaun Wade as a safety rather than cornerback, but Moore put him on the ground without even touching him with an outside release from the slot. You can point to bad defensive play all you want, but it takes a certain level of athlete to do that to even a bad college player — and Wade was far from a bad college player.
~ This offense was just telegraphing some of these trick plays too much
At times it feels like this entire offense is designed around getting the ball in Moore's hands as fast as possible. The trouble is the more you want to do that, the easier it is for a defense to expect it and swarm all over it. So many of these plays are just obvious setups for a quick pass to Moore and defenses are just all over him before he has a chance to go anywhere. Weirdly, he may have far more success at the NFL level when things are a little more balanced.
The Bottom Line
Rondale Moore is one of the most exciting and fun playmakers available in this draft. His freshman tape looks a lot like that of Jaylen Waddle, except Purdue didn't have the luxury of three other first-round wide receivers to maintain a balance on offense, so they just loaded him up with screens and endless gimmick plays to get the ball into his hands.
Because of that, he never actually ran that many "real" pass patterns in college, which is always a reason for pause for NFL teams. Players who have come out of college systems that didn't ask them to run a complete route tree are inherently more risky than those who haven't, and the recent failures of players like Corey Coleman will at least cause a greater discussion on Moore than will exist for other players in this draft.
To his credit, Moore did look just as dangerous running NFL routes as he did running the gimmick plays and bubble screens. His speed, quickness and ability to cut on a dime translates in all areas of play, not just when he has the ball in his hands, but that proven YAC ability should at least provide him with a clearly defined role from Day 1 even if he struggles badly to grasp everything else (and there is no reason he should).
The biggest issue facing Moore will be questions about durability. At 5-foot-9 and 180 pounds, those questions are just waiting to be asked, and a season-ending knee injury in 2019 will only encourage teams to focus on that.
Ultimately, players who can make impressive athletes look as bad as Moore can without breaking a sweat don't come along that often. He may have a more defined and limited role than some other receivers in this draft, but what he is good at can have immense value, and that should still make him a clear first-round pick.
---
Courtesy of PFF's 2021 NFL Draft Guide, find PFF's top draft prospect, biggest riser and wild card to watch at each position here: