March is here, and NFL Draft season is in full swing. PFF.com is going to be stuffed to the gills with content on all of your favorite draft prospects, as our draft guru Mike Renner has been grinding tape all throughout the college football season. His work has already produced the second version of PFF's Draft Guide, available to grab with any PFF Edge or Elite subscription.
Compared to Mike, I'm late to the party when it comes to draft evaluation, but I come armed with PFF's database to help me watch tape of these guys, and I thought we could go through that journey together in this article.
The first player I looked at was the Heisman Trophy winner, Alabama WR Devonta Smith. Next up was LSU's Ja'Marr Chase, followed by Jaylen Waddle,  Kyle Pitts and Rashod Bateman.
Now, I want to look at Kadarius Toney, a dynamic playmaker for the University of Florida and one of the most exciting players in the draft. I'm going to fire up all of his college touches, starting with his breakout 2020 season, to see what I learn.
The same caveats as before still apply: This is not a complete picture of his game, as it will lean toward plays where he was actually open. But it will give a good snapshot of his route-running ceiling, as well as his skills when the ball does get sent his way — including a look at how he wins.
For a first impression, this method makes a lot of sense, and we can go back and fill in the blanks later.
Timeline
Here are my thoughts in chronological order as I sifted through Toney's tape. Each takeaway is labeled with +/- (or double plus or minus for significantly good or bad things) and a ~ for neutral.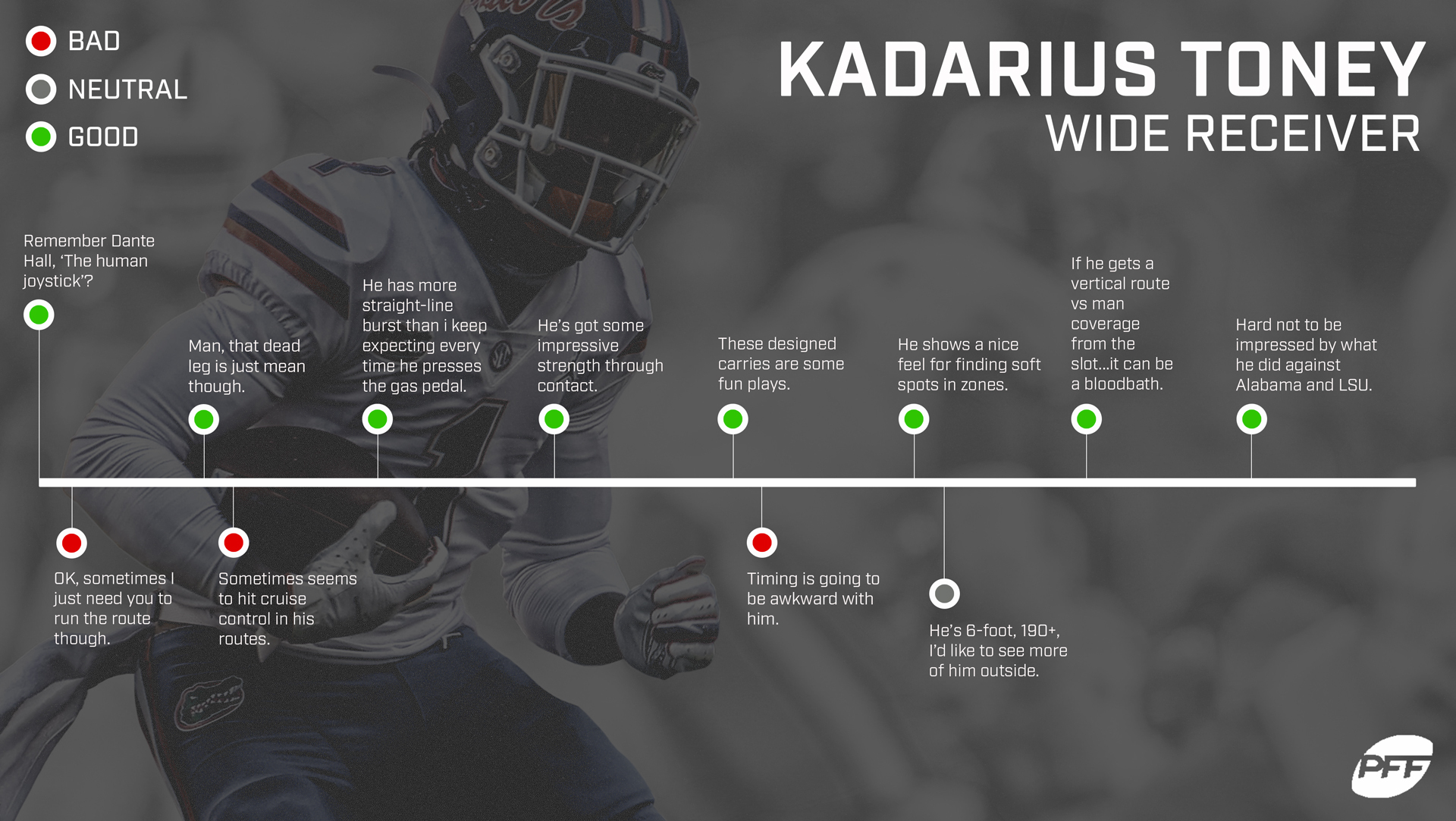 ++ Remember Dante Hall, "The human joystick?"
Kadarius Toney looks like Dante Hall, but if Hall was a regular-sized receiver. He has the same style of movement, which is to say he's an absolute nightmare for defenders to try and contend with. He has a nasty dead leg and the ability to just completely fake a defender in the wrong direction — all within a yard of moving. Even just from his first couple of targets on this tape, it's clear we're looking at someone with special skills.
– OK, sometimes I just need you to run the route, though
The ball needs to come out on time at the NFL level, so sometimes you don't have time for two different setups and fakes; just run the slant and look for the pass. Converted quarterback Braxton Miller ran routes that looked unrecoverable in the pre-draft process a few years back, but they took an eternity to develop, so they were useless. Toney has some plays here where there's just too much going on with his routes and they take too long.
+ Man, that dead leg is just mean
Toney is killing defenders to the side of their leverage, even when they're lining up a full yard or more that side of him and explicitly taking that route away by alignment. There's a play here against South Carolina where that fake completely turns a defender around and gifts Toney the one route that the defender was adamant about shutting down. That's impressive. To add insult to injury, he then ran through tackles to score on the play.
– Toney sometimes seems to hit cruise control in his routes
When Toney finds some space deep or at the intermediate level, he seems to take his foot off the gas and just let the autopilot take over, which can let defenders back into the play or allow them to arrive at the catch point carrying significantly more momentum than Toney is. You can see he is still relatively new to the position and has a lot of the nuances left to master.
+ He has more straight-line burst than I expect every time he presses the gas
Sometimes a gap opens up for Toney and he puts the hammer down, and every time it happens, he finds a little more space and yardage than I was expecting. It will be interesting to see what his 40-yard dash time is in this world of no scouting combine and Pro Day numbers. His top-end speed may not be phenomenal, but his burst and explosion look impressive.
+ He's got some impressive strength through contact
There are multiple plays where you think Toney is tackled only to find the play still going, as is Toney. He has that freaky contact balance that keeps him on his feet and dangerous even when he's been spun around and thrown toward the floor. Defenses can't switch off until he's on the ground. Otherwise, he'll hurt them. Toney broke 40 tackles on 120 catches in his college career, including 20 on 70 receptions this past season alone.
+ These designed carries are fun plays
Sure, there are just basic jet sweeps in here, but there are also some really creative run concepts with Toney as the ball carrier, usually not from a tailback alignment before the play. He has an interesting running style. He can certainly find space and has a good eye for unconventional cuts, and he makes huge plays happen in such scenarios, but that dancing tendency can cause him to be a chew toy for linebackers if they don't buy it and get their hands on him.
– Timing is going to be awkward with him
When Stevie Johnson was playing with Buffalo, he gave Darrelle Revis and Richard Sherman more trouble than any other wide receiver in the league because you could never quite tell what he was going to do with his routes. He was hard to read as a defensive back. The trouble with that was it was very hard for his quarterback to throw with timing and anticipation because they were never quite sure where Johnson was going to be at any given moment.
Toney looks like he may cause similar problems until he gets on the same page with his quarterback.
+ He shows a nice feel for finding soft spots in zones
You can see him throttle down instinctively when he hits zone coverage and finds the space. He maximizes the window his quarterback has to hit against that kind of coverage, and that's not necessarily an easy thing for a player to grasp early in his development at the position. That's an encouraging sign for his upside.
~ He's 6-foot, 190-plus pounds — I'd like to see more from him outside
Toney may be exclusively a slot receiver at the next level, but his quick feet and fakes are adept at defeating press coverage. And he has the size and strength to do that, as well. His value goes through the roof if he can play on the outside at the next level, but 82.3% of his snaps came from the slot in 2020, while a mere 13% came from out wide. It's not Florida's job to put the guy in the NFL shop window, but it's something I'd love to have seen more of.
+ If Toney gets a vertical route vs. man coverage from the slot, it can be a bloodbath
Toney's fakes can completely flat-foot a slot defender trying to match him on a vertical release, letting him blast past the guy for a huge amount of separation. If there isn't safety help over the top, Toney can create huge plays with this kind of route running, eschewing straight-line speed for something different to perhaps an even more devastating effect.
+ Hard not to be impressed by what he did against Alabama and LSU
It felt like Toney was a significantly better player by the end of the season than he was at the beginning of 2020, which has to be a good sign for his future prospects. Toney's college career was a total of just 150 targets, and as a former quarterback, it's clear he is still learning to play receiver. For him to take such strides during the course of a season is noteworthy and suggests that his transition to the NFL may be quicker than pessimists would anticipate.
The Bottom Line
Kadarius Toney was the biggest roller-coaster ride of a tape reel of any player I've watched yet. His film hits you in the face right away with his athletic ability, and he immediately looks like a player who is just more talented than the guys around him. But the higher the level you get to, the tougher it is for that to translate without bringing more to the table.
For all of Toney's crazy playmaking skills, you can see that the nuances of playing receiver are still a work in progress, and every time I fell in love with a big play, it was tempered with something I was less keen on. But Toney is young to the position, and his tape shows a clear progression of development the further into it you get, with his final few games showing some genuinely excellent play without the issues that popped up earlier in the year. He didn't become a perfect player over the course of the 2020 season, but he showed clear development.
I think his game at the NFL level is going to involve some pros and cons. That playmaking ability will translate, and he has experience with the ball in his hands as a receiver, a return man and as a ball carrier either out of the backfield or on jet sweeps and the like. He can have a positive impact on an offense, even as he learns the finer points of the rest of the game.
He most closely reminds me of players that also had some maverick to their route running, and that has some drawbacks in the NFL because quarterbacks can't always connect with accurate timing and anticipation.
I think Toney needs a more concrete plan and defined role than most of the receivers I have watched so far, but he has some skills that none of the others possess, and he can make huge plays because of that. Given his development curve, I think his upside is still huge and worth a first-round pick, but the team that pulls that trigger needs to come to the table with a real plan of action and be prepared to limit his role early in his career to unlock the full breadth of his potential down the line. 
---
Courtesy of PFF's 2021 NFL Draft Guide, find PFF's top draft prospect, biggest riser and wild card to watch at each position here: