One of the fantasy football industry's favorite pastimes has been to note that certain wide receivers are "better in best ball." For those unfamiliar with the league type: Best ball is a season-long game where you draft a team like you normally do, but that's it. There's no in-season roster management, and your lineup is optimized with your best performers every week.
Basically, saying that someone is "better in best ball" implies that you should value the player more because we don't have to fret over making tough start/sit decisions to determine when they'll boom or bust. Obviously, not having to account for bad games makes every single NFL player theoretically better in best ball, but the general gist of the overused phrase can make some sense if we apply the appropriate parameters.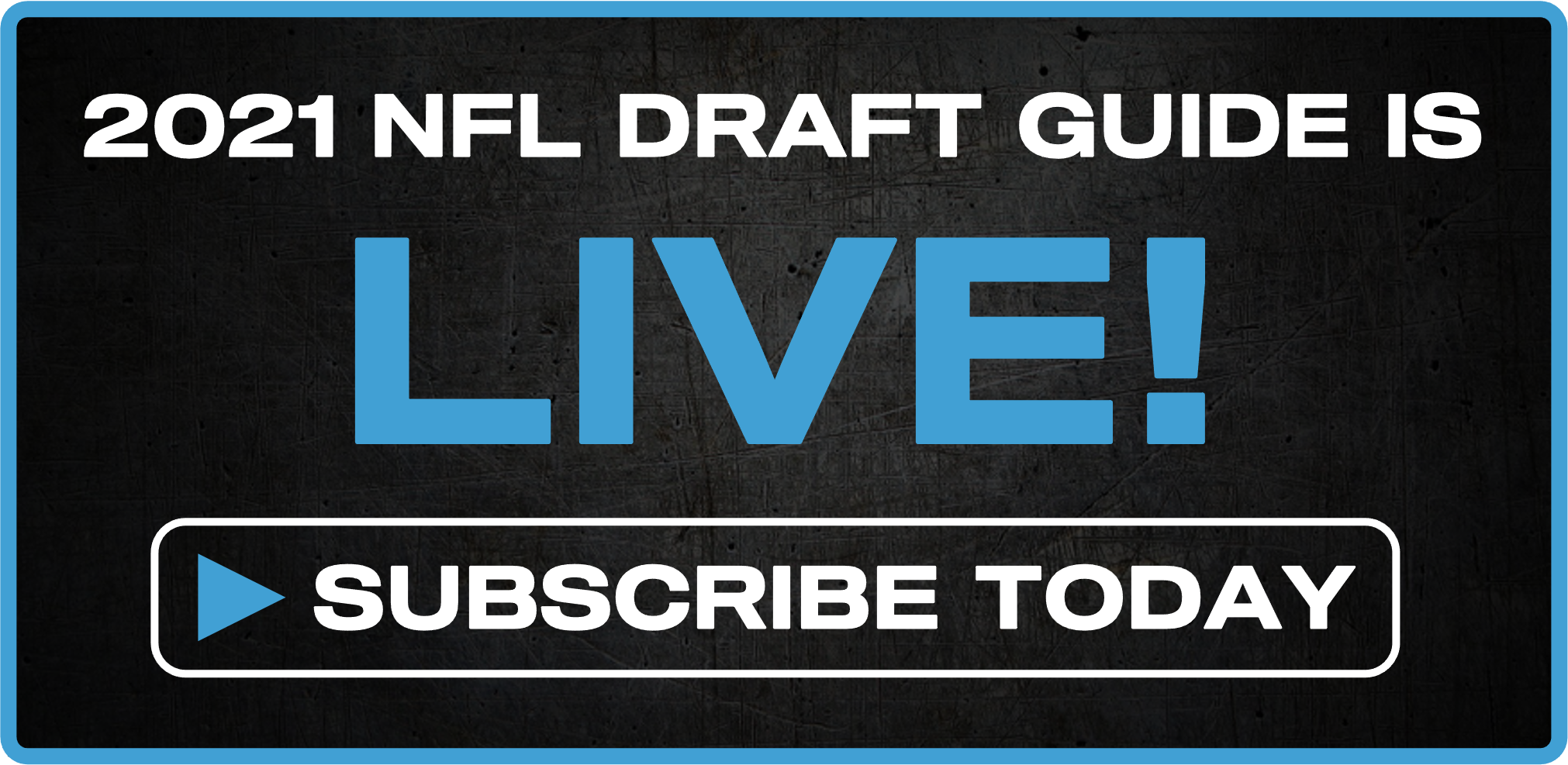 The following three criteria must be met for my top-five WRs that are truly better in best ball:
Average Underdog Fantasy draft position must be outside the top-20. We're looking for values here, people.

Has demonstrated the ability to boom in a major way. I mean, what's the point otherwise?

Reasonable doubt over ability to produce at high level consistently. This is the crux of why these receivers are, in fact, better in best ball.
Without further ado: my top-five WRs that are better in best ball, listed in order of underdog ADP:
Life with Lockett on your fantasy team was quite the emotional roller coaster in 2020. Yes, Lockett finished as the overall WR8 and WR12 in PPR points per game. Also yes, he had as many weekly finishes inside the top 12 WRs (5) as he did outside the top 60.
The poor performances in December have hurt over the past two seasons, but let's not act like the man isn't a great football player. Lockett has missed just one game since entering the league in 2015 and has ripped off 57-965-10, 82-1,057-8 and 100-1,054-10 receiving lines over the past three years, functioning as one of the position's most-efficient talents along the way.
The pessimism surrounding Lockett's ability to turn in another WR1 campaign basically comes down to:
Last year's late-season implosion.

The Seahawks' alleged plan to run the ball more in 2021.
The problem with this:
We're looking at a 29-year-old WR that just got

paid

and is cemented in a role that has produced an average of 121 targets over the past two seasons from Russell freaking Wilson. It wasn't like Lockett was busting over and over again in 2020 despite getting a large workload; the targets just came and went in a more volatile manner than most other top-producing receivers.

It's cute that Seattle thinks it can win by running the ball and with defense. This is probably due to their late-season success doing just that; just realize they literally faced Dwayne Haskins, Carson Wentz, Jared Goff, C.J. Beathard, Sam Darnold and Colt McCoy in their final six games. The Seahawks ranked 28th in points per game allowed before this cozy final stretch.
Russ has cooked enough to throw at least 30 TDs in five of the last six seasons. Obviously, D.K. Metcalf will get his, but the discrepancy in ADP between the Seahawks' undisputed top two WRs is unwarranted — particularly in a format that allows us to not sweat the inevitable down weeks as much. It's tough to find a passing game more condensed around two receivers than in Seattle; don't be afraid to stack Russ with both of his talented receivers opposite a defense that *checks notes* was bad last year and lost two starting corners in free agency.
Nobody knows how the Deshaun Watson situation will play out. Obviously a suspension seems likely if not inevitable, meaning Tyrod Taylor or (reportedly) Alex Smith could be under center for a potentially large portion of 2021. Watson was a top-five QB in football by most metrics last season; it's going to be a downgrade to the entire offense in terms of efficiency if/when he's not on the field.
However, Cooks finds himself as the undisputed No. 1 WR for an offense that ranks sixth and fourth in most available targets and air yards. It's not like he's new to life with a new QB, having posted 1,000 yard campaigns with each of Drew Brees, Jared Goff, Tom Brady and Watson over his career. The concussion history is certainly scary; just realize Cooks hasn't missed more than two games in a season since his rookie year.
Already coming off a 119-target campaign that produced a WR17 finish in PPR points per game and four weeks as a top-12 producer, Cooks is being priced near the bottom of his floor regardless of who is under center for the Texans for most of 2021. I fully realize either 2021 version of Taylor or Smith doesn't deserve to be in the conversation with Cook's aforementioned ex-QBs, but there's legit potential for him to see 150 targets on this likely atrocious team. 
Gallup put together quite the 2020 mixtape despite only getting to play with Dak Prescott for five weeks.
Best of Michael Gallup in 2020 pic.twitter.com/13smHO92FA

— Ian Hartitz (@Ihartitz) April 14, 2021
The PPR WR33 with Prescott under center, Gallup has largely done nothing other than impress since the Cowboys selected him with the 81st pick in the 2018 draft. His 66-1107-6 and 59-843-5 receiving lines over the past two seasons have shown off a blend of contested-catch and YAC ability that has allowed him to make the most out of his opportunities.
These skills proved especially useful in 2020 when the Cowboys added CeeDee Lamb into the fold. Lamb and (especially) Amari Cooper worked at the top of Prescott's pecking order, but at least Gallup was locked in as the offense's de facto field-stretching WR during Weeks 1-5:
Gallup: 24 targets, 17.6 aDOT, 423 air yards

Lamb: 39 targets, 10.7 aDOT, 416 air yards

Cooper: 53 targets, 9.5 aDOT, 504 air yards
Gallup managed to post three top-12 finishes in 2020, including two after Prescott was lost for the season. The Cowboys might have other players that they'll prioritize more than Gallup; just realize this defense (again) looks awful, and the offense (again) looks damn good. Don't be surprised if the Cowboys continue to participate in shootouts on a near-weekly basis in 2021.
Don't laugh. Stop it.
Crowder has inexplicably put together quite a few big weeks during his two-year tenure with the Jets. In 2019, he produced five weeks as a top-12 PPR producer, a mark that was only topped by Michael Thomas, DeAndre Hopkins, Julio Jones and Kenny Golladay. The Jets' slot receiver had another four such games in 2020 — tied for the 14th-highest mark among all WRs.
The production wasn't limited to games with Sam Darnold under center, as Crowder posted 8-116-1, 7-48-0, 2-26-1 and 1-16-0 receiving lines in four (injury-impacted) games featuring Joe Flacco. Yes, the additional absence of noted slot-lover Adam Gase could lead to Denzel Mims and a rookie leaping Crowder in the target totem poll. Also yes, Crowder is seemingly locked in as the starting slot on a team that will likely have to pass at least a decent amount to try and keep up in some inevitably rough games.
There aren't many (any) cheaper stacks to make in best ball than Zach Wilson, Jamison Crowder, Denzel Mims and, hell, even Chris Herndon. I realize this isn't the sexiest group of fantasy footballers; just realize there is literally nowhere for the league's reigning 32nd-ranked scoring offense to go but up, and each of their primary participants are being priced far closer to their floors than ceiling.
MVS certainly had his fair share of issues in the drop department last season. Throw in a backbreaking overtime fumble against the Colts, and there was far more bad than good publicity thrown the third-year talent's way in 2020.
Here's the thing: The league's reigning leader in yards per reception also had plenty of good moments. His 4-96-1, 2-53-2, 4-149-1, 6-85-1, 2-87-1 and 4-115-1 receiving lines demonstrate the sort of weekly boom potential for Aaron Rodgers' field-stretching threat. All in all, MVS racked up three weeks as a top-12 producer and is once again expected to line up opposite Davante Adams in 2021.
There's still potential for Allen Lazard, or a rookie to be named later, to function as the No. 2 pass-game option in Green Bay. Aaron Jones and Robert Tonyan will also obviously be plenty involved. Still, MVS is being priced well below last season's WR56 finish and *could* be on his way to further improvement considering he's increased his average yards per reception and yards per target in each of his three professional seasons.
Worst case: MVS is a 14th- or 15th-round pick that either booms his way into your lineup on a few occasions or fizzles out more times than not. Best case: Valdes-Scantling takes a real step forward and emerges as the clear-cut No. 2 pass-game option for Aaron freaking Rodgers. That seems like a reasonable enough risk to me.