The closer we get to the 2021 NFL Draft, the stronger the consensus is that Florida tight end Kyle Pitts is a truly generational talent. But after watching his tape and seeing him perform at his pro day, I have come to believe that he isn't just the best tight end in his class, but he is also the best receiver at any position.
The term "generational" gets thrown around a lot these days, and it is fairly ill-defined. But with Pitts, I think we can flesh out more of what it really means, at least as it pertains specifically to him.
Pitts is a true "tweener," only without any of the negative connotations that typically accompany the term. Most wide receiver-tight end tweeners are trapped between the positions because of some fatal flaw in their game that prohibits them from being a well-rounded and clean prospect at either one. Either a tight end is too much of a "finesse receiver" to block inline in the trenches, or a big-bodied wide receiver is too slow to win outside against cornerbacks who can handle that size. These are the players who have typically been labeled as tweeners, and it has usually been a bad thing for their NFL career projections.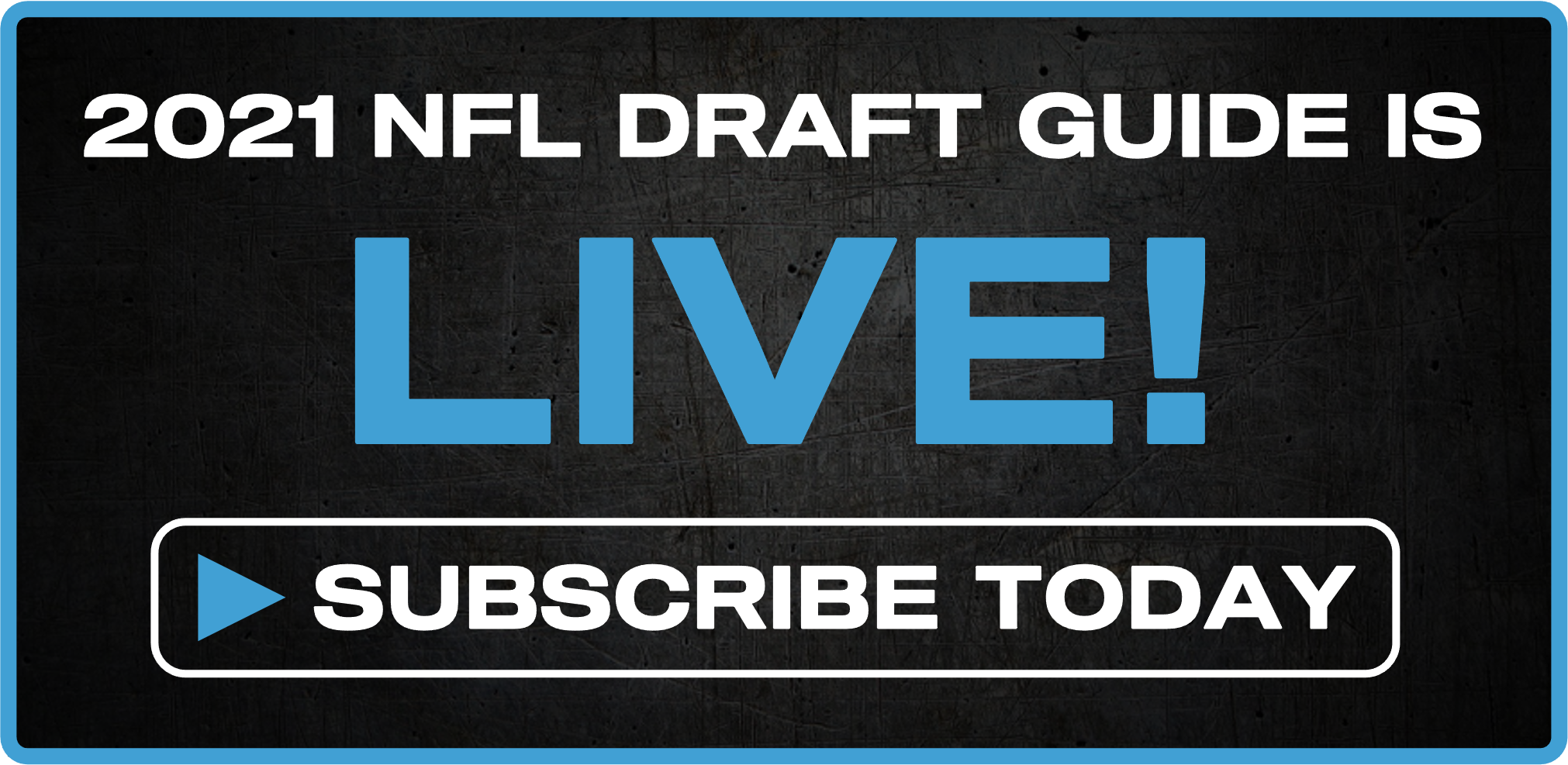 View PFF's 2021 NFL Draft position rankings:
QB | RB | WR | TE | T | iOL | DI | EDGE | LB | CB | S
Pitts is different. He is a tweener without the negatives. He is the best pure tight end in this class, but if he had never played inline at all and was coming into the draft as a 6-foot-5, 245-pound "X receiver," he would be the best wide receiver available in a historically great class. He would be seen as Calvin Johnson 2.0.
This isn't just wild conjecture on a player who has never shown any capacity to justify it. Pitts has lined up plenty in college as a true wide receiver and has matched up against cornerbacks, including players who will soon be selected in the first round of the 2021 NFL Draft.
Pitts' earned a 96.2 PFF grade in 2020, the highest we have ever given to a pass-catcher over a single season. On a smaller sample size, his receiving grade was 90.1 when lined up as a receiver in the slot or out wide and 92.8 when that alignment matched him up against a cornerback.
He generated 4.4 yards per route run on those plays against corners, which is the same as DeVonta Smith managed this year on his way to the Heisman Trophy and almost a full yard more per route run than Ja'Marr Chase managed during his incredible 2019 campaign.
In what was already a small sample size season due to COVID-19 disruption, this kind of split reduces it down even further, but Florida deployed Pitts enough as a wide receiver that it's not farcical. He saw 24 targets this season alone lined up against cornerbacks as a true receiver, catching 17 of them for 250 yards. He beat Jaycee Horn for a nice 20-yard gain against South Carolina, and he got the better of Patrick Surtain II for a first down against Alabama in the SEC championship game. Both of those cornerbacks are expected to go in the first round of this draft.
Pitts hasn't had that much experience playing as a true wide receiver, and you can see that he still lacks a little bit of nuance with his outside release, something that, if developed, would make him nigh-on uncoverable from any alignment across an offense.
As a true tight end, Pitts is already there. Matching him up against linebackers or slower safeties is akin to a prizefighter way out of his weight class — those players just don't have the tools to deal with him. But what about his blocking?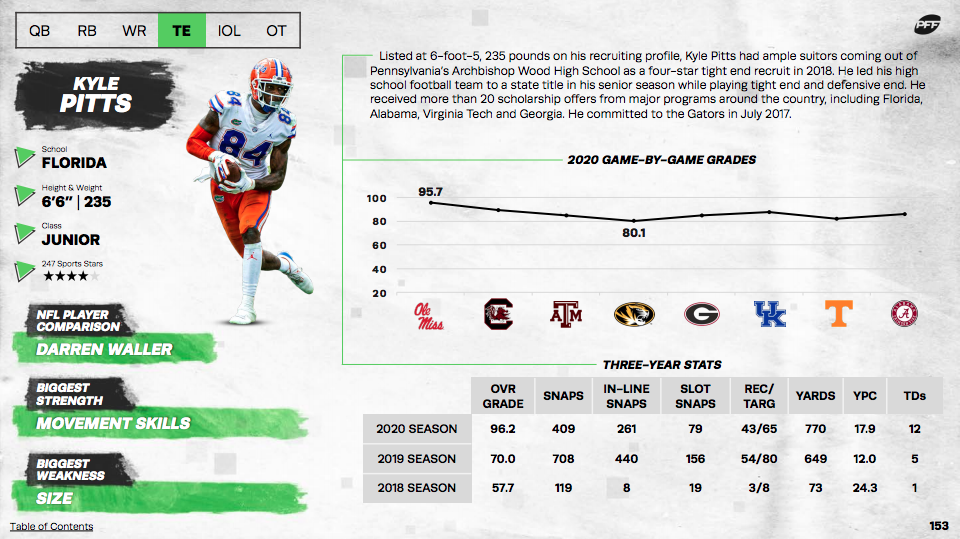 Blocking is becoming rarer and rare for college tight ends. Players are now seldom asked to throw a block well in college, and NFL teams draft them knowing they will be a work in progress. Even excellent college blockers find that it's a major transition to the NFL level if they are asked to be true inline tight ends with the blocking responsibilities that entails.
Within that context, Pitts' blocking has been fine. I'm not going to go overboard and claim it's a real strength to his game, but he hasn't been bad and has been a genuinely solid pass-protector throughout his career.
The lowest PFF pass-blocking grade of his three seasons at Florida was a still respectable 69.6 overall, and he allowed a total of just seven pressures across 105 pass-blocking snaps. His work as a run-blocker was a little more hit and miss, but he enters the NFL off the back of his best season in that regard, and his tape shows a player who is willing and also capable of some high-level blocks. There is nothing there that makes you think he is simply not able to hold his own in that area of the game. He is certainly the equal of most tight ends entering the league in 2021.
So, where does that leave us?  This is another phenomenal draft class for receivers. Ja'Marr Chase and DeVonta Smith represent just the peak of a hugely stacked group that has a real chance to make as much of an impact as the class that preceded it. If we viewed Pitts as purely an X receiver that could win all over the offense and defeat press coverage against No. 1 cornerbacks, like Chase or Smith, I think he would have a good case to be the best receiver in both this draft class and the previous one.
But why limit him to that?
What makes Kyle Pitts so special is that he is arguably the first genuine "tweener" to enter the league, making him close to the perfect passing weapon for today's game. He already presents a constant personnel problem any time he is in the huddle, and the threat of where he could line up on any given play would be a permanent shadow cast over a defense all game long.
He is the best tight end prospect to come along in years and has the skill set to win against cornerbacks in the slot or lined up as a true wideout. Pitts can be an impact player in the passing game, the likes of which we may not have seen before if he lands in the right situation with a coach capable of maximizing that impact.
And that is something to hope for on draft day.