The 2021 NFL Draft has come and gone. We finally have landing spots for all of our favorite prospects, and now it's time to adjust the hell out of the ole ranks.
What follows is a breakdown on every rookie QB, RB, WR and TE drafted last weekend. I'll heavily weigh players picked within the top three rounds; historically at least 80% of high-performing rookies at every position in fantasy football were selected on Day 1 or Day 2. Of course, some later round prospects will emerge as viable fantasy options thanks to landing in an offense with an existing hole; just realize the general rule of thumb is "earlier the better" when it comes to evaluating how we feel about a rookie's draft capital.
More of PFF's 2021 NFL Draft tools here: 
2021 NFL Draft Big Board | 2021 NFL Draft Guide | 2021 NFL Draft Stats Export | NFL Mock Drafts | NFL Mock Draft Simulator
Note that I've already written lengthier breakdowns on every first round skill-position player, and our PFF fantasy team collaborated to produce a fantasy tracker with pick-by-pick analysis throughout the entire draft.
Without further ado: my top-five rookie QBs, RBs, WRs and TEs based solely on projected 2021 production.
Quarterback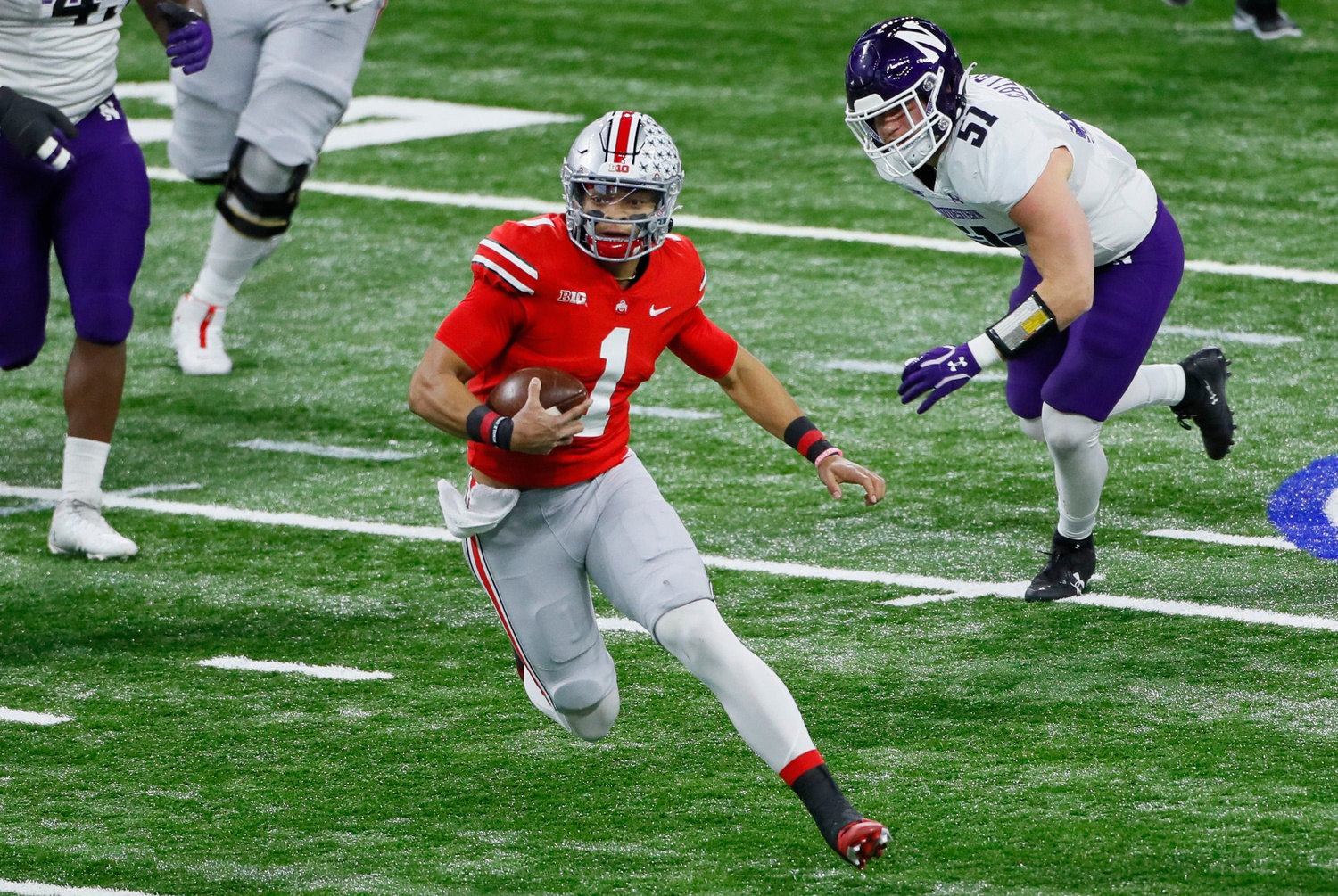 The Bears signed Andy Dalton to a one-year, $10 million contract. He's played *zero* snaps for their franchise. It's tough to say whose hot seat is at a higher temperature between coach Matt Nagy and GM Ryan Pace.
This is all to say: Fields should be on the field (ha) in no time at all, even if the Bears want to go through the charade of continuing to call Dalton their QB1. While QBs No. 2 and No. 4 on this list have a better chance of starting 17 games than Fields, the Ohio State product offers far more fantasy-friendly dual-threat ability.
Fields slots in as my QB13 in re-draft fantasy land, behind the likes of Joe Burrow, Ryan Tannehill and Tom Brady but ahead of Lawrence, Matthew Stafford and Ryan Fitzpatrick.
More: Justin Fields might be the most fantasy-friendly rookie QB
Lawrence fits the top-two most-common criteria for high-end fantasy rookie QBs: 1) start from Week 1, and 2) average at least 25 rush yards per game in college (Lawrence finished at 24). However, Lawrence doesn't have the same sort of instinct to take off and run as Fields and Trey Lance, making him my No. 3 QB of the group if/when all three are starting at the same time in 2021.
Fantasy football is supposed to replicate real life football, but dual-threat players like QBs with a rushing floor and RBs with high-end target share stand out as the cheat codes. Lawrence is far from a statue in the pocket, and he has enough pass-game weapons to put up some numbers through the air in Year 1; just realize we're also taking a leap of faith in the Urban Meyer experiment which grows a bit more confusing by the day. 
More: Trevor Lawrence looks a lot like the next rookie QB1
You could reverse this top three in dynasty land and I'd probably agree with you. The problem for Lance is the continued presence of Jimmy Garoppolo, along with reports that finding a trading partner hasn't been easy.
Once Lance is under center he'll be the No. 1 ranked rookie QB. It's been rare to see Lance not instill his will on the ground against defenses of all shapes and sizes over the years, as he racked up at least 40 yards and/or a score in all but one of his 19 games over the past three seasons.
Throw in the reality that the 49ers boast the best 1) scheme, and 2) skill-position group, of any of the first-round QBs, and I wouldn't blame anyone for going out of their way to make sure Lance has a roster spot on your fantasy squad. Just realize Jimmy G has a longer track record of success and far more money committed to him than your usual incumbent starter of a team lucky enough to pick No. 3; I anticipate Lance spending a longer time on the bench than any of these other first-round signal-callers.
More: Start Trey Lance as soon as he gets the job
Wilson is hardly incapable of taking off and picking up yards on the ground; I just have a tougher time believing that he can hold up physically in a similar manner as our top three QBs. This is not because Wilson looks like a middle schooler; he's had labrum and right thumb surgery since 2019 and never had to face a true pounding from a Power Five opponent.
I don't want to predict any QB as being a bust before watching them play against NFL level competition. We've seen the likes of Josh Allen, Daniel Jones and most recently Justin Herbert largely written off before their careers even began; don't make the same mistake with Wilson.
With that said: Wilson's track record as largely a one-year wonder against sub-par competition with the lowest career average of yards per game on the ground leads me to rank him the lowest among our top-four rookie QBs. The comparisons to Aaron Rodgers and Patrick Mahomes are fun; just realize even those all-world talents needed at least a year before they were trusted to lead their respective offenses. The Year 1 results for Wilson could be rough even if he eventually figures it out.
More: Zach Wilson has the tools and opportunity to be great
Our best-case scenario for Jones was to land on the 49ers and start from Day 1. From there we could hope for good health and solid efficiency, perhaps replicating Jimmy Garoppolo's 2019 campaign. Credit to Jimmy G for at least showing up efficiently in the lead up to their Super Bowl appearance, but he functioned as just the QB23 in fantasy points per game during that campaign.
We simply don't have a track record of immobile rookies like Jones becoming Day 1 fantasy stars. He *totaled* 42 rushing yards in 30 career games. It's tough to expect the Alabama product to learning the nuances of the QB position well enough to immediately post high-end passing numbers, and that's before considering the reality that 1) Cam Newton could start the season under center, and 2) the Patriots still don't exactly boast an elite group of skill-position players.
Jones could very well turn out to be a great real life QB; I'm betting against him being anything resembling a good fantasy signal-caller in the year 2021.
More: Fade Mac Jones in fantasy football
Honorable mention: Everything I just said about Jones also applies to Buccaneers QB Kyle Trask, except he boasts non-existent chances of starting a game in 2021 without an injury to the GOAT. … Texans QB Davis Mills might have the best shot of starting Week 1 outside of Lawrence and Wilson; unfortunately the Texans offense looks like a train wreck, and MIlls doesn't possess anything resembling a fantasy-friendly rushing floor. … Vikings QB Kellen Mond boasts more dual-threat ability than any QB drafted outside of the first round; I'm doubtful that he's ready to unseat Kirk Cousins, who remains very good, albeit not great. … Saints QB Ian Book averaged a more than respectable 33 rushing yards per game at Notre Dame; he's still fully expected to be the QB3 in Nola. … Colts QB Sam Ehlinger will likely compete with Jacob Eason for the backup job; Carson Wentz should start 17 games in 2021 assuming health.
Running back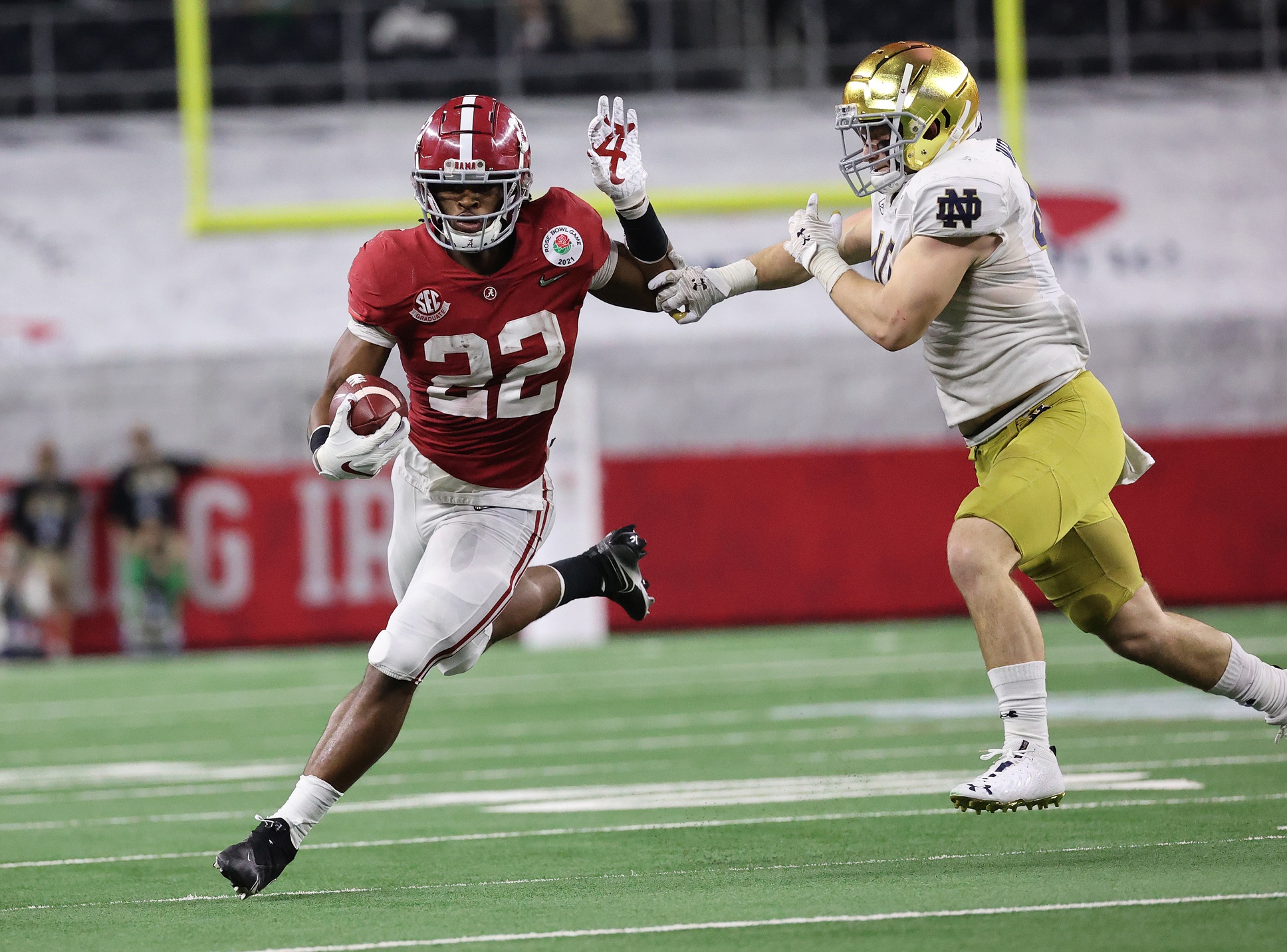 Would I prefer the Steelers have a better overall offensive line? Of course, but volume trumps efficiency in fantasy land, and we also shouldn't overestimate our abilities to judge future O-line groups. Last season nine offensive lines averaged fewer than 1.3 yards before contact per carry: Panthers, Buccaneers, Browns, Jaguars, Cowboys, Steelers, Bears, Jets and Chargers. Some of those groups have certainly done a better job improving their group than Pittsburgh; just realize Harris' volume will outweigh below-average efficiency if his expected workhorse role comes to fruition.
Each of Le'Veon Bell (25.6 touches per start), DeAngelo Williams (22.8), James Conner (20.8), Jaylen Samuels (18) and Stevan Ridley (17) were absolutely fed the ball from 2014-2018. We've seen more of a committee look in between Conner injuries over the past two seasons, but coach Mike Tomlin at his core is a featured-runner type guy. Harris is the No. 1 RB in this class when it comes to projecting who has the most NFL-ready three-down ability; his potential lack of home-run ability is easily outweighed by a potentially huge receiving workload in Pittsburgh.
Harris is my RB16 at the moment, behind Antonio Gibson and D'Andre Swift, but ahead of Miles Sanders and J.K. Dobbins. It doesn't make sense that players are rewarded a full point per reception in fantasy land, but that's the game we play. Take advantage and draft one of the league's last remaining workhorse RBs.
More: Najee Harris looks like the next great Steelers RB
These two backs might as well be tied, but I give the lean to Williams thanks to the reality that he's seemingly set up for a two-back committee with Melvin Gordon, while Etienne could split time with James Robinson and Carlos Hyde at least for a bit.
Don't get me wrong: Etienne can and should emerge as the Jaguars' three-down back before too long. However, this is also Williams' best-case scenario in Denver, particularly if we wind up seeing some sort of a punishment handed down to Gordon following his late-season DUI charge. It'd be far easier to write off Hyde having any sort of involvement if his coach wasn't the same man that led him to so much collegiate success back in the day.
Williams broke more tackles than any other back in college football last season, while Etienne showed off more polish as a receiver than we'd seen in 2017-2019. I have both back ranked next to each other in the low-end RB2 range in my re-draft ranks; for now I'm riding with the back seemingly set to feature in a two-back committee instead of three.
More: Travis Etienne should have the workload to ball out
This is another pair of players that I could easily see myself flipping once this coffee changes into a cocktail. Yes, Sermon is more likely to be thrust into a committee than Carter, who enters arguably the single-coziest RB depth chart in terms of available touches. Also yes, the Jets offense will be run by Mike Lafleur, who has literally spent the past seven years working under Kyle Shanahan.
There is less talent for Carter to overcome with the Jets compared to what Sermon is dealing with, although the latter back enters a far more proven and fantasy-friendly offense. We have no idea if LaFleur will feature any single RB. We shouldn't ding Carter too much for being a Day 3 guy considering he was off the board with the second pick of the fourth round, but there's also an argument to be made that Sermon possesses the superior draft capital and thus backing from his organization.
Both Sermon and Carter project as ideal zero-RB targets if their ADPs don't climb into RB2 territory. There's some projecting to do for both in terms of getting a consistent weekly role, but the upside of either theoretical three-down back functioning as the lead guy in a Shanny-based run game is borderline erotic.
Honorable mention: Vikings RB Kene Nwangwu projects as the clear-cut No. 3 option behind Dalvin Cook and Alexander Mattison. … Patriots RB Rhamondre Stevenson is huge (6-foot, 230-pounds) and might be an annoying vulture; just don't expect any single Patriots back to see anything resembling a three-down workload (per usual). … Panthers RB Chuba Hubbard is a solid bet to be Christian McCaffrey's handcuff; we know Joe Brady is comfortable giving his lead RB a near every-down role. … Eagles RB Kenneth Gainwell fell further than many thought; don't be surprised if he competes for touches right away in a new Philly offense that figures to still feature Miles Sanders as the lead back, although expecting a legit 70%-plus snap role might be wishful thinking. … 49ers RB Eli Mitchell is another candidate to earn a committee role in San Fran; my money is on this offense kicking things off with Raheem Mostert as the No. 1 and Sermon as the No. 2. … Giants RB Gary Brightwell will be the No. 3 RB behind Saquon Barkley and Devontae Booker. … Chargers RB Larry Rountree could theoretically compete for early-down touches; just realize Austin Ekeler is THE man in L.A's backfield. … Bengals RB Chris Evans isn't the sort of pass-catching threat to yank Joe Mixon off the field; we could be looking at Mixon finally getting the sort of high-end receiving role that many have hoped for. … Bears RB Khalil Herbert would be arguably a top-five back in the fantasy ranks in the right offense; this isn't it. … Rams RB Jake Funk has a great name, but projects to be more of a special teamer at the NFL level. … Dolphins RB Gerrid Doaks was the only back added to the Miami backfield, putting Myles Gaskin alongside Mixon, Mike Davis and Chase Edmonds as the biggest veteran winners at the position. … Packers RB Kylin Hill hopefully and likely won't get weekly touches with Aaron Jones and A.J. Dillon expected to lead the charge. … Lions RB Jermar Jefferson figures to compete for No. 3 RB duties behind D'Andre Swift and Jamaal Williams.
Wide receiver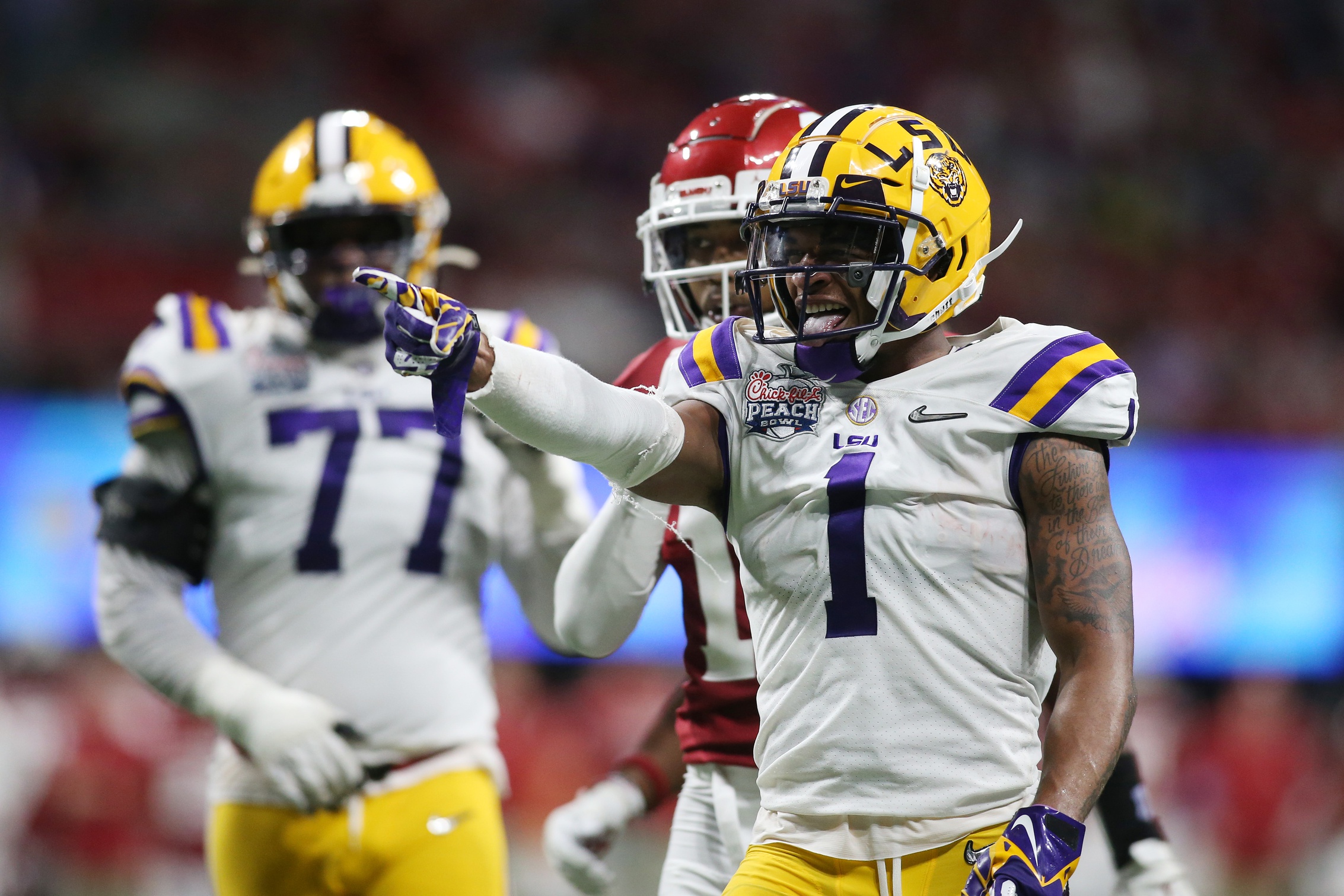 One of the reasons to feel so good about Chase as a rookie is the fact that we've already seen him take out high-level competition with Joe Burrow throwing him the ball. Take his 6-140-1 explosion against Alabama, for example: Cowboys CB and No. 51 overall pick of the 2020 draft Trevon Diggs simply didn't have an answer.
The Bengals offer a similar predicament as the Steelers: three bonafide stud receivers in a pass-heavy offense. It's tough to expect a Justin Jefferson-esque campaign from Chase purely because of this volume issue, but he certainly seems like the sort of high-end talent capable of making the most out of what he's given.
Ultimately, Chase has the best QB of any WR in my top five and possesses a role which should immediately afford triple-digit targets. Even if I give our next WR the slight edge in raw projected targets, Chase looks the part of a great enough talent to earn my No. 1 spot.
More: The ceiling is the roof for Ja'Marr Chase
The Eagles always stood out as one of the prime teams for a rookie WR to land, let alone before Smith got to reunite with former teammate Jalen Hurts. Obviously the Eagles' rising second-year QB isn't the most polished passer in the world; he still threw for 300-plus yards in two of his four starts as a rookie. Even if Jalen Reagor works as the No. 1 WR (I wouldn't be on it), there should be enough volume for Smith to have a target total beginning with a one.
I'm not down on Smith because of his size, and clearly the Eagles aren't either. Smith is not a full tier below Chase; this is more of a 1.A/1.B situation. Still, Chase' superior size and offense has me leaning toward the LSU talent at the moment. Here's to hoping Smith is utilized to the best of his talents and feasts from the slot with plenty of pre-snap motion along the way.
More: DeVonta Smith has his work cut out for him
It'd be silly for Waddle to spend a second outside of three-WR sets after being selected with the No. 6 overall pick. The bigger question is exactly where he'll rank in Tua's pecking order with healthy versions of DeVante Parker and Will Fuller now in the fold. There's also Mike Gesicki, Lynn Bowden and even Myles Gaskin: This Dolphins passing game is sneaky crowded despite not possessing much of a proven ceiling.
It's easy to envision a world where the Dolphins start Waddle from the slot immediately and design him at least five-plus targets per game; there's just a little more projecting to do in Miami than Cincinnati and Philadelphia. Speed kills, and Waddle has plenty of it; he's just the most-likely receiver from our big-three options to finish third or worse on their own team in targets.
More: Give Jaylen Waddle the ball and good things happen
The Jets can save $10.4 million against the cap by releasing Jamison Crowder at some point. This would allow Moore to seamlessly slide into the slot between Corey Davis and Denzel Mims in this completely wide open offense. There's a non-zero chance that the Ole MIss product emerges as the best receiver on the Jets early in 2021; the concern is whether or not Zach Wilson is ready to perform at the same level as the Year 2 QBs that our top-three WRs will be dealing with.
The great thing about the Jets offense at the moment is that everyone is priced far closer to their floor than ceiling. This makes them a great best-ball stack in the later rounds; using a pick on Moore presents great upside and low risk at his current reduced ADP, even if expecting a lot from anybody involved in this Jets offense is probably wishful thinking.
The Lions offer more available targets than anybody based on roster turnover. Right meow their top-five WRs under contract consist of Breshad Perriman, Tyrell Williams, Kalif Raymond, Quintez Cephus and Victor Bolden. Look for St. Brown to immediately slide into the slot, where he could function as Jared Goff's new-look version of Cooper Kupp.
This isn't to suggest that St. Brown is anywhere near ready to resemble a player of Kupp's caliber from Day 1; this is purely a play on potential volume. I wouldn't rank St. Brown inside of my top five dynasty receivers, but there simply wasn't a better situation for any pass-catcher to land in terms of raw pass-game opportunity.
Honorable mention: Giants WR Kadarius Toney joins a crowded Giants' passing game; his ability with the ball in his hands is exciting, but I wouldn't count on Daniel Jones and Jason Garrett making the most out of his talents in Year 1. … Ravens WR Rashod Bateman finds himself in a crowded passing game inside of a run-first offense; look for him to be a far better real-life player than consistent fantasy asset. … It's unclear if the Cardinals consider WR Rondale Moore as more of a RB; either way Kliff Kingsbury hasn't shown the ability to enable anybody other than DeAndre Hopkins as a high-end fantasy receiver. … Seahawks WR D'wayne Eskridge could start in three-WR sets, although this *should* be a run-first offense with fairly condensed target share around D.K. Metcalf and Tyler Lockett; Eskridge is one of those WRs that is (wait for it) better in best ball. … Rams WR Tutu Atwell projects as more of a part-time field-stretcher option that will rotate with Van Jefferson and DeSean Jackson as opposed to a consistent volume hog. … Panthers WR Terrace Marshall would be in my top five in a different situation that wouldn't project him as the No. 4 option in an offense with Sam Darnold under center; I'm fine sliding Marshall far higher in dynasty land. … Chargers WR Josh Palmer will hopefully unseat Jalen Guyton and Tyron Johnson as the offense's primary field-stretching option; just realize that, like Marshall, he's still the favorite to finish No. 4 in targets (at best). … Washington WR Dyami Brown would be my No. 7 WR on this list thanks to the likelihood that he's in three-WR sets with YOLO-DGAF gunslinger Ryan Fitzpatrick under center for most of the season. … Packers WR Amari Rodgers could rise up this list fast if 1) he manages to immediately unseat Allen Lazard as the starting slot, and 2) Aaron Rodgers chills out, but there's enough concern about a Year 1 Ty Montgomery-esque gadget role to not overly freak out in fantasy land, not mention the potential for life with Jordan Love at QB. … Texans WR Nico Collins is my No. 6 WR; there's next to zero competition for targets in this offense behind Brandin Cooks, obvious QB concerns aside. … Browns WR Anthony Schwartz is the epitome of a one-trick pony field-stretcher; he shouldn't start in three-WR sets without injury. … Titans WR Dez Fitzpatrick seemed like a reach; I'll support any WR named Dez (he caught it), but this selection is probably more of a sign to get more exposure to A.J. Brown, Anthony Firkser and Josh Reynolds than a signal to pounce on the rookie. … Buccaneers WR Jaelon Darden is explosive af; too bad he projects as this offense's No. 6 WR. …. Ravens WR Tylan Wallace joins his new teammate Bateman as players likely to be better in real life than fantasy. … Rams WR Jacob Harris won't be more than a backup option in 2021, but at least Sean McVay and company are doing everything in their power to reinvigorate this downfield passing game. … Vikings WR Ihmir Smith-Marsette has a better shot to land in three-WR sets than most fifth-round picks; just don't expect him to finish higher than fifth in total targets in this offense. … Chiefs WR Cornell Powell was one of my favorite later-round prospects at the position; he could find a way into the rotation sooner rather than later, even if consistent target share is unlikely. … Falcons WR Frank Darby is one injury away from potentially having a starting role, although the offense's shiny new TE will make this offense's No. 3 WR less fantasy friendly than we've seen in the past. … Bills WR Marquez Stevenson projects as the offense's No. 5 WR at best. … Panthers WR Shi Smith is looking at a best-case scenario as the offense's No. 4 WR; even that seems unlikely. … Titans WR Racey Mcmath probably has the best chance of balling in 2021 of any WR drafted outside of the top-five rounds based solely on the Titans' barren depth chart at the position. … Browns WR Demetric Felton will push for rotational snaps as the offense's No. 3 WR if everything goes his way. … Broncos WR Seth Williams unfortunately finds himself on one of the more sneaky-talented WR depth charts in the league. … Bears WR Dazz Newsome flashed at North Carolina and the reality that Darnell Mooney quickly rose up the depth chart gives him a better outlook than most late-round options. … Colts WR Mike Strachan joins an overall underwhelming Colts WR room; there's a chance nobody involved in this passing game every becomes a rock solid fantasy contributor. … Patriots WR Tre Nixon looks the part of your typical New England slot receiver but in reality gives this offense some extra juice on the outside. … Rams WR Ben Skowronek will have his work cut out for him to even earn a roster spot; sheesh L.A. really wanted more WRs. … Saints WR Kawaan Baker couldn't have asked for a better landing spot; just realize seventh-round pick receivers rarely work out. … Washington WR Dax Milne's best-case scenario is working as Curtis Samuel's backup in the slot.
Tight end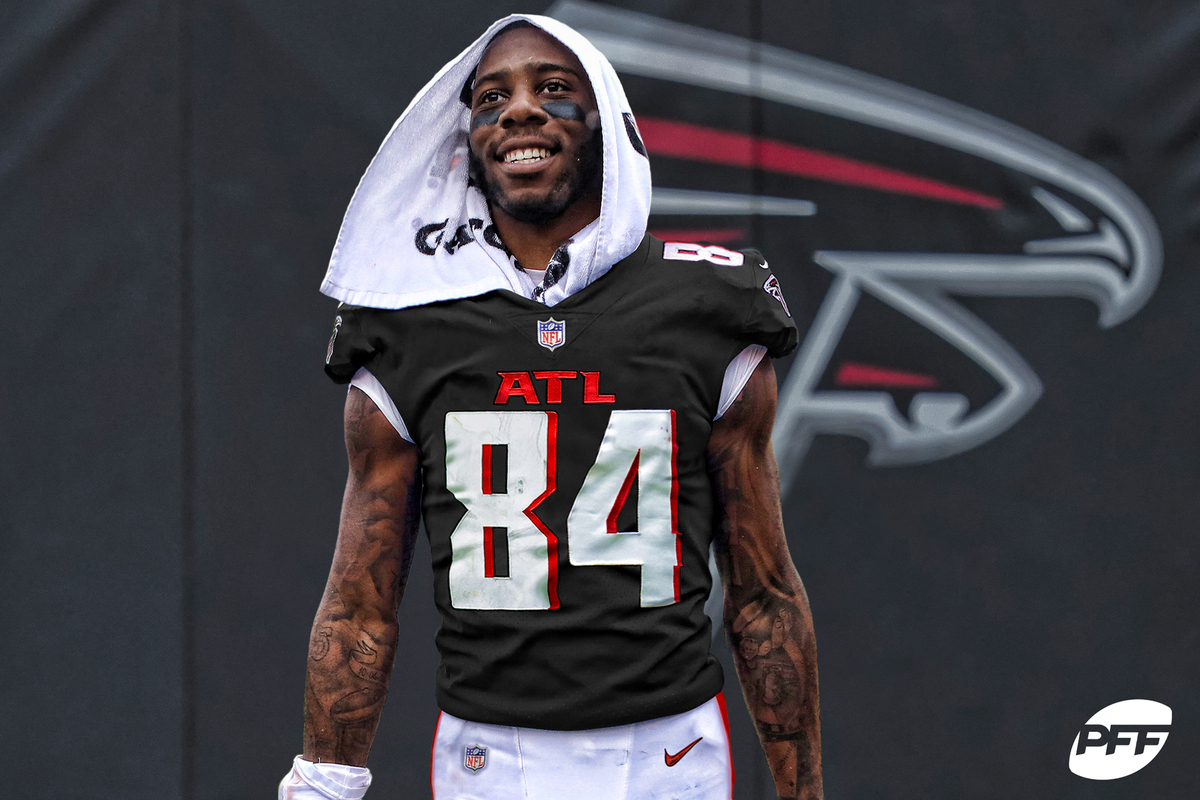 Pitts is closer to a modern-day receiver than yesterday's tight end. Today's brand of football has embraced the passing game and hybrid players more than ever before; any coach that doesn't think they can find a way to get high-end production out of Pitts because he doesn't fit into their "system" should be publicly chastised to no end. Don't be surprised if his rookie year numbers more closely resemble the sort of receivers he's being drafted next to as opposed to past first-year tight ends.
With that said: This is hardly a value situation in fantasy land. Pitts is already going as the PPR TE6, and I certainly wouldn't blame anyone for not chasing this pre-draft valuation. He's certainly capable of reaching this rank as early as 2021; just realize it's far closer to his ceiling than floor and seemingly impacted by optimistic public sentiment at the moment.
More: Kyle Pitts is a unicorn and we like unicorns
I like what Freiermuth was able to do at Penn State, but by and large we shouldn't expect any of these other players at the position to produce much at all in 2021. It's so hard for tight ends to come in and produce because they need to perform at a high level as both a 1) blocker, and 2) receiver, in order to find the field in their first year. Literally only Evan Engram and Rob Gronkowski have functioned as top-12 PPR TEs among all rookies since 2010; don't expect anyone other than potentially Pitts to join that group.