The Falcons selected the first non-QB of the draft, adding Florida TE Kyle Pitts to an already loaded passing attack. While he's technically a tight end, make no mistake about it: Pitts is a No. 1 receiver that deserves to see triple-digit targets immediately. Perhaps we'll see a bit of a touch and go situation between Pitts and Hayden Hurst to start, but you don't pick someone at No. 4 to do anything other than feature them as soon as possible.
View PFF's 2021 NFL Draft position rankings:
QB | RB | WR | TE | T | iOL | DI | EDGE | LB | CB | S
What follows is a breakdown on what makes Pitts such an intriguing prospect, whether or not he fits the mold of a great fantasy football TE, as well as what we should expect from him and this Falcons offense in 2021.
I don't like the phrase, but Pitts is truly a generational talent
PFF stated the following about Pitts in our 2021 NFL Draft Guide:
"I'm no fan of drafting a tight end early — they can be taken out of game plans too easily if they can't separate man coverage. The good news is that Pitts would still be a first-rounder if you just called him a wide receiver. He's already shown he can separate against high-level corners and averaged 4.91 yards per route vs. man coverage this year — third-highest of any player in the country and nearly two yards more than any other tight end. That's different. Pitts also took a considerable step forward as a run blocker this year, although that's still going to be an issue in the NFL."
We have a dizzying number of examples of Pitts functioning as an unstoppable force on the football field. Defenders of all shapes and sizes simply didn't have an answer for the five-tool receiver.
you're not high enough on kyle pitts pic.twitter.com/4vwTBzzesd

— Austin Gayle (@PFF_AustinGayle) January 17, 2021
PFF has never given a college pass-catcher a higher single-season grade than 2020 Pitts (96.2). The man truly didn't miss all season and didn't drop a single pass:
vs. Mississippi: 8 receptions-170 yards-4 TD, 95.7 PFF Grade

vs. South Carolina: 4-57-2, 89.5

vs. Texas A&M: 5-47-1, 84.9

vs. Missouri: 5-81-0, 80.1

vs. Georgia: 2-59-1, 85

vs. Kentucky: 5-99-3, 87.9

vs. Tennessee: 7-128-0, 82

vs. Alabama: 7-129-1, 85.8
Attempting to check Pitts with a mere mortal routinely ended poorly for defenders of all shapes and sizes. Overall, Pitts averaged 4.91 yards per route run against man coverage in 2020, which was the third-highest mark in the NCAA and just about two yards higher than any other player at the position.
We need to be careful about projecting a rookie TE for too much immediate success at the next level, but as we know by now: Pitts isn't your everyday rookie TE.
Pitts is the exception to the rule to not touch rookie tight ends
Historically, TEs simply don't provide solid fantasy production during their NFL debut: Evan Engram and Rob Gronkowski are the only rookie TEs to finish as top-12 PPR performers since 2010. There are a number of reasons to help potentially explain this phenomenon:
TEs simply don't provide solidTeams have slowly gotten the TE more involved in the passing game over the years, but generally the WR and RB positions still receive more targets. Engram benefited from both Odell Beckham (played 4 games) and Sterling Shepard (11) missing extended time during his rookie season.

It's harder for rookie TEs to gain a starting role due to the need to be a polished receiver *and* blocker. Obviously Gronk, arguably the best TE ever, qualifies as a reasonable exception.

Usually offenses only have one TE on the field per play. The existence of multiple talented TEs on the same team can lead to rookies like Dallas Goedert and Irv Smith playing reduced roles despite having the talent to theoretically achieve so much more.
It's already tough for this position as a whole to earn featured pass-game roles, so you best be sure you're dealing with a barren depth chart and an extremely talented player if you want to stick your neck on the line for a rookie TE.
Enter: Pitts, who will seemingly have the most issue with points No. 2: His 63.7 run-block grade ranked 128th among 366 qualified tight ends last season. Still, this is a part of his game that *should* inevitably improve with age and time in an NFL weight room, plus we've seen more than enough evidence by now that Pitts is special when it comes to receiving ability.
Pitts is my fantasy TE6 ahead of 2021
It remains to be seen how much (if any) of a hindrance Pitts' blocking will be in 2021. There's far less doubt in regards to how Pitts will stack up as a receiver; we're looking at a scary specimen capable of causing problems against any secondary the second he steps on a football field.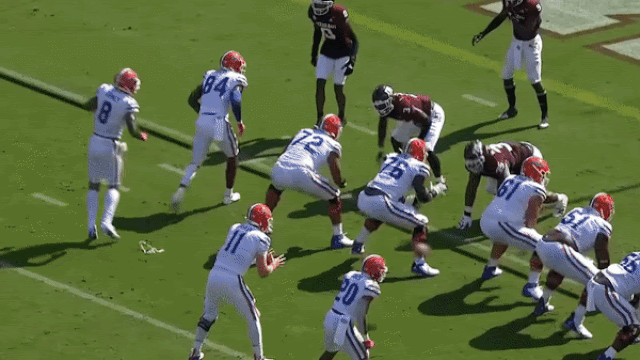 Pitts lined up in the slot or out wide on 42% of his snaps during his three-year career at Florida. As Florida HC Dan Mullens said: "He's an elite wide receiver and an elite tight end." Pitts himself has stated that "no teams have mentioned" him playing wide receiver, although they've brought up using him all over the formation.
Pitts is closer to a modern-day receiver than yesterday's tight end. Today's brand of football has embraced the passing game and hybrid players more than ever before; any coach that doesn't think they can find a way to get high-end production out of Pitts because he doesn't fit into their "system" should be publicly chastised to no end. Don't be surprised if his rookie year numbers more closely resemble the sort of receivers he's being drafted next to as opposed to past first-year tight ends.
With that said: This is hardly a value situation in fantasy land. Pitts is already going as the PPR TE6, and I certainly wouldn't blame anyone for not chasing this pre-draft valuation. He's certainly capable of reaching this rank as early as 2021; just realize it's far closer to his ceiling than floor and seemingly impacted by optimistic public sentiment at the moment.