Free agency and the NFL Draft are right around the corner. Rosters are about to be thrown out of whack; let's get a grip on the hierarchy inside the NFL's various passing attacks before things get too out of hand.
Click here for more PFF tools:
Draft Guide & Big Board | Mock Draft Simulator
Dynasty Rankings & Projections | Free Agent Rankings | 2022 QB Annual
Player Grades
---
What follows is a breakdown on every team's projected top-five pass-game options. This includes wide receivers, tight ends and running backs alike — but unrestricted free agents are not included. The order will be somewhat subjective but primarily reflective of what happened in 2021 with particular mindfulness paid. This practice will help identify which players could be looking at massive target shares ahead of 2022, while also pinpointing those who might have a rough time seeing enough volume to create any sort of meaningful fantasy production.
JUMP TO A TEAM:
ARZ | ATL | BLT | BUF | CAR | CIN | CHI | CLE | DEN | DAL | DET | GB | HOU | IND | JAX | KC | LVR | LAC | LAR | MIA | MIN | NE | NO | NYG | NYJ | PHI | PIT | SF | SEA | TB | TEN | WSH
An asinine 71% of the Cardinals' 2021 targets are up for grabs at the moment. They are easily the only team in the NFL with over 50% of their targets tied to unrestricted free agents, as wide receivers Christian Kirk and A.J. Green join running backs James Conner and Chase Edmonds as well as tight ends Zach Ertz and Maxx Williams on the open market. Only Hopkins and Moore figure to still be inside this top-five by the time May rolls around.
Key player to watch: Rondale Moore. The Cardinals will obviously be addressing each of their skill-position rooms in free agency or the draft, but the extent to which they add to the wide receiver room could be the difference in Moore being a legit upside WR2 candidate in fantasy land vs. just another gadget.
The Falcons are another squad that figures to have an awfully different pecking order in a few months. Wide receivers Russell Gage and Tajae Sharpe are unrestricted free agents, as are do-it-all talent Cordarrelle Patterson and TE Hayden Hurst. Throw in the Calvin Ridley suspension, and there is an awful lot of opportunity in this offense that needs to be soaked up by somebody.
Key player to watch: Mike Davis
It remains to be seen if the Falcons will do what it takes financially to get C-Patt back in Atlanta, while they could also devote one of their four top-75 picks to the position. Or maybe they don't, and Davis gets another shot to be the team's starter. He busted in 2021 and burned essentially every fantasy manager that touched him; just realize he's likely to be ranked outside of most experts' top-50 running backs entering the same situation that had him inside many top-24 rankings this time last year.
Progress stopper Sammy Watkins is an unrestricted free agent, meaning Bateman should get more than enough opportunity to build on some of his late-season flashes. Still, Andrews and the artist known as Hollywood figure to continue to work as Lamar Jackson's fairly undisputed top-two targets. There really isn't enough available volume here to expect a serious investment in new talent, unless of course the Ravens decide to answer Antonio Brown's cries for attention.
Key player to watch: J.K. Dobbins
The Ravens spoke highly of Dobbins' ability in the passing game prior to last season. Ravens running backs wound up setting a three-year high in targets in 2021 (66) vs. 2019 (49) and 2020 (47) despite not having any of their preseason top-three backs. Life for running backs with mobile quarterbacks is tough in fantasy land, but Dobbins' high-end efficiency combined with a newfound bump in targets could help him be an exception to the rule.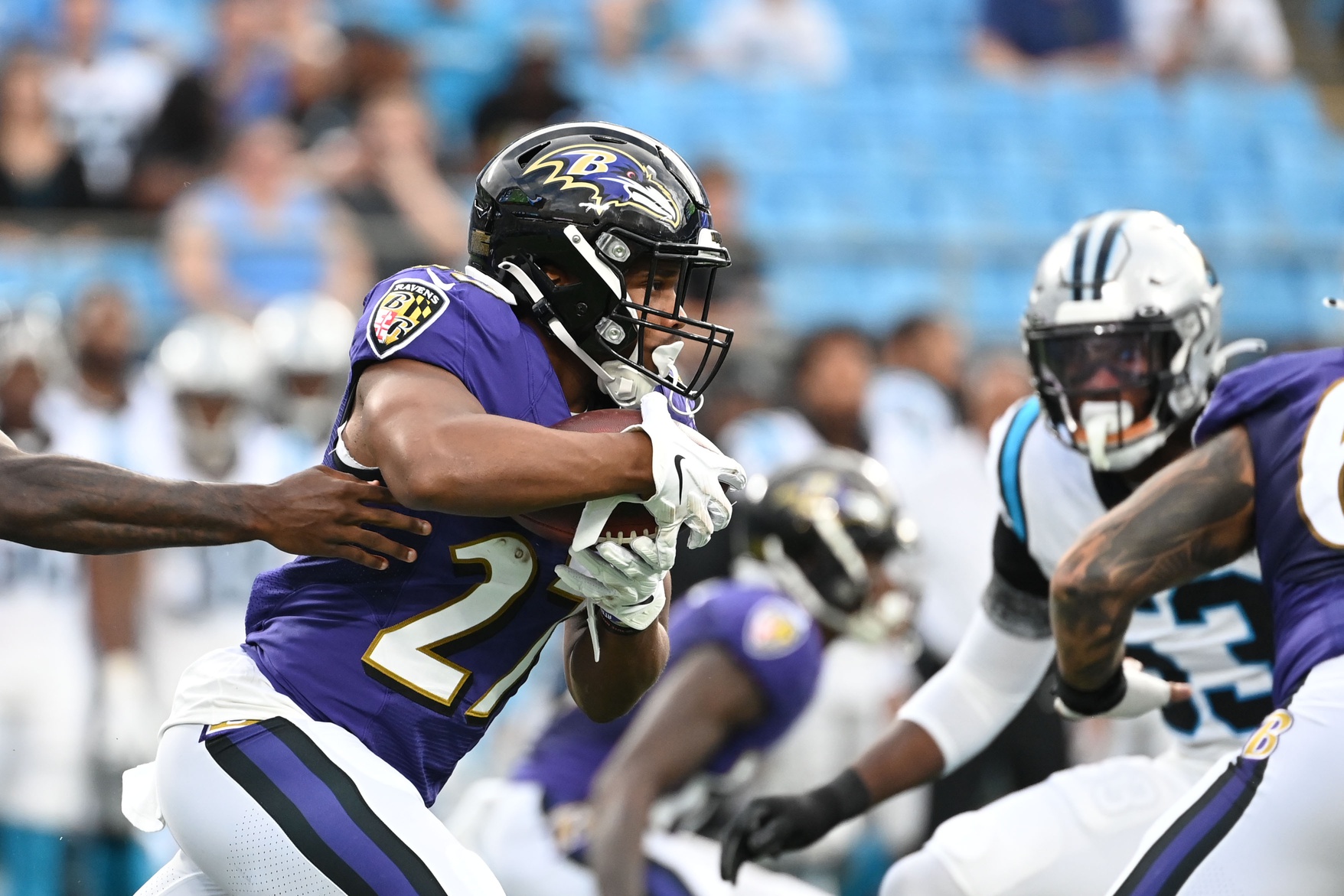 The Bills have given Beasley permission to seek a trade, meaning they could be looking at re-signing unrestricted free agent Isaiah McKenzie. The jury is also out on whether they'll bring back Emmanuel Sanders; either way, it seems likely that the man fresh off going for 8-201-4 in the AFC Divisional Round will finally get his chance to work as Josh Allen's rather undisputed No. 2 pass-game option. A return of both Beasley and McKenzie, or another high-ish end receiver, could split targets enough that Knox rises to No. 3 — it's going to be tough for the rising fourth-year tight end to replicate his 2021 feat of scoring nine touchdowns on just 71 targets.
Key player to watch: Devin Singletary
We have multiple years of evidence of Allen enabling multiple fantasy-relevant receivers, but the end of 2021 marked the first extended occurrence of a high-end fantasy running back. Overall, Singletary pealed off PPR RB14, RB7, RB10, RB5 and RB3 finishes in the regular season before racking up a combined 145 total yards and three touchdowns in two playoff games. Singletary didn't come off the field for a single play against the Chiefs; this sort of fantasy-friendly role could make him a screaming value in fantasy drafts of all shapes and sizes should the Bills decline to make any meaningful investments to the position.
The biggest issues for the Panthers remain their quarterback room and offensive line; there's nothing wrong with their weapons at running back, wide receiver and tight end alike. Moore will turn 25 in April and should see enough volume as the clear-cut No. 1 receiver to return some solid fantasy value, while CMC is the all-time leader in PPR points per game because of this very pass-game role. It'll be tough to trust the rest of the wide receivers without a quarterback upgrade, and the tight end room can be ignored with another split-committee incoming between Tremble and recently re-signed Ian Thomas.
Key player to watch: Terrace Marshall
Many were exceptionally high on the Panthers' 2021 second-round pick, but he wound up losing his job to Brandon Zylstra and posted a brutal season-long 17-138-0 receiving line. The history of wide receivers bouncing back after putting up a near-zero in their rookie season isn't great; either way, keep an eye on the Panthers' investments at the position to get an idea if Marshall will even get the opportunity to start in three-WR sets in 2022.
---
2022 NFL Draft position rankings:
Top 10 players at every position
QB | RB | WR | TE | iOL | OT | DI | EDGE | LB | CB | S
---
Mooney led the squad in targets last season, but each of the Bears next top-four receivers in Allen Robinson, Marquise Goodwin, Damiere Byrd and Jakeem Grant are unrestricted free agents. He'll have a case as one of the cheaper undisputed No. 1 pass-game options should the Bears refrain from putting serious resources toward the position. Kmet could see a more featured role, particularly in the red zone, if the Bears decide to not bring back Jimmy Graham, but Montgomery's pass-game volume looks to be on the downslope with Cohen expected to be back in 2022.
Key player to watch: Cole Kmet
Kmet figures to work as the Bears starting tight end in 2022, but a new coaching staff means a rotation is possible. The offense also needs to add multiple new receivers. With all that said: Kmet could be one of the league's few tight ends working as a top-two option in their passing game should the front office decide to invest elsewhere. Regularly ranked outside the position's top-12 options, Kmet could wind up being a nice late-round value based on volume alone.
Essentially the only fantasy-relevant question for the Bengals is whether or not they bring back starting TE C.J. Uzomah. Otherwise, please invest in the offensive line.
Key player to watch: Drew Sample
Sample would be the logical next man up at tight end should the Bengals let Uzomah take his talents elsewhere. He played a true every-down role after Uzomah suffered an Achilles injury in 2020. Sample could very well be 2022's "Dawson Knox" tight end who manages to parlay a starting role inside a great offense into some pretty solid fantasy production. Of course, the same could be true for Uzomah if the Bengals manage to retain him.
The expected departure of Jarvis Landry leaves the Browns painfully thin on proven production at wide receiver, which is one of the reasons why Peoples-Jones is one of my favorite dynasty values at the position. Things get dicey after that: Schwartz's status as the No. 2 receiver could be usurped in a hurry by a high-priced free agent or early-round pick. Njoku, Hooper and Harrison Bryant rotate so much that each struggles to provide consistent fantasy production, and Hunt's rotation with Nick Chubb limited his overall pass-game ceiling.
Key player to watch: Donovan Peoples-Jones
Buying fantasy players closer to their floor than ceiling is always recommended. DPJ looks to at least have a spot as the field-stretcher threat in three-WR sets, a role which would likely make him a bit of a boom-or-bust WR4. Or a lack of real investment could lead to an outright No. 1 role. The fact that he's being priced well beneath even the former scenario at the moment makes him a great late-round pick in fantasy drafts of all shapes and sizes.
Current rumors seem to be indicating the Cowboys will pay unrestricted free agent Michael Gallup and find a new team for Cooper. This would elevate Gallup up to No. 2 status, assuming his recovery from a torn ACL goes well. The No. 3 spot is fairly wide open with both Cedrick Wilson and Malik Turner on the open market; don't be surprised if an early-round pick is used to fill the hole. Otherwise, recently franchise-tagged Schultz figures to play well ahead of Blake Jarwin, and the Cowboys continue to have millions of reasons to feed Zeke over Pollard.
Key player to watch: Amari Cooper
All 32 NFL teams would be better with Cooper in their wide receiver room; we'll find out if the Cowboys will still be that very team, or if he'll be shipped away to save some cash. Dak Prescott has been content to spread the ball around fairly evenly throughout his professional career; removing Cooper from the puzzle would only help Lamb, Gallup and Schultz command even more volume.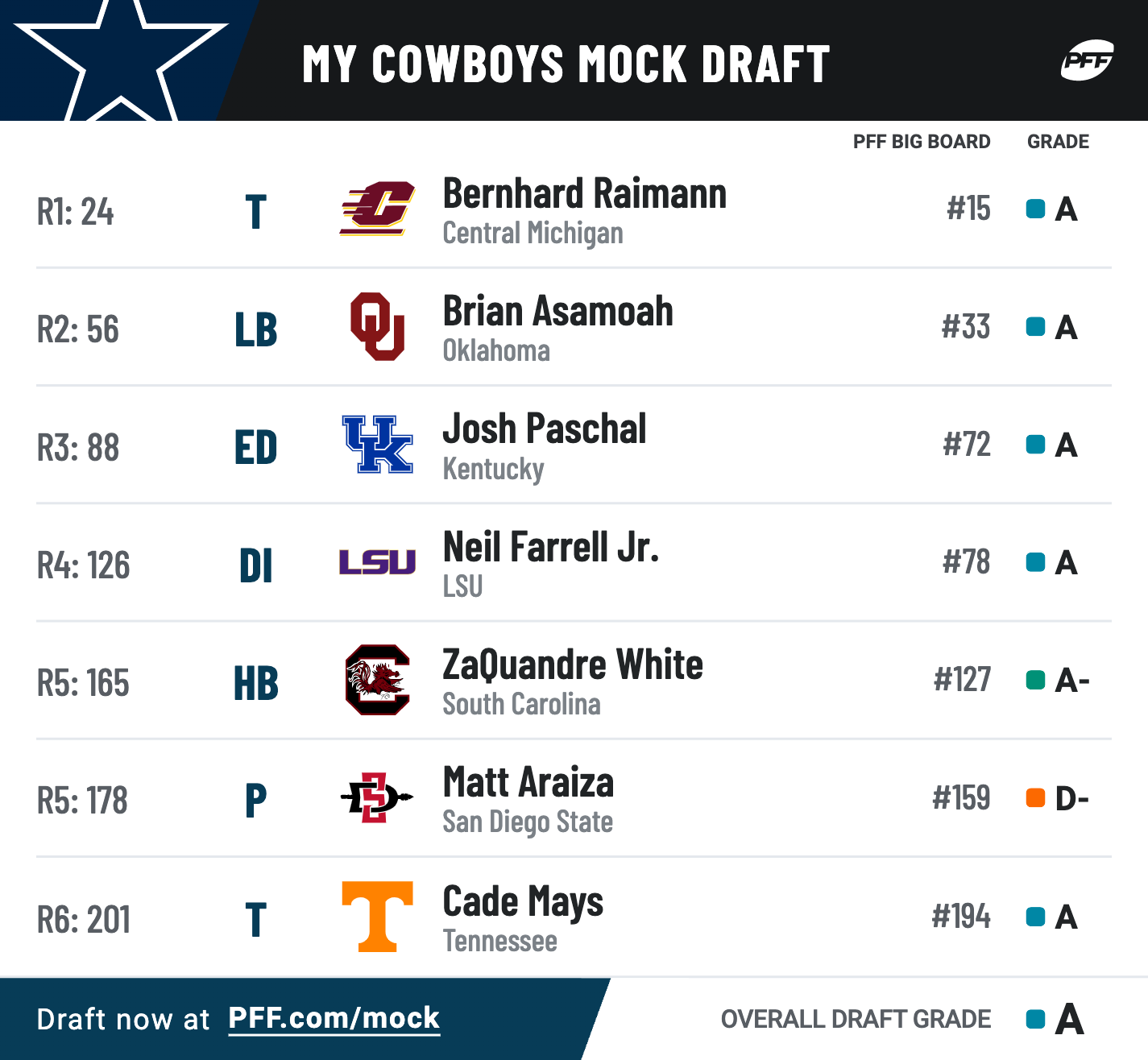 Adding Russell Wilson to the Broncos instantly elevates everyone involved; the question is now who exactly will be sitting atop his pecking order in the passing game. While Sutton and Patrick have the sort of long-term investment to be majorly involved on the outside, Jeudy's status as one of the league's bright young route-runners figures to earn him the nod more times than not from the friendly confines of the slot. Williams figures to be a pre-draft RB1 regardless of where unrestricted free agent Melvin Gordon lands, but he'd sure be closer to the No. 1 spot vs. No. 12 should MGIII go elsewhere. Albert O has flashed in limited work; it remains to be seen if the Broncos view him as a true every-down tight end.
Key player to watch: Albert Okwuegbunam
Okwuegbunam has played more than 60% of the offense's snaps in one of 18 career games. Hard to believe, but it's impossible for fantasy players to score points if they aren't on the field. Maybe the Broncos' decision to ship Noah Fant to Seattle is a sign that Albert O is their undisputed TE1 of the present and future; it'd be a lot easier to make that argument if they refrain from seriously addressing the position in free agency and the draft.
I said a hip-hop, the hippie, the hippie to the hip, hip-hop and you don't stop the rockin' pic.twitter.com/OYtl4dxWkv

— Ian Hartitz (@Ihartitz) March 10, 2022
The Lions will assuredly add to their wide receiver room; each of their No. 2-4 targets in Josh Reynolds, Kalif Raymond and KhaDarel Hodge are unrestricted free agents. Still, that's enough available opportunity for St. Brown, Hockenson and Swift to keep on keeping on even with a high-end outside receiver added to the equation. The larger issue could be a quarterback change; not many were more willing to dink and dunk the ball than Jared Goff in 2021.
Key player to watch: Amon-Ra St. Brown
Again: It won't be reasonable to sound the panic alarms on St. Brown even if the Lions decide to add to the position in a major way. However, St. Brown would undeniably receive a nice boost in projected volume if Detroit rather inexplicably refrains from sprucing up the room. Similar to Darnell Mooney: St. Brown will almost certainly be worthy of borderline WR2 status regardless of how the offseason plays out, but confirmed assertion as their offense's undisputed No. 1 pass-game option would make it easier to warrant top-20 treatment.
Rinse and repeat: Adams has a chance to obtain a target total starting with a two, and Jones figures to see plenty of work — albeit not as much as greedy fantasy managers would hope for. Options No. 3-5 are where things get interesting; failure to bring back unrestricted free agent WR Marquez Valdes-Scantling and/or TE Robert Tonyan could lead to some low-cost value for the incumbent complementary receivers. 
Key player to watch: Allen Lazard
Lazard quietly scored eight touchdowns in 15 games last season, carving out a full-time role in three-WR sets by the end of the year. Still just 26 years old, Lazard could wind up being the offense's No. 2 receiver by default based on the immense funds owed to Aaron Rodgers and Adams. Fantasy managers should be able to think of worse ways to spend a near-final-round pick than on Rodgers' No. 2 wide receiver.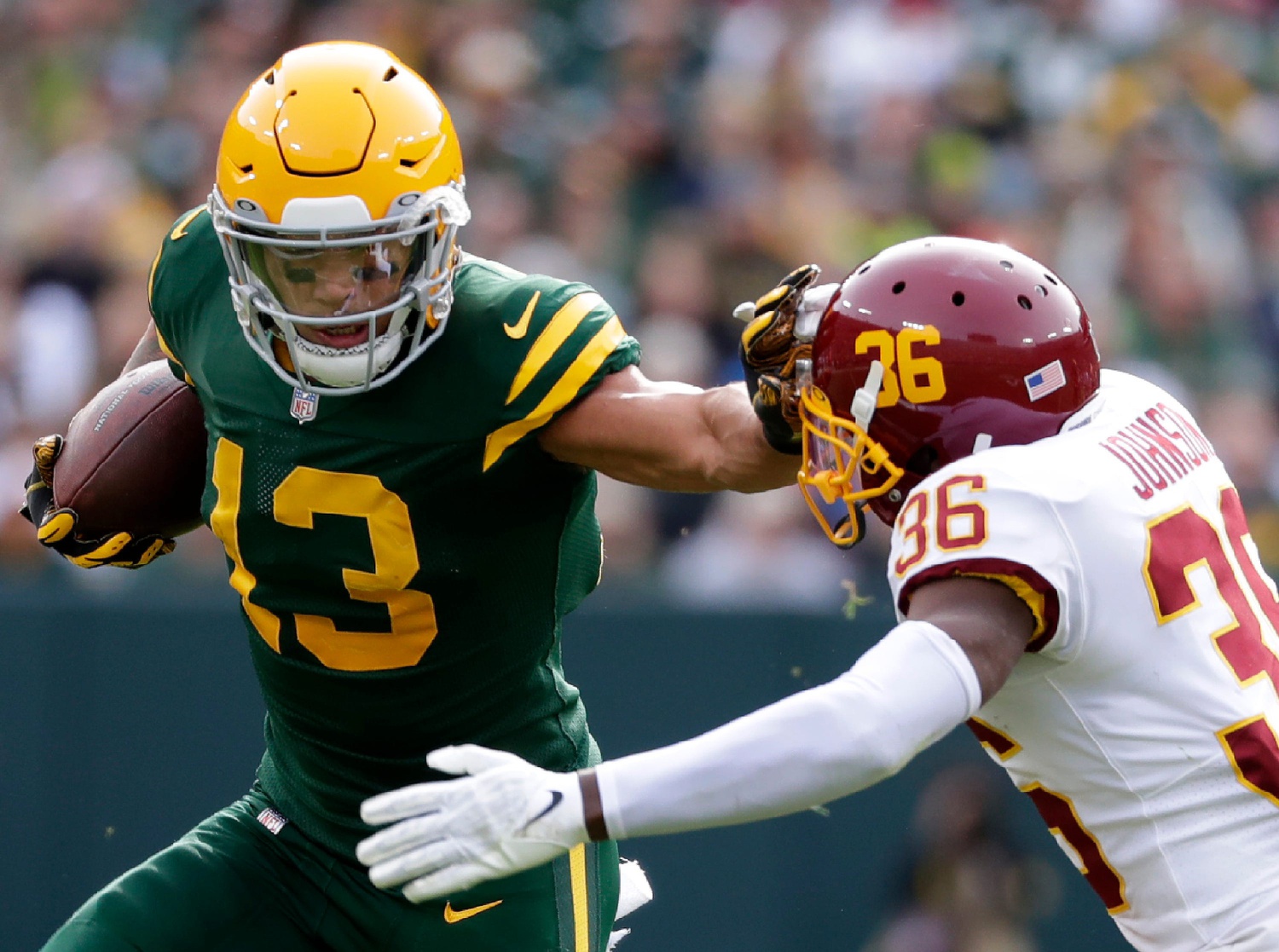 Cooks has proven capable of putting up big numbers regardless of who is under center, but trade rumors don't figure to stop anytime soon inside of this dumpster fire of an organization. Collins figures to be starting either way; just realize he's an aforementioned Cooks trade away from competing with Donovan Peoples-Jones as fantasy's cheapest No. 1 wide receiver. Jordan's status as a sneaky late-round dart is dependent on unrestricted free agents Pharaoh Brown, Jordan Akins and Antony Auclair not returning and (again) making things a committee more times than not. Perhaps the Texans bring back David Johnson or Royce Freeman form another committee with Burkhead, but if not this running back room is one of the league's most-prime situations for a newfound entity to take the hell over.
Key player to watch: Brevin Jordan
Best-case scenario for a fantasy tight end: talented, top-three pass-game option on a good team. Jordan might not get to experience the latter criteria anytime soon, but he does stand out as one of fantasy's few late-round tight ends that has both 1.) the ability to win downfield in the passing game, and 2.) an every-down role supplying ample volume.
Clearly the Colts' biggest issues are under center, but either way Pittman figures to work as the offense's undisputed No. 1 target. Things get murkier after this with both Zach Pascal and T.Y. Hilton hitting free agency; just realize Campbell profiles as a potential triple-digit target contributor (massive) if he can stay healthy. The Colts invested enough money into Hines prior to last season to believe he'll continue to work ahead of Taylor in most obvious pass-first situations. Frank Reich has regularly neutered his fantasy tight end by using three-player committees; it remains to be seen what the Colts will do at the position with Mo Alie-Cox an unrestricted free agent and Jack Doyle retired.
Key player to watch: Parris Campbell
Campell remains just 24 years old despite already registering three years of experience. During that time, he's played in just 15 of a possible 49 games, suffering: two abdomen strains, one fractured hand, one fractured foot, one concussion, one sprained knee and most recently one significantly sprained foot. He's been leaned on as a starter during his brief healthy stints; the Colts' attention to the position in free agency and the draft could be a good indication of whether or not they believe in the former second-round pick as their No. 2 wide receiver of the present and future.
More resources are needed inside the wide receiver room with D.J. Chark, Laquon Treadwell, Tavon Austin and Jaydon Mickens all set to hit free agency. It'd make sense if career special teamer Jamal Agnew won't play as much offense under a real NFL head coach, while the running back committee remains a bit of a mystery after Etienne missed his entire rookie season. Arnold is a receiving-first tight end who could provide some sneaky-solid fantasy value if the Jaguars decide to trust him as an every-down option; letting James O'Shaughnessy and Jacob Hollister walk in free agency would be a good start.
Key player to watch: Laviska Shenault
Jaguars general manager Trent Balke hasn't given up on Shenault, but it'd be a lot easier for fantasy managers to agree if Jacksonville refrains from investing serious resources to the position. This seems unlikely — they need to — but there remains a chance that Viska enters 2022 as one of Trevor Lawrence's starting wide receivers. Remember: Fantasy managers shouldn't hate players; hate ADP. Viska might wind up being a late-round value who falls because of what happened last year as opposed to what we project to happen in 2022.
Everything behind Hill and Kelce is completely up for grabs. Hardman could find himself outside of three-WR sets if unrestricted free agents Byron Pringle and Demarcus Robinson return, while CEH's stranglehold on the backfield is contingent on Darrel Williams and (especially) Jerick McKinnon taking their talents elsewhere. Patrick Mahomes has been happy to center the overwhelming majority of his targets to Hill and Kelce over the years; don't expect that to change much in 2022 regardless of how the offseason unfolds.
Key player to watch: Clyde Edwards-Helaire
Obviously the days of drafting Edwards-Helaire in the first few rounds of fantasy drafts are over, but remember: Don't hate the player, hate the ADP. CEH would be a mid-round bargain if the Chiefs refrain from bringing back their receiving-friendly talents and finally feed their 2020 first-round pick some targets.
New head coach Josh McDaniels certainly knows how to feature a high-end slot receiver and tight end; don't expect Renfrow or Waller's triple-digit target projection to go anywhere. Things get more interesting elsewhere, as Jacobs won't necessarily be leaned on as the pass-down back ahead of Kenyan Drake or a party to be named later, and Bryan Edwards' status as the No. 2 wide receiver seems flimsy at best, particularly if unrestricted free agent Zay Jones re-signs in Vegas.
Key player to watch: Josh Jacobs
James White was a fantasy darling for McDaniels in New England thanks to sweet, sweet pass-game volume. Jacobs has scored enough touchdowns to provide upside RB2 value more weeks than not over the years, but adding a significant target ceiling to his game could make him a legit darkhorse to finish as 2022's overall RB1. We probably won't know the Jacobs-Drake split until August at the earliest; either way it'd be nice to see the Raiders refrain from re-singing Jalen Richard or investing in someone like White or Giovani Bernard.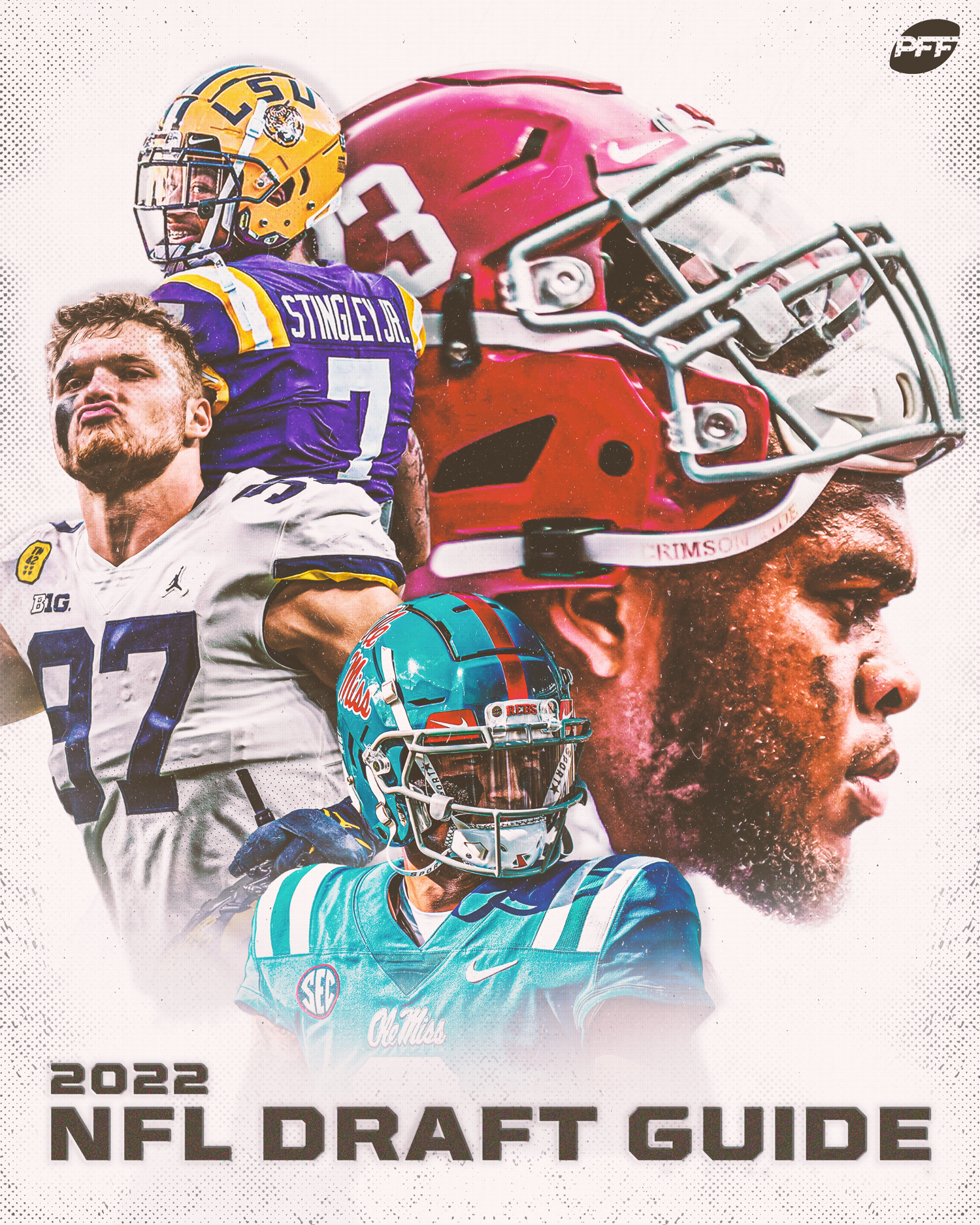 Each of Allen, Williams and Ekeler should clear triple-digit targets with good health in 2022. The bigger question is whether or not Palmer can seize more of a full-time role as the No. 3 wide receiver; Jalen Guyton figures to return as an exclusive rights free agent and could be involved enough to render each as non-viable fantasy assets. Parham is also an exclusive rights free agent but has the upper hand at the moment with unrestricted free agents Jared Cook and Stephen Anderson potentially out of the picture.
Key player to watch: Donald Parham
Parham joins Dan Arnold and Mo Alie-Cox as talented pass-catching options that might simply struggle to get a full-time job anywhere. However, a man can dream, and a world where Parham works as Justin Herbert's undisputed No. 1 tight end could lead to some borderline erotic fantasy production for the XFL hall of famer.
Unrestricted free agent Odell Beckham is tentatively expected to re-sign with the Rams; he'll replace Jefferson in three-WR sets if so. Overall, the Rams look to return the heavy majority of their key offensive contributors from 2021. Great day to be great.
Key player to watch: Cam Akers
Other than OBJ, the most significant skill-position free agent here is Sony Michel. Akers did seize the starting job from both Michel and Darrell Henderson upon returning from injury, but the Rams' moves in free agency and throughout the draft could help indicate if Akers is in store for a Todd Gurley-esque every-down role, or something more like the lead back of a multiplayer committee.
Waddle might have a chance to vie for the lead league in targets if new head coach Mike McDaniel's enthusiasm is any indication. Behind him is a tossup between wide receiver that we insist on calling a tight end Gesicki and Parker. Things get more interesting at running back with each of Duke Johnson, Malcolm Brown and Phillip Lindsay set to hit free agency. The No. 3 wide receiver spot is also up for grabs due to the potential departures of unrestricted free agents Albert Wilson, Will Fuller, Mack Hollins and Isaiah Ford.
Key player to watch: Myles Gaskin
Gaskin never seemed to have a secure hold on the starting job last season, but a new coaching staff could perhaps lead to another chance. Similar to Mike Davis: Gaskin profiles as someone who figures to be ignored in early fantasy drafts due to his struggles in 2021, even if there's a chance that his 2022 situation profiles in a similar way.
Jefferson and Thielen are as clear of a one-two punch as you'll find in the league. Cook and Osborn are also fairly cemented as the offense's No. 1 running back and No. 3 wide receiver; just keep an eye on the former's legal situation (cc. Alexander Mattison). The only skill-position expected to take any sort of real loss is tight end, as each of Tyler Conklin, Chris Herndon and Luke Stocker are unrestricted free agents.
Key player to watch: Irv Smith
Smith's first two seasons were largely irrelevant in fantasy land because he split snaps and targets alike with Kyle Rudolph. Then he missed all of 2021 with a torn meniscus. New head coach Kevin O'Connell was comfortable giving Tyler Higbee a near every-down role with the Rams; the ceiling is the moon for Smith (still just 23 years old) as this offense's undisputed No. 1 tight end.
The only super prominent fantasy question the Patriots face in free agency is whether or not they'll re-sign James White and Brandon Bolden. A two-back committee featuring just Damien Harris and Rhamondre Stevenson would be borderline erotic for fantasy purposes inside of an offense that has regularly kept at least three backs consistently involved over the years.
Key player to watch: Jakobi Meyers
Meyers is a restricted free agent but fully expected to return to New England. He worked as the fairly undisputed No. 1 target in 2021 and would be the favorite to do so again. Throw in a potential Mac Jones second-year leap, and Meyers has the look of someone destined to be undervalued in fantasy land despite projecting to work as their offense's No. 1 pass-game option.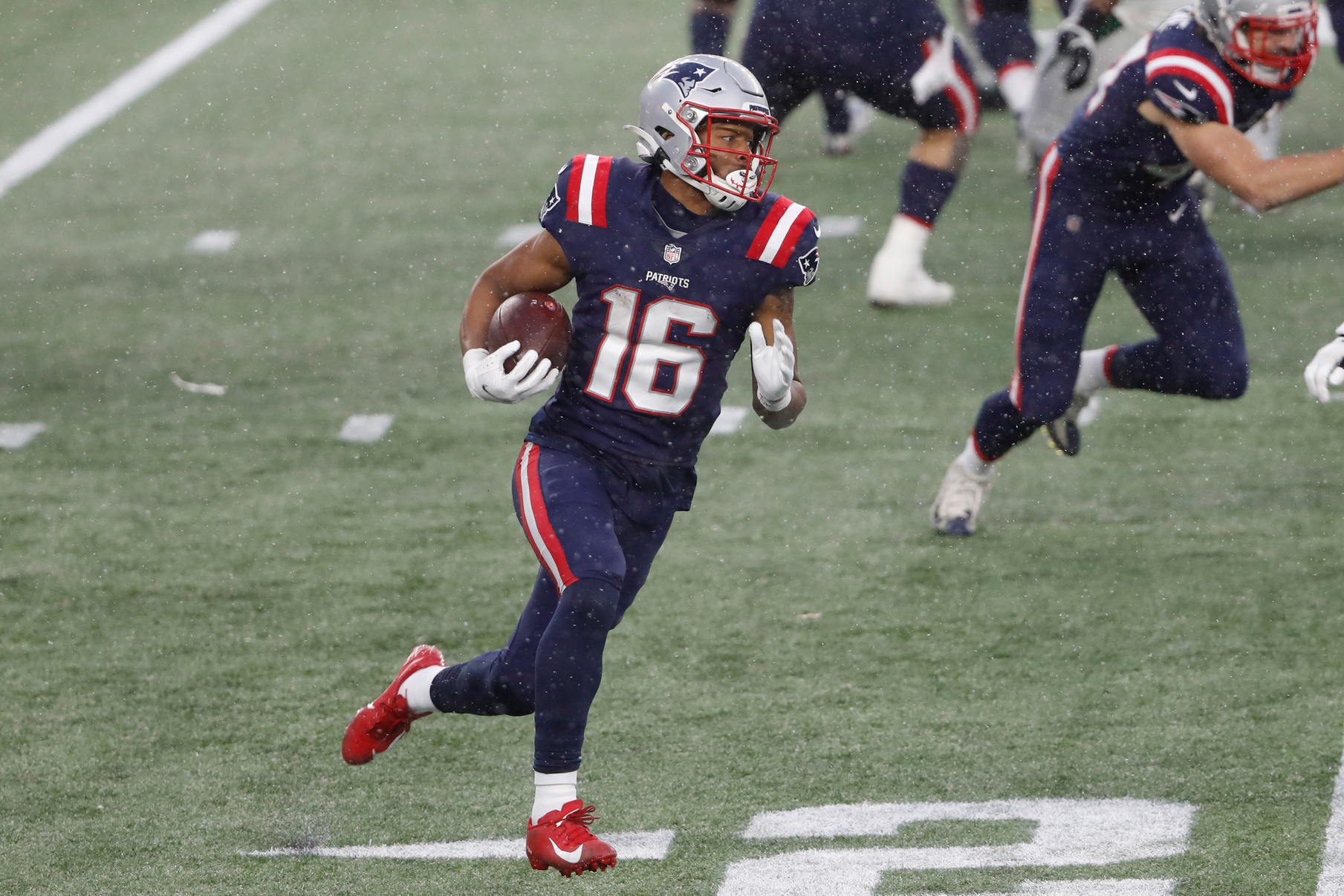 Thomas and Kamara are cemented atop the target tree regardless of who winds up under center. Harris is a restricted free agent but has flashed enough with his limited opportunities over the years to get the nod for meow. Trautman is a sneaky post-hype late-round tight end candidate if given a full-time role in 2022, while Callaway seems like a candidate to lose his spot in three-WR sets should the Saints make meaningful additions to their wide receiver room.
Key player to watch: Deonte Harris
Harris doesn't have the size (5-foot-6 and 170 pounds) of a prototypical NFL receiver, but that didn't stop the Saints from feeding him 59 targets in 2021. All he did with the opportunity was post elite marks in PFF receiving grade (86.7) and yards per route run (2.69). A gambling man should probably bet against Harris starting the season in three-WR sets; just realize he's made a habit of making the most out of his limited touches throughout his short career, something that has probably not been lost on long-time offensive coordinator Pete Carmichael.
This is one of the tougher pecking orders to project given the new offense at hand and the reality that this offense was almost never fully healthy in 2021. Throw in the expected loss of unrestricted free agent TE Evan Engram, and it'd be tough to disagree with flipping the order above. Ultimately, Shepard and Toney provide the sort of separation skills to win out over Golladay, unless the front office really makes a fuss about how they have $72 million reasons to feed the ex-Lions talent the ball. There's also the chance Barkley is traded. Fantasy investors better hope Daniel Jones takes a nice leap forward, because this has the looks of a crowded passing game lacking high-end upside.
Key player to watch: Kadarius Toney
Toney was truly electric with his limited opportunities last season but largely just struggled to stay healthy. It's hard not to be enamored with what the rising second-year receiver could do with a full slate of good health alongside a handful of schemed touches from Brian Daboll every game.
????pic.twitter.com/SgrsmKfhpc

— Ian Hartitz (@Ihartitz) March 10, 2022
Moore and Davis figure to start in two-WR sets regardless of what happens this offseason; Mims will likely be the odd man out depending on whether the Jets 1.) bring back any of Jamison Crowder, Braxton Berrios or Keelan Cole, and/or 2.) draft another high-round receiver. Carter is in a similar boat as Moore and Davis: projected starter that would be a lot easier to trust should the front office refrain from making any additional serious moves at the position. Griffin's status as the starting tight end is completely up for grabs; the Jets could decide to bring back unrestricted free agent Tyler Kroft and again rotate the duo.
Key player to watch: Michael Carter
Tevin Coleman is an unrestricted free agent. Carter is a buy for me in dynasty land, but his 2022 projection would certainly be made a lot easier if the Jets refrain from tying up serious resources with another running back. We know Carter can catch the ball; the bigger question is whether or not the Jets are willing to sign up their 2020 fourth-round pick for 200-plus carries per year.
There simply aren't many available targets in Philly at the moment. This doesn't mean new additions at wide receiver can't beat out Watkins and/or Reagor, but it'll have to be a projection unless either incumbent starter is outright released. With Jalen Hurts expected to again engineer one of the league's most run-heavy offenses, it's tough to feel overly optimistic about anyone other than Smith and Goedert seeing fantasy-relevant volume.
Key player to watch: DeVonta Smith
Smith was clearly the Eagles' best and most-trusted wide receiver last season… and finished with 101 targets. This is one of few offenses where a gaudy target share might not lead to a high-end fantasy asset considering just how small the overall volume pie projects to be. Adding another alpha-esque receiver would be great for Hurts' development but probably not Smith's 2022 production.
Claypool is one of my favorite dynasty buys at ADP due to the reality that he could feasibly leapfrog Johnson with a different quarterback under center. Either way, the top four players in the Pittsburgh passing game are clear; the question is who comes in to work as the No. 3 wide receiver. JuJu Smith-Schuster, Ray-Ray McCloud and James Washington are all unrestricted free agents. It seems unlikely a Mason Rudolph-led offense is capable of enabling more than a few fantasy-relevant pass-catchers; Johnson and Claypool fantasy investors should prefer the Steelers not making any serious additions to the wide receiver room.
Key player to watch: Pat Freiermuth
Many have anointed Freiermuth as the next big thing at tight end after he posted a stellar 60-497-7 receiving line as a rookie. The potential problem: Pittsburgh never quite handed the rookie the starting job, as Zach Gentry actually worked ahead of him during their playoff game against the Chiefs. Freiermuth figures to keep working ahead of Gentry as the preferred pass-game option, but at a minimum it'd be nice if the Steelers let Eric Ebron walk and refrain from making any additional investments to the position.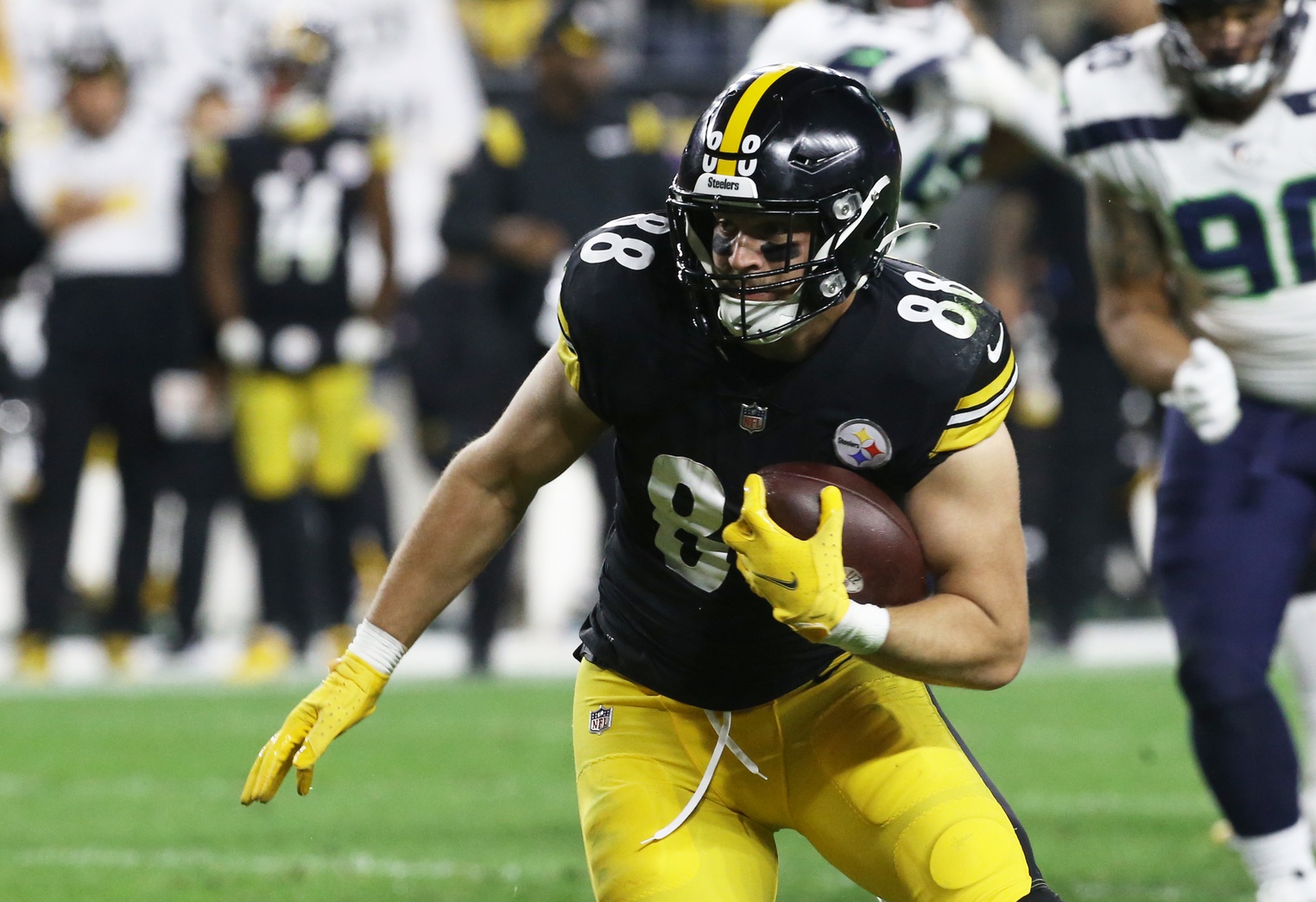 Most key contributors are back for the 49ers in 2022 with the obvious potential exception being Jimmy Garoppolo. The switch to Trey Lance would be great for Lance's fantasy managers, but a more run-heavy offense and less-efficient passing game could make it tough for each of Samuel, Kittle and Aiyuk to reach expectations in fantasy land. Jennings' standing as the No. 3 wide receiver seems solid, while Elijah Mitchell could potentially leap Juszczyk if featured as the offense's true every-down back. 
Key player to watch: Elijah Mitchell
Raheem Mostert and Jeff Wilson are unrestricted free agents. Mitchell played too well in 2021 to hit the bench, but he figures to lose at least some rushing equity to Lance, and anything resembling a committee alongside Mostert (the Week 1 starter) would certainly not be ideal for his top-15 ADP. Another issue would be the 49ers making an investment in a receiving-friendly back, as Mitchell already averaged fewer than 2.0 targets per contest in 11 regular season games as a rookie.
Metcalf and Lockett could feasibly be wearing a different uniform by Week 1. The Drew Lock experience doesn't figure to do them any favors in the efficiency department, while it wouldn't exactly be surprising if the Seahawks continue to embrace a run-first offense despite, you know, their team sucking at the moment. Carson is tentatively slotted in as the starter, but the Seahawks have already said they hope to bring back Rashaad Penny. Parkinson is simply the last man standing at tight end with both Gerald Everett and Will Dissly set to test free agency.
Key player to watch: Rashaad Penny
It's not a given that Carson (neck) is healthy enough to play in 2022. This, or simply raw ability, could lead to Penny re-signing with the only team he's ever known and building at the end of 2022. The Seahawks are suddenly one of the least fantasy-friendly offenses in the league on paper; that doesn't mean Penny couldn't still provide stat sheet some goodness should he stay healthy and receive the same gaudy role that was on his plate down the stretch of 2021.
Rashaad Penny pic.twitter.com/nzgk8U2ye8

— Ian Hartitz (@Ihartitz) March 2, 2022
Godwin and Evans figure to dominate target share regardless of additions to the offense and who winds up under center. Things get funky after them. Leonard Fournette, Ronald Jones, Giovani Bernard and Le'Veon Bell are all unrestricted free agents, as are tight ends Rob Gronkowski and O.J. Howard. Expect additions to all three position rooms throughout both free agency and the draft.
Key player to watch: Ke'Shawn Vaughn
No backfield has more available opportunity than the Buccaneers. Vaughn hasn't flashed anything exceptionally special during his short career, but you know what is special in fantasy land? Absurd volume, something that Vaughn might just have on his hands should the Bucs decline to add any real competition to his plate.
It's always AJB WR1 szn, but Jones figures to contend for triple-digit targets himself if the injury gods decide to do the 33-year-old future hall of famer any favors. It's otherwise tough to see this run-first offense enabling any consistently fantasy-relevant receivers or tight ends. The latter room needs a makeover with each of Anthony Firkser, MyCole Pruitt and Geoff Swaim set to test free agency. Henry also needs a new backup with Darrynton Evans, Dontrell Hilliard and D'Onta Foreman not under contract.
Key player to watch: Derrick Henry
Henry's 18 receptions in 2021 were just one less than his career-high 19 catches set in 2020. Of course, Henry reached the former mark in just eight games. A true role in the passing game would mightily help a potentially declining Henry still provide high-end fantasy value should the Titans decide to maybe chill out just a bit on his monstrous rushing load. One target is historically worth about 2.7 carries in terms of projected PPR points in fantasy land; Henry's floor would be the roof if even 50 targets were tossed his way in 2022.
McLaurin is the offense's alpha receiver, and Carson Wentz is (sadly) the best quarterback of his career. Samuel is being paid to be the offense's No. 2 pass-game option; here's to hoping he's healthy enough to be just that in 2022. Gibson's status as the No. 3 pass-game option is contingent on unrestricted free agent J.D. McKissic leaving town. It's reasonable to think these final three slots could flip-flop during any given week.
Key player to watch: Antonio Gibson
The Commanders' 2020 third-round pick ripped off PPR RB6, RB36, RB4, RB18 and RB6 finishes in five games without McKissic despite battling continued injuries and negative game script throughout the ordeal. He'll have a chance to truly become something in the ballpark of "'DC CMC" should the Commanders refrain from bringing back McKissic, who trails only Alvin Kamara in targets among all running backs over the past two seasons.