Every offseason presents plenty of change that can be overwhelming come August if left ignored. Free agency and the NFL draft are obviously the big-two events, but general player movement happens throughout the entirety of the annual sad, dull six-month period where no meaningful professional NFL football is played.
Today's goal is simple: identify which position rooms have the most available opportunity based on their unrestricted free agents. It's pretty hard (read: impossible) to score fantasy points without getting the football, so figuring out which teams have ample targets and carries available in the first place will help us project booms and busts ahead of the 2022 season.
---
Click here for more PFF tools:
Draft Guide & Big Board | Mock Draft Simulator
Dynasty Rankings & Projections | Free Agent Rankings | 2022 QB Annual
Player Grades
---
Yes, vacated opportunity isn't the end-all, be-all, of player evaluation. Also yes, it's far easier to predict workload than talent. Each is a piece of the puzzle. Today, we're focusing on the former. 
Special thanks to Over The Cap for all free agency information. Note that only unrestricted free agents (UFA) are included in the study. Teams can tender restricted free agents (RFA) and match any offer they might receive while exclusive rights free agents (ERFA) simply need to be given a qualifying offer (one-year, league-minimum contract). This makes it more likely than not that most tendered RFA and ERFA players will return to their squad as opposed to taking their talents elsewhere.
We'll just focus on skill-position players considering the Tampa Bay Buccaneers, Pittsburgh Steelers, Denver Broncos and New Orleans Saints are the only teams set to potentially lose at least 50% of their quarterback snap share from 2021. Great day to be great.
Running Back
The chart below denotes the percentage of available running back carries and targets from every team — sorted from most to fewest available rush attempts. Metrics only include workload from specifically the running back position.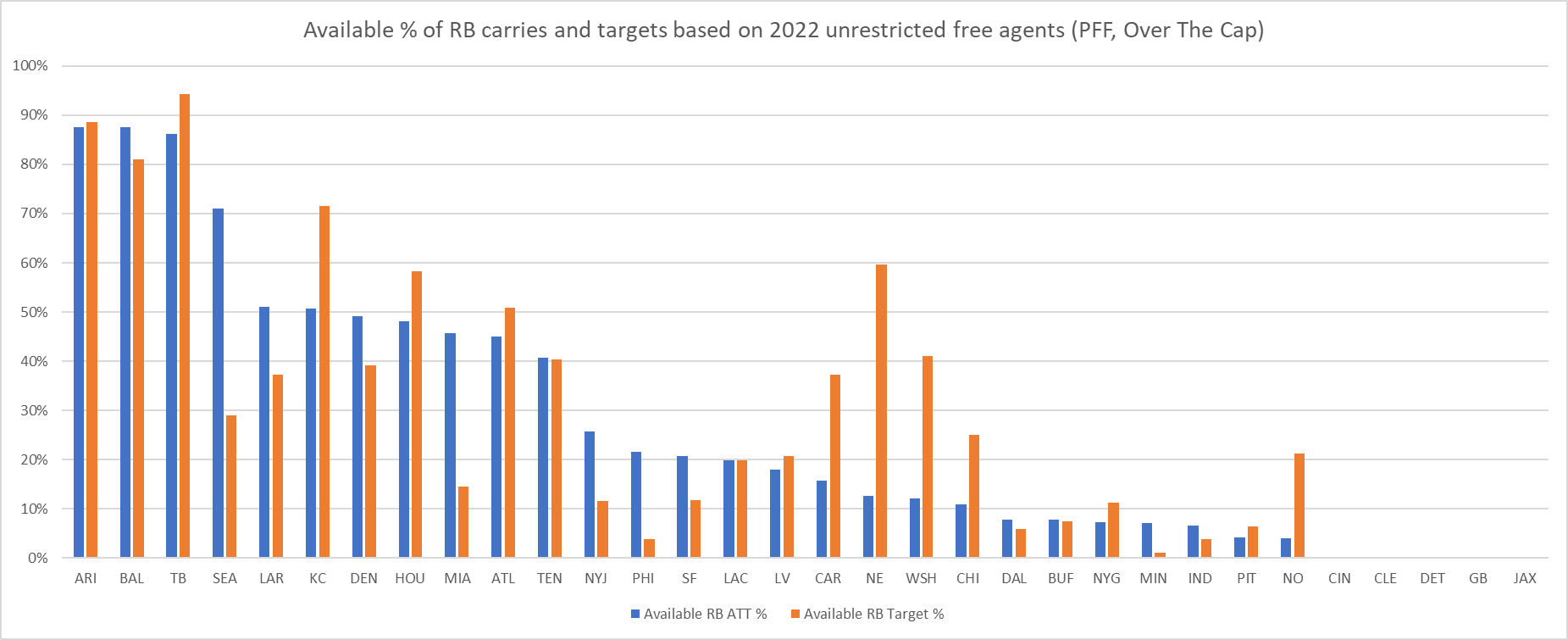 A few notes:
The Arizona Cardinals, Baltimore Ravens, Buccaneers, Seattle Seahawks, Los Angeles Rams and Kansas City Chiefs are the only six teams that have over 50% of their 2021 carries potentially available. Of course, the return of injured backs — such as Chris Carson, J.K. Dobbins, Gus Edwards, Cam Akers and Clyde Edwards-Helaire — should have plenty to do inside their respective backfields in 2022, so keep a particularly close eye on the Cardinals and Buccaneers if they choose to not re-sign their incumbent talents.
A whopping 21 teams are presently at 26% or fewer available carries. It's not that they can't or won't foster a newfound successful back in free agency or the draft, there are just a lot of already-established talents around the league. Hence the idea that NFL teams don't need to necessarily go bonkers when paying the position. Regardless, keep an especially close eye on J.D. McKissic (Antonio Gibson with a true three-down role is borderline erotic), Raheem Mostert (was the Week 1 starter; could feasibly split work with Elijah Mitchell massive if he can stay healthy), James White/Brandon Bolden (the Patriots only using two running backs would be a fun change of pace) and Saquon Barkley's (subject of trade murmurs throughout the offseason) statuses.
Seven offenses could lose over 50% of their 2021 running back targets: Buccaneers, Cardinals, Ravens, Chiefs, New England Patriots, Houston Texans and Atlanta Falcons. The latter two squads are underrated solid landing spots for a potential new talent considering the availability of a fantasy-friendly pass-down role, particularly if Atlanta doesn't decide to bring back do-it-all weapon Cordarrelle Patterson.