We can sit here and tell you how many games we think each NFL team will win, but the truth is, that randomness would — in at least a few instances — make us look like fools. Injuries happen. Key players significantly improve or see their play start to deteriorate. Talented teams fall victim to poor coaching and dysfunction. All that goes to show that there is a range of outcomes when talking about projections. The current environment and uncertainty surrounding the 2020 season adds more fuel to the fire.
With the help of recent season simulations carried out by PFF's research and development team, this article is an attempt to capture some of that range with high (90th percentile) and low end (10th percentile) win projections for every NFL team along with some narration on how they might reach that point. These aren't truly best- and worst-case scenarios, but using the 10th and 90th percentiles as points of reference gives a look at 80% of the most likely outcomes for each team. The teams that perform outside of those expected outcomes will be the biggest stories come the end of the year.
Note: Simulations are subject to change in the lead up to the 2020 NFL season.
[Subscribe to PFF EDGE or ELITE to gain access to  our fantasy football rankings and projections, PFF Player Grades, premium content and more.]
To jump to each division, click here: AFC East | AFC South | AFC West | | AFC North | NFC East | NFC South | NFC West | | NFC North |
AFC East
10th percentile outcome: 6-10
How they get there: Cam Newton is injured for a significant portion of the season. A contingent of the New England faithful is firmly behind Jarrett Stidham, but the odds are stacked against him becoming a quality NFL starter. He recorded just a 57.8 PFF grade in his final season at Auburn, and the only NFL action we have to go off is an up-and-down preseason performance last season. Few mid-to-late-round quarterbacks turn out to be half of what Tom Brady was for the Patriots. If Stidham is called to start on, chances are there will be some speed bumps for New England.
Even if Newton does play a full season, a limited receiving corps and some of the losses the Patriots saw on defense this offseason (namely, Danny Shelton, Jamie Collins and Duron Harmon) could lead to a group that underwhelms in 2020.
90th percentile outcome: 11-5
How they get there: Newton not only stays healthy, but Josh McDaniels and company utilize his talent and skill set to the best of their ability. That means taking advantage of Newton's ability as a designed runner — where he has added more expected points than any other runner, regardless of position, since 2006 — and incorporating a heavy dose of play action. If the Patriots do that and limit the effects of what has been shaky down-to-down accuracy for Newton throughout his career, they can once again challenge the top of the AFC sans Brady. Having one of the more talented secondaries and defensive play-callers in the NFL doesn't hurt, either.
---
10th percentile outcome: 5-11
How they get there: Josh Allen's deficiencies sink the team offensively. Buffalo had some success with Allen and his 61.4 passing grade in 2019, but so did the Jacksonville Jaguars with Blake Bortles in 2017 and the Chicago Bears with Mitchell Trubisky in 2018. It's hard to consistently string together winning seasons with underwhelming quarterback play, and Allen's underlying numbers — both in terms of PFF grade and more traditional metrics like completion percentage or yards per attempt — point to a below-average NFL quarterback. For the 2020 season to go all wrong for Buffalo, Allen's struggles would have to be at the forefront because the Bills have surrounded him with one of the more well-rounded rosters in the NFL.
90th percentile outcome: 10-6
How they get there: The trio of Stefon Diggs, John Brown and Cole Beasley gives Allen open throws all over the field to lessen the impact of his less-than-ideal accuracy. The Bills' offense also continues to lean into the advantage that Allen gives them as a designed runner, particularly in short-yardage situations. On the other side of the ball, the defense remains one of the better units across the league — something that includes Josh Norman putting a poor 2019 season (45.7 PFF grade) behind him and returning to form in Sean McDermott and Leslie Frazier's defense.
---
10th percentile outcome: 4-12
How they get there: The additions that the Jets made to the offensive line this offseason don't pan out. Here at PFF, we thought Mekhi Becton had a wider range of outcomes than some of the other tackles at the top of the draft class, which could lead to some shaky performances out of the gate as a rookie. Presumptive starters Connor McGovern, Greg Van Roten and George Fant don't have multi-year track records of average to above-average play, either. The line should show improvement, but the question becomes to what degree. If things turn south with an offensive line that has plenty of new faces and little time to jell, Sam Darnold and company could once again experience a rough time offensively.
90th percentile outcome: 10-6
How they get there: The additions across both the offensive line and at receiver finally give Darnold a reasonable offensive environment, and he takes advantage of that opportunity. The additional talent up front on the offensive line results in improved protection for Darnold and improved run blocking for Le'Veon Bell, leaving the offense in a much better spot than last season. Breshad Perriman, Denzel Mims and Chris Herndon add some more weapons in the passing game, and Darnold takes that next step in his career to solidify his spot as the Jets' starting quarterback moving forward.
---
10th percentile outcome: 5-11
How they get there: Looking at their quarterbacks, the Dolphins could reach this spot in one of two ways. Ryan Fitzpatrick could revert to the low-end starter we've seen at various points during his NFL tenure after the two highest PFF grades of his career in 2018 and 2019, or Tua Tagovailoa could be thrown into the fire behind an improved yet still very questionable offensive line and struggle with a lack of high-end talent around him. Either way, things wouldn't look good for the Dolphins. Despite some of the offseason additions, this isn't a defense that will carry a non-existent offense very far.
90th percentile outcome: 10-6
How they get there: The Dolphins stick with Fitzpatrick for one more year, and he performs at a high level. Here's a stat that blows my mind every time I come across it in the PFF database: Fitzpatrick has the fourth-highest clean-pocket passing grade of any quarterback in the NFL over the past two seasons, trailing only Russell Wilson, Drew Brees and Patrick Mahomes. The Dolphins' best shot to reach their high-end of outcomes in 2020 is to ride with him, hope he gets more clean pockets to throw from and continue to build up the offense for Tagovailoa to take the reins in 2021.
On defense, the new-look cornerback trio of Byron Jones, Xavien Howard and Noah Igbinoghene needs to do a good job of taking away wide receivers in man coverage, particularly with a shaky situation at the safety position.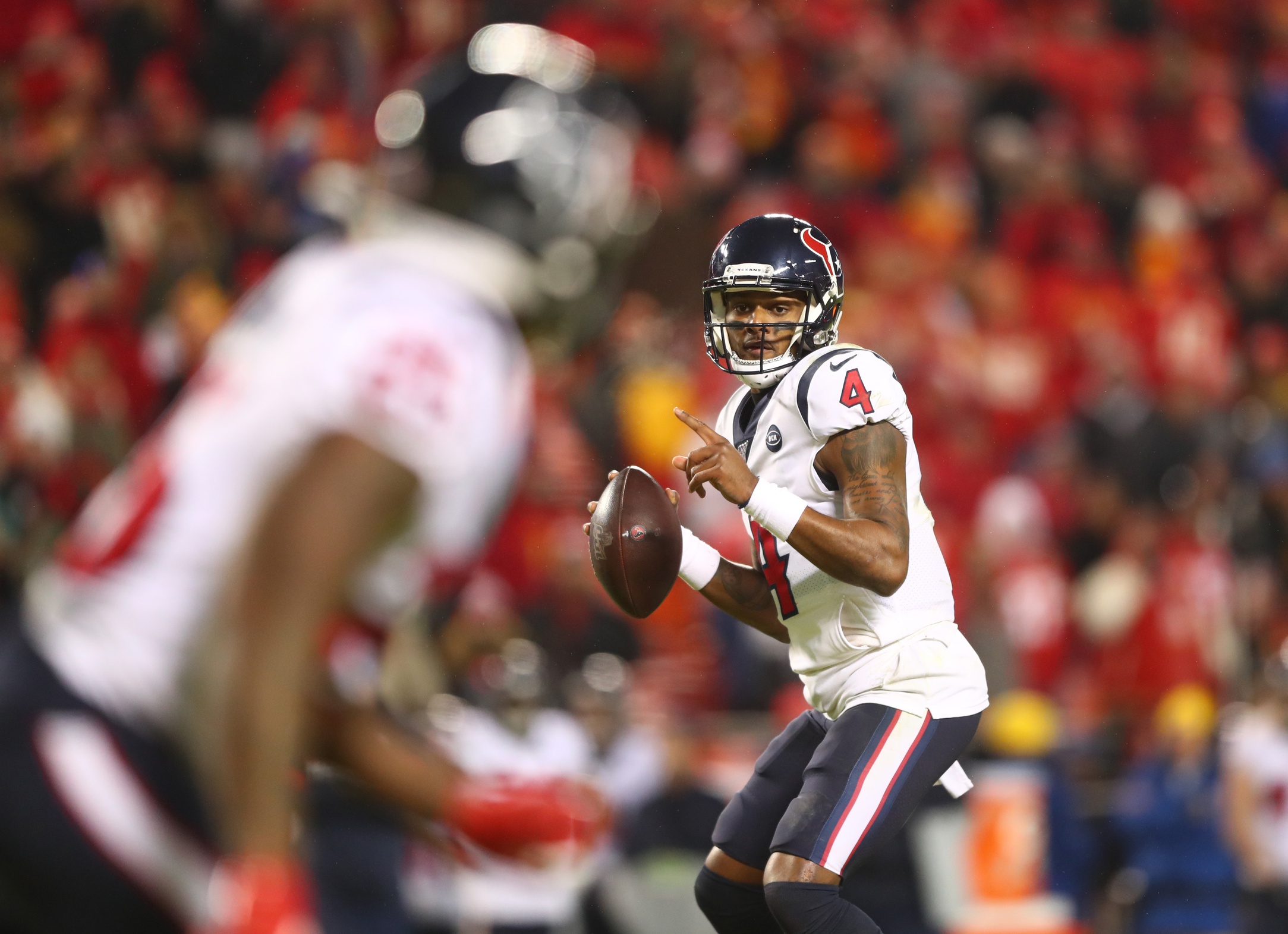 AFC South
10th percentile outcome: 5-11
How they get there: The defense gets picked apart. Without big contributions early from rookies Ross Blacklock and Jonathan Greenard (something that Houston shouldn't necessarily be banking on) or a big step from someone like Charles Omenihu, J.J. Watt is a one-man show along the defensive line. That led to some struggles in the pass-rushing department in 2019, particularly over the second half of the season sans Watt. The loss of an up-and-coming player like D.J. Reader (85.4 PFF grade in 2019) won't help along the defensive line, either. In addition, the secondary struggled mightily at times last season — particularly Lonnie Johnson Jr. with his 128.9 passer rating allowed — and no major moves were made to change that.
90th percentile outcome: 11-5
How they get there: Houston embraces the deep passing game. Deshaun Watson is one of the NFL's better deep passers, and the Texans now have three deep-first receivers in Brandin Cooks, Will Fuller and Kenny Stills. Helping matters is the fact that the Texans' offensive line was one of the better units in the league on longer-developing pass plays last season. Defensively, the Texans find something from either Gareon Conley in a contract year or Johnson, bouncing back from a rookie season where he graded out as one of the worst cornerbacks in the NFL. Oh, and Watt stays healthy and proves he's still one of the league's most dominant forces on defense.
---
10th percentile outcome: 7-9
How they get there: The Ryan Tannehill 2019 outlier season giveth, but Tannehill's 2020 season taketh away. The variance that produced one of the best quarterback seasons of 2019 swings the other way, leaving the offense without quite as much juice. It's worth a reminder that Derrick Henry — as great as he was down the stretch — was not the reason for the Titans' offensive revival. Tannehill was at the center of that with his 90.2 PFF grade, and the Titans' 2020 season could be derailed if his play flips in the other direction (like we saw in his 45.3 overall grade with the Dolphins in 2018). The pass rush, or lack thereof, could also prove problematic unless players like Harold Landry and Jeffery Simmons progress in a big way.
90th percentile outcome: 12-4
How they get there: The same way they were winning over the second half of the 2019 season. A heavy dose of play action and success in the downfield passing game (with A.J. Brown as the primary target) leads a multi-faceted offense that can beat defenses through the air and on the ground with Henry — clock-chewer and one of the least desirable NFL players to tackle. Defensively, a talented secondary leads the way, with Adoree' Jackson finally getting more credit for being the No. 1 cornerback that he is and rookie Kristian Fulton replacing Logan Ryan's production. The Titans are one of just three teams in the AFC to come out with a 90th percentile result at 12 wins or higher, showing they do have a ceiling if Tannehill delivers a similar performance to his 2019 showing.
---
10th percentile outcome: 5-11
How they get there: Philip Rivers is no longer an above-average or even average NFL quarterback. I don't think that's the case, but I think there is evidence that points to his arm strength not being what it once was. The Colts aren't able to overcome that on offense while the secondary struggles. Specifically, Xavier Rhodes doesn't see any sort of career revival as one of the starting options outside after his 47.9 overall grade in 2019, and some of the young options in the Colts' secondary (Rock Ya-Sin, Khari Willis and Marvel Tell III) don't progress in their second seasons.
90th percentile outcome: 11-5
How they get there: People were behind the Colts as a contender in the AFC with Andrew Luck at quarterback last offseason for a reason. There is some talent on this roster, and in this case, the league's best offensive line — which will provide the best protection Rivers has seen in a long time — has the 38-year old quarterback playing like it was 2018 again. He posted the fifth-highest passing grade in the NFL (87.4) that season. At receiver, the trio of T.Y. Hilton, Parris Campbell and Michael Pittman Jr. form a dynamic group capable of winning at all levels of the field, while rookie acquisition Jonathan Taylor runs wild behind Quenton Nelson and company.
---
10th percentile outcome: 4-12
How they get there: After a surprisingly competent rookie season as a sixth-round pick out of Washington State, Gardner Minshew falls back down to earth behind a shaky offensive line and with limited pass-catching weapons. On the defensive side of the ball, the secondary can't hold up with some combination of C.J. Henderson, Tre Herndon and Rashaan Melvin outside, and rookie K'Lavon Chaisson isn't ready to replace Yannick Ngakoue's production (who sits out the year). That leads to more pressure on Minshew to put points on the board and more mistakes.
90th percentile outcome: 9-7
How they get there: The defense is opportunistic enough to keep the Jaguars in close games. Josh Allen makes the jump to bona fide star as a pass rusher off the edge, softening the blow of Ngakoue's likely departure. Myles Jack bounces back in 2020 with a performance reminiscent of the play that earned him a multi-year contract in Jacksonville to join Joe Schobert as one of the better off-ball linebacker duos in the NFL, particularly in coverage. Henderson's performance more closely resembles his 2018 tape rather than what he showed last season. His natural athleticism and movement skills translate to a strong rookie performance as the Jaguars' top cornerback.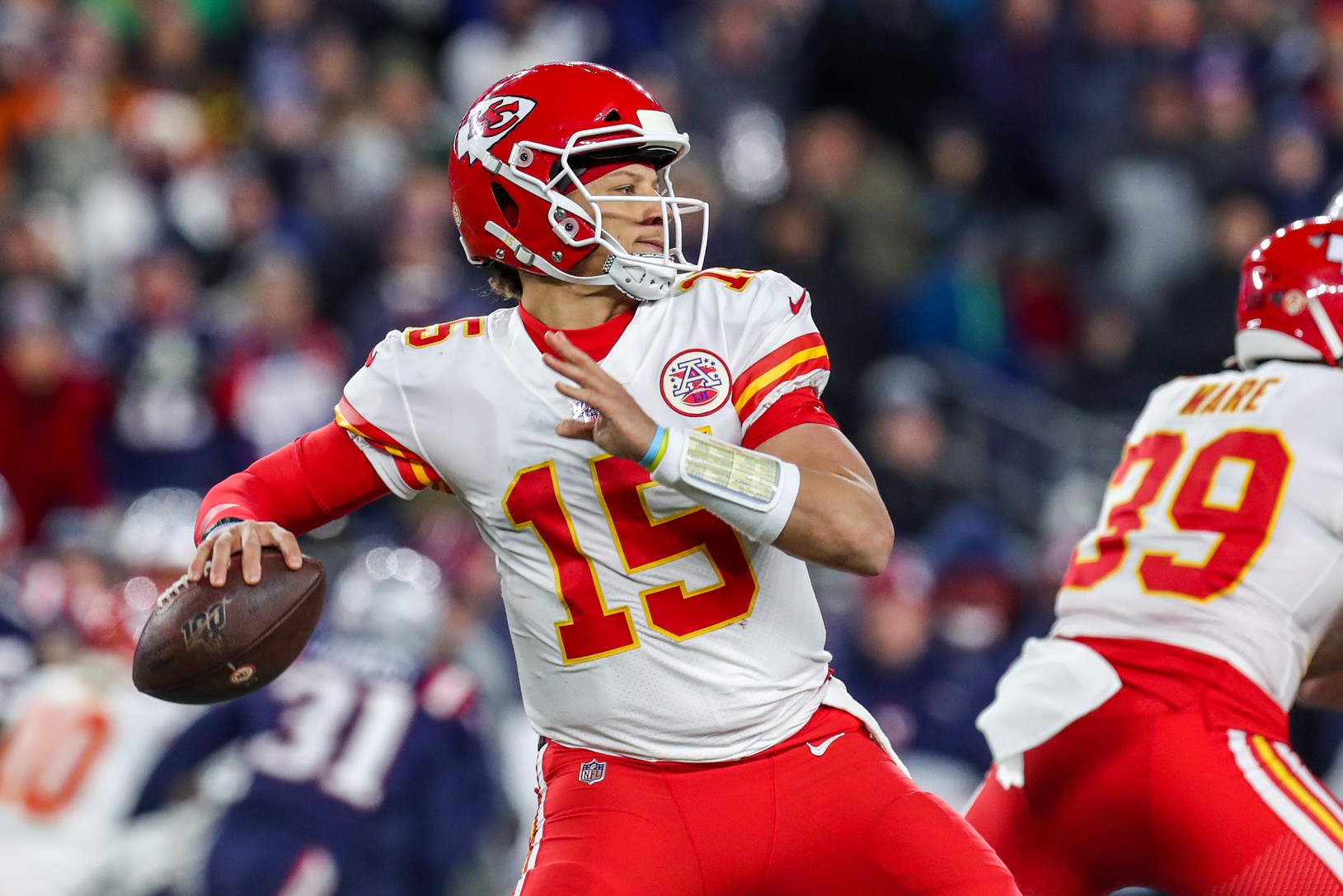 AFC West
10th percentile outcome: 9-7
How they get there: Defensive deficiencies allow opponents to hang around in many of their games. Chris Jones — one of the more dominant defensive linemen in the league — is either traded for a future draft pick or sits out the season. PFF favorite Willie Gay Jr. sees limited playing time early, and the linebackers for the Chiefs are exposed in coverage. The outside cornerback tandem of Charvarius Ward and Bashaud Breeland (should he play) regresses, as well. Both guys had better traditional numbers than PFF coverage grades, indicating that some luck in missed connections on open receivers could swing in the opposite direction in 2020.
Still, the Chiefs are the only team in the NFL to have a 10th percentile outcome come in above .500. That's the benefit of having Patrick Mahomes at the helm.
90th percentile outcome: 14-2
How they get there: The offense continues to rise to new heights under Andy Reid and Mahomes. The addition of Clyde Edwards-Helaire, though not the best use of draft capital, gives the Chiefs another offensive weapon and continues to round out the weapons available to Mahomes. Jones does in fact decide to play on the franchise tag, or the Chiefs are able to come to terms on a long-term agreement. He and a healthy Frank Clark give Kansas City a solid pass rush, and the secondary holds up as it did toward the end of last season thanks in large part to Tyrann Mathieu's versatility and skill set.
---
10th percentile outcome: 5-11
How they get there: Drew Lock does not justify the offseason hype. At this point, most people have firmly staked their claim in the "Lock is good" or "Lock is bad" camp, but the truth is, we don't know enough to make those claims after just five NFL games. There were some good performances (73.7 PFF grade against the Texans and 81.2 PFF grade against the Lions) to go along with some duds (three games with a PFF grade of 60.3 or lower, including a rough 27.9 mark against Kansas City in Week 15). For this outcome to occur, the concerns about Lock's footwork, pocket presence and "easy misses" coming out of Missouri will outweigh the benefits his arm talent brings to the table.
90th percentile outcome: 10-6
How they get there: Lock's supporting cast gives him a strong environment to grow in — which he does — and the defense improves with another year under Vic Fangio. The additions of Jerry Jeudy, K.J. Hamler and Albert Okwuegbunam to a group that already includes Courtland Sutton and Noah Fant give the Broncos a talented and speedy receiving corps. The offensive line improves with the addition of Graham Glasgow and the return of Ja'Wuan James under Mike Munchak. When paired with a talented defense, that puts the Broncos in firm contention for a postseason spot.
---
10th percentile outcome: 5-11
How they get there: All of the resources the Raiders have dumped into their defense over the past several seasons don't save them from being a bottom-of-the-league unit once again in 2020. Last season, no team allowed more expected points per play than the Raiders, and though they added some nice pieces this offseason, there are still concerns. They can't generate enough of a pass rush between Maxx Crosby and Maurice Hurst. Young guys in the secondary, such as Trayvon Mullen, Damon Arnette and Johnathan Abram, are picked on in coverage, and Derek Carr and the offense regress from a strong showing last season — unable to keep pace in shootouts.
90th percentile outcome: 10-6
How they get there: Those scenarios I laid out in the section above go the other way. Crosby, Hurst and Clelin Ferrell all take big steps in their young careers, while the additions of Cory Littleton and Nick Kwiatkoski at linebacker help secure the middle of the field. Prince Amukamara brings a reliable, veteran presence to the secondary, and the young guys do hold their own in coverage. Meanwhile, on offense, the addition of Henry Ruggs III adds some juice and entices Carr to attack downfield more often.
---
10th percentile outcome: 4-12
How they get there: Tyrod Taylor opens the season with a few poor performances — just as he did in Cleveland in 2018 — and the calls for Justin Herbert begin. Relying on Herbert as the starter this season could lead things to go off the rails quickly, particularly with the questions surrounding the left side of the Chargers' offensive line.
In terms of PFF wins above average, Herbert's 2019 season with Oregon ranks 18th among 20 first-round quarterbacks taken since 2015. He beat out only Jordan Love and Josh Allen. The college-to-pro projections developed by PFF's research and development team weren't overly favorable to Herbert, either. He may develop into a solid quarterback given time, but it seems unlikely that will be the case if he's called upon early as a rookie.
90th percentile outcome: 9-7
How they get there: This defense stifles opposing offenses, and Taylor looks more like the guy who had success with the Buffalo Bills than the one we last saw in Cleveland. This is no doubt one of the more talented secondaries in the NFL. Getting back a healthy Derwin James and Nasir Adderley and adding a talent like Chris Harris Jr. does wonders for a group that allows very little through the air. Meanwhile, Taylor's ability to improvise via the scramble helps assuage some of the offensive line concerns. His care with the football — just 34 turnover-worthy plays during his three-year stretch as a starter with Buffalo — is a welcome addition after Rivers' carelessness in 2019 (32 turnover-worthy plays), as well.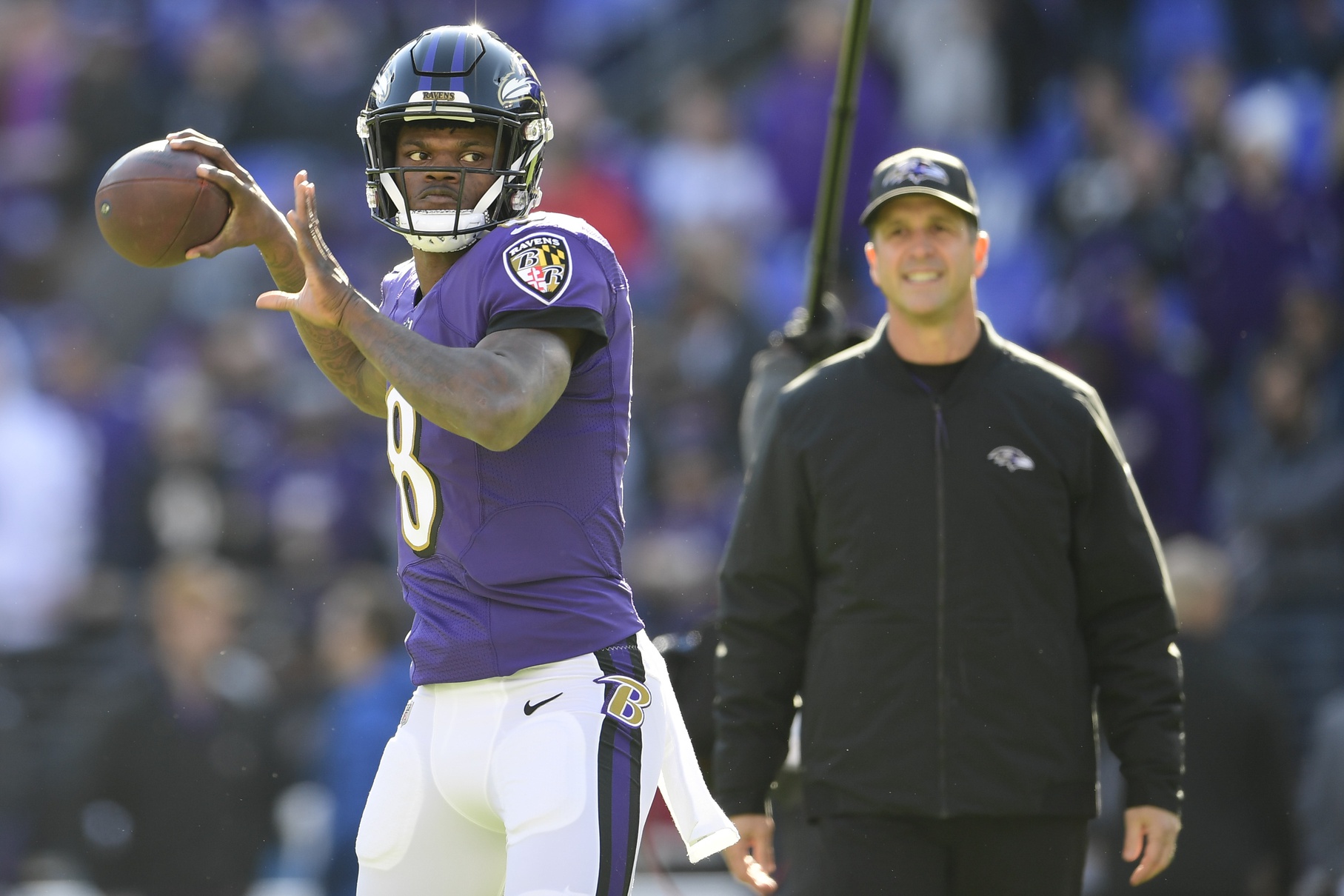 AFC North
10th percentile outcome: 8-8
How they get there: The Ravens find themselves playing from behind more often than they did in 2019. They were the only team in the NFL to play fewer than 250 offensive snaps when trailing last season, and Lamar Jackson's splits were noticeable when he was forced to play from behind. When playing with the lead or when tied, Jackson posted a 92.1 PFF grade. When trailing, that figure dropped to 68.2. His ability to play from behind — when the advantages of unpredictability in the run and pass game start to dwindle — remains the biggest question mark for the reigning league MVP heading into his third season. This 8-8 record also comes in part thanks to the loss of Marshal Yanda inside, who is surely on his way to Canton.
90th percentile outcome: 13-3
How they get there: NFL defenses are still unable to handle Baltimore's unique offense, and the Ravens' defense emerges as the best in the NFL. There's no reason the second part of that statement can't be true. Their secondary is loaded with talent, and it's a group that returns Tavon Young from injury to man the slot. They significantly bolstered the defensive line and linebacking corps, as well, with the additions of Calais Campbell, Derek Wolfe, Patrick Queen and Malik Harrison, among others. A team doesn't get to 13-3 without offense and defense working in tandem, and Baltimore looks to be in a good position to have that be the case.
---
10th percentile outcome: 5-11
How they get there: Ben Roethlisberger isn't the same guy upon his return. Either he is rendered unavailable by another injury or he continues the downward trend we saw from 2017 (86.5 PFF grade) to 2018 (78.2 PFF grade). In both cases, this offense is in trouble. The Steelers would be hard-pressed to field a worse offense than their 2019 unit — a group that ranked dead last in expected points added per play — but even more things going wrong could lead to a result like this. The turnovers they secured in bunches in 2019 aren't there anymore, and their success in close games swings in the opposite direction.
90th percentile outcome: 10-6
How they get there: Roethlisberger's return makes this offense viable again, which is all it needs to be with one of the better defenses in the NFL returning. The pass rush may have lost Javon Hargrave, but it returns a healthy Stephon Tuitt — who was enjoying a tremendous start to his 2019 season before going down with an injury. It's a pass rush that led the NFL in team pressure rate last season. The secondary, anchored by Minkah Fitzpatrick, Joe Haden and Steven Nelson, continues to build on its strong play, and very few teams have much success against the unit as a whole.
---
10th percentile outcome: 6-10
How they get there: Baker Mayfield's struggles last season weren't merely a product of poor coaching and dysfunction; they were an indicator of real issues. Those pocket presence woes aren't fixed by the additions of Jack Conklin and Jedrick Wills on the offensive line, and Mayfield is still missing too many passes. PFF's Sam Monson laid out the reasons to expect Mayfield to bounce back in 2020 earlier this offseason, but if he doesn't, another disappointing season could be in store for Cleveland.
90th percentile outcome: 11-5
How they get there: Mayfield looks more like the player we saw for three seasons at Oklahoma and as a rookie than the disappointing version we got last year, and the talent on Cleveland's defense stays healthy and produces.
Obviously, Mayfield is the key in that equation, but the defense is an underrated component to Cleveland's success. Denzel Ward has graded out as one of the better cornerbacks in the NFL in single coverage, and Cleveland adds several more high draft picks in Greedy Williams, Grant Delpit and Karl Joseph into the fold. The defensive line is loaded with talent too — particularly Myles Garrett, who was the highest-graded pass rusher off the edge in the entire league at the time of his suspension. That talent just needs to stay on the field.
---
10th percentile outcome: 4-12
How they get there: The offensive line is the Achilles' heel of an offense that otherwise has some talent to work with. The fact that the only move Cincinnati made to improve the group was to bring in Xavier Su'a-Filo (last graded above 65.0 in 2016) and Hakeem Adeniji (sixth-round pick) is questionable, especially when bringing in a rookie quarterback. Jonah Williams' debut isn't enough to save the unit — a group that came in at 31st in PFF's offensive line rankings leading up to the 2020 NFL season.
90th percentile outcome: 9-7
How they get there: Joe Burrow elevates the offense as a rookie, and the new defensive starters solidify a group that was in disarray last season. The first part is pretty self-explanatory. If you've followed football at all over the past year, you know just how special Burrow's 2019 season was with LSU, and it came from a skill set that should translate well to the NFL — one built on accuracy to all levels of the field and pocket presence. Defensively, the Bengals are going to have a completely different look in 2020 after their free agency activity. Trae Waynes and Mackensie Alexander are solid, if not exciting, acquisitions, but achieving an above-.500 record will have to involve a career revival for William Jackson III. His coverage grade has fallen from 90.4 in 2017 to 55.2 last season.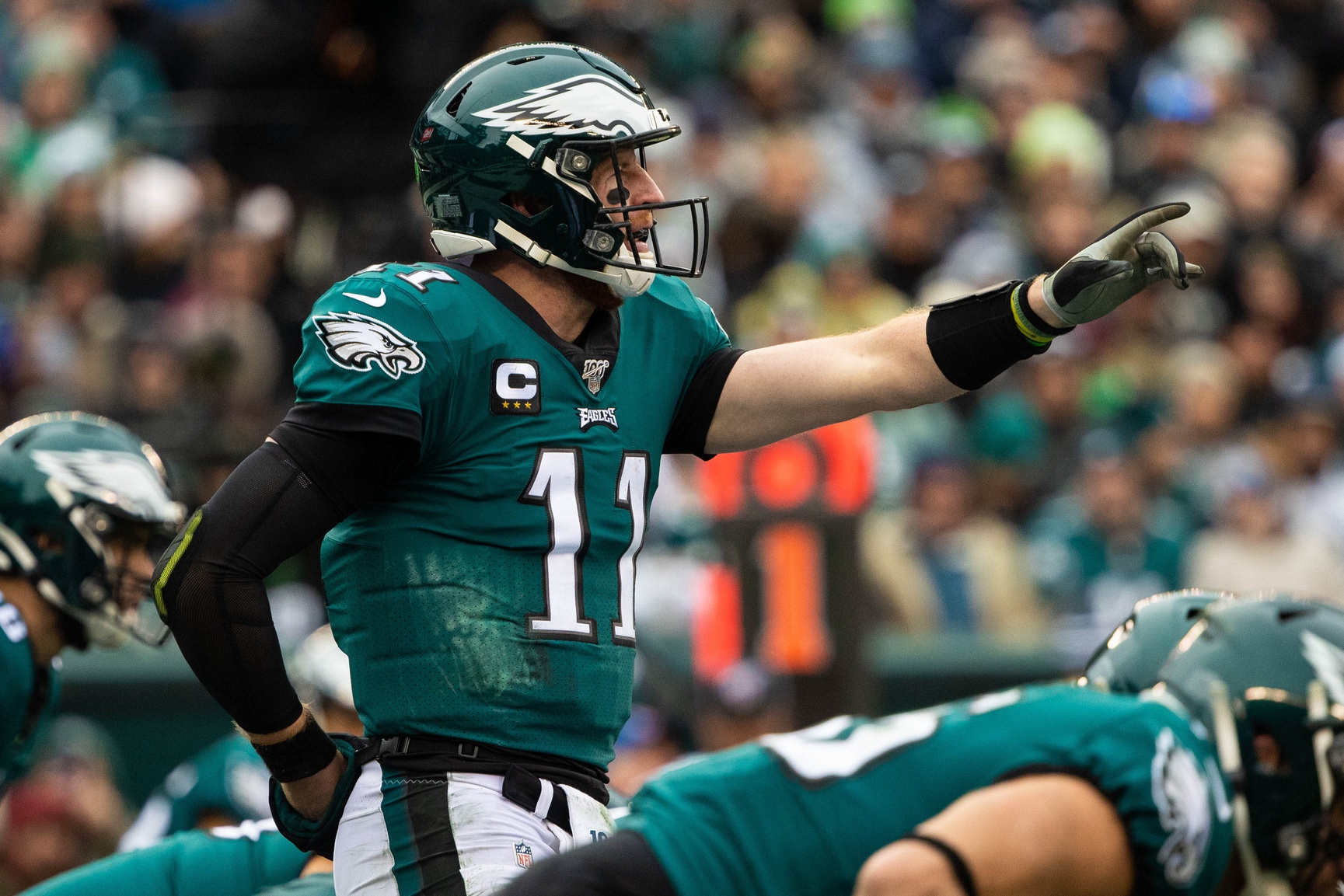 NFC East
10th percentile outcome: 5-11
How they get there: The additions of Jalen Reagor, Darius Slay and Nickell Robey-Coleman aren't enough to make up for the problems the Eagles had on the perimeter in 2019. DeSean Jackson fails to help, and injuries once again keep Alshon Jeffery from being a big contributor. Teams pick on whoever wins the second outside cornerback job — whether that be Avonte Maddox or Sidney Jones or safety-convert Jalen Mills — in coverage. Additionally, the offensive line is not the dominant force it was a season ago thanks to the losses of Brandon Brooks and Jason Peters, which compounds the supporting-cast issues for Carson Wentz.
90th percentile outcome: 10-6
How they get there: Wentz remains healthy for the entire year and delivers a performance reminiscent of the one he produced in 2017 ─ a year in which he was a legitimate MVP candidate. Reagor stretches defenses, opening things up underneath for the likes of Zach Ertz. Defensively, the Eagles boast one of the most dangerous four-man pass rushes in the NFL with Fletcher Cox, Javon Hargrave, Brandon Graham and Derek Barnett, and they can throw Malik Jackson into that mix, too. That speeds up opposing quarterbacks and helps the secondary create some splash plays.
---
10th percentile outcome: 6-10
How they get there: The defense  ─ and the secondary, in particular  ─ is unable to slow down opposing passing attacks. It seems hard to believe that the Cowboys' offense will drag the team down, given the talent they've put together on that side of the ball, but defensively there are some questions. Perhaps they move Chidobe Awuzie to safety, leaving rookie Trevon Diggs as the team's top outside cornerback. Diggs is certainly a talented prospect, but last season was his first full year at cornerback with Alabama after switching to the position from wide receiver. After letting Byron Jones walk in free agency, a lack of proven options to turn at the cornerback position could be this team's undoing in 2020.
90th percentile outcome: 11-5
How they get there: Dak Prescott puts together another stellar season with one of the league's best offensive lines and a stellar trio of wide receivers in Amari Cooper, Michael Gallup and CeeDee Lamb. With Prescott firing on all cylinders with both the passing-game pieces around him and running back Ezekiel Elliott ─ who is coming off a career-high 82.9 rushing grade in 2019 ─ there is no reason why they can't push for the title of best offense in the NFL next season.
---
10th percentile outcome: 4-12
How they get there: Daniel Jones' tendency to produce negative plays and mistakes doesn't improve. He's coming off a rookie season where he was one of just four quarterbacks with over 30 turnover-worthy plays and one of only nine quarterbacks to take at least 40 sacks on the year. Yes, the offensive line played a role, but so did Jones' internal clock and obliviousness to bodies flying around him. A lack of improvement in that area, paired with a non-existent pass rush and depth concerns at cornerback, could lead to a team in rough shape in 2020.
90th percentile outcome: 9-7
How they get there: Jones keeps the high-end plays and the ability to create with his legs, and he also cuts down on the mistakes. That leads to a much-improved offense that may not have a true top option in the receiving game but offers plenty of solid contributors in Sterling Shepard, Golden Tate, Darius Slayton, Evan Engram and Saquon Barkley.
Defensively, the Giants can create enough of an interior pass rush with Leonard Williams and Dexter Lawrence to keep quarterbacks uncomfortable, while the additions of James Bradberry, Blake Martinez and Xavier McKinney give some structure to the linebacking corps and secondary.
---
10th percentile outcome: 5-11
How they get there: PFF's Eric Eager recently explained why you should bet Washington's over on five wins, and this is pretty convincing evidence in favor of that. It might surprise you to see their 10th percentile outcome is, in fact, five wins.
Five wins is not exactly the goal outcome, though. If they're on the lower end of expectations, it will come as a result of limited talent around Dwayne Haskins and the resulting stagnation of his progress as a passer. The offensive line doesn't hold up well, which leads to plenty of sacks, and that's something Haskins showed himself to be susceptible to as a rookie. Meanwhile, none of the young options at receiver or tight end emerge to complement Terry McLaurin, leaving Haskins with only one real threat to work with in the passing game.
90th percentile outcome: 10-6
How they get there: A defensive line loaded with first-round picks leads the way on defense, and Haskins proves he is the future at the quarterback position for Washington. Obviously, Chase Young figures to be a problem right away after throwing up a 96.0 overall grade last season at Ohio State. He's not alone when it comes to talent, either. Ryan Kerrigan, Montez Sweat, Jonathan Allen, Daron Payne and Matt Ioannidis all carry some pedigree with them.
On the other side of the ball, Haskins will need to elevate those around him to see this 10-6 record, but he has shown enough in glimpses that it isn't crazy to believe that he has the kind of talent to do that. As a rookie, he did a terrific job of limiting the number of times he put the ball in harm's way —  his PFF passing grade from Week 11 through 17 ranked 10th in the NFL.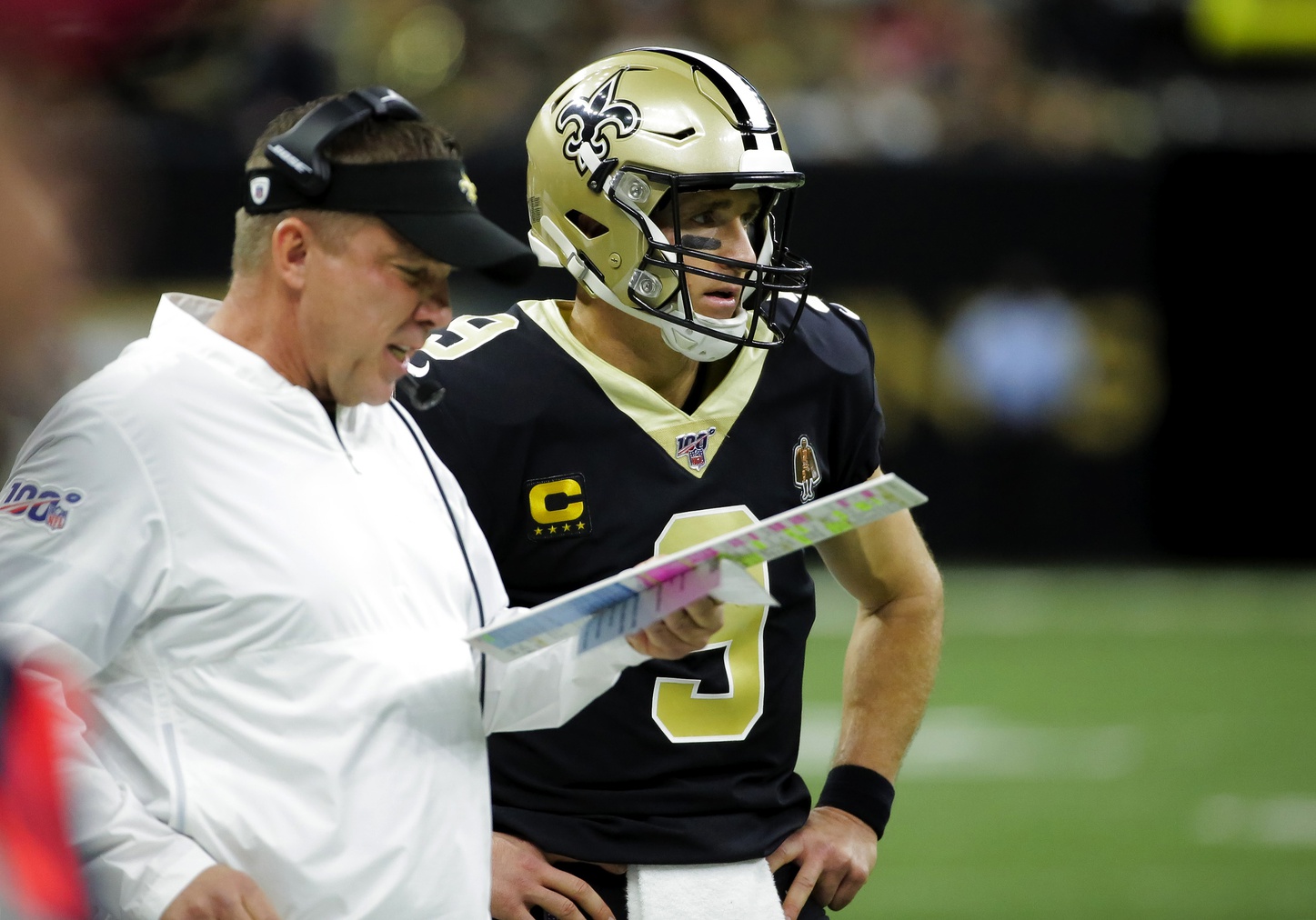 NFC South
10th percentile outcome: 7-9
How they get there: Drew Brees finally steps down from the elite tier at quarterback, and his arm decides to call it quits. That's the only way I see this team falling below .500 given how deep the roster is from top to bottom. Sure, they have Jameis Winston to turn to, but the quick passing game to the short and intermediate areas of the field, which has been their bread and butter with Brees behind center, doesn't necessarily align with Winston's caution-to-the-wind, air-it-out style. If the Saints offense is forced to make that transition midseason, it could lead to disappointing results for one of the most talented rosters in the NFL.
90th percentile outcome: 12-4
How they get there: Brees remains as one of the game's elite quarterbacks for one more season, and veteran additions like Emmanuel Sanders and Malcolm Jenkins add depth to an already talented roster. What Michael Thomas was able to do last season was impressive, but I'm sure New Orleans will be happy to have someone like Sanders share the load with him. On defense, Janoris Jenkins continues to play as well as he did after signing with the Saints late in the 2019 season, and Malcolm Jenkins gives the side another versatile safety to pair with Chauncey Gardner-Johnson, providing the team with plenty of options when it comes to filling the box and covering slot receivers.
---
10th percentile outcome: 5-11
How they get there: The cornerback position lets the Falcons down once again. A season ago, their cornerbacks combined to allow 9.1 passing yards per target (30th in NFL), and there is a good chance they could be worse next season after swapping Desmond Trufant for A.J. Terrell. Isaiah Oliver and Kendall Sheffield will both have plenty to prove next season after turning in PFF grades below 57.0 a season ago. The offensive line could continue to put Matt Ryan under fire when he drops back to pass, as well — they come in at just 24th on PFF's initial offensive line rankings for the 2020 NFL season.
90th percentile outcome: 10-6
How they get there: It seems that a whole lot of people have forgotten that Ryan is still one of the best quarterbacks in the NFL. The Ryan-Julio Jones–Calvin Ridley connection clicks all season and several of the young players along the offensive line progress to the point that gives Ryan adequate protection to find his wide receivers. Defensively, those young cornerbacks do take steps forward, and free-agent acquisition Dante Fowler Jr. (career-high 73.3 pass-rushing grade in 2019) continues his upward trajectory as a pass-rusher to serve as a nice upgrade over Vic Beasley Jr.
---
10th percentile outcome: 6-10
How they get there: The defensive improvements we saw late in the season were a mirage. Carlton Davis and Jamel Dean (third and seventh, respectively, in PFF grade after Week 10) aren't the shutdown cornerbacks that they appeared to be over the second half of the 2019 season. Offensively, Tom Brady doesn't produce as many turnovers as Jameis Winston did, but he also doesn't produce nearly the same amount of big plays. A mediocre season forces some to question whether Brady's down year in 2019 was a result of a poor supporting cast or a sign of the 43-year-old quarterback finally succumbing to Father Time.
90th percentile outcome: 11-5
How they get there: Brady is, in fact, still one of the game's elite, and he has a bounceback season with his old friend Rob Gronkowski and the best wide receiver duo in the NFL ─  Mike Evans and Chris Godwin. Simply taking care of the football significantly reduces the stress on a defense that continues to play at the high level it showed over the second half of last season. Devin White moves beyond simply making the splash plays and becomes a consistent down-to-down contributor, which only elevates the Buccaneers' defense.
---
10th percentile outcome: 4-12
How they get there: The defense just can't stop anyone. Donte Jackson (55.6 overall grade in 2019) and Eli Apple (63.8 overall grade in 2019), with little in the way of depth behind them, get picked apart by some of the league's best wide receivers in the NFC South. There is a glaring Luke Kuechly-sized hole in the middle of the field, as well ─ something that can't be filled by Tahir Whitehead and his 14 receiving touchdowns allowed since 2018 (six more than any other linebacker). Even if they're able to push the pocket a bit with the recent high-capital investments on the defensive line and a returning Kawann Short, Carolina doesn't have the defensive firepower in coverage to keep its offense in most games.
90th percentile outcome: 9-7
How they get there: The defense holds up well enough to allow the receiving talents to shine. D.J. Moore solidifies himself as a true primary option in the passing game, and Teddy Bridgewater finds success targeting Robby Anderson and Curtis Samuel deep down the field. If Bridgewater can just distribute the ball and hit his open receivers, new offensive coordinator Joe Brady should be able to draw up a successful offense despite having some limitations along the offensive line.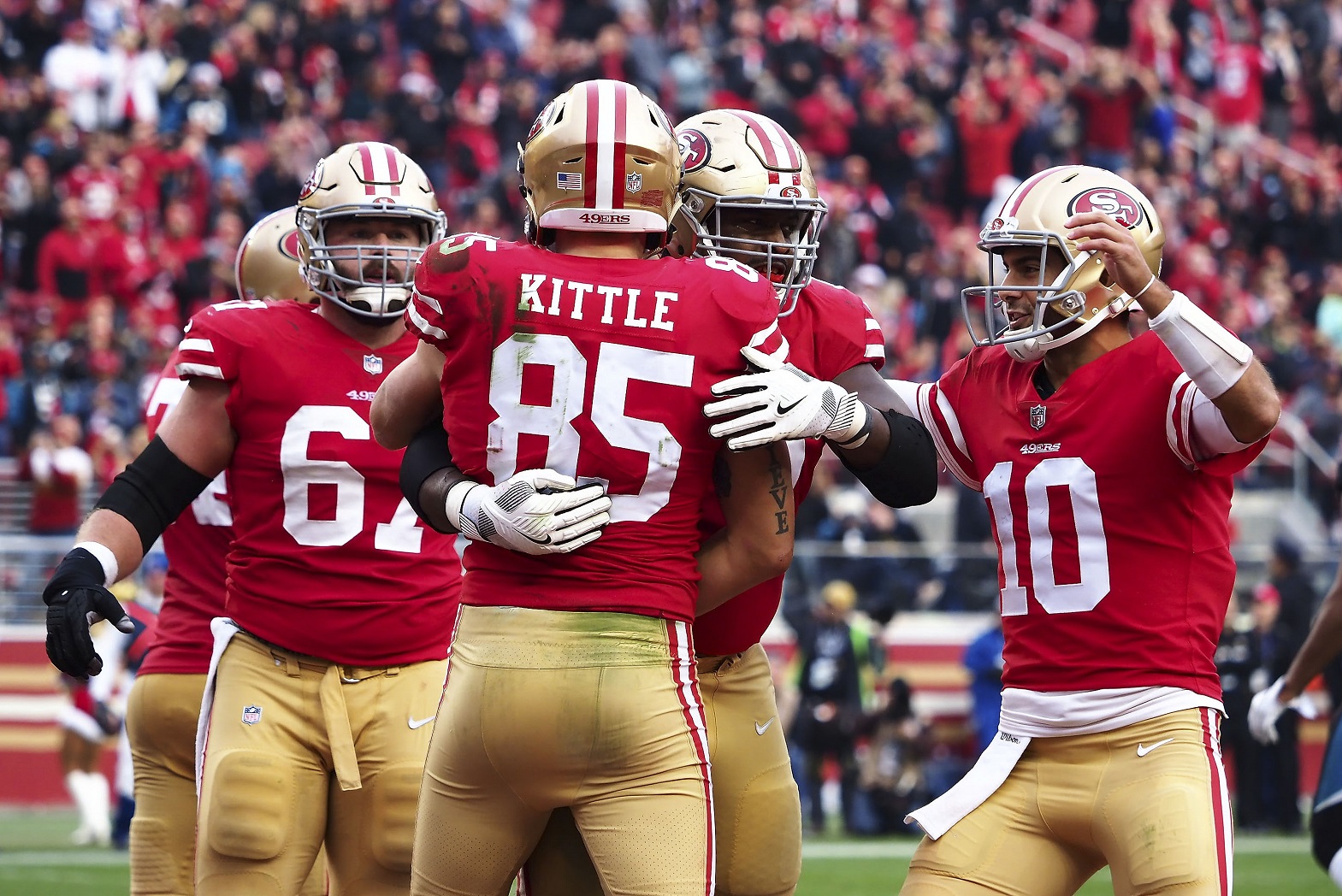 NFC West
10th percentile outcome: 7-9
How they get there: Deebo Samuel's foot injury is a problem that drags into the season, and the 49ers are without not just Emmanuel Sanders, but now both of their top two weapons at wide receiver from a season ago. They still have George Kittle, but the absence of Samuel puts considerable pressure on rookie Brandon Aiyuk ─ who has just one college season of high-level play under his belt ─ to be "the guy" at wide receiver. In turn, the 49ers offense becomes more one-dimensional, relying more on the run game than they would like to. Defensively, neither Emmanuel Moseley nor Ahkello Witherspoon takes full command of the No. 2 spot outside, which gives opposing offenses a weak spot to target.
90th percentile outcome: 12-4
How they get there: A devastating pass rush and top-notch coverage play spearheaded by the second phase of Richard Sherman's Hall of Fame career once again results in one of the best defenses in the NFL. Offensively, Kyle Shanahan continues to confuse the league's defensive coordinators, and Jimmy Garoppolo continues to get more and more comfortable in his system. San Francisco's strategy of collecting after-the-catch monsters (Kittle, Samuel, Aiyuk and Jauan Jennings) along with versatile, position-fluid players such as Samuel and Jalen Hurd results in a group of receivers that fits Shanahan's scheme like a glove.
---
10th percentile outcome: 6-10
How they get there: Russell Wilson is only able to do so much to carry what is a middle-of-the-pack roster. He is put under consistent pressure thanks to one of the worst offensive lines in the NFL, and the Seahawks' defense puts him in a position where Seattle is playing from behind a lot. With their best pass-rusher likely being a choice between the likes of Rasheem Green and Bruce Irvin, opposing offensive lines have little to worry about. In the secondary, Quinton Dunbar deals with a suspension thanks to his offseason legal troubles, and Shaquill Griffin regresses after a career year in 2019 (78.0 PFF grade). All the while, the Seahawks continue to roll out base defense on entirely too many snaps.
90th percentile outcome: 12-4
How they get there: On the opposite end of the spectrum, Wilson puts the team on his back, just as he did last season. He drops the ball into the bucket for Tyler Lockett and D.K. Metcalf all year long, and a healthy Will Dissly and Greg Olsen give him a different aspect to work with at tight end. Most importantly, Pete Carrol and company lean into the idea that they should be putting the ball in Wilson's hands more. When you have one of the best quarterbacks in the NFL, you should be making him — and not the running game — the focal point of your offense. On defense, Seattle is opportunistic enough in the turnover department to give their offense some short fields, as well.
---
10th percentile outcome: 6-10
How they get there: The offensive line remains a real problem for Jared Goff and this offense. Given Goff's stark splits when it comes to working from a clean pocket versus working under pressure, along with Sean McVay's reliance on longer-developing pass plays, a poor offensive line can derail things very quickly — as we saw last year. Coming into this season, the group ranks 25th on PFF's initial 2020 offensive line rankings. They still have a lot of work to do if they want to show that they're closer to the group we saw in 2018 than the one we saw in 2019.
On defense, Aaron Donald can only do so much on his own, and Los Angeles' young, unproven linebackers get tested early and often.
90th percentile outcome: 11-5
How they get there: The offensive line getting healthy and improvements from guys such as Rob Havenstein creates a more stable offensive environment for Goff. As we saw in 2018, particularly early that year, Goff can look like one of the better quarterbacks in the league when he has clean pockets to work from.
Even with the loss of Brandin Cooks, there are still guys he can get the ball to. Robert Woods is one of the more underappreciated wide receivers in the NFL, and Cooper Kupp has been one of the league's most effective slot receivers over the past several years. That step forward on offense, along with a defense that's highlighted by the star power of Aaron Donald and Jalen Ramsey, is enough to get the Rams back to the playoffs.
---
10th percentile outcome: 5-11
How they get there: The defense just doesn't have enough talent to stop opposing offenses. Chandler Jones doesn't get enough pass-rushing help from his teammates to worry opposing quarterbacks, and additions like Isaiah Simmons and Robert Alford aren't enough to significantly improve a defense that finished the 2019 season ranked 30th in expected points allowed per play. Even with an offense that is expected to be improved in Kyler Murray's second season, a bottom-five defense would make things difficult for the Cardinals in a competitive NFC West.
90th percentile outcome: 10-6
How they get there: The sophomore jump for Murray is real and beautiful. He cleans up some of the mistakes he made as a rookie, and his talent ─ both as a passer and runner ─ shines in his second season in Kliff Kingsbury's system. DeAndre Hopkins gives him a true No. 1 wide receiver to work with, something that can't necessarily still be said of Larry Fitzgerald at this stage of his career. That offense is enough to balance a defense that still has some holes.
The defense is improved, though, thanks to Byron Murphy looking more like the guy PFF was high on coming out of Washington and Simmons thriving in a multi-faceted role as a rookie.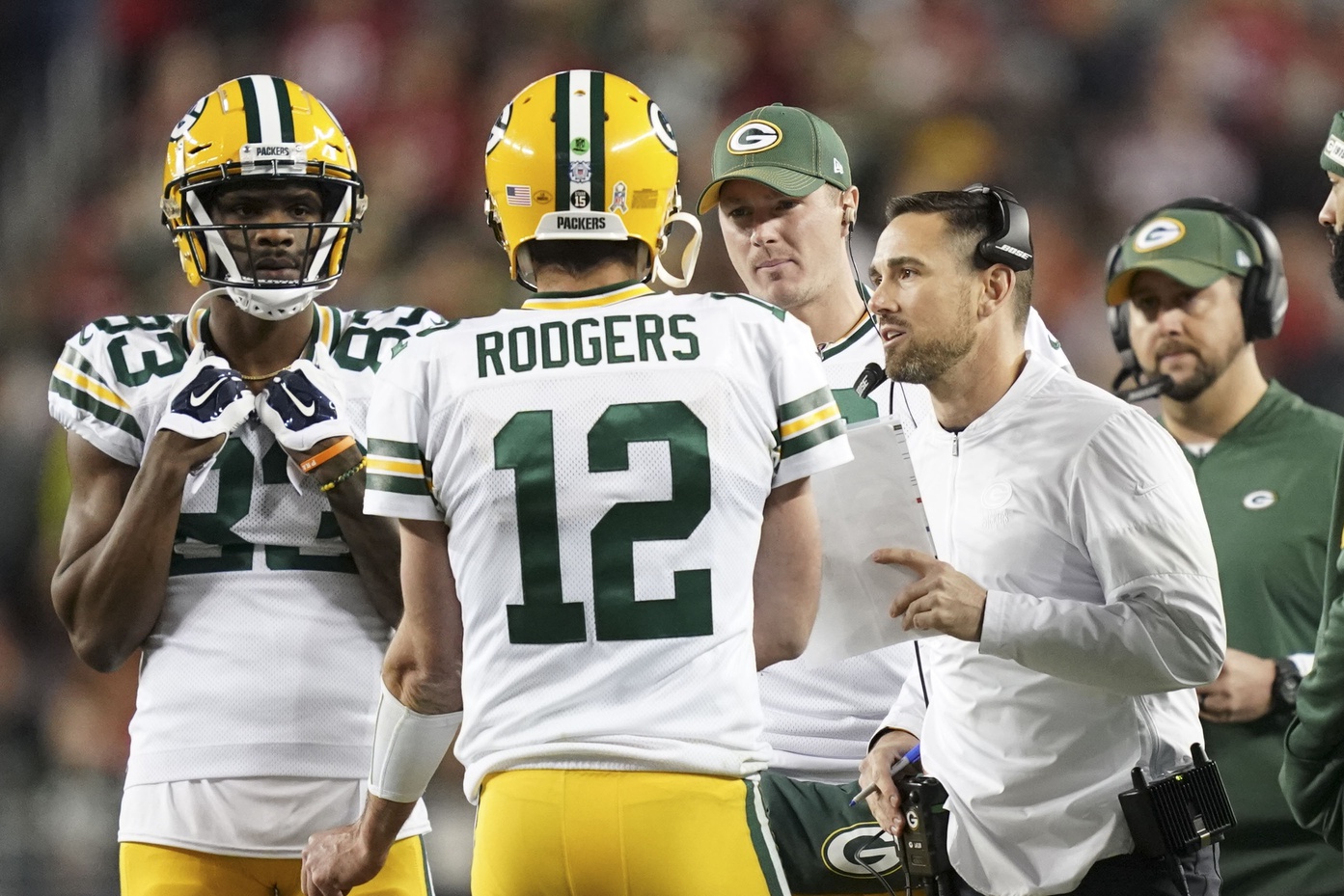 NFC North
10th percentile outcome: 6-10
How they get there: The Packers' apparent commitment to building around the power running game rather than Aaron Rodgers and the passing game comes back to hurt them. Davante Adams can only do so much as the top option for Rodgers, and none of the secondary options step forward to serve as a strong complement to Adams. On the defensive side of the ball, the team didn't do enough to improve the run defense after it got picked apart in the NFC championship game. The linebacker position, in particular, causes problems — the last time the new top option at the position (Christian Kirksey) recorded an overall grade above 65.0 was 2016.
90th percentile outcome: 11-5
How they get there: The pass rush generated by Za'Darius Smith, Kenny Clark and Preston Smith once again causes problems for opposing offensive lines. At the same time, Jaire Alexander cleans up some of the big plays he was susceptible to last season and emerges as a top-flight NFL cornerback. On offense, Rodgers puts together an entire season up to the standard of what we saw early in 2019 (he was the fourth-highest-graded quarterback through Week 8) and guys such as Allen Lazard and Jace Sternberger emerge as strong complementary options in the passing game, making Green Bay's decision to remain mostly inactive in the receiving market this offseason look less glaring.
---
10th percentile outcome: 6-10
How they get there: All the starters lost this offseason can't be replaced by rookies and options that were lower on the depth chart a season ago. The three new starters at cornerback are picked on by opposing offenses, and Ifeadi Odenigbo (74.4 overall grade in 2019) can't give the same kind of performance opposite Danielle Hunter as Everson Griffen (77.6 overall grade in 2019). Meanwhile, the offense misses Stefon Diggs, who is still one of the best route-runners in the league. The offensive line remains a problem, as well. Garrett Bradbury and whoever the Vikings decide to roll with at the guard position struggle to hold up against the Kenny Clarks and Akiem Hickses of the world.
90th percentile outcome: 11-5
How they get there: An offensive scheme that continuously moves the pocket and stalls pass rushes with play action continues to get the best out of Kirk Cousins. Justin Jefferson proves to be an instant contributor who gives the Vikings a strong No. 2 option alongside Adam Thielen. Defensively, Mike Zimmer continues to elevate the talent in players such as Hunter, Eric Kendricks and the safety duo of Anthony Harris and Harrison Smith, which potentially covers for some of the deficiencies Minnesota has elsewhere.
---
10th percentile outcome: 5-11
How they get there: The quarterback position ─ whether manned by Nick Foles or Mitchell Trubisky ─ sinks the team. Neither guy is good enough to elevate a below-average offensive line and below-average receiving corps (despite having Allen Robinson) to produce even an average offense for Chicago. Even with plenty of talent on defense, that poor showing on offense is enough to keep the Bears well short of .500, and it puts the focus firmly on the quarterback position heading into 2021.
90th percentile outcome: 10-6
How they get there: This result is the 2018 model for success, though with a little more help on offense and not quite as dominant a defense. Foles proves to be closer to the guy we've seen in stints in Philadelphia, which serves as a marked upgrade on what Chicago has previously got from Trubisky. He develops a strong connection with Robinson, and Anthony Miller takes the next step in his career. Defensively, Jaylon Johnson proves to be a steal early, and a pass-rush headed by Khalil Mack, Robert Quinn and Akiem Hicks is very effective at getting after the quarterback.
---
10th percentile outcome: 5-11
How they get there: The air-it-out offense we saw with Matthew Stafford early in the 2019 season doesn't return, or perhaps, Stafford doesn't play nearly as well as he did last season (81.6 passing grade through the first nine weeks). The defense still has some issues, as well. Rookies who are counted on for important roles ─ players such as Julian Okwara and Jeffrey Okudah ─ don't hit the ground running. On a related note, Detroit also struggles to generate a pass rush from everyone not named Trey Flowers, which is something we saw in 2019 when their team pressure rate of 29.2% ranked 30th in the NFL.
90th percentile outcome: 10-6
How they get there: The Lions were more competitive than their record would have you believe with Stafford at quarterback in 2019. Through the first nine weeks of the season, Detroit had the fifth-most-efficient passing offense in the NFL, according to EPA per play. On defense, the Lions are improved in coverage despite losing Darius Slay, and that's thanks to the improved depth they have after bringing in Okudah, Desmond Trufant and Duron Harmon in the secondary. That leads to a team with all the makings of a worst-to-first candidate.