Arguably the most prestigious award in all of sports, the Heisman trophy, will be awarded Saturday and it seems like the award is LSU quarterback Joe Burrow's to win. The year Burrow has had for the Tigers has been sensational and may very well be the most impressive turnaround for a player we have ever seen – he went from being a late-round/undrafted prospect to one of the few candidates for the No. 1 overall pick.

Some have been bearish on Burrow's play, saying it's a product of a great scheme and supporting cast and, thus, preaching he isn't nearly as good as previous Heisman winners or even candidates for that matter. PFF can debunk this through our one-of-a-kind advanced database and by comparing every quarterback that was a Heisman finalist in the PFF College era (since 2014) in numerous categories:
(Note: all data excludes any bowl games played; finalists were decided on by PFF grade)
Clean pocket
Finalists: Joe Burrow (2019), Justin Fields (2019), Baker Mayfield (2017), Baker Mayfield (2016)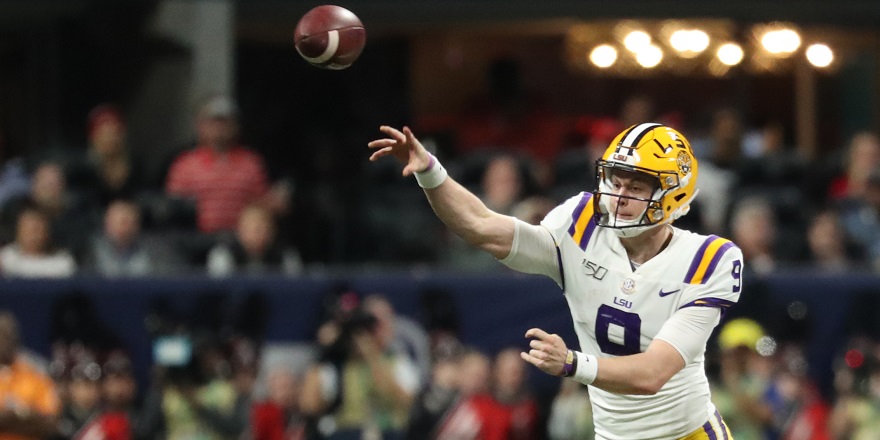 Jason Getz – IMAGN
As found by PFF data scientists George Chahrouri and Eric Eager, quarterback performance from a clean pocket is one of the most predictive and stable metrics for the position. With that said, our top four for this category consists of two impressive seasons from 2018 first overall pick Mayfield and two from the 2019 seasons in Burrow and Fields. When the offensive line does its part and keeps a quarterback free from pressure, it's the quarterback's job to take advantage of it and make some plays. No one did a better job with that than Ohio State's Fields as his clean pocket big-time throw rate in 2019 sits ahead of all the other finalists by a good margin at 9.2%. On top of that, he has also limited giving the defense opportunities to make a play, throwing just two turnover-worthy passes for a rate of 0.8%.
While Mayfield did toss up nine turnover-worthy plays when clean in 2017, his deep ball was near flawless – no Heisman candidate over the last six years completed more deep passes than Mayfield in 2017. Along with that, he has connected on those 20-plus yard passes at a higher rate than anyone else in the group. In fact, his adjusted completion percentage on those in 2017 sits at 67.3%, with second being his 2016 season at 65.2% and third being far behind at 56.8% (Tua Tagovailoa in 2018).
Though, regardless of target depth, the most accurate quarterback of the group is none other than Burrow, who owns an 84.8% adjusted completion percentage in a clean pocket. Ultimately though, it all boils down to, again, who has taken advantage of a clean pocket more often than anyone else and produced more impactful plays:
Winner: Baker Mayfield (2017)
Under pressure
Finalists: Joe Burrow (2019), Kyler Murray (2018), Baker Mayfield (2017), Deshaun Watson (2016)
The decision to name these four the finalists for best under pressure wasn't a difficult one, as no other quarterback sniffed the pack in PFF grade. Moreover, Burrow has not had an ideal scenario in regard to his pass-blocking unit – while it could be worse, it could certainly be better, as he has spent nearly 31% of his dropbacks under pressure (for perspective, fellow potential first-round picks Tagovailoa and Justin Herbert have a rate more than 8% lower). Burrow has overcome this to toss 15 touchdowns, complete 69% of his passes, record a 146.5 passer rating and average 12.3 yards per attempt while under duress, all of which lead the past Heisman finalists.
All these guys opted to air it out quite a bit when under pressure – Watson specifically threw a deep pass on nearly 25% of his pressured attempts and connected on just half of those. As for Mayfield, he connected on just five of his 17 deep pressured attempts. Murray didn't go as deep with his pass attempts and attacked more of the intermediate range but did that rather successfully with a 152.8 passer rating on those. That said, none of these excellent players came remotely close to Burrow on pressured deep passing. He was in a league of his own, completed 15 of his 21 passes with eight big-time throws and zero turnover-worthy plays. What's even more remarkable is that he did this after a 2018 season where he went 0-for-13 on pressured deep pass attempts – and for that, he comes out the top dog.
Winner: Joe Burrow (2019)
Throws of 10-plus yards
Finalists: Joe Burrow (2019), Kyler Murray (2018), Baker Mayfield (2017), Baker Mayfield (2016)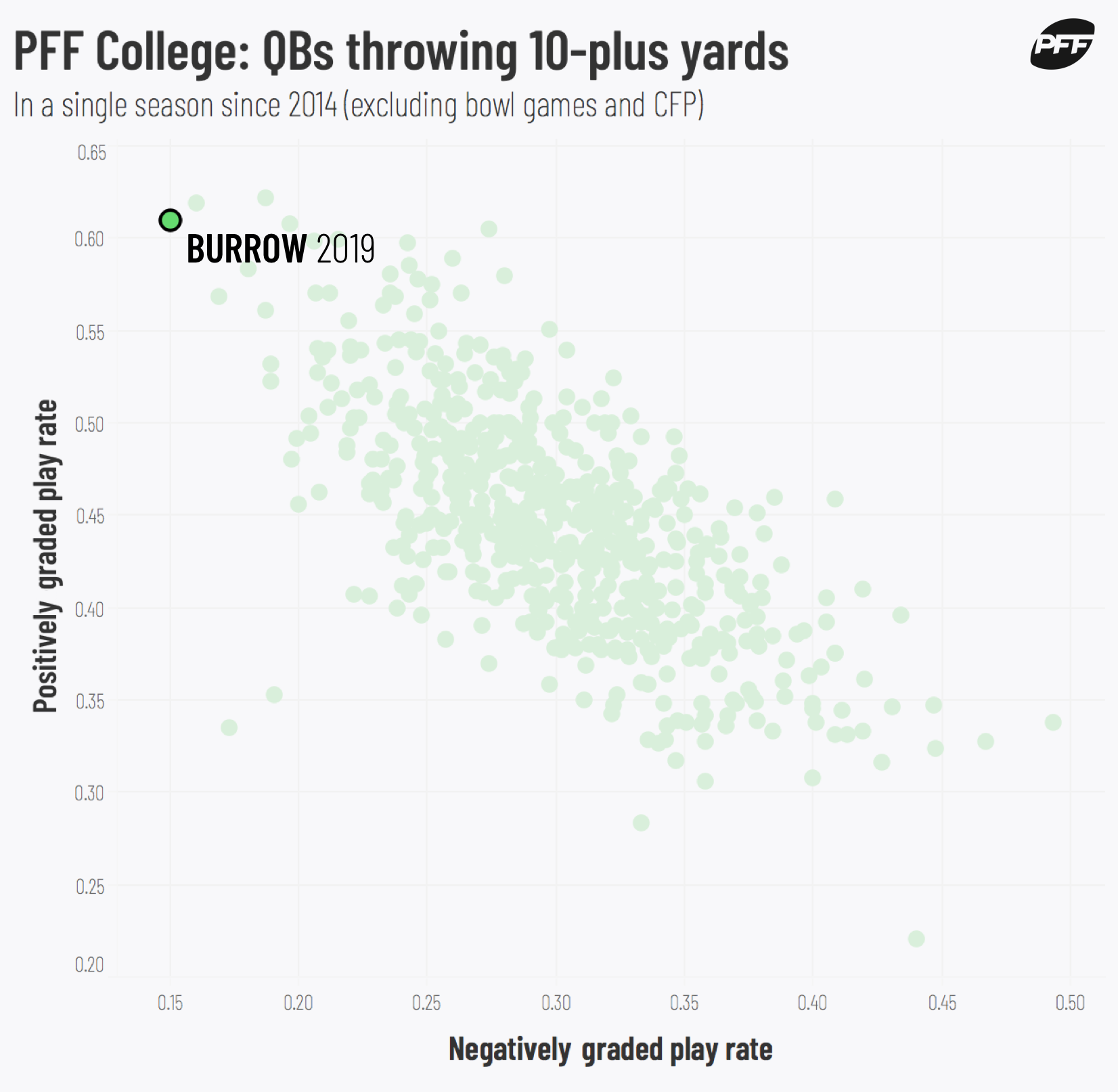 It shouldn't be a surprise to see Oklahoma occupy three of the top four spots among previous Heisman candidates in passing 10 yards or more downfield, considering they are facing Big 12 competition. Though the appearance of Burrow at the top — who is going up the most difficult conference in the SEC — is incredibly impressive.
Led by former NFL quarterback Bruce Gradkowski, PFF charts every single pass on every single play at the collegiate and professional level, and Burrow's numbers in 2019 relative to the group average is unbelievable. On these throws of 10-plus yards, he has an accurate pass rate more than 23% above the 2019 average. Among the group of past Heisman winners specifically, Burrow has thrown four more touchdowns of 10-plus yards than anyone else (34) and averaged more yards per attempt (15.9).
When throwing this range when clean, Mayfield was untouchable – limiting mistakes and completing passes at an astronomical rate. This was true for Murray as well, who had a clean pocket on these throws more than any of these quarterbacks. However, Burrow set himself apart from everyone when under duress on these passes by remaining accurate and poised. Nothing got in Burrow's way on these passes – whether it was blitz or a tight window pass, he hit it more often than not.
Winner: Joe Burrow (2019)
Creating outside of the structure
Finalists: Joe Burrow (2019), Lamar Jackson (2017), Baker Mayfield (2017), Marcus Mariota (2014)
Creating outside of the structure (i.e. non-designed plays outside of the pocket) has become one of the more sought-after traits in the Patrick Mahomes era of football, and these four did it better than any player, regardless if they scrambled for a big gain or let one loose on the run. In this group, though, Mariota was surprisingly the best passer. When having to abandon the pocket and create something out of nothing, Mariota let himself up for a sack fewer than anyone else and reaped a positive play more often than not. Not to mention, he saw all his yards come in the air as opposed to some who had some help after the catch and also produced an adjusted completion percentage of 73.1% on these.
Mayfield was a big-time player in these situations, producing a passer rating of 121.6 and four touchdowns through the air while adding another on the ground. Now the most popular man in the NFL, Jackson wasn't as much of a polished passer on these plays, but unsurprisingly was far and away better than anyone else when taking off with the ball. Among the group of Heisman candidates, Jackson in 2017 produced six more first downs than anyone else at 21, a first down or touchdown rate 10% higher than anyone else at 64% and averaged 1.2 more yards per scramble than anyone at 10.9.
As mentioned previously, all these players were better than most creating outside of the structure regardless of their decision to keep the ball and run or letting it fly for a last chance pass. However, there was one who did both at high level: Burrow. While he took more sacks than anyone else, no one produced more passing touchdowns (six) or big-time throws (four) than Burrow did. Along with that, he topped the group in yards per attempt at 10.2. On the ground, Burrow produced a first down or touchdown rate that trailed only Lamar Jackson in 2017 at 54% and averaged 9.5 yards per scramble.
Winner: Joe Burrow (2019)
Long-developing plays
Finalists: Joe Burrow (2019), Kyler Murray (2018), Baker Mayfield (2017), Baker Mayfield (2016)
You can tell a lot about a quarterback and his patience on longer-developing plays when their time-to-throw eclipses 3.1 seconds. This was one of Mayfield's strong suits at Oklahoma. In both 2016 and 2017, he averaged over 14 yards per attempt on these plays and produced a passer rating above 130. His 2016, though, was slightly better from an accuracy perspective. That season, Mayfield had an adjusted completion percentage of 77.1% on long-developing plays – and those weren't short dump-off passes either. His average depth of target in those scenarios was just under 18 yards.
Murray followed Mayfield in Oklahoma and sustained the fantastic play. He often went deep when he had to wait to release. In fact, 40 of his 103 attempts when the time-to-throw was longer than 3.1 seconds was over 20 yards downfield and 11 of those 40 attempts went for a touchdown. Burrow was just as big-time as the two Sooners in these scenarios. He came home with 14.2 yards per attempt and a 142.0 passer rating on the long-developing plays. With that said, Burrow in 2019 and Mayfield in 2016 were the two at the top of this category and the margin between the two was very slim, but ultimately it came down to who made more downfield throws.
Winner: Baker Mayfield (2016)
Tight-window passing (2015-2019)
Finalists: Joe Burrow (2019), Kyler Murray (2018), Baker Mayfield (2017), Deshaun Watson (2016)
We have four finalists for this category despite it really being only a two-person race, but we will talk through the four best anyways, starting with Watson. During the Clemson Tigers' run in 2016, Watson threaded the needle on some tight-window throws that were jaw-dropping. In fact, he came away with 12 big-time throws into a tight window. With that though, he had 13 turnover-worthy plays into a tight window, which is four more than any other Heisman contender since 2015. Along with Watson as the two who were on the outside looking in on this one (but good enough to be a contender) is Murray from 2018. That year, Murray hardly gave the defense an opportunity to make a play on the ball when throwing to a tight window. However, he just threw far too many inaccurate passes. His average depth of target on these passes was at an incredibly high 17.6 yards. In other words, he made some big plays downfield into a tight window, but sometimes may have forced too many.
No two quarterbacks have been better passing into a tight window, however, than Burrow in 2019 and Mayfield in 2017. Their grades are above and beyond everyone else. There's been a lot of talk about Burrow getting off easy in 2019 by his top receiving unit, but as good as the LSU receiving unit has been, Burrow has thrown into a tight window more than anyone else in the group. On these passes, he has thrown six more touchdowns with anyone else at 21 and limited his interceptions to just five, while recording an adjusted completion percentage that was 7% higher than everyone at 67.3% and a passer rating 23 points higher than any other quarterback at 115.9. In Mayfield's historic season, he had a tremendous wide receiver unit with two of the top separation-getters in Marquise Brown and Ceedee Lamb. With that said, Mayfield only had a tight window pass on 94 of his pass attempts, which is 72 fewer than Burrow had to make. However, Mayfield produced a big-time throw at a far higher rate than anyone else at 15.3%. Burrow has been exceptional throwing into a tight window, but the difference between he and Mayfield is when going deep. On passes of 20-plus yards into a tight window in 2017, Mayfield posted an impressive adjusted completion percentage of 46.4% and threw very few uncatchable passes.
Winner: Baker Mayfield (2017)
Red zone
Finalists: Joe Burrow (2019), Justin Fields (2019), Baker Mayfield (2017), Deshaun Watson (2016)
Differentiating who can and cannot seal the deal in the red zone separates the good quarterbacks from the bad and in 2019 we saw two of the best college quarterbacks to ever do it. Burrow has been near immaculate in the red zone with 28 touchdowns and not a single interception – leading way to a 125.0 passer rating. A couple turnover-worthy plays have held him back, but overall, the accuracy is still at the very top.
While Burrow has been about as good as you possibly could be in the red zone, Ohio State's Fields has been even better. Fields has trounced his way down to the end zone and attempted a pass 49 times in 2019 and has produced a touchdown on nearly 50% of those with 24. He kept the interception column to a goose-egg along with that.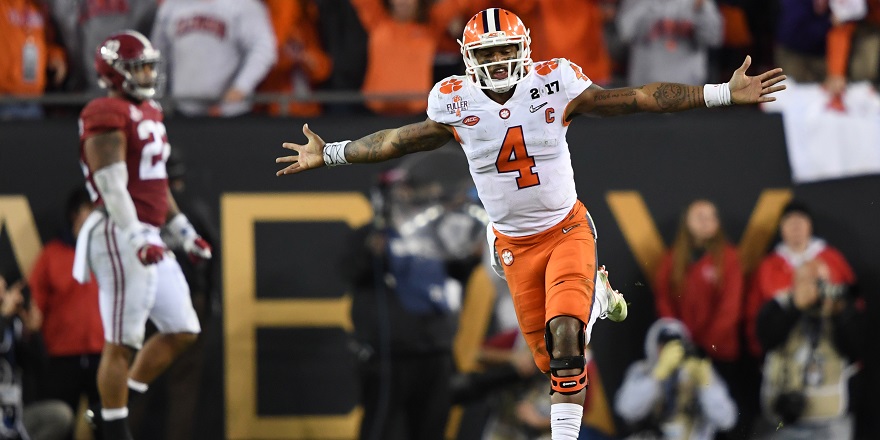 John David Mercer – IMAGN
Watson in 2016 made a strong case with 20 of his 24 red-zone touchdowns earning a positive PFF grade and six of those being a big-time throw, but he had four turnover-worthy plays in that process. Baker topped the list in red zone adjusted completion percentage at 81.3% en route to 22 touchdowns on his 50 attempts but a bad turnover-worthy play hindered his overall success, thus, couldn't edge out Fields in this one.
Winner: Justin Fields (2019)
Play action
Finalists: Joe Burrow (2019), Kyler Murray (2018), Baker Mayfield (2017), Baker Mayfield (2016)
Play action pass plays are far more effective than non-play action passes and is becoming used more and more at every level. Lincoln Riley and the Oklahoma Sooners have been advocates of these plays and used them extensively with Mayfield, Murray, and Jalen Hurts. While Hurts has been good but not great on these plays, Murray and Mayfield thrived and moved the ball better than anyone else.
In Mayfield's 2017 season, his play action passing was off the charts, producing a big-time throw on 9% of his dropbacks while having a turnover-worthy play rate of just 1%. His play action passer rating that season was almost perfect at 155.3. A lot of Mayfield's 2017 success has to be attributed to his play action passing, considering he had 23 touchdowns and zero interceptions when in play action. Like every other category it seems, Murray in 2018 was always looking for the next deep pass and he used play action passes to enhance it. He had five more deep pass attempts off play action passes than any of the other Heisman finalists and produced 14 big-time throws off those.
Burrow and LSU didn't use play action passing nearly as much as the rest of the FBS, but that doesn't mean he wasn't good on the 25% of the plays they used it on. Burrow actually averaged more yards per attempt than anyone else and produced a superb 9.5% big-time throw rate. At the end of the day, Mayfield using play action in 2017 was just unfair and was a nightmare for the opposition. While everyone else was jumbled in one pack, Mayfield was above all with a 96.3 PFF grade on those.
Winner: Baker Mayfield (2017)
Rushing
Finalists: Jalen Hurts (2019), Kyler Murray (2018), Lamar Jackson (2017), Lamar Jackson (2016)
Running quarterbacks are turning into a hot commodity with the success of Lamar Jackson at the NFL level. While having a guy like Jackson overall doesn't has a massive impact on how the running backs perform and rushing success is largely dependent on scheme, blocking, etc., there is value in having a quarterback that can actually be productive in both dropping back to pass and on designed rushing plays.
In his one season with the Sooners, Hurts has been the definition of a dual-threat quarterback. There have been 141 designed rushing plays for Hurts this season and no one in the group has been more elusive than Hurts as he has picked up 0.23 missed tackles forced per attempt. The signal-caller in Oklahoma prior to Hurts, Murray, sliced and diced Big-12 defenses on the ground like Hurts in 2019. Murray's passing was featured more than his rushing since he has nearly half the designed rushing attempts as Hurts, however, he averaged more yards per carry at 9.0 and yards after contact per attempt at 4.0 than anyone in the Heisman group.
Last but certainly not least, Jackson unsurprisingly occupies the last two spots for top Heisman rusher in the PFF College era. Both in 2016 and 2017, Jackson produced the best first down or touchdown rate among all in the group at 44% and 45%. Though, his 2016 specifically was something unlike anything we have ever seen. In that season, Jackson has 21 designed rushing touchdowns, which was nine more than anyone else. Furthermore, he also averaged 5.4 yards before contact that season, and remained elusive when he was caught with 33 broken tackles on his 148 designed rushes – and for that, his 2016 season edges everyone else out.
Winner: Lamar Jackson (2016)
Conclusion
As for who the best college quarterback we have seen in the PFF era overall actually is, it's a very tight race as of now. Through their respective conference championship games, the three highest-graded quarterbacks we have ever seen are Baker Mayfield in 2017 at 95.2, Kyler Murray in 2018 at 94.7, and Joe Burrow in 2019 at 94.3.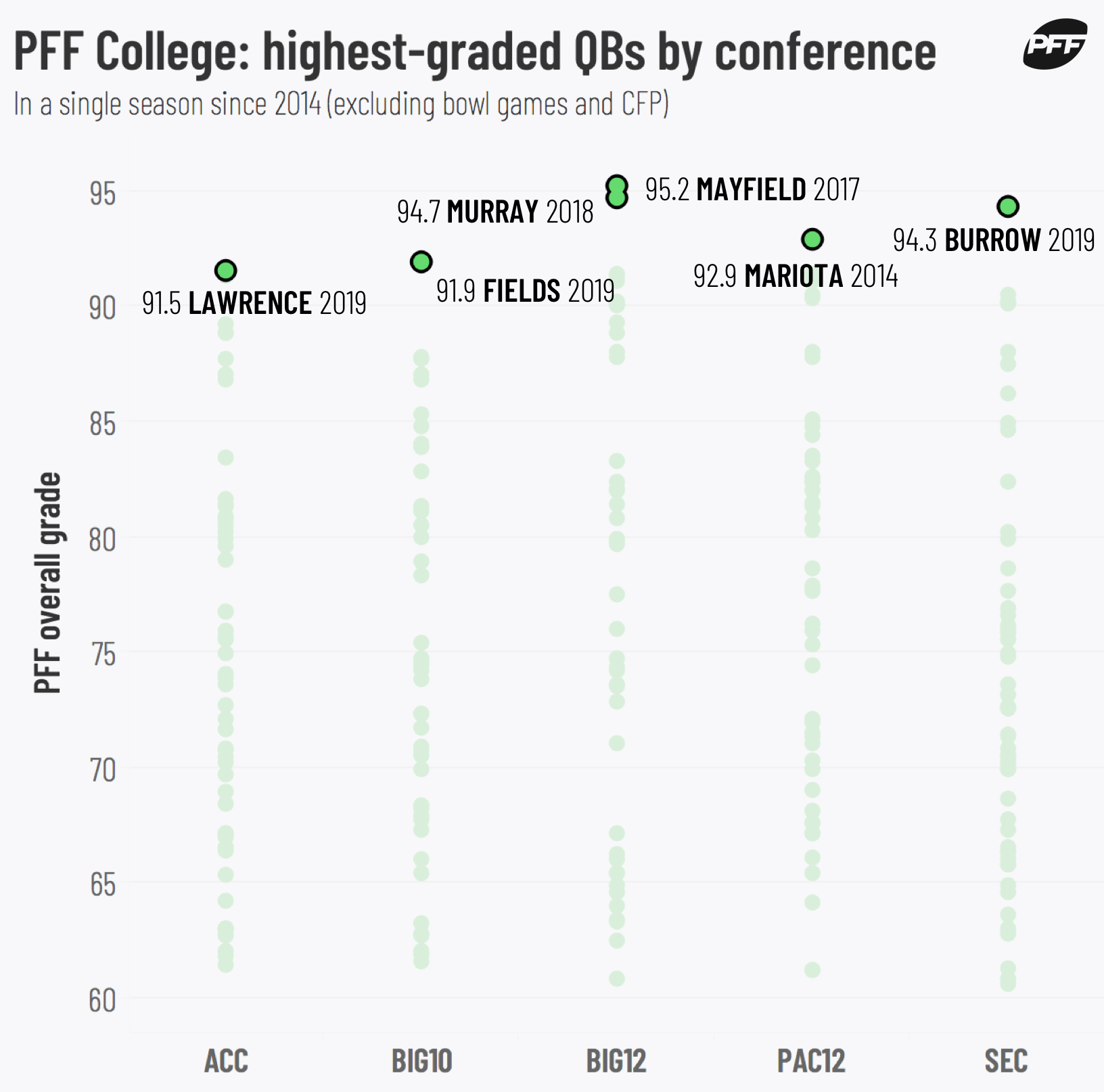 However, we must consider strength of conference and recognize that Burrow is producing at a level we have never seen by an SEC quarterback. In regard to PFF WAR, Burrow is far and away the most valuable player in college football, with Fields, Hurts, and Trevor Lawrence right behind him. He has been the best PFF has ever seen in numerous categories shown above, and when he wasn't, he was getting edged out by past No. 1 overall picks. If Burrow performs at the same level he's been playing this season in the College Football Playoff, he may very well dethrone Mayfield and Murray and end up the best college quarterback in the PFF era.