There has been a lot of news about the Washington football team over the past week or so, most of it frankly a long time coming. One thing that isn't being frequently discussed, however, is that they are being undervalued in the betting markets.
Currently, Washington's win total is somewhere in the neighborhood of 5 or 5.5 wins. For example, on FanDuel Sportsbook, they are going off at 5, with the overpriced at -120. Unlike our previous two win totals articles, which liked the unders for the Las Vegas Raiders and Minnesota Vikings, we think that Washington will go over that total. Let's look at the case for and against that bet.
[Subscribe to PFF EDGE or ELITE to gain access to our fantasy football rankings and projections, PFF Player Grades, premium content and more.]
When looking at basic counting stats from 2019, the Ohio State product was underwhelming relative to first overall pick Kyler Murray, sixth-round sensation Gardner Minshew and even divisional rival Daniel Jones.
Firstly, Haskins didn't start his first game until Week 9, and in previous appearances against the New York Giants and Minnesota Vikings, he threw zero touchdowns and four interceptions. There were rumors that the previous coaching staff wasn't enamored with him, as evidenced by the midseason start given to veteran Colt McCoy against the New England Patriots.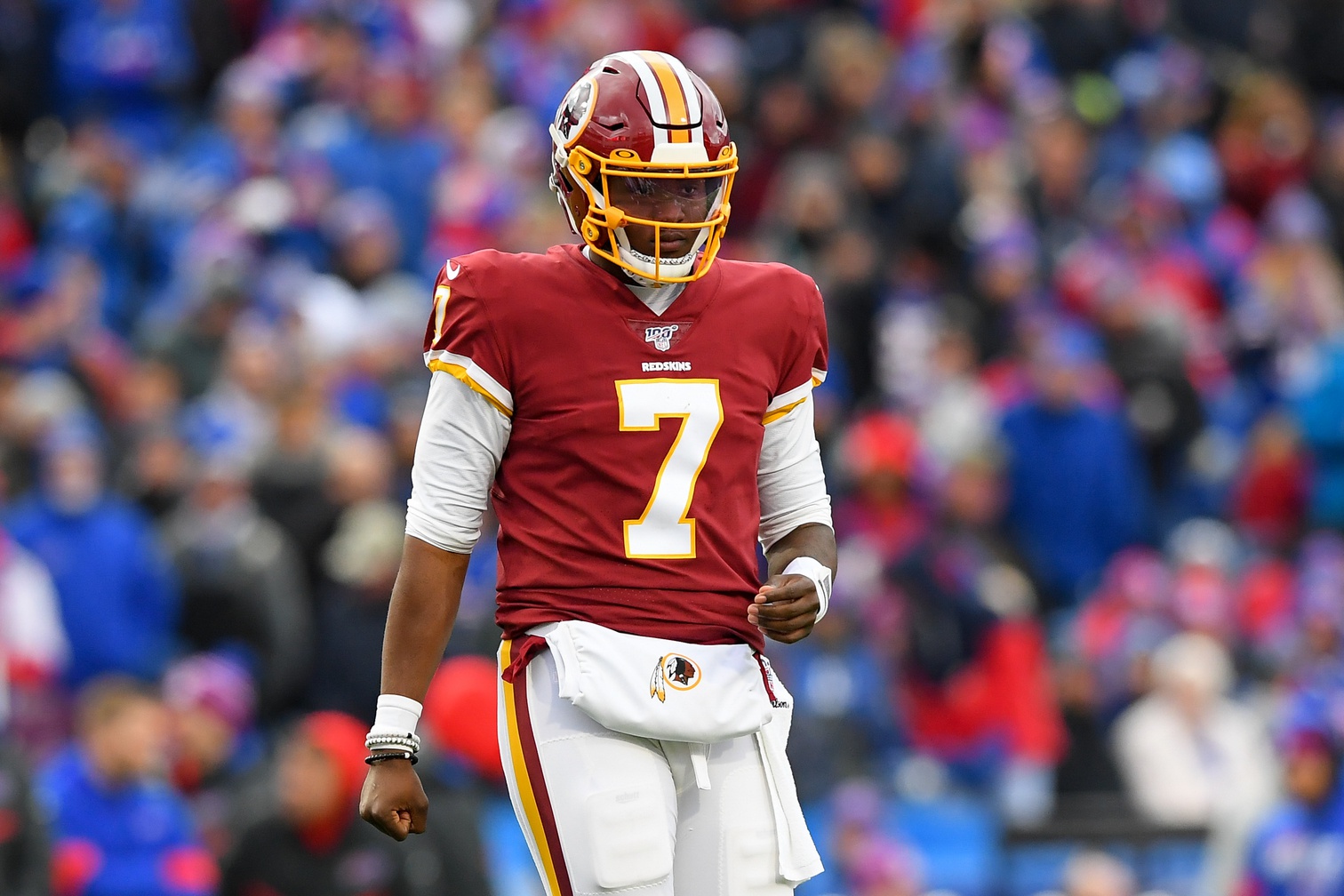 However, the rookie was more than passable once things stabilized. From Week 11 through Week 17, his PFF passing grade — which ranked 10th in the NFL over that span — was better than all three of his division rivals in Dak Prescott (17th), Carson Wentz (26th) and Jones (16th). It also topped fellow rookies Murray (31st), Minshew (23rd) and Drew Lock (28th) as well as players such as Matt Ryan (11th), Tom Brady (19th), Aaron Rodgers (20th) and Philip Rivers (21st).
Only Ryan Tannehill (one) had fewer turnover-worthy plays than Haskins (three) during that time, even though Haskins' average depth of target was the sixth-highest in the league (10.1 yards). He was being helped a bit by players such as Terry McLaurin, as Haskins' percentage of "catchable but inaccurate" passes was the highest among qualifying quarterbacks over that period (28.2%). Still, the returns were somewhat encouraging and are not being properly priced into the marketplace, in my estimation.
The Defense Has Young Talent
It's difficult to find a front four with more young talent than Washington's, with second overall pick Chase Young joining a group that includes first-round picks Jonathan Allen and Montez Sweat along with the productive Daron Payne and Matt Ioannidis. Together, Allen, Sweat, Payne and Ioannidis combined to generate about a quarter of a win above replacement last year.