Jaire Alexander may just be the next great shutdown cornerback in the NFL.
Since Darrelle Revis retired, there has been something of a power vacuum atop the iron throne that sits the best cover corner in football, but maybe now there is a new reign on the horizon. Richard Sherman spent some time on the throne but tore his Achilles and hasn't been the same player since. Patrick Peterson was a contender but was handed a suspension for PEDs from which he has yet to return in the offseason. Jalen Ramsey took a run at it but hasn't quite hit the same heights he did in 2017. Contenders for the seat have come and gone, but Green Bay's young defensive back is the latest to begin his assault.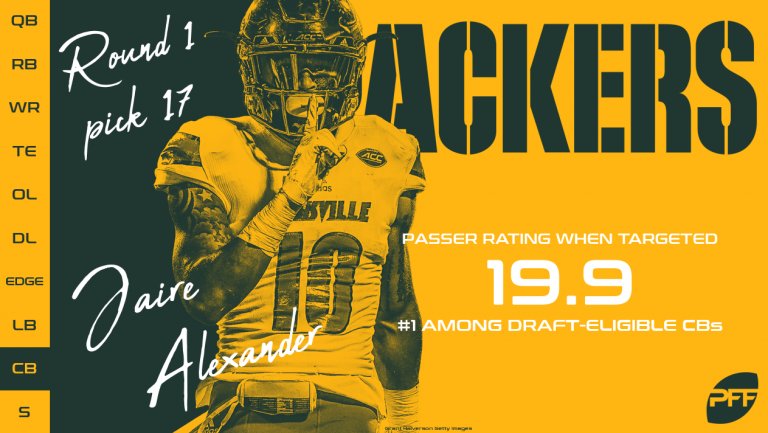 We Should Have Seen It Coming
Alexander was a first-round draft pick by the Packers, so the fact that he played well in college shouldn't be a surprise, but it's worth laying out just how good he was in limited snaps at Louisville. Over his last two seasons there, he allowed a completion rate of just 40.7% when targeted. He caught six interceptions, dropped five more and forced 16 incompletions in total. Over those two seasons, he had a PFF coverage grade of 91.2 and looked every bit the star cornerback capable of spectacular plays.

Flashes As a Rookie
His rookie season wasn't without negatives, but Alexander flashed big-play potential more or less from the get-go, and while he only registered one interception, he was close to others and was beginning to draw exceptionally tough assignments – like covering Adam Thielen one on one. 
He finished the season with a PFF grade of 72.4 – good, not great – largely because of those negative plays that were offsetting some of the good. He surrendered a completion rate of 64.6%, over 650 receiving yards and a passer rating of 94.0 when targeted, but the high-end play was all over his tape and extremely encouraging.
Alexander's numbers are markedly better this season. The high-end plays are still there, but the frequency of the negatives has been significantly reduced. Those negatives will never dry up entirely – even the best cornerbacks in NFL history got beat – but the difference between greatness and average is how often it happens. 
Take Week 3 as an example. Against the Broncos, Alexander was assigned to cover Emmanuel Sanders for most of the game. The week before Sanders had caught 11 passes for 98 yards and a spectacular game-changing touchdown, as well as the subsequent two-point conversion. But against Alexander, he was held without a catch and caught just two passes for 10 yards total in the game.  
Cornerback is a position hugely influenced by other players, and thus highly volatile in grading and statistical terms. The perfect coverage gets regularly beaten by the perfect pass and catch, so even top cover corners can go on an unlucky run where they end up looking worse statistically, and even grading wise, than they actually are. What is so encouraging about Alexander is that the plays he is making show a diverse skillset and sophisticated understanding of the game that should cut through all of that noise over time and promise an extremely bright future, even if those plays aren't always getting the results right now. 
DOMINATE FANTASY FOOTBALL & BETTING WITH AI-POWERED DATA & TOOLS TRUSTED BY ALL 32
Unlimited Fantasy League Sync
Fantasy Start/Sit Line-Up Optimizer & Waiver Wire
WR-CB & OL-DL Matchups, PFF Player Grades, & Premium Stats 2.0 Tools
Nathan Jahnkes Rankings - #1 Most Accurate Last 70 Weeks
PFF Best Bets, Player Props, & Power Ranking Tools
NFL Mock Draft Sim with Trades & Draft Grades
Already have a subscription? Log In