Myles Jack fell to the Jacksonville Jaguars in the second round of the 2016 NFL Draft due in large part to health concerns following a knee injury that he suffered in his junior season. Unlike the status of his knee, his talent was never in question. PFF began charting college football in 2014, so there is no data on Jack's true freshman season in 2013, but his sophomore campaign showed the impact that he could have on defense, particularly in coverage. In that 2014 season, Jack picked up a 91.3 grade in coverage, which he followed with another 80-plus grade in coverage in 2015 before his injury.

The health concerns that led to his drop into the second round are now fading in the rearview mirror with Jack coming off consecutive 1,000-snap seasons. His impact as a coverage defender has come to the forefront, resulting in a lucrative four-year, $57 million contract that makes him the third-highest paid off-ball linebacker in the NFL.
Jack saw limited action his rookie season behind Paul Posluszny and Telvin Smith Sr., playing just 239 defensive snaps and recording a 64.5 overall grade. In his second season, though, Jack transitioned to a bigger role and broke out. His overall grade of 79.2 ranked 14th among 85 qualifiers at the linebacker position, and it was once again coverage where he earned it. Jack's grade of 82.4 ranked seventh at the linebacker position over the course of the season.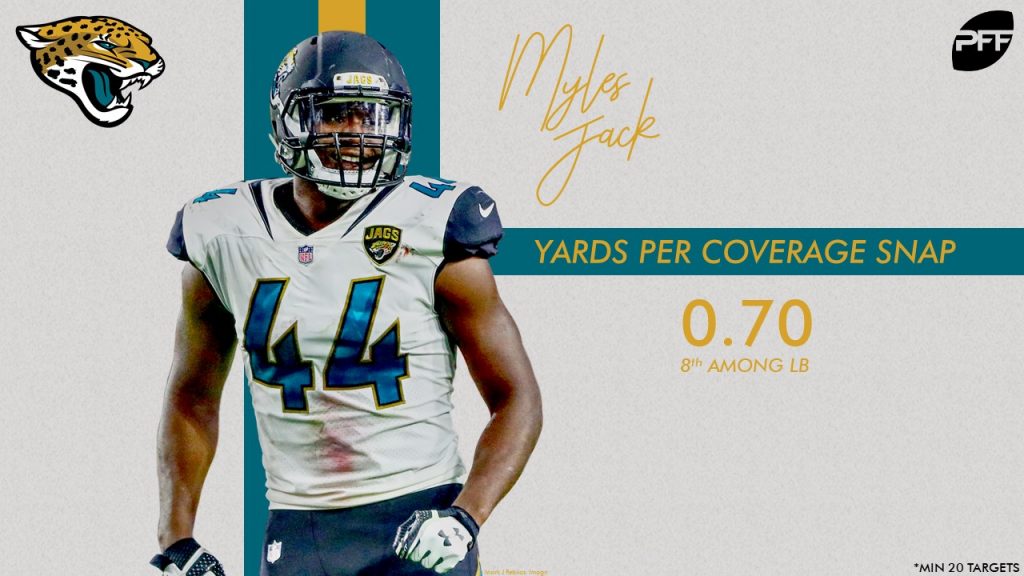 His playoff performance as the Jaguars advanced to the AFC Championship Game and nearly to the Super Bowl was even more impressive. Across 210 postseason snaps, Jack recorded an overall grade of 89.8. He was all over the field, recording 18 solo tackles, three total pressures, a pass breakup, an interception, a forced fumble and a fumble recovery in the playoffs. Jack had blossomed into what everyone imagined he would be at the NFL level prior to the knee scare — an athletic playmaker at the linebacker position that fit into a modern NFL defense thanks to his coverage ability.
Though Jack didn't take the natural progression that you would have hoped for him in his third season, regressing to a 69.0 overall grade in 2019 as the entire Jaguars' defense took a step backward — his two-year grade of 77.6 ranks 16th out of 95 qualifying linebackers. More importantly over that span, he's led all linebackers in defensive snaps when including playoffs, and his 80.4 coverage grade is a top-10 mark at the position. He has been an iron man, and he has been one of the better linebackers in the NFL where it matters most — coverage.
Is Myles Jack a top-three linebacker in the NFL right now? No, but that is not how contracts work. With the way salaries are trending, the man whose turn it is to get paid now is naturally going to get a better deal than the man who got paid before him, all things equal. Jack is not yet 24. He has a combination of above-average production through his first two seasons in a full-time role and all the tools to improve further and become truly elite. That profile is not something many teams are going to be willing to pass on.
The loss of Telvin Smith for the season only makes Jack's role on the defense that much more important in 2019. His extension proves that the Jaguars believe he can fill that role and that he will be a key cog in their defense for years to come.