Having a porous offensive line is a quick way to derail an offense. There are ways to help protect your men up front in pass protection, whether that be the quick passing game or play action, but it's hard to field an effective offense when your quarterback is frequently forced to escape defenders. Similarly, it's hard to field an effective run game when the offensive line isn't generating movement given that a successful rushing attack is reliant primarily on situation, scheme and blocking. That leaves a team without a serviceable offensive line in a bad spot.
[Editor's note: Subscribe to PFF ELITE today to gain access to PFF's Premium Stats and new Player Grades experience in addition to the 2020 NFL Draft Guide, 2020 Fantasy Rookie Scouting Report, PFF Greenline, all of PFF's premium article content and more.]
Several teams poured significant resources into improving their unit up front, with some doing so more successfully than others. Over the course of free agency and the 2020 NFL Draft, these are the five teams that did the most to improve their offensive line heading into next season.
The lack of production the Browns got from Greg Robinson and Chris Hubbard at their starting tackle spots in 2019 hindered the offense in what was supposed to be a breakthrough campaign in Baker Mayfield's second season. The Browns' tackles graded out at 57.5 overall last season, ranking 30th in the NFL (ahead of only the Dolphins and Chargers).
Cleveland began its offensive line rebuild by targeting arguably the top offensive lineman on the market in free agency — 25-year-old right tackle Jack Conklin. He is coming off arguably the best year of his career in 2019, earning an 80.5 overall grade and dominating in the run game, where he earned an 83.7 run-blocking grade while paving the way for Derrick Henry in Tennessee. He's not exactly a sure thing when it comes to one-on-one pass protection against some of the better edge defenders in the NFL, but he's serviceable there, which is a definitive upgrade over what Cleveland had last season. His prowess as one of the better run-blocking tackles in the NFL should play well in Kevin Stefanski's new offense, clearing room to run for Nick Chubb and Kareem Hunt.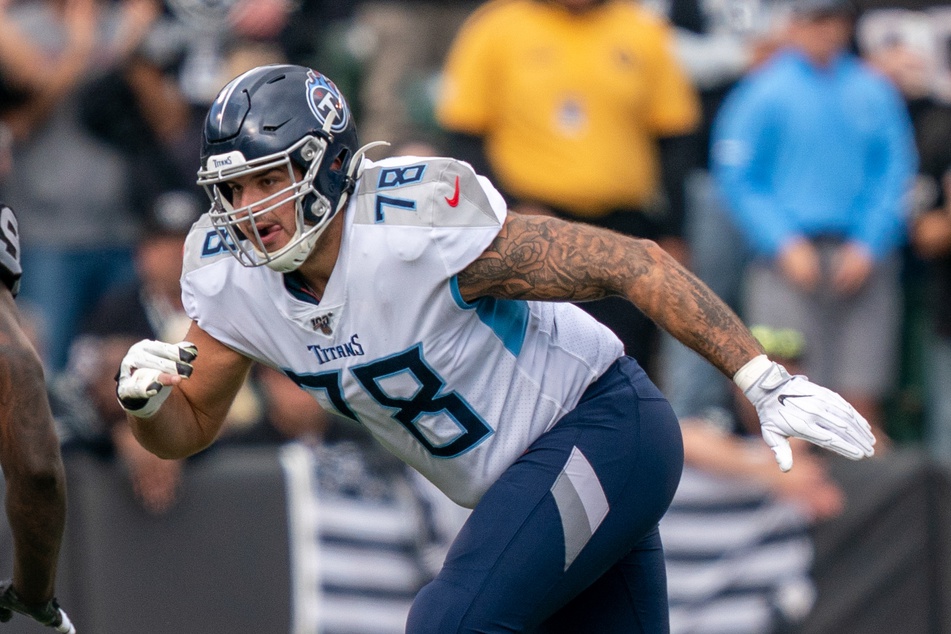 The Browns then came back with Jedrick Wills in the first round of the 2020 NFL Draft, securing what they hope to be the bookends on the offensive line for years to come. Wills is a very good athlete, and he uses that to his advantage as a run blocker, getting out in space and up to the second level on linebackers. At Alabama last season, Wills earned a 90.5 run-blocking grade to go along with an 82.5 grade in pass protection. At just under 21 years old, there is still plenty of time for him to continue to improve technically, and he has all the physical tools to become one of the league's top tackles.
With players such as JC Tretter and Joel Bitonio already in place on the interior, tackle was the real area of concern on this offensive line, and the Browns secured two players at the position who should wipe away those concerns heading into next season.
There would be some major questions if the Dolphins didn't find themselves on this list after what we saw from their offensive line in 2019. No matter what you look at, there is a good chance Miami was near last, if not dead last, by a healthy margin. The Dolphins' 47.3 overall grade as a line was nearly six points lower than any other team, owners of the lowest pass-blocking and run-blocking grades in the NFL. They allowed pressure in 2.5 seconds or less on 33% of their quarterback dropbacks — a mark that ranked dead last and was over five percentage points higher than the next-worst team. Simply put, their line was an atrocity, so the bar for improvement was low.
A lot of Miami's moves aren't ones that we were super high on here at PFF from a contract and pick value standpoint, but it's hard to deny that they significantly added to the talent up front.
Despite being the butt of many jokes, Ereck Flowers was serviceable in his first season at guard last season with the Washington Redskins. His 64.2 overall grade at left guard ranked 19th among 39 qualifiers at the position. Similarly, Ted Karras' 66.5 overall grade in his first full year at center ranked 20th among 38 qualifiers. They weren't anything special, but simply getting average play on the interior that can be relied upon is an improvement for Miami. The benefit of average over bad play along the line is larger than that of great over average play.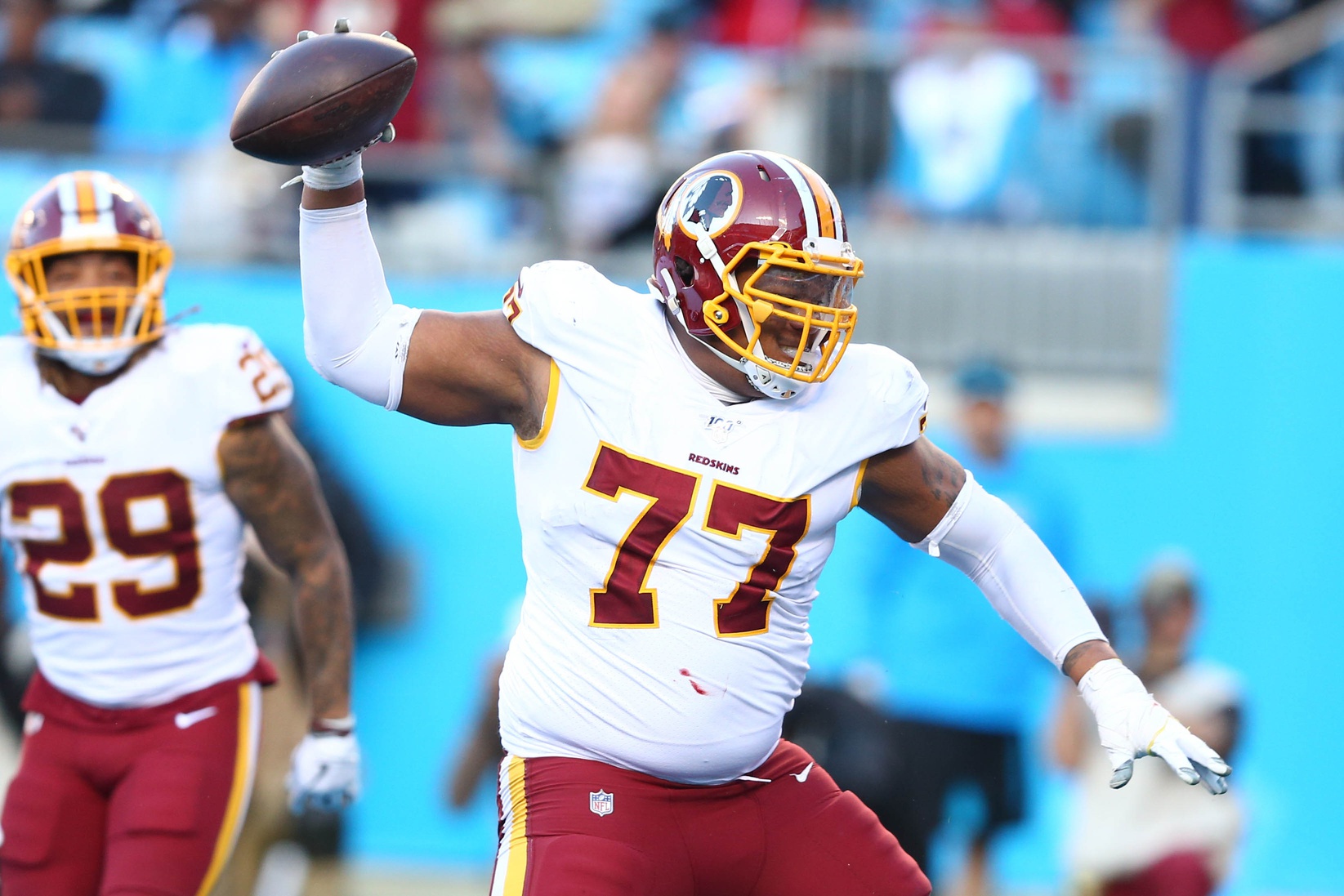 The Dolphins then turned to tackle in the early rounds of the 2020 NFL Draft. Austin Jackson is a player who was always going to go in the first round, but he's someone who PFF felt was more of a project than his first-round selection might imply. His bottom line in the PFF Draft Guide read, "Jackson is a project for the position not only technically, but physically. Not yet 21 years old, there's reason to believe he will continue to improve, but to what degree?" Given the state of the Dolphins' tackle position, that improvement will likely have to come via trial by fire as the team's starting left tackle.
It's a similar story with Robert Hunt if the Dolphins plan to start him at right tackle, though many (including us) expected him to be one of the top tackle-guard converts in the 2020 draft class. He has legitimate power and flexibility, but his lack of quickness may hinder him if he sticks at tackle. The simple fact is that when looking at guys such as Julie'n Davenport and Jesse Davis, there aren't many better options for Miami. From a talent perspective, Jackson and Hunt are upgrades, giving the Dolphins a real chance to field four new starters from their offensive line last season. Miami's hope just must be that those guys hold their own out of the gates.
The Jets are another team where it may be a case of quantity over quality with their offseason moves along the offensive line. This is a group that was bad in 2019, though. There is a case to be made that the players added will do a better job of protecting Sam Darnold and opening lanes for Le'Veon Bell in the run game.
A lot of that comes down to what happens with first-round draft pick Mekhi Becton. His combination of size and athleticism is rare, and it's what NFL teams were enamored with. However, we wrote prior to the draft that his lack of true pass sets in a Louisville offense that heavily featured play action and designed rollouts in conjunction with his struggles when he did see true pass sets was cause for concern. That isn't to say he won't turn into a solid pass protector at the NFL level. He is coming off an 82.5 pass-blocking grade in 2019 with the Cardinals. We simply don't know as much about him in pass protection to say it's a safe bet. His run-blocking projections, on the other hand, are very favorable.
From the free-agent ranks, both Connor McGovern (72.0 overall grade, 10th at center) and Greg Van Roten (65.6 overall grade, 15th at left guard) were solid starters on the interior in 2019. If they carry over a similar performance in 2020, that would be a nice upgrade over what New York saw at those positions last season. The concern would be that both players will regress after career years in 2019.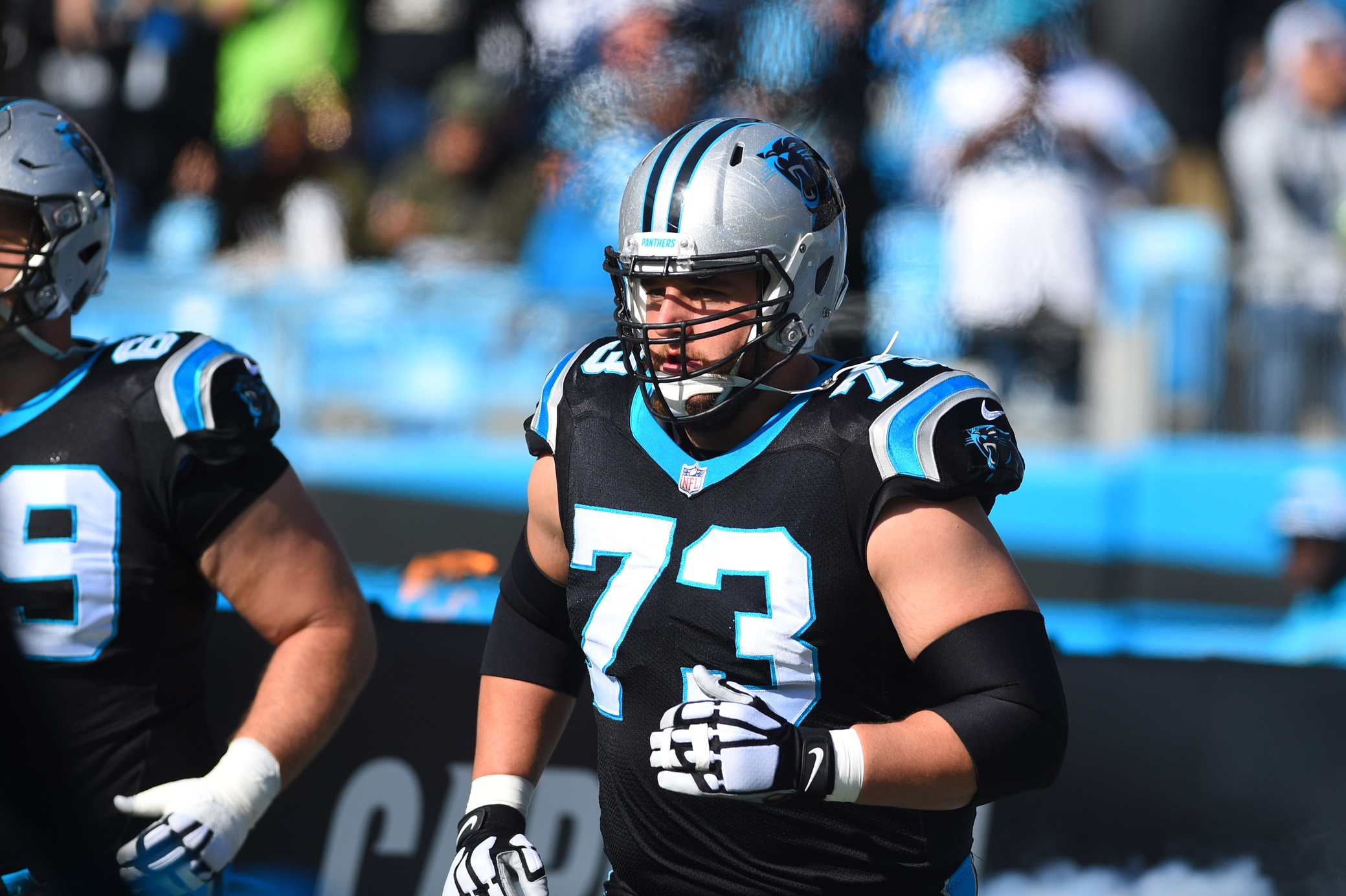 Clark is a potential wild card to draw snaps early. From a technical standpoint, he's already pretty advanced, which is rare from a small-school prospect. Like all the other players, though, there's uncertainty. The Jets certainly made the offensive line a priority, but can Becton develop into a top-flight left tackle? Were the performances from McGovern and Van Roten last season what New York should expect moving forward? Regardless, the Jets should have done enough to ensure their line is improved in 2020. To what extent remains to be seen.
The Broncos have had one of the better offseasons in the NFL, building out a roster prepared to compete next season if Drew Lock is ready to take that next step as a quarterback. That extends to the offensive line, where the Broncos brought in three players who could serve as potential starters down the road on the interior.
Connor McGovern had a strong 2019 season in his first year as a full-time starter at center — finishing 10th at the position in overall grade — but Glasgow is a better and more versatile player at this stage. He has started at left guard, center and right guard in the past three seasons and turned in overall grades of 70.0 or higher each year, a good barometer for quality play from an interior offensive lineman. Glasgow should step in at right guard and serve as an immediate upgrade over what Ron Leary (58.4 overall grade in 2019) provided last season.
McGovern's departure still left a hole at center, though. The Broncos found their presumptive starter there in third-round pick Lloyd Cushenberry. Cushenberry is one of the more powerful guys in this draft class, capable of moving nose tackles in the run game. As the PFF Draft Guide said, he's not going to lose in a phone booth. That's good news for the Broncos' three-headed rushing attack of Phillip Lindsay, Melvin Gordon and Royce Freeman. The concern with Cushenberry's game is that he isn't exactly light on his feet, and quickness could cause him some problems in pass protection. That is alleviated a bit at the center position, but it could lead to some shaky performances early in his career.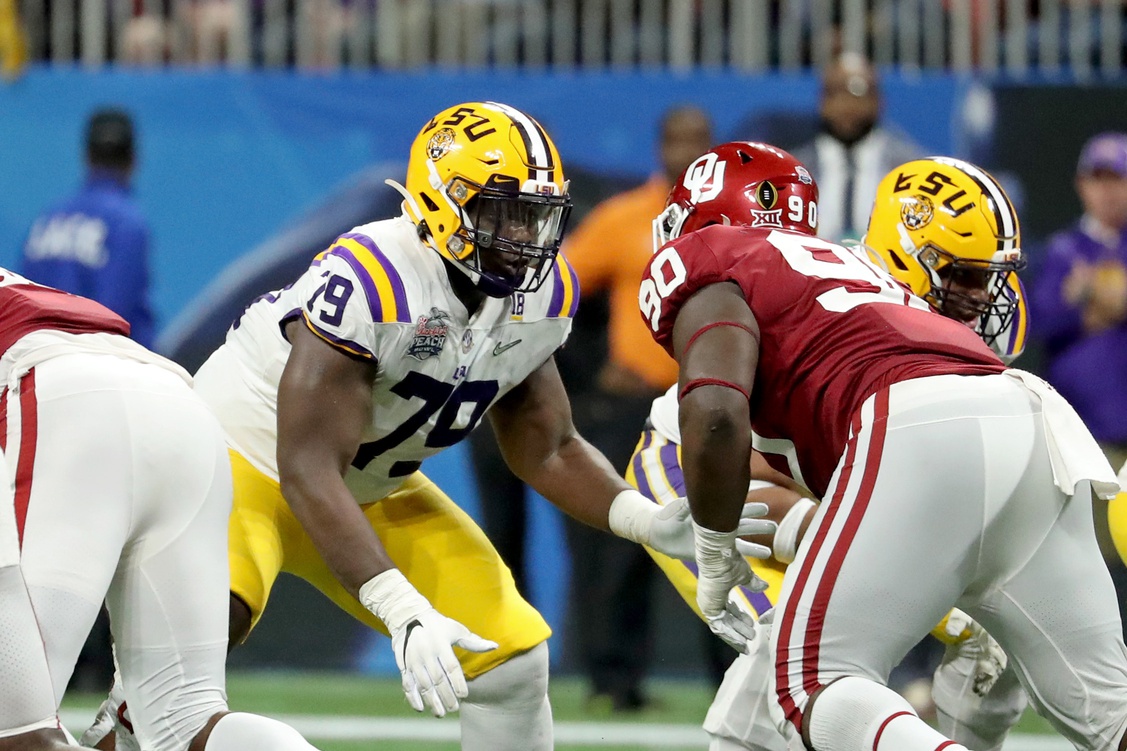 Lastly, Netane Muti doesn't figure to play into the Broncos' plans during the 2020 season, but he was PFF's IOL1 for a reason. His tape from Fresno State, particularly in his healthy freshman season, is impressive. Putting up pass-blocking and run-blocking grades above 80.0 as a freshman is rare. Obviously, he was never able to build on that display in a full season of action due to injuries, which is why he fell to the sixth round. But as far as sixth-round picks go, Muti has a decent chance of eventually catching on as a starter.
It was clear the Giants could use an upgrade at the tackle position after last season. Nate Solder and Mike Remmers combined to allow 96 pressures in 2019, more than any other tackle duo in the NFL. While Solder is locked into the left tackle spot given his contract and the inability to move on without incurring $16 million in dead money, right tackle was a spot that clearly could be upgraded. As the top tackle on PFF's Big Board, Thomas gives them that.
He came into the SEC as a freshman in 2017 and put up a 76.7 pass-blocking grade. To perform like that as a starting tackle in a conference where he was going up against quality talent on the edge week in and week out is impressive. All Thomas did from that point was improve, earning an 80.6 overall grade in 2018 and a 92.7 grade last season for Georgia. Nearly all offensive linemen struggle in their first season in the NFL, but Thomas has as good a chance as anyone in this class to handle the transition well and provide solid play out of the gate for the Giants. That alone is enough to land them on this list.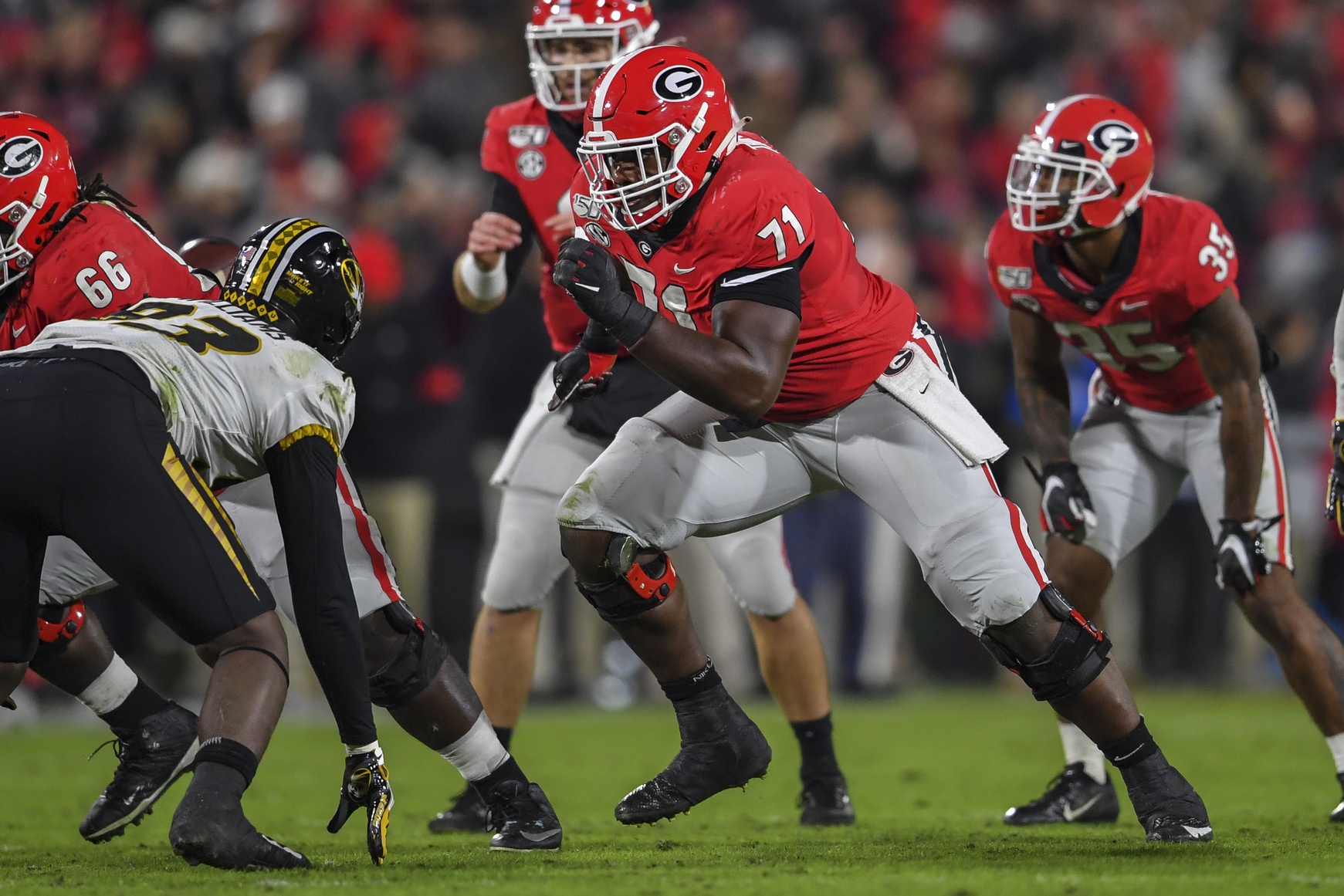 The additions of Matt Peart and Shane Lemieux are likely depth moves for 2020, but both selections have some positives. Peart needs to add some strength, but his frame (namely his 36-plus inch arms) and light feet form an ideal combination for pass protection. If Lemieux wants to make an immediate impact, it will have to come at center — a position he never played at Oregon. Kevin Zeitler and Will Hernandez have the guard spots locked down for now, though, so it's unlikely that will be where he breaks through unless injuries crop up. Lemieux's strength comes as a run blocker (consecutive 75.0-plus run-blocking grades in 2018 and 2019).
Both Peart and Lemieux are players who could develop into quality starters, but Thomas should be a quality NFL starter. That should be music to Giants' fans ears after some of the struggles they've had at the tackle position in recent years.