Russell Wilson is as good as any quarterback in the NFL right now, but he doesn't ever quite get that credit for some reason.
While Patrick Mahomes broke records and Lamar Jackson garnered all 50 MVP votes, Wilson quietly built a lead in PFF WAR (wins above replacement) and burnished the statistics and tape that show he's every bit the equal of those young, transcendent quarterback talents.
[Editor's note: Subscribe to PFF ELITE today to gain access to PFF's Premium Stats and new Player Grades experience in addition to the 2020 NFL Draft Guide, 2020 Fantasy Rookie Scouting Report, PFF Greenline, all of PFF's premium article content and more.]
Wilson has always been capable of spectacular play. He has that ability all great quarterbacks have — to make it immediately obvious that he is just different — which has allowed him to not only exceed expectations as a third-round draft pick but to win the starting job almost immediately and never look back.
Earlier in Wilson's career, the only thing separating him from the best players at the position was a tendency to have the occasional very rough game. Over the past couple of seasons, he has posted the best PFF grades of his career and had just one clearly below-average performance as a passer, including the playoffs.
He has now become one of the most efficient quarterbacks in the game and owns, in many ways, the best statistical profile of any signal-caller in the league right now.
No quarterback throws a prettier deep ball than Wilson. He might not have the strongest arm in the league, but he has exceptional deep accuracy and the understanding that the more arc he puts on the flight of the football, the more margin for error his receiver has to run under it and adjust to haul it in.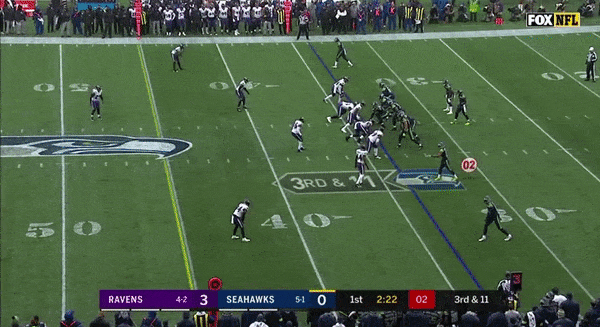 Plenty of Wilson deep shots look perfect because the trajectory allowed the receiver to get in lockstep and connect, but plenty more actually are perfect. PFF grades every throw of every quarterback on a scale between +2 and -2 in 0.5 increments. There are nine different grading points on any given throw, and we've even broken that scale in the past to account for a throw that needed a harsher negative (Matt Schaub, take a bow). This grading scale allows us to add context that no other statistics can bring because it accounts for things stats will always miss or try to solve with the weight of large numbers and generalities.