With the final pick in the first round of the 2020 NFL Draft, the Kansas City Chiefs selected running back Clyde Edwards-Helaire out of LSU — a pick that caused the data analytics community to more than just raise an eyebrow. 
Almost immediately, inquiring minds rightfully questioned the value (or lack thereof) of using a first-round pick on a player who entered draft weekend as the fourth-highest-rated running back and the 81st overall player on PFF's NFL Draft Big Board.
If the Chiefs were truly set on Edwards-Helaire, conventional wisdom suggests that they could have traded down and acquired more draft currency before taking him in the second round. The analytics would have agreed with this move, too, as the data suggests that teams are best served by emphasizing pick value and acquiring more draft capital.
So, why would Andy Reid — who is one of the league's best offensive minds and sixth on the NFL's all-time wins list (207 career wins) — choose to ignore this data and instead select a running back in the first round?
[Editor's note: Click this link to see PFF's 2020 NFL Draft grades for all 32 teams. And if you haven't already, be sure to pick up a copy of PFF's 2020 NFL Draft Guide by subscribing to PFF EDGE or ELITE.]
So why did the Chiefs pull the trigger?
There are very few people outside a team's draft room who truly understand the rules and intricate balance between trading down and also getting the most value from a draft pick.
According to one former NFL general manager I spoke to, if a club decides to move down, there should be at least three players available who can perform the job you're looking to fill. If only two such players are available, you are on thin ice if you choose to move down more than two positions. If there is only one role-specific player available, then the percentages suggest that you should not move down unless you are prepared to lose out on the player you targeted to fill the position.
One team that has supposedly mastered the art of moving down in order to acquire more draft picks is the six-time Super Bowl champion New England Patriots. However, the table below shows a different reality, and it reveals that even the New England Patriots tend to stick to their own draft board and trust their evaluations when picking at No. 32.
Each year the Patriots acquired the 32nd overall pick as the previous year's Super Bowl winner, they either used that first-round draft pick or traded up to take a higher-valued player instead of moving back.
| | | |
| --- | --- | --- |
| New England Patriots Super Bowl seasons | Next season's first-round pick | Player selected |
| 2001 | No. 21 | TE Daniel Graham |
| 2003 | No. 32 | TE Benjamin Watson |
| 2004 | No. 32 | G Logan Mankins |
| 2014 | No. 32 | DI Malcolm Brown |
| 2016 | No Pick* | No Pick* |
| 2018 | No. 32 | WR N'Keal Harry |
* The Patriots were stripped of their first-round draft pick in 2017 due to their role in deflategate.
After winning their first Super Bowl, the Patriots traded up 11 spots in the 2002 NFL Draft — from No. 32 to No. 21 — to get Colorado tight end Daniel Graham, despite already having five players at his position on the roster.
"We saw some value as we went through the teams there, and we were able to execute a trade with Washington to move up to No. 21," Belichick said, per Patriots.com. "We had Daniel rated significantly as one of the better players on the board. We thought it was good value, and we were able to move up to get him. That gives us pretty good competition at the tight end position."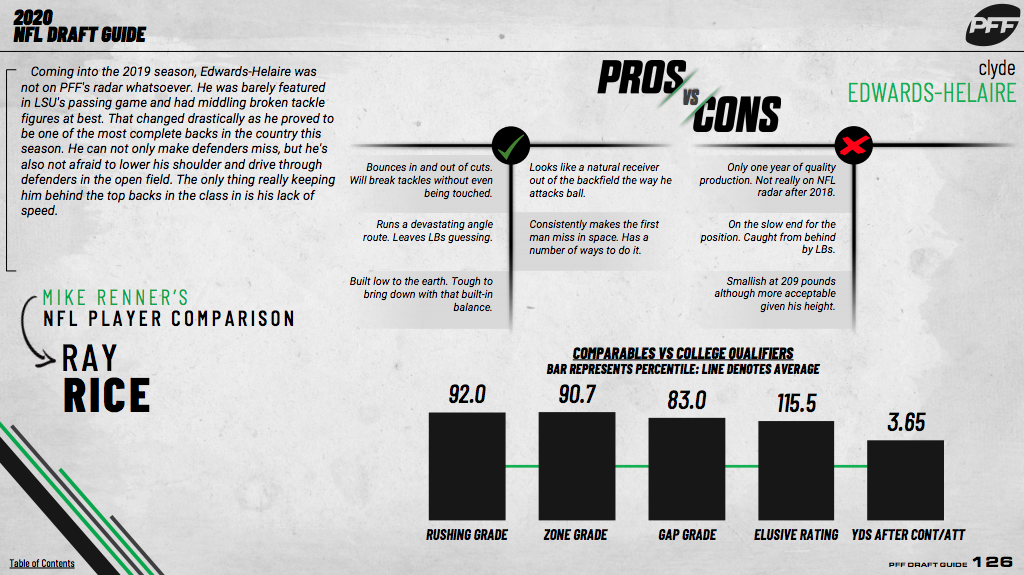 So as the most recent Super Bowl winner, Kansas City entered the 2020 NFL Draft with the 32nd pick in the first round. And as the Patriots did so many times before them, the Chiefs used that pick to draft the player they valued the most.
"During the season, we watched him in every game," said Chiefs offensive coordinator Eric Bieniemy when I asked him about LSU running back Clyde Edwards-Helaire. "He is a valued pick because he brings value to what we do and how we plan to use him. He is a great fit."
Just three picks later in the draft, the Detroit Lions used the 35th overall selection to take Georgia running back D'Andre Swift, and nothing would have prevented Detroit from using that pick on Edwards-Helaire had he been available.
In all, five running backs were taken in the second round. And while a trade down by the Chiefs would have easily netted them additional draft capital, there was no certainty that they would have landed the one running back they targeted in this draft, Clyde Edwards-Helaire.
The Edwards-Helaire factor
To say that the Chiefs need Edwards-Helaire to make its offense go would be a drastic overstatement, but there is some room for improvement offensively.
The Chiefs earned an 11th-ranked 76.9 team offense grade and an eighth-ranked 79.3 team passing grade during the 2019 regular season, and their 0.104 expected points added (EPA) per play figure was beaten by only the Baltimore Ravens (0.173) and Dallas Cowboys (0.121).
But even though they finished the season as Super Bowl champions, their offensive production actually declined from the year before. In 2018, they earned the second-best team offense grade (89.3) and the second-best team passing grade (92.6), finishing tops in the NFL in terms of EPA per play (0.214). 
In the attempt to return to the No. 1 spot offensively, the Chiefs wanted the best pass-catching running back in this year's draft, and they believe Edwards-Helaire is that and more.
"He is a complete, all-around football player," says Bieniemy. "In pass protection and as a pass-catcher, he opens everything up for us. When you have our speed and threat on the perimeter, he will have room to make a lot of plays."
The Chiefs have plenty of examples of how Edwards-Helaire can produce big plays as a chain-mover. And if anyone can find a way to weaponize the LSU product against NFL linebackers and safeties in pass coverage, it's Reid and Bieniemy.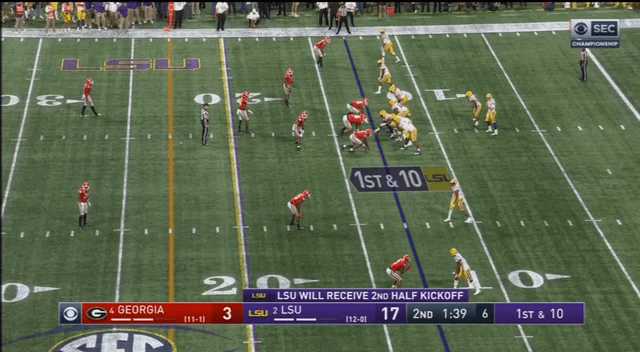 Over recent years, PFF has made its stance on the value of running backs quite clear. They're worth far less in terms of wins above replacement (PFF WAR) than their teammates at other offensive positions, and their production — at least in the rushing attack — is a function of multiple factors beyond their control, such as the blocking scheme, box count and offensive line play.
The value running backs do provide, however, comes in the passing game. And this is a facet of the game the LSU back impressed in last year, with lead draft analyst Mike Renner even saying that Edwards-Helaire "looks like a natural receiver out of the backfield the way he attacks the ball" in PFF's 2020 NFL Draft Guide.
The 5-foot-9 Edwards-Helaire was a core member of an LSU passing offense that generated the third-highest successful pass play percentage in the FBS last year (55.2%). The Tigers' 94.0 team passing grade, however, ranked first in the nation.
Only four teams threw more passes to their running backs last season, with Joe Burrow & Co. sending 93 passes the backfield's way. Edwards-Helaire saw 64 of those targets himself, and he ended up leading all draft-eligible running backs with 55 catches, 26 receiving first downs and eight explosive plays of 15 yards or more. His average of 1.07 yards per route run ranked among the top-30 players at his position, as did his 101.4 passer rating when targeted.
But his work in the receiving game becomes much more intriguing when you look at his routes run from only the backfield (as opposed to the slot or out wide), especially when you consider that the Chiefs threw 97 such passes a season ago, a top-10 total league-wide.
The new Chiefs running back caught 46 of his 51 backfield targets a season ago, picking up 393 yards, 376 yards after the catch and 151 yards after contact in the process. He averaged 1.43 yards per route run — 11th among 29 qualifying backs — and his 84.6 PFF receiving grade on those targets ranked fifth.
Clyde Edwards-Helaire: Stats and rank among the 29 running backs who saw at least 30 backfield targets in 2019
| | | |
| --- | --- | --- |
| Stat | | Rank |
| PFF receiving grade | 84.6 | 5th |
| Targets | 51 | 3rd |
| Receptions | 46 | 2nd |
| Yards | 393 | 4th |
| Yards after the catch | 376 | 4th |
| Catch rate | 90.2% | T-4th |
| Yards per route run | 1.43 | 11th |
| Passer rating generated | 105.3 | 15th |
| Missed tackles forced per reception | 0.28 | 15th |
As a more "complete" running back, he posted a combined total of 85 missed tackles forced and the third-highest elusive rating (115.3) among the top backs in this year's draft. And as a polished route-runner out of the backfield, Edwards-Helaire has proven to be more than capable of providing production in the passing game.
Halfbacks with his skills are no longer just used as "third-down backs" — their value has increased as the passing game has become more prevalent. "He has traits you can't coach," says Bieniemy. "He makes people miss. He has vision, quick feet, balance and a feel for the game." 
Just as the Patriots leveraged the skills of their pass-catching running backs like Kevin Faulk, Shane Vereen and James White to elevate their once-elite passing attack, the Chiefs envision Edwards-Helaire as another weapon to aid quarterback Patrick Mahomes in their explosive passing game.
Andy Reid Adds Value
Edwards-Helaire will allow the Kansas City offense to threaten the underbelly of opposing defenses where linebackers struggle to match up and tackle agile running backs in space. And as offensive production tends to ebb and flow over the course of a 16-game regular season, Andy Reid now has another matchup advantage who will allow his offense to truly threaten all three levels and increase its yards-after-the-catch potential.
Opposing teams now envy the Chiefs' arsenal of offensive weaponry. Every team in the league now wants a tight end like Travis Kelce and a wide receiver like Tyreek Hill, and it is certainly no hyperbole to suggest that teams also want a quarterback like Patrick Mahomes. But before the trio was drafted and developed in Andy Reid's offense, no one saw their value increasing so rapidly. Reid overseeing a talented player's development within his offense, however, has proven to be a force-multiplier and the key ingredient in Kansas City's success.
Running backs like Brian Westbrook and LeSean McCoy once created All-Pro value as pass-catchers in Reid's offensive system while also becoming prototypes for what other teams wanted. Now, Clyde Edwards-Helaire has been identified as the next man up, and that's why they just couldn't let him get away.