When a Barry Sanders highlight video comes across your Twitter feed, you stop and watch. There is something captivating about a running back who has the ability to make skilled athletes look foolish, and it's a big reason why one of the most-cited PFF statistics across the football industry is broken tackles. People love running backs who make defenders miss. 
[Editor's note: Subscribe to PFF ELITE today to gain access to PFF's Premium Stats and new Player Grades experience in addition to the 2020 NFL Draft Guide, 2020 Fantasy Rookie Scouting Report, PFF Greenline, all of PFF's premium article content and more.]
Using PFF Premium Stats 2.0 — which is available with a PFF ELITE subscription — we can look at how often each running back forced missed tackles on both rushing attempts and receptions, while also diving into other metrics, such as how effective they were after contact and how well they performed after the catch. That's what I did here, ranking the 32 running backs — one for each team — who are projected to get the most touches on their respective teams next season per PFF's 2020 fantasy projections. 
This is not meant to be a list of the best running backs in the NFL but rather the league's most elusive running backs. I'm choosing to define elusiveness as how well a player eludes would-be tacklers — i.e., how difficult they are to bring to the ground. That comes in different forms, as some players opt to run defenders over, while others prefer to evade contact altogether. But the end goal remains the same — don't get tackled. 
Note: Projected rookie starters are placed into a separate category given the difficulties that come with comparing numbers across the collegiate and NFL ranks. 
Chubb has been the best rusher in the NFL since being drafted in the second round by the Browns in 2018. He is the only running back with a PFF rushing grade north of 90.0 over that two-year stretch, and he joins Derrick Henry as one of just two running backs to average over 4 yards after contact per attempt on 100 or more carries. You won't find any negatives on Chubb's resume in the broken tackle department, either. No matter which way you cut it, bringing this man to the ground is not an easy task. 
If this was strictly a 2019 list, Jacobs would occupy the top spot. Chubb got the nod after a second straight season of elite play, but Jacobs' rookie season was hard to ignore. When it came to missed tackles forced per touch, his mark of 0.30 led the way by a wide margin. Jacobs coupled that with 3.5 yards after contact per rush and 9.6 yards after the catch per reception in limited usage as a receiver out of the backfield. That's an area where the Raiders should continue to get Jacobs more involved. With Jacobs' ability to make people miss, the Raiders should look to keep him on the field as much as possible.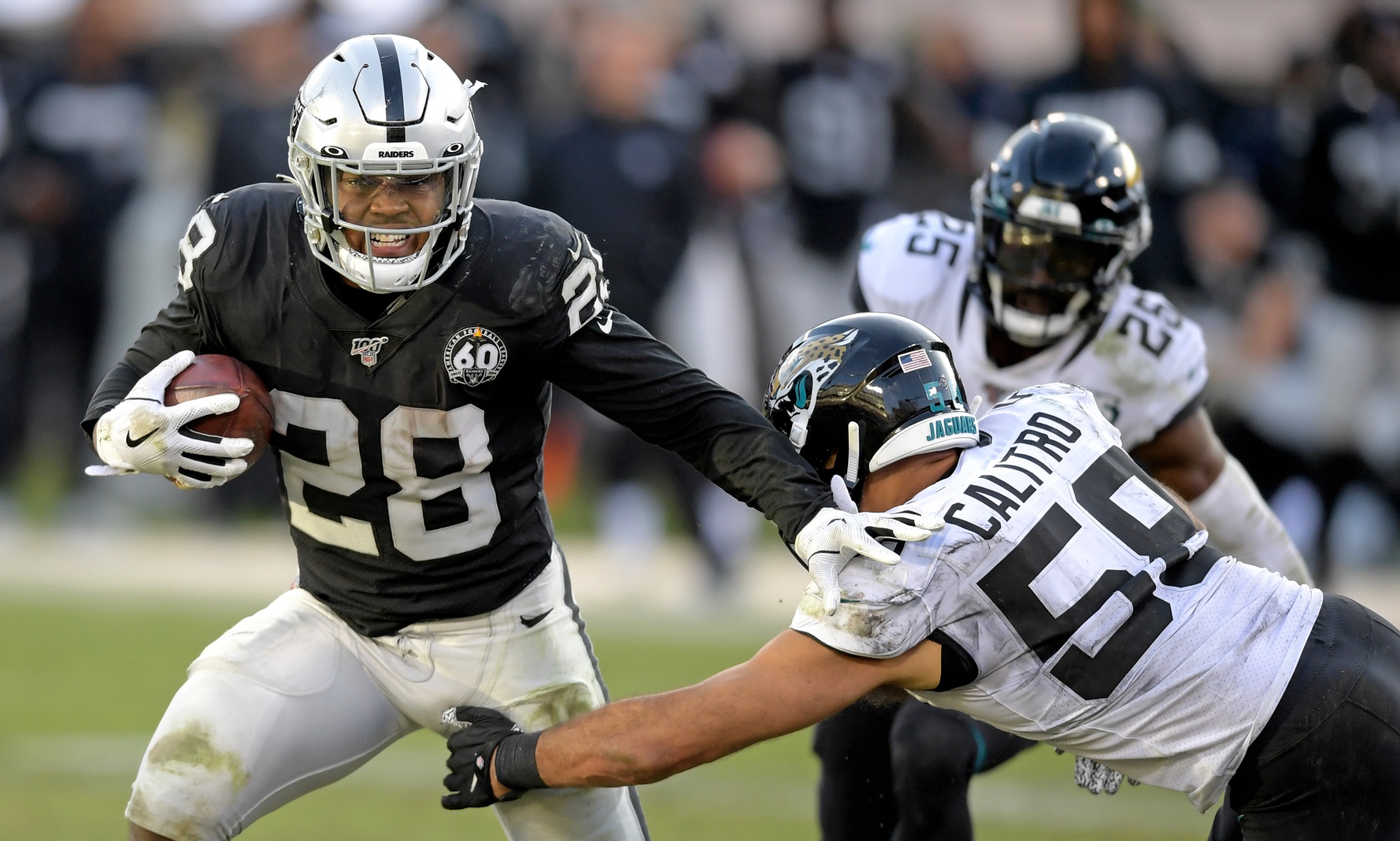 You're not going to mistake Henry's highlight reel for Barry Sanders', but you can be sure that defenders aren't relishing the opportunity to tackle him. He's an absolute unit — a player unlike any other running back in the NFL right now. Henry's rushing numbers over the past several seasons reflect that. He joins Chubb as the only running back to average at least 4 yards after contact per rush attempt since 2017, and his 136 total missed tackles forced on the ground are 13 more than any other running back over that time frame. His broken tackles per touch numbers aren't quite on par with the likes of Chubb and Jacobs, but there are few backs who can shed tackles like Henry. 
By his own admission, Kamara played "on one leg" and at "75%" last season. He still averaged 0.22 missed tackles forced per touch — sixth among running backs on this list. If that is what he looks like at less than 100%, it's hard to justify keeping him too far down the ranks. Kamara might have the best balance of any running back in the NFL, something that shows up again and again on the tape as he bounces off would-be tacklers. Since entering the league in 2017, his 157 total broken tackles as both a runner and receiver rank third among all players. A healthy Kamara in 2020 should once again mean a dangerous weapon at the running back position for New Orleans.
Cook has excelled at making people miss since his days at Florida State. He forced 91 missed tackles on the ground in 2016 for the Seminoles — a number that remains one of the highest marks in a single season since PFF began charting the college ranks in 2014. That success has carried over to the NFL. Stretching back to 2017, his missed tackles forced per touch mark of 0.22 ranks third among backs on this list with at least 200 touches. Add in that Cook ran for over 3 yards after contact per rush and put up more than 11 yards after the catch per reception in 2019, and you have one of the most dangerous backs in the NFL with the ball in his hands. 
Ekeler's spot on the depth chart behind Melvin Gordon has allowed him to fly under the radar nationally, but the Chargers made the right decision by re-signing Ekeler to a reasonable deal and not caving to Gordon's contract demands. Besides being one of the most dynamic receivers at the position, Ekeler has also been one of the toughest running backs in the league to bring down. Since joining the Chargers as an undrafted free agent in 2017, Ekeler has forced a missed tackle on 22% of his touches (slotting in at fourth just behind Cook), and he's been much better after contact than you would expect from a player listed at 5-foot-10 and 200 pounds. As he proved last season, there shouldn't be hesitation with his ability to handle a heavy workload. 
If you argued Barkley should be higher on this list, I wouldn't push back too hard. His 71 total missed tackles forced as a runner and receiver in 2018 were 11 more than any other running back. He was every bit as advertised during that rookie season — a year where he supplemented those broken tackle numbers with over 3.3 rushing yards after contact per attempt and 8.6 yards after the catch per reception. His numbers took a bit of a hit in 2019 as he fought through injuries for much of the year, similar to Kamara, but there is no reason to expect Barkley won't bounce back in 2020 as one of the best running backs in the NFL. 
At times, Carson has been in the doghouse in Seattle for his inability to hold on to the football. While Carson has struggled to hang on to the football — fumbling a league-high nine times on rushes over the past two seasons — he's been very good when he does hold on. Over that same two-year stretch, Carson ranks second in missed tackles as a runner (107) to Nick Chubb, and his 3.5 yards after contact per rush are a top-five mark among backs with 100 or more carries since 2018. The phrase "runs angry" gets thrown around for plenty of running backs, but it's something that certainly categorizes Carson's style of play.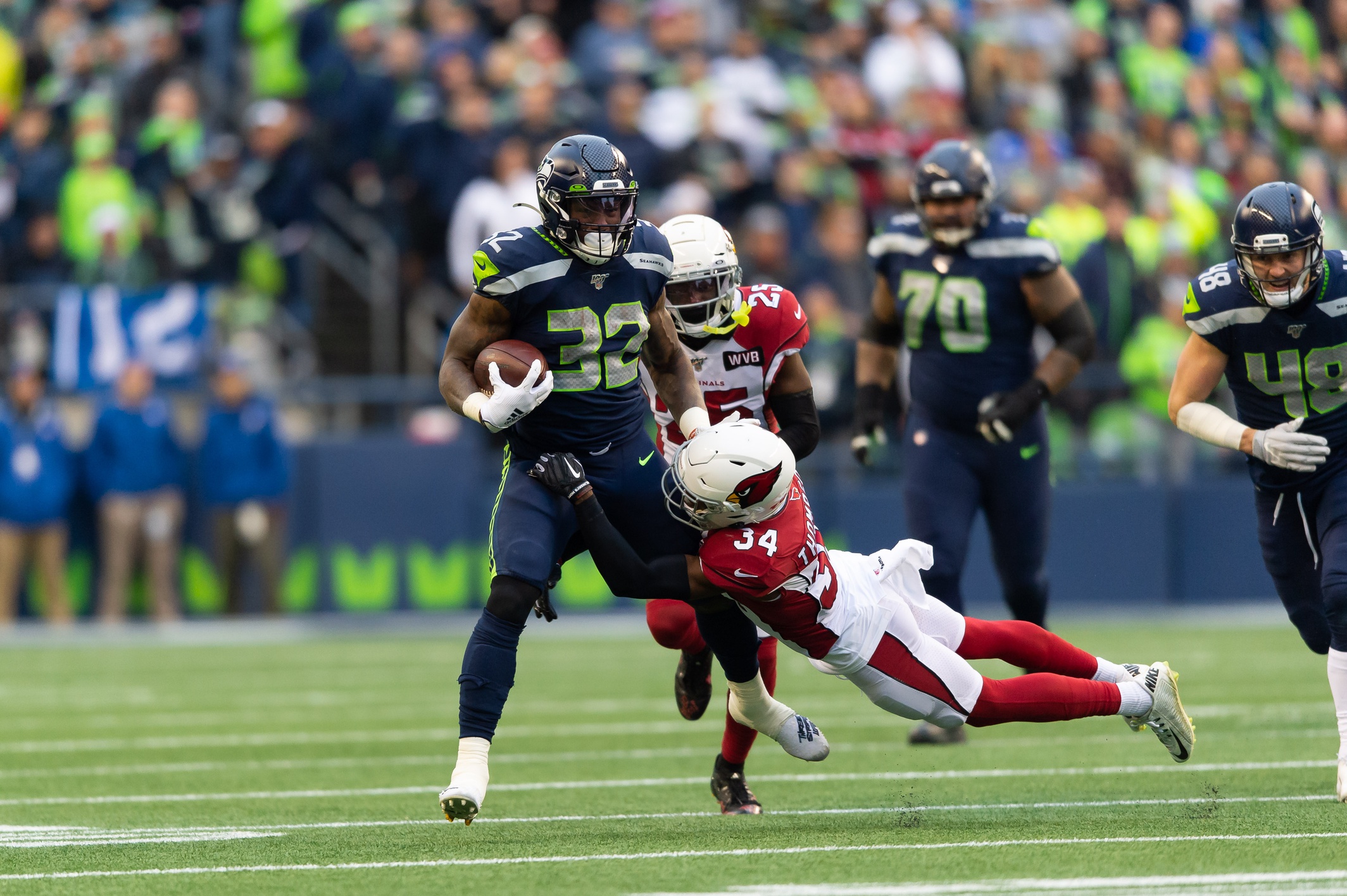 The Bills have an interesting situation at the running back position next season. Rookie Zack Moss, who they drafted in the third round of the 2020 NFL Draft, was dubbed the most elusive running back in the 2020 Draft Guide, and that's Singletary's calling card as well. Across his final two seasons at FAU in 2017 and 2018, Singletary trailed only David Montgomery in broken tackles on the ground (179). As a rookie last season, he forced 42 missed tackles on just 181 touches, once again making him one of the most elusive backs among his peers. The question becomes whether that is enough to hold off Moss as the season progresses. 
From a PFF grading standpoint, Jones has been one of the best runners in the NFL. His 90.8 rushing grade since 2017 trails only Chubb among running backs with 100 or more carries. Helping his claim as one of the best running backs in the NFL is his 82.8 receiving grade in 2019 that ranked eighth among running backs with 100 or more snaps in route. He doesn't rank higher on this list because his 0.18 missed tackles forced per touch mark was closer to the middle of the pack in 2019. It's an area where he's been good but not great throughout his career. 
There has been some frustration of late with Conner in Pittsburgh over injuries that have kept him off the field. When on the field, though, he has been difficult to bring down. Back in 2018, Conner's 60 total broken tackles trailed only Barkley despite the fact that he played in just 13 games. He followed that up in an injury-shortened 2019 season with a seventh-place ranking among backs on this list in missed tackles forced per touch — forcing 19 missed tackles as a receiver on just 34 receptions. Conner may not be a breakaway threat in the open field, but it's hard to get a clean shot on him. 
Drake was finally freed last season following his trade to the Cardinals, and the result was the most productive stretch of his career. From Week 9 through the end of the regular season, Drake's 76.8 overall grade ranked fourth among 54 running backs with 150 or more offensive snaps. That shouldn't come as much of a surprise to those who have followed his career. Even in Miami, Drake put up solid efficiency numbers, averaging 3.5 yards after contact per carry and forcing 58 missed tackles on just 253 rushes. It was a lack of volume holding him back, and Drake should get those touches in 2020.  
In my (and most people's) estimation, McCaffrey is the best running back in the NFL right now. No running back has been more valuable to their team since 2017 than McCaffrey per PFF WAR, and his versatility as both a receiver and runner makes him a divisive case in the running back value argument. The numbers indicate, however, that plenty of running backs are more elusive than McCaffrey. 
McCaffrey's middle-of-the-road missed tackles forced per touch (0.19) and yards after contact per rush (2.6) numbers from the 2019 season stem partially from just how much volume he had to shoulder on the Panthers' offense. Then again, it's OK to recognize that he wins in different areas — ability to get open as a receiver, vision, speed, burst, durability, etc. — rather than being among the league's best at breaking away from defenders in the open field. 
After tough sledding to open the 2019 season, Mixon turned things around in the second half of the year. From Weeks 10 through 17, he broke 44 tackles on fewer than 200 touches and averaged over 3.6 yards after contact per rush attempt. The problem is that those numbers haven't remained consistent throughout the first three years of his NFL career, fluctuating with some inconsistent play. As Mixon plays for a long-term deal in Cincinnati with plenty of offensive talent around him at the skill positions, the Bengals will be hoping that end-of-the-season form carries over to 2020.   
Gordon's status on this list is hurt by an ineffective 2019 season after he returned from a holdout. He averaged just 2.5 yards after contact per rush (39th out of 44 running backs with 100 or more carries) and forced 28 missed tackles on 162 carries — a rate that put him firmly in mediocre territory. That was paired with a career-worst 50.7 receiving grade and 7.7 yards after the catch per reception. Gordon does own the most broken tackles in the NFL from 2015 to 2018, but he'll need to show he can return to that form with the Broncos in a crowded backfield next season. 
Montgomery was a PFF favorite coming out of Iowa State precisely because of how elusive he was. You want to talk about a crazy stat? Montgomery forced more than 100 missed tackles as a runner and receiver in both 2017 and 2018 with the Cyclones. No other running back accomplished that feat in either of those seasons. That ability carried over to the NFL as a rookie last season — Montgomery ranked eighth among running backs on this list in missed tackles forced per touch — but he wasn't able to turn that into efficient play as a runner or a receiver. 
He averaged just 2.3 yards after contact per rushing attempt and 6.7 yards after the catch on his 25 receptions, lacking the dynamism needed to turn broken tackles into big plays. Those were both among the worst marks at the position. If he's to take a step forward in Year 2, he'll need to move beyond simply forcing missed tackles. 
Mostert's postseason run last season was impressive stuff. He forced 17 missed tackles on 53 carries, where he averaged 6 yards per attempt and 4 yards after contact per attempt in the 49ers' run to the Super Bowl. That ability to make defenders miss and pick up yardage after contact didn't just pop up in the postseason, either. It's something Mostert showcased with 3.5 yards after contact per attempt and 29 missed tackles forced on 137 carries during the regular season. Obviously, we're not looking at a massive sample here — part of the reason he comes in at just 17th on the list — but that elusiveness is what has him in position to be the lead back in what should again be one of the most productive rushing attacks in the NFL. 
Even at his peak with the Steelers, Bell's game was built more on his patience, vision and unique skill set as a receiver than it was his elusiveness. Still, Bell was able to make defenders miss in tight confines and was a running back who you wanted to get the ball to in open space. In his first season with the Jets, forcing missed tackles is something he had to do with regularity behind one of the NFL's worst offensive lines — often just to get back to the line of scrimmage. He wasn't outstanding in 2019, but he was still better than the yards per carry or reception numbers would suggest. Bell will be hoping the offseason additions to the offensive line yield positive results next season. 
Sanders undoubtedly had a productive rookie season. As sad as it is, he effectively served as the Eagles' best deep receiver last year with the attrition they dealt with at the wide receiver position, and he should continue to have a positive impact in the passing game. His PFF rushing grade from this past season (58.5) doesn't quite match the production he had on the ground, though. Part of that is the fact that he was running behind PFF's highest-graded run-blocking offensive line in the NFL, but another consideration is that he didn't make defenders miss at a high rate. There's reason to believe he can improve in that area. Sanders just needs to show it in 2020. 
Guice has just 49 regular season touches over the past two seasons, but given what we know about him from both his time at LSU and his limited NFL action, he would likely be ranked higher than this if he had a full NFL season under his belt. Guice forced 14 missed tackles on his 49 touches in 2019, with 213 of his 245 rushing yards coming after contact. That matches up with the LSU tape, as well. Hopefully, 2020 is the year we get to see a full season of action from him with the Redskins. 
Ingram will have plenty of competition for touches in the Ravens' backfield and could end up being surpassed by J.K. Dobbins at some point in the season, but he's probably done enough to at least start the year atop the depth chart. His north-south running style played well in his first season in Baltimore, as he headlined the backfield of the league's best rushing attack. Ingram averaged over 3 yards after contact per carry in 2019 and forced a missed tackle on nearly one-fifth of his carries. He wasn't asked to do much as a receiver, but he did force an additional five missed tackles on 26 receptions. Nearly 31 years old, Ingram is probably on the downswing, but he should remain a reliable option for Greg Roman's offense next season.   
Though Elliott has been considered one of the best running backs in the NFL for a while now, his elusiveness isn't what puts him atop that pedestal. His broken tackle numbers consistently fall below average. Where Elliott wins is his ability to consistently churn out positive runs, rarely getting stuffed for no gain and converting his runs into first downs or touchdowns at one of the highest rates in the NFL. That's why he is PFF's seventh-highest graded runner since 2016 among 52 backs with 300 or more attempts. Elliott's case goes to show that running backs don't necessarily need to break tackles left and right to be effective.
A chronic knee injury has left many wondering if Gurley will ever get back to the player he was prior to slowing down toward the back end of the 2018 season. He put up solid rushing numbers when factoring in how bad the Rams' offensive line was in 2019, but the regression he has undergone as a receiver is concerning. Gurley averaged 6.7 yards per reception with a PFF receiving grade of 34.8 last season, forcing only four missed tackles on his 31 catches. That version of Gurley just isn't the same guy with the ball in his hands. 
There's not a whole lot of lateral agility to Fournette's game, and he hasn't shown the kind of physical dominance needed to simply run through defenders play after play as he did in college. Fournette did play easily the largest role of his career in 2019 — serving as a true three-down back in the Jacksonville offense — but the numbers he put up were largely a product of volume rather than efficiency, particularly as a receiver where just 23 of his 76 receptions went for first downs or touchdowns. He'll have to earn his second contract next season after the Jaguars failed to pick up the former top-five pick's fifth-year option.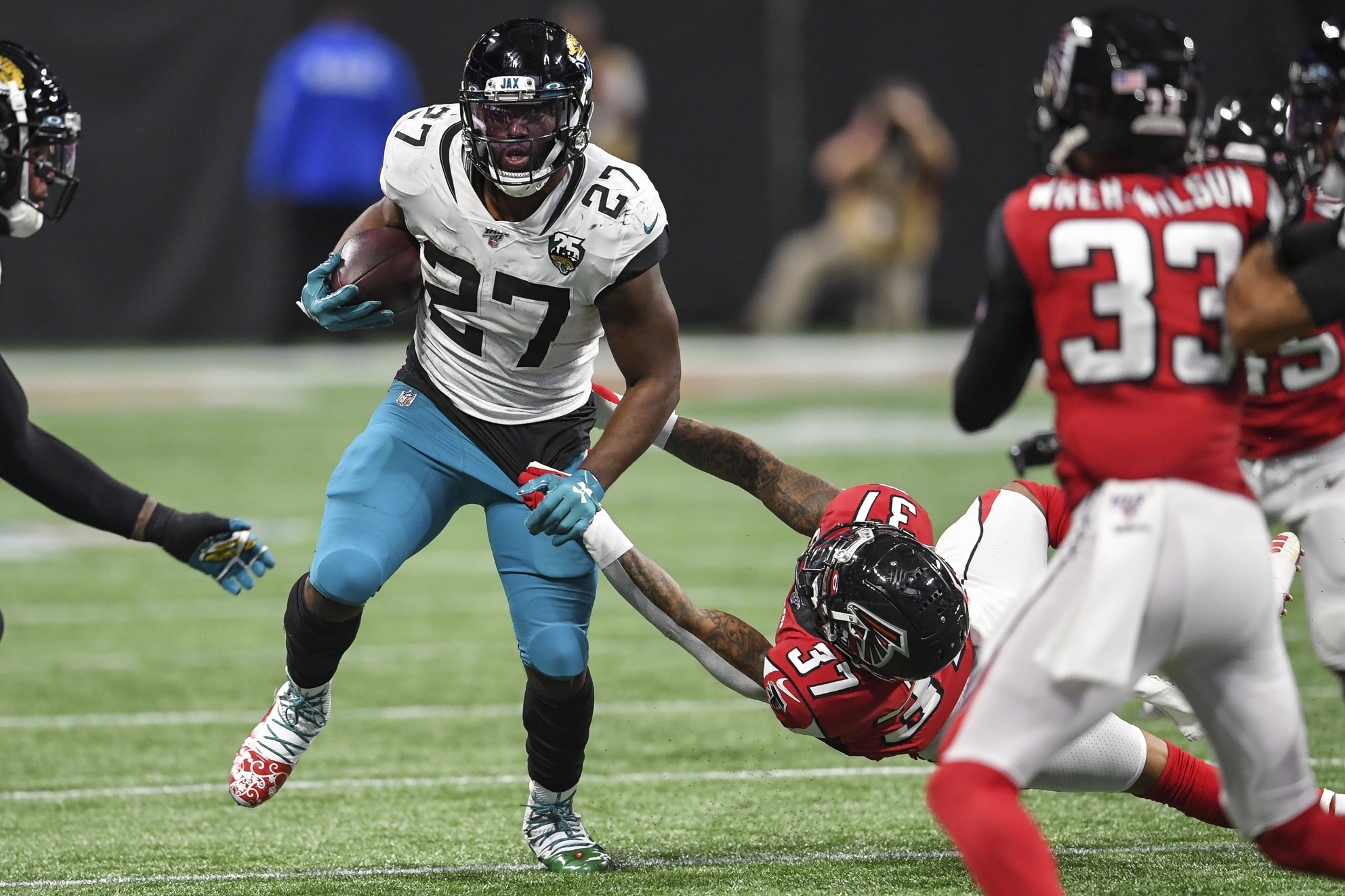 You know what you're going to get with Howard at this point in his career. He ranks third in both rushing attempts and yards since 2016, capable of carrying the load of a lead back, but he's not someone who is going to make a whole lot of defenders whiff in one-on-one situations. Howard has broken a tackle on just 13% of his carries during those four years — ranking ahead of just two other running backs on this list with 250 or more carries in the same time frame. He's not going to go above and beyond when it comes to creating for himself. 
Michel is one of the least exciting starting running back options in the NFL. With James White in the fold, his role as a receiver is almost nonexistent. And when looking beyond what is blocked up for him by the offensive line, his contributions as a runner don't leave a whole lot to get excited about, either. Since 2018, Michel has below-average marks for the position in both yards after contact per attempt and forced missed tackle rate. That's not what you want to see out of a guy who was taken in the first round just two seasons ago. 
Maybe Johnson should be a few spots higher strictly based on how good he was in 2016, but the last three years have been rough. Since 2017, Johnson ranks last among NFL backs on this list in missed tackles forced per touch (0.10) and yards after contact per rushing attempt (2.3). Those numbers were even worse when looking only at 2019. He was finally starting to flash as a receiver again early last season, but injuries once again put a halt to that progress. Is it realistic to think he gets back to the dynamic player that he was in 2016 — four years removed from that season — at this point? Probably not, hence Johnson keeping the last-place spot warm. 
---
Rookies
Making people miss wasn't an added bonus for Akers at Florida State. It was a necessity while running behind one of the worst offensive lines in college football. Comparing college numbers to the NFL is always tricky, but we've seen that missed tackle numbers and stats like yards after contact translate well to the NFL. Last season, Akers forced a missed tackle on 32% of his touches and averaged nearly 4 rushing yards after contact per attempt. He'll likely have to put those skills to use again as a rookie behind a Rams' offensive line that still has some questions.  
Edwards-Helaire didn't trail Akers by much in this department coming out of LSU. If you like a good old-fashioned spin move, he delivers. Last season, Edwards-Helaire forced 71 missed tackles on 214 rushing attempts — a mark right up there with Akers — and he can do it as both a runner and a receiver. Edwards-Helaire is well-positioned to thrive in a Kansas City offense that can use him similarly to how it made the most of Kareem Hunt as a rookie in 2017, another running back who specialized in making defenders miss and provided high-level play as a receiver out of the backfield. Edwards-Helaire is someone who could place highly on this list a year from now after a strong rookie season.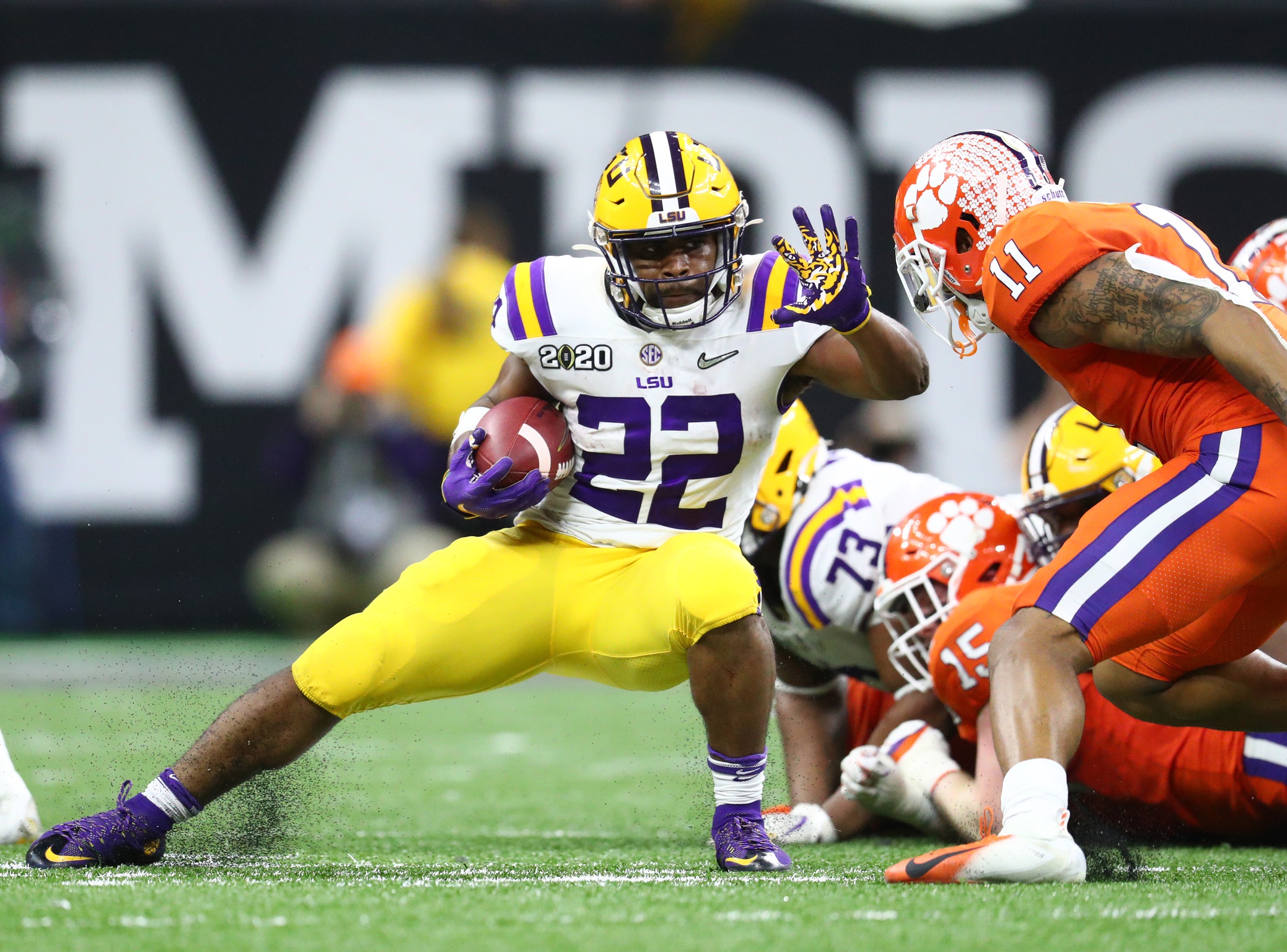 Some running backs who lack shake in the open field can simply run through tackles at the college level thanks to their combination of size and speed. Taylor is one such running back who has the kind of rare size and speed that might allow him to do something similar at the NFL level. His missed tackles forced rates in college aren't on par with Akers or Edwards-Helaire, but with the offensive line in Indianapolis opening up holes on the ground and getting him clean to the second level, Taylor could put up some big-time numbers as a rookie in a featured role.  
The 2020 NFL Draft Guide categorized Vaughn as a no-nonsense, one-cut runner with great vision and plus speed, but that led to a running style where he didn't attempt to make too many guys miss. Despite that, Vaughn averaged over 0.26 missed tackles forced per touch and 4.4 yards after contact per rush across his final two seasons at Vanderbilt. Those numbers are bound to drop in the NFL, but it's not a bad starting point. 
Swift ended the pre-draft process as our RB1 in the 2020 Draft Guide, but during the 2019 season, he forced a missed tackle on under 20% of his touches while the other four rookies projected to earn the lion's share of touches on their teams next season all put up marks above 26%. His route-running ability and natural hands should make him an ideal receiver for the running back position early on, but his broken tackle rates at Georgia signal he has some work to do at making guys miss once the ball is in his hands.